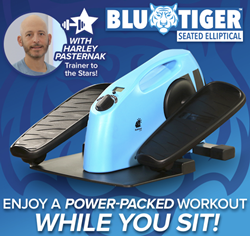 LOS ANGELES (PRWEB) December 29, 2021
BluTiger was created to help bring ease and comfort to working out. In an article by Nouw, reviewers claim that BluTiger has "officially changed the way people work out forever". The small elliptical machine provides customers with the ability to sit and read or watch TV while also working out. The small piece of pedaled equipment lets people stay fit and healthy without having to go to the gym.
Nouw mentions BluTiger's incredible ability to change the stagnancy of work from home life by providing an under-the-desk machine. The review makes a point to convey the ease of workout by claiming you can do it while watching television as well. The machine is also reviewed as "low impact" on your knees, making it doable for those with joint conditions.
The machine was created to help people find wellness and health even during the busy seasons. As the holidays continue to ramp up, BluTiger keeps families and customers healthy with the ability to work out from home and the ease of the couch, desk, chair, etc.
This review by Nouw is one of many BluTiger reviews that prove BluTiger is a revolutionary part of people's everyday lives.
BluTiger helps people by:
Providing a portable elliptical machine
The Low-impact elliptical motion
Ability to workout anywhere
Help to burn calories and build muscle
Large, non-slip pedals fit any shoe size
Built-in handle to carry anywhere
The small device is for every home and person. BluTiger has been praised by customers for its affordability and ease to store anywhere in the house. BluTiger hopes to continue providing wellness and health in the coming year.
BluTiger is super-smooth and whisper-quiet. You control the internal magnetic resistance with the turn of a dial. Workout at any level! Set the light resistance for an easy walking motion. Speed up the pace to mimic jogging. Increase the resistance for some cardio climbing or dial it up even more for intense muscle-building, just like the gym.

Share article on social media or email: