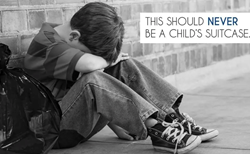 "It's our mission to give back to our community – through a healthy lifestyle regimen at our studios and by providing to those in need." — Matt Higgins, Orangetheory Fitness
CHARLESTON, W. Va. (PRWEB) December 03, 2021
West Virginia has one of the highest rates of children in foster care, currently with more than 6,803 youth without a "forever family." To help these youth in need, local Orangetheory Fitness studios have once again partnered with international non-profit, Comfort Cases for two days of "packing parties" to provide essential and comfort items that will support them, particularly during their first days in which they enter foster care.
Money raised by Orangetheory Fitness members between November 12 and 26 will be used to purchase "Comfort Cases" filled with items including a new set of pajamas, a new blanket, age-appropriate hygiene kit, book and a stuffed animal to be given to foster care youth in need. Comfort Cases will be packed at Orangetheory Fitness studios and then distributed by local organizations to those in need.
Packing party dates, locations and beneficiaries:

1:00-2:00pm: Orangetheory Fitness

3034 Champion Dr, Barboursville, WV

Recipient Agency: NECCO Huntington
3:00-4:00pm: Orangetheory Fitness

310 Southridge Blvd, Charleston, WV

Recipient Agency: NECCO Charleston (Cross Lanes)
2:30-4:00pm: Orangetheory Fitness

360 Suncrest Towne Centre Drive, Morgantown, WV

Recipient Agency: Genesis Youth Crisis Center
Comfort Cases' mission is to eliminate the demoralizing practice of placing children in homes with their belongings stuffed into trash bags.
"With more than 700 children entering foster care every day, and more than 400,000 children in foster care nationwide, it's so important to not just raise awareness, but to also provide hope and dignity to them by giving back to these children," states Comfort Cases founder Rob Scheer. "
"This is our 3rd year partnering with Comfort Cases to benefit these local organizations and our kids here in West Virginia," states Matt Higgins, Orangetheory Fitness franchisee. "It's our mission to give back to our community – through a healthy lifestyle regimen at our studios and by providing to those in need. Our members are just as excited as we are to participate at our packing parties."
NOTE: Spokespeople from Orangetheory Fitness, Comfort Cases and beneficiary agencies are available for interview – prior to and on the day of the packing parties.
Share article on social media or email: