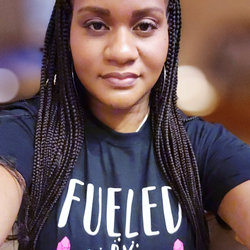 Without programs like ClearAngel, many BIPOC-owned businesses often face barriers securing investment. We're proud that our funding model is disrupting 'business as usual' to help Adrienne's brand reach more people. – Andrew D'Souza, CEO and co-founder, Clearco
TORONTO (PRWEB) July 27, 2021
Clearco, the world's largest e-commerce investor and the company revolutionizing the way founders grow their businesses, today announced that its ClearAngel program is funding Bea's Wellness Teas, a provider of top-quality organic loose-leaf tea blends formulated to improve health. ClearAngel gives early-stage founders access to revenue share capital, data-driven advice, and Clearco's extensive network of investors, apps and agencies.
Founded in July 2018, Bea's Wellness Teas was brewed out of a desperate need for natural cures. Struggling with viral pericarditis, Hashimoto's thyroiditis, rheumatoid arthritis, and pre-diabetes, mother-of-five Adrienne Jones turned her health around after researching and experimenting with herbal tea mixtures. Having successfully deployed an e-commerce strategy, ClearAngel's funding will empower Bea's Wellness Teas to explore new growth channels.
ClearAngel is a new, equity-free, flexible capital option for early-stage founders who don't have the network or mentorship to raise an angel round or join exclusive accelerators. The program has already funded over 350 companies since its February 2021 launch.
"Adrienne Jones' mission in founding Bea's Wellness Teas is truly to those seeking a natural approach to wellness," said Andrew D'Souza, CEO and co-founder, Clearco. "Without programs like ClearAngel, many BIPOC-owned businesses often face barriers securing investment. We're proud that our funding model is disrupting 'business as usual' to help Adrienne's brand reach more people."
In addition to $10,000 of flexible capital, Bea's Wellness Teas will also get access to a network of 500+ investors, growth teams, agencies, apps, lawyers, and buyers; and data-driven advice designed to help scale and hit new revenue milestones. As Adrienne and her team achieve additional milestones, they will have the opportunity to unlock more ClearAngel funding.
"I'm excited to leverage ClearAngel's support and help improve even more through the natural healing of tea mixtures," said Adrienne Jones, founder, Bea's Wellness Teas. "As a Black, female entrepreneur who transformed both her health and career herself, I hope my journey can help inspire other entrepreneurs to take action."
To learn more about Bea's Wellness Teas and experience its herbal remedies, visit https://beaswellnessteas.com/.
ClearAngel is currently onboarding E-commerce and product companies, and has limited spots available for SaaS, Apps, marketplace and stealth companies. To learn more about applying, visit https://angel.clearbanc.com.
About Clearco:
Co-founded as Clearbanc in 2015 by Michele Romanow from Canada's Shark Tank (Dragons' Den), Andrew D'Souza, Ivan Gritsiniak, Charlie Feng, and Tanay Delima, Clearco offers the most founder-friendly capital solutions for e-commerce, mobile apps, and SaaS founders as well as a full suite of products and access to a powerful global network, insights and data, and recommendations. Clearco has invested over $2 Billion in over 4,500 companies to date, including Leesa Sleep, fashion-rental service Le Tote, home goods company Public Goods, shirtmaker UNTUCKit, online speech therapy practice Expressable, and digital real estate marketplace SetSchedule. For more information visit clear.co and @getClearco.

Share article on social media or email: