Oxtail Soup Recipe – How to cook budget friendly oxtail for a cheap comfort dinner meal – with the video tutorial.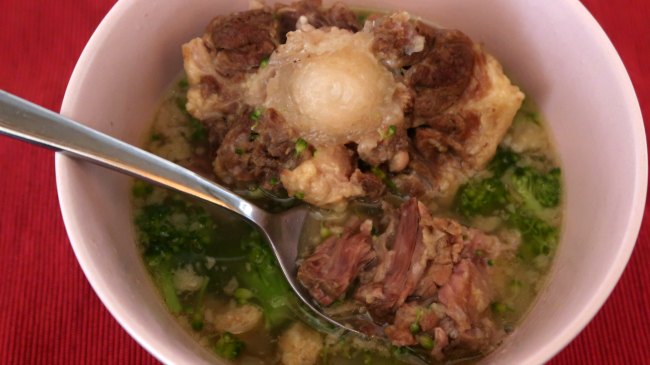 Oxtail Soup Recipe
This oxtail soup recipe makes a warming comfort meal that's perfect to slowly cook over a couple of days and then enjoy a hearty bowl full of soup with meltingly tender meat.
It's such an easy dish to prepare – simply brown the oxtail, in batches if need be. Then, saute onion and garlic until golden, add back the browned oxtail and pour over water to cover.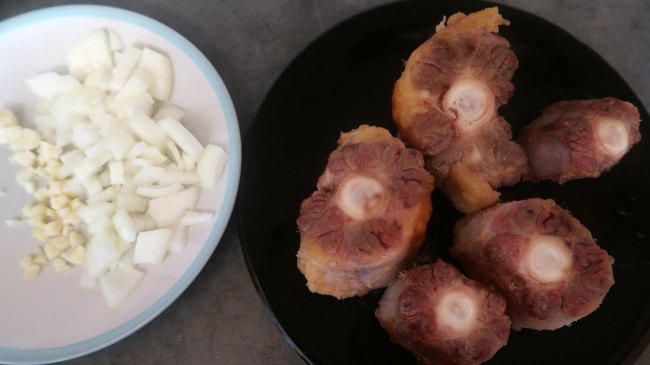 Allow the oxtail to simmer for a few hours, remove from the heat and allow to cool completely.
I find that leaving the oxtail overnight develops flavor and results in tender, falling of the bone meat.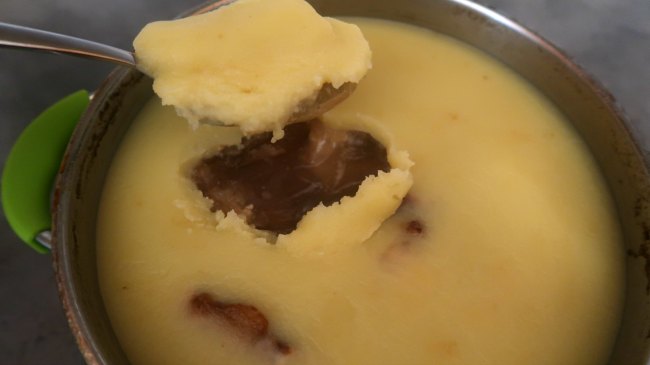 The following day, remove the fat layer from the top of the oxtail and then bring it back up to the simmer. Bubble gently for a few hours until the meat is tender to your liking.
There's a whole host of vegetables you could add to your soup. I simply opt for chopped broccoli, but here are some other ideas for vegetables to include in your soup, depending on your tastes and dietary requirements:
Cauliflower
Zucchini
Mushrooms
Radishes
Potatoes
Carrots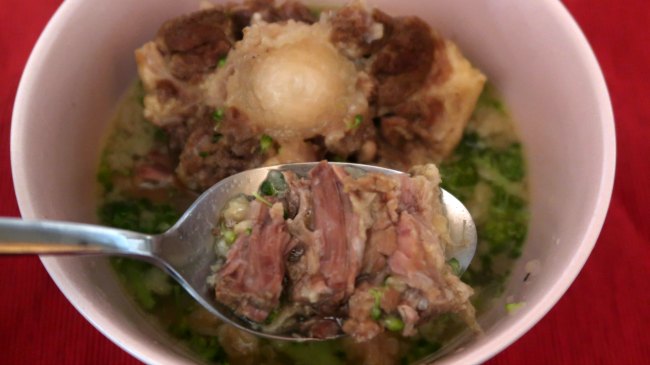 Oxtail Soup Recipe
2-4lbs/1-2 Kg Oxtail
1-2 Onions, peeled and chopped
3-4 Garlic Cloves, peeled and chopped
Salt & Pepper, to taste
1/2 to 1 Head of Broccoli
Coconut Oil, for cooking
Heat oil in a large saucepan.
Shake salt and pepper, to taste, over the oxtail.
When the saucepan is hot, add the oxtail.
Cook until browned on all sides, cooking in batches, if need be.
Remove the browned oxtail to a plate and briefly cook the onion and garlic, until golden.
Add the oxtail back into the saucepan and pour water over to cover.
Bring the saucepan up to the boil, reduce the heat down and gently simmer for around two hours.
Remove the saucepan from the heat, allow to cool to room temperature and then store in the fridge overnight.
The next day, remove the saucepan from the fridge and remove the fat layer from the top of the oxtail.
Place the oxtail back onto the stove top, bring up to the boil, reduce to a simmer and cook for a final 2 hours, or more depending on how tender you'd like your meat to be.
Once the soup is almost ready, add in chopped broccoli or your vegetables of choice and cook until done to your liking.
Serve out into bowls and enjoy.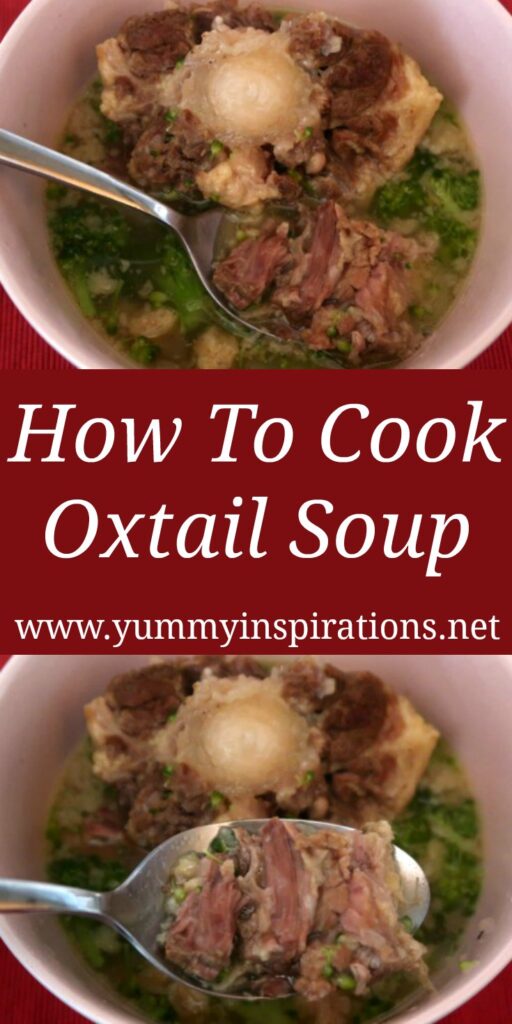 Recipe Video Tutorial
Here's the video where you can watch the recipe being prepared, step by step. Hit play below or click here to watch on YouTube.
More Budget Dinner Ideas
3 Cheap Keto Dinner Recipes
Egg Roll In A Bowl
Yogurt Roasted Chicken
Disclaimer – this post is meant for informational post only and should not be construed as medical advice. Please consult with your health professional before making any dietary changes.
Disclosure – this post contains affiliate links.
<!–
–>