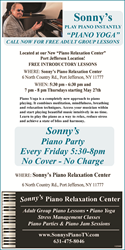 PORT JEFFERSON, N.Y. (PRWEB) June 03, 2021
*As featured on the front page of the Times Beacon Record!* Port Jefferson — Upper Port has a new "go-to" place to spend a relaxing evening for piano entertainment and enlightenment. Sonny Stancarone, the owner of Sonny's Pianos, a nationwide pre-owned piano store, has come up with his latest brainchild — Sonny's Piano Relaxation Center.
Inside a bistro-type setting, he has created a relaxing environment populated with a dozen beautiful baby grand pianos for people to play and learn his piano yoga method.
"Piano Yoga is a completely new approach to piano playing. It combines meditation, mindfulness, breathing and relaxation techniques. It's a way to access 'your musician within,' and start playing beautiful music intuitively in no time," said Sonny Stancarone, owner of Sonny's Pianos and Sonny's Piano Relaxation Center.
He added that everyone can play the piano using this method. "It's fun, easy to do and it's a way to relax, reduce stress and achieve a state of bliss and harmony."
But that's only part of what he offers in his "room of pianos."
"I have always wanted to create a bistro-type environment showcasing my piano playing," he said. "This is a place where people can come and play pianos, listen to other piano players, or even jam together in our piano party room."
Every Thursday, Sonny's Piano Relaxation Center, located at 6 North Country Road, hosts an ongoing series of Piano Yoga Classes and on Fridays he throws Sonny's Piano Parties from 5:30 p.m. until 8 p.m. This will be something everyone can look forward to every week — and the best part? No cover and no charge for the parties. Free coffee and refreshments.
With quarantine keeping everyone inside for more than a year, it's time to dust off that old guitar or sit down at one of Sonny's beautiful pianos and play with your neighbors in a fun, stress-free environment — or just come by to the Piano Parties & listen to Sonny and friends play some great tunes.
Inside, the space is decorated with couches, art work, pianos, bistro tables and chairs. Sonny has created a piano funhouse and wellness center for entertainment, or perhaps a piano enlightenment.
Through his Piano Yoga Play Piano Instantly Classes he helps people to have what he calls a the "Ah-ha moment," when they have a break-through and see they can play the piano without spending years studying time signatures, or learning how to read music. They connect with their musician within and just start making beautiful music.
"This is an environment to get away from it all," Sonny said.
After a stressful 2020, Sonny knew he wanted to bring a new space to Port Jefferson that will help others. He decided to combine all of his passions — pianos, music, health, wellness and stress-management — into one.
In the health, fitness, sports medicine and wellness industries for four decades, Sonny was a pioneer in mixing music with stress management, yoga and meditation. It all began when at the age of 5, Sonny was diagnosed with crippling asthma. After suffering debilitating asthma episodes for 5 years he was brought to a chiropractor who put him on a regimen of yoga type stretching, diaphragmatic breathing and relaxation exercises. He performed the regimen religiously night after night and almost miraculously he was cured after two months.
He realized the healing, therapeutic, life-renewing, energy-enhancing benefits of these kinds of methods, and continued doing his routine every night thereafter. As a result of learning how to breathe diaphragmatically and to relax, Sonny went on as a teenager to become a champion baseball and track athlete — becoming captain of the cross-country, indoor and outdoor track teams at Carey High School in Franklin Square, N.Y. — where he won MVP awards, and still holds the half-mile record.
Sonny earned a full-tuition athletic track scholarship to Adelphi University, and after graduating with a degree in History Education, he studied yoga, meditation, eastern philosophy, exercise, relaxation training and stress reduction so that he could better understand how to help others with these kinds of techniques. Soon after, he earned his master's degree in Exercise Physiology.
As a corporate stress and fitness consultant, yoga teacher, sports coach, sports medicine clinician, and stress management consultant, he has helped thousands of children and adults reduce stress and anxiety, improve health, enhance classroom and sports performance, and enjoy a more relaxed life and a greater sense of well-being.
Sonny has held titles as former AT&T medical department health & fitness director; New York College of Podiatric Medicine sports medicine clinician; U.S. government eastern seaboard stress management trainer; New York City Board of Education health and fitness consultant; and adjunct faculty professor at Long Island University at Southampton College and Adelphi University.
But growing up in an extended musical family, his first love was piano. In the late 90s, he created Piano Yoga — an innovative way to help people relax at the black and white keys. His piano playing and teaching methods are based on the ability to breathe diaphragmatically, relax, get into the flow, enjoy and let go.
Sonny has put together a DVD Kit called "Sonny's Play Piano Instantly with Little or No Sheet Music". He also hosts and produces "Sonny's Piano & Wellness TV Show." which airs on local cable networks. Sonny also has a book coming out soon entitled "Sonny's Piano Yoga, Playing Piano for Health and Well-Being."
"I want to teach people to relax and have fun," he said. "The Piano Relaxation Center will be a kind of sanctuary." So, after years of wanting to do something like this, he decided to make the leap.
As a full-time buyer and seller of pianos at his showroom store, Sonny's Pianos, located at 1500 Main Street in Port Jefferson, the small business owner decided to take over a vacant storefront across the street.
Inside is a new area that will host his piano jam sessions, and piano yoga classes. So, whether someone is looking for a fun night out, or a relaxing, quick way to learn to play the piano, Sonny's Piano Relaxation Center has something for everyone.
"My mission is to let people see that everyone can play piano and derive healing & therapeutic benefits by doing so." He says the piano is the most accessible of all instruments — all you have to do is just sit down at the keyboard, breathe, relax and let it flow and you will be making beautiful music in no time.