Pita pizzas are an easy way to whip together homemade individual pizzas using simple ingredients. You can keep it classic with cheese and pepperoni or get creative with different toppings and sauces. In this post, I'm going to share some pita pizza tips along with my favorite combinations!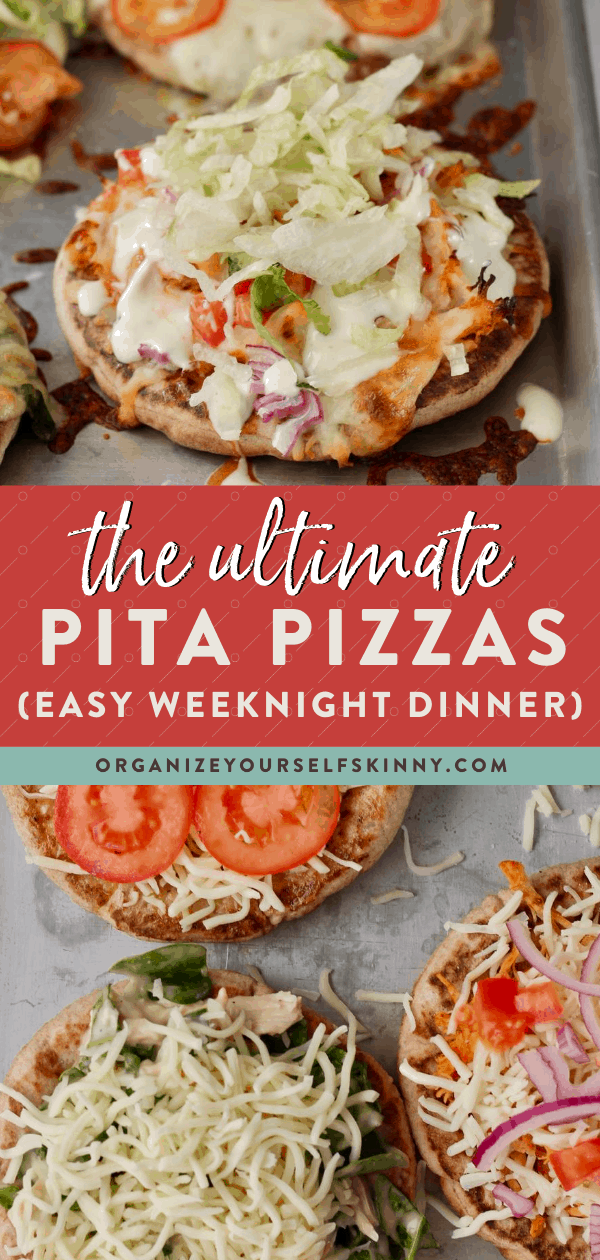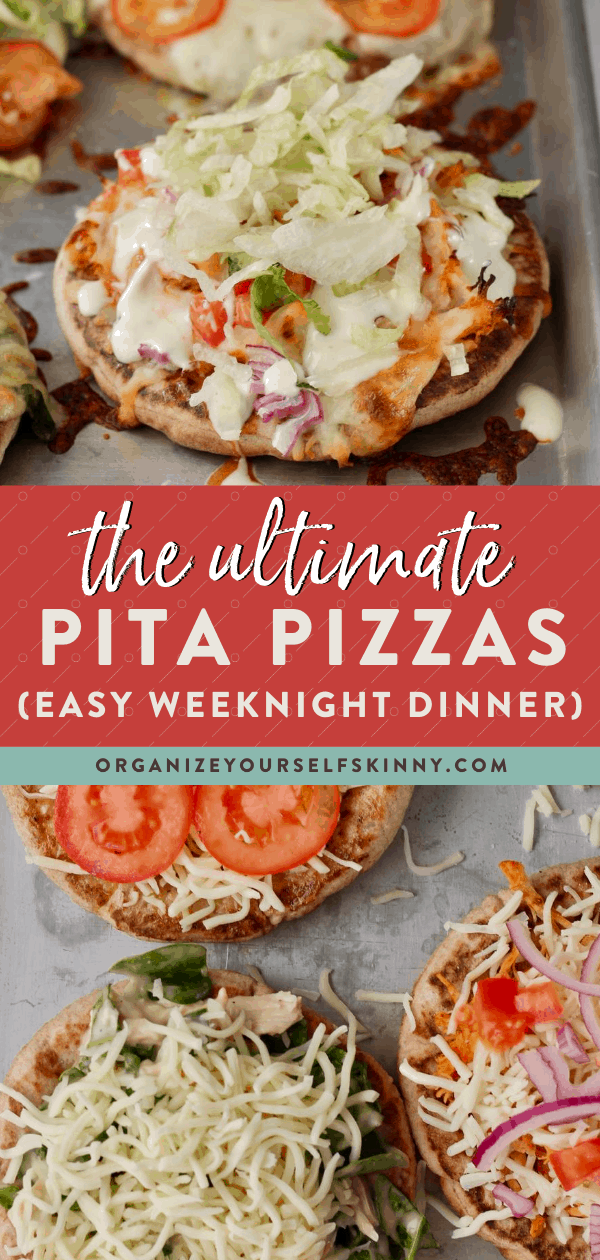 Look, I'm all about meal prep! However, I also think that having a collection of super easy weeknight dinner recipes is important too.
Let's be real. Sometimes, we don't have the time we hoped to prep dinners for the week, or maybe something came up, and now we need a quick easy throw together dinner. That's exactly what pita pizzas are for.
These delicious personal-sized pizzas and I go way back! Back when I first started my weight loss journey 10 years ago, I was on a mission to keep pizza a part of my life. One of the first things I did was keep it portion-controlled by using pita bread.
And let me tell you, pita bread totally hit the spot. It satisfied that carb-loving gooey cheese craving while keeping calories under control. It allowed me to have my pizza and eat it too!
Also, as a super busy mom, I completely appreciated the simplicity of throwing together a pita pizza. Within 10-15 minutes, dinner is done and everyone is happy!
So not, only did pita pizza meet my needs as I worked to eat healthier and lose weight, but my kids love them too. It was (and is!) a family-friendly dinner I could get on the table quickly during the week.
Mom-win all around!
Frequently Asked Questions About Pita Pizza
I know pita pizzas are about as basic as you can get with a pizza recipe. But, I've been making these a LONG time so I've learned some tips and tricks along the way to take a basic pita pizza to new levels.
First, let's go over some basics.
What Type Of Pita Bread Should I Use?
I've tried so many different brands of pita bread over the years. I prefer whole wheat and whole grain pita bread over white because I personally try to stay away from white carbs.
My favorites are:
Angel Bakeries Pita Bread ( I found this at Whole Foods). This is what you see in the picture.
Joseph's Flax, Oat Bran & Whole Wheat Flour Pita Bread
Arnold 100% Whole Wheat Pita Pocket Thins
Wegmans Whole Wheat Pita Bread
The Angel Bakeries Pita Bread from Whole Foods are my absolute favorite! It's thick, chewy, and so delicious. Plus, it holds all the pita pizza ingredients perfectly. At the end of the day, I think any pita bread would work great for pita pizza so use your favorite brand.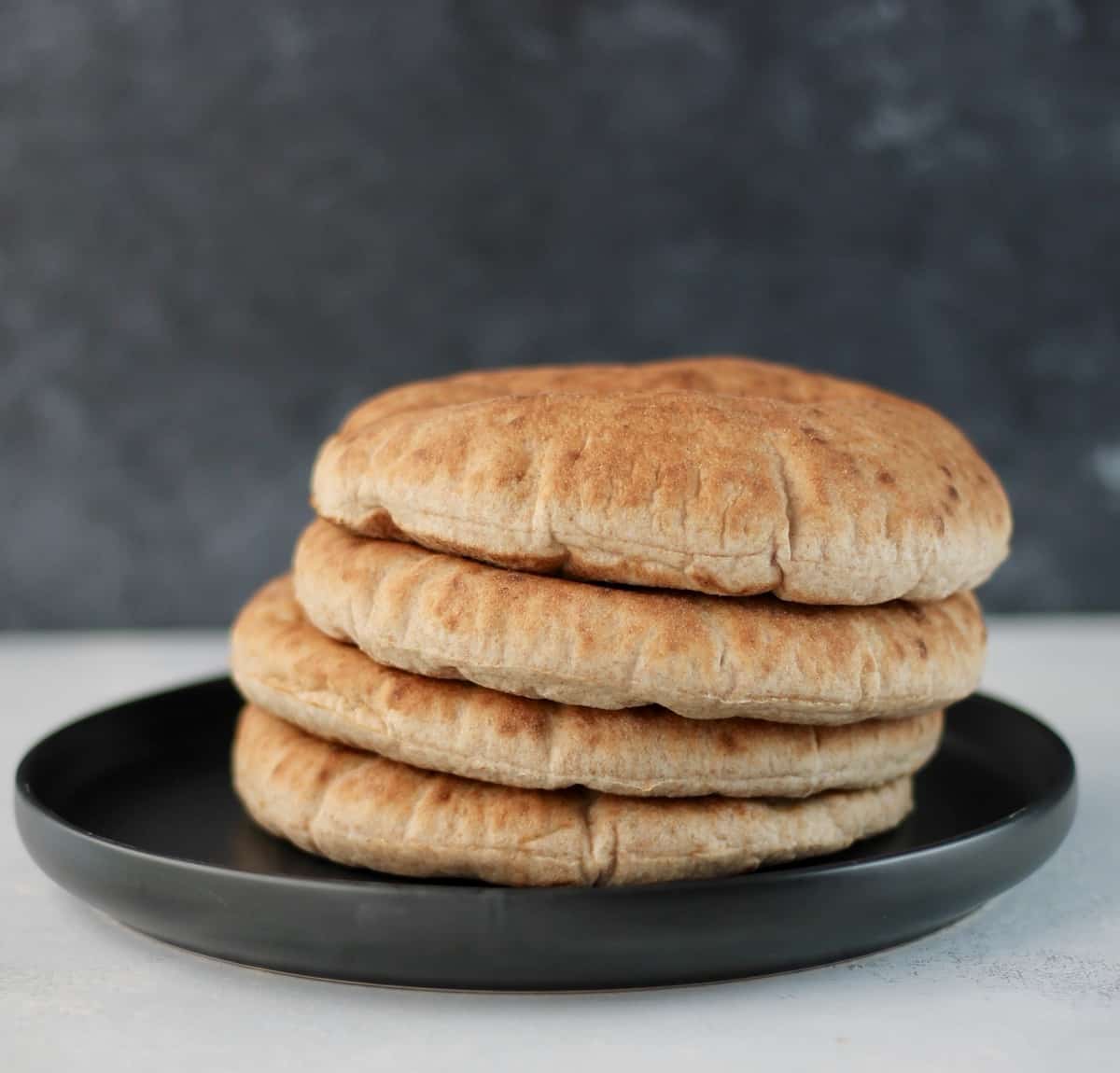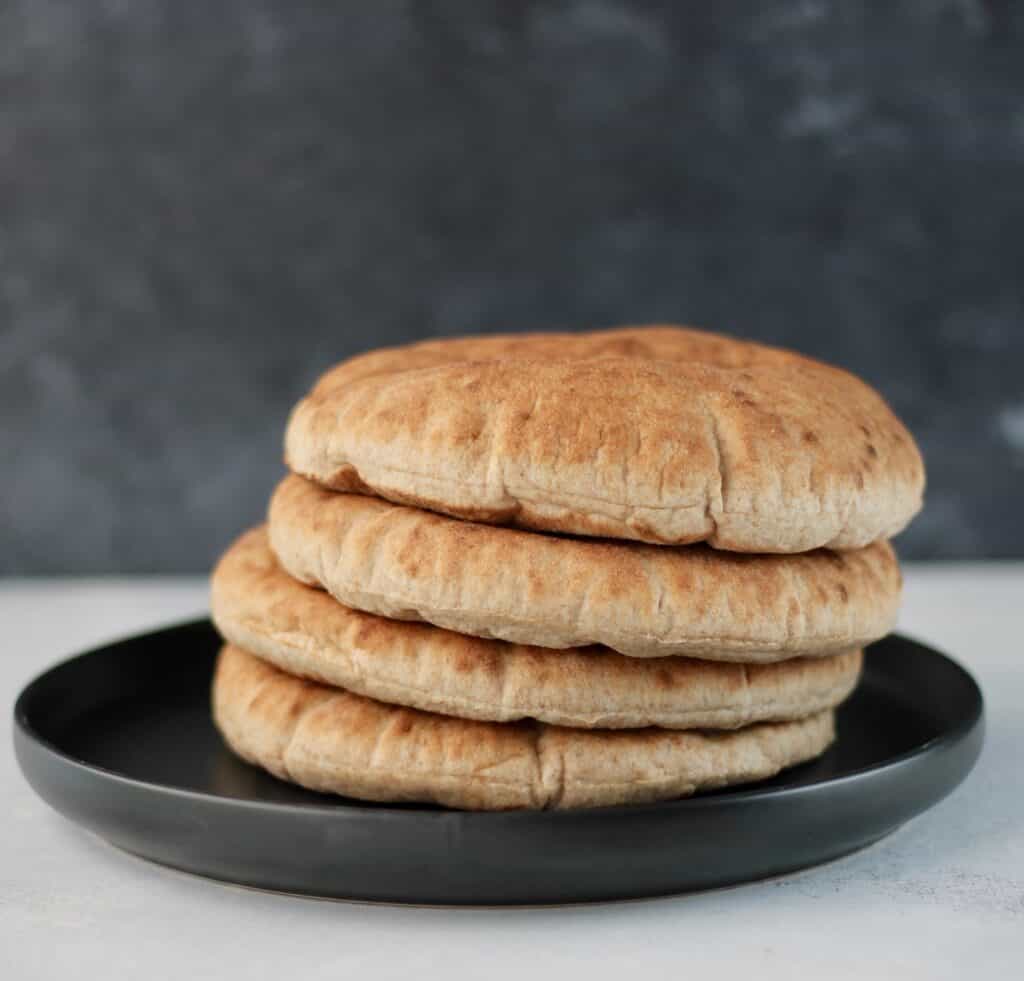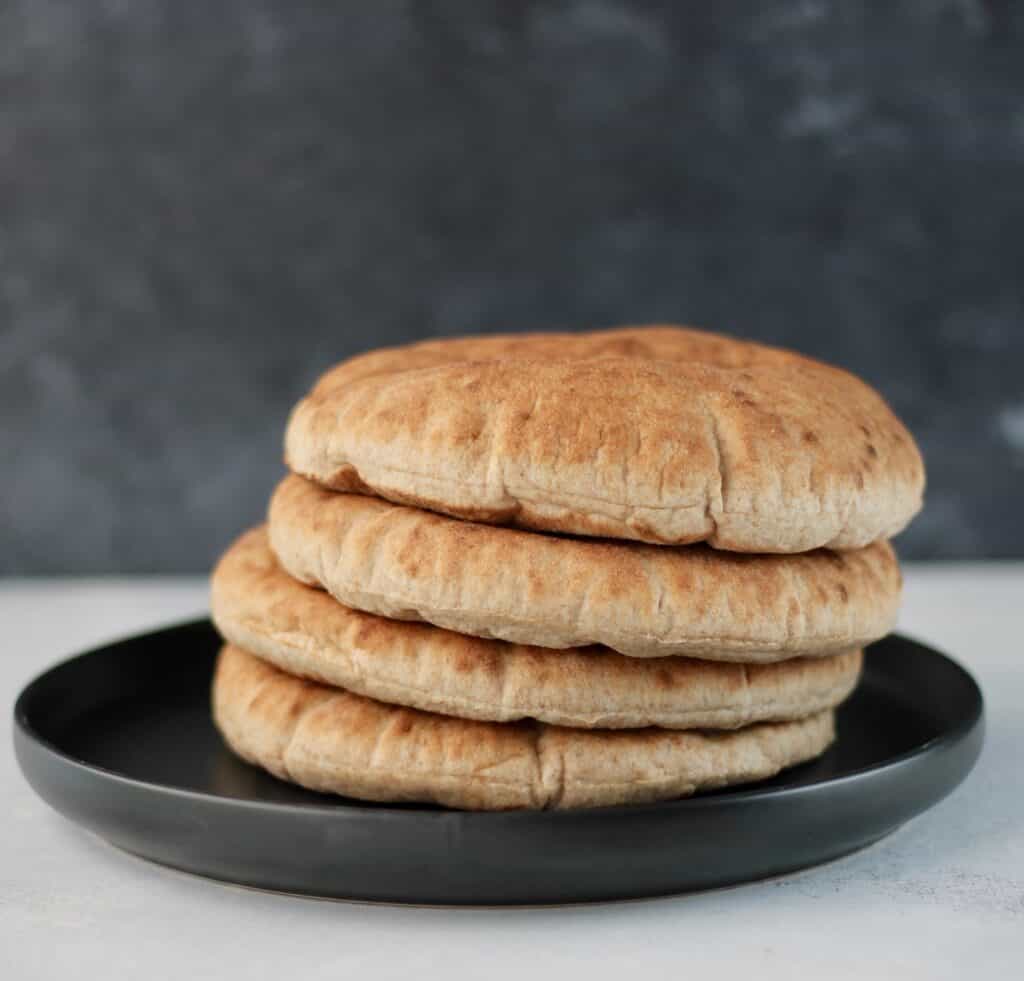 Can I Use Low Carb Pita Bread?
Yes, of course, any pita bread including low carb would work great. Joesph's Bakery and Arnold are both brands that carry low carb pita bread.
Cheesy Pita Pizzas
I'm so excited to share with you my pita pizza recipe! I really think you're going to love it.
Here are the ingredients you will need to make a simple pita pizza:
Pita bread
Pizza sauce
Shredded mozzarella
If I'm really on a time crunch, I will usually use Rao's pizza sauce. It's my favorite! If I plan a little more ahead, I'll pull out a frozen portion of the homemade marinara sauce I make in the slow cooker to add to my pita pizza.
How To Make Pizza With Pita Bread
Now, don't blink because this is pita pizza is super easy to make.
Choose the pita bread you want to use. Lay the pita bread flat on a sheet pan or pizza pan. I haven't made a pita pizza on a pizza stone but I'm sure you could.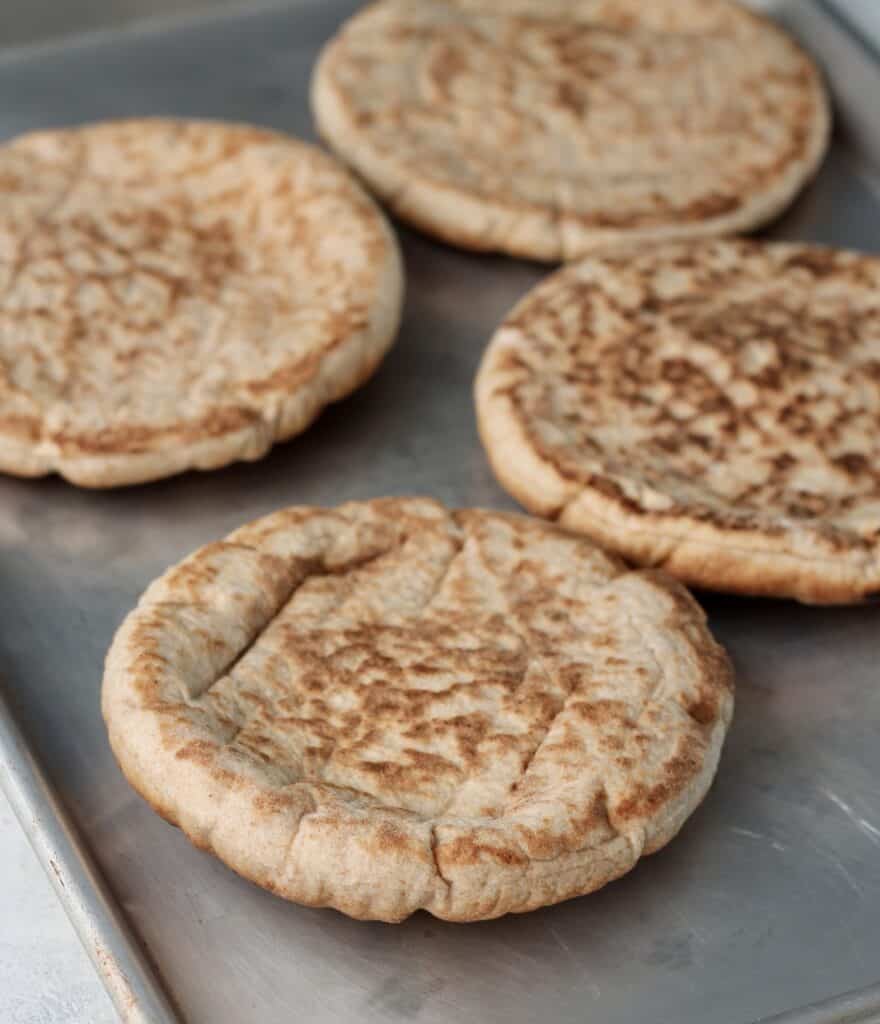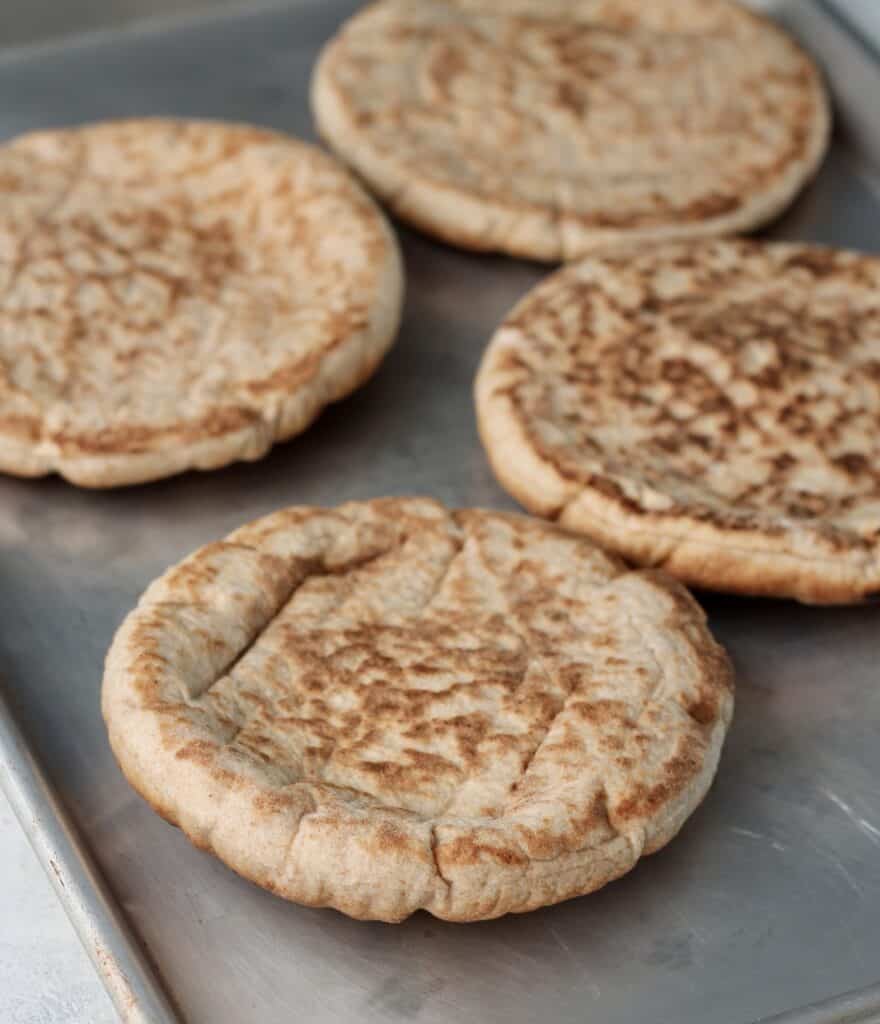 Spread 1-2 tablespoons of sauce on the pita. You want to use the flat side of the pita bread for toppings.
Add your cheese and toppings.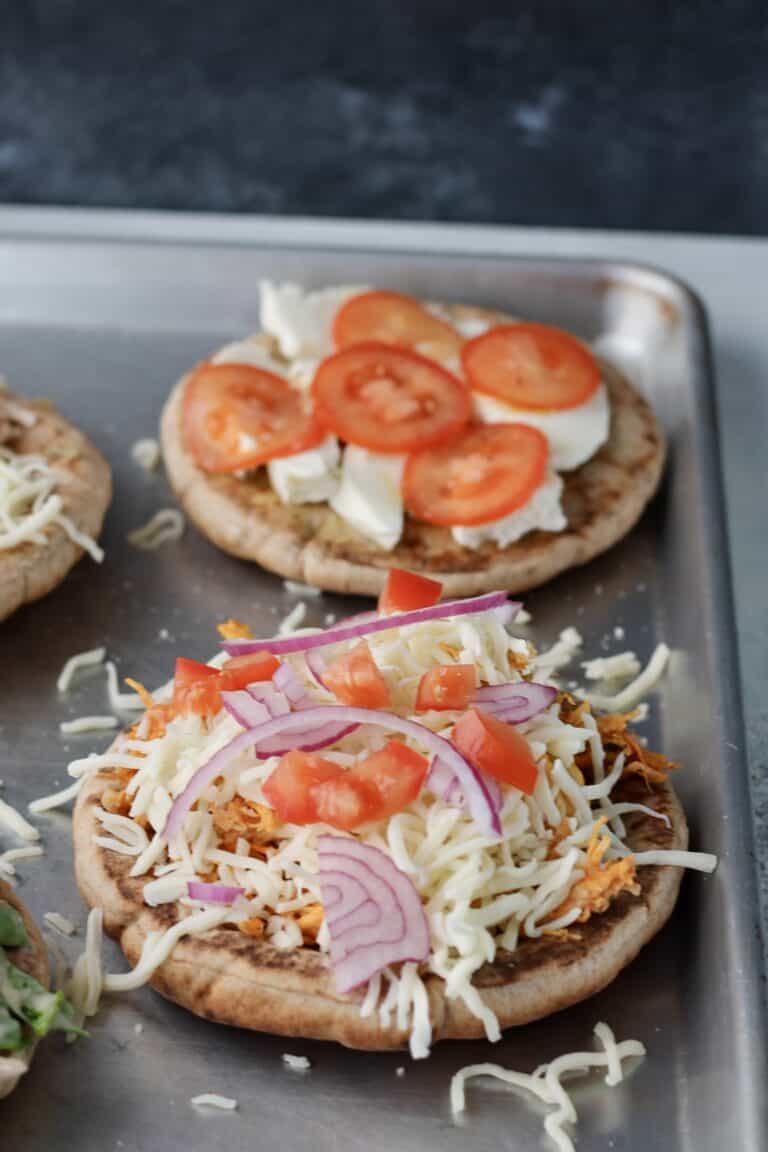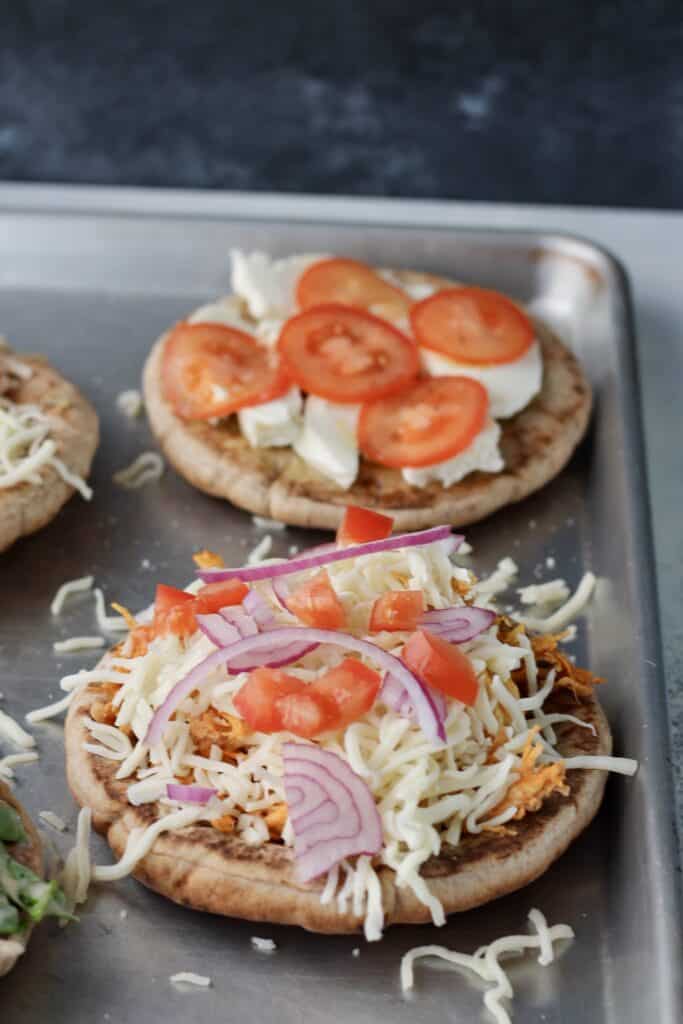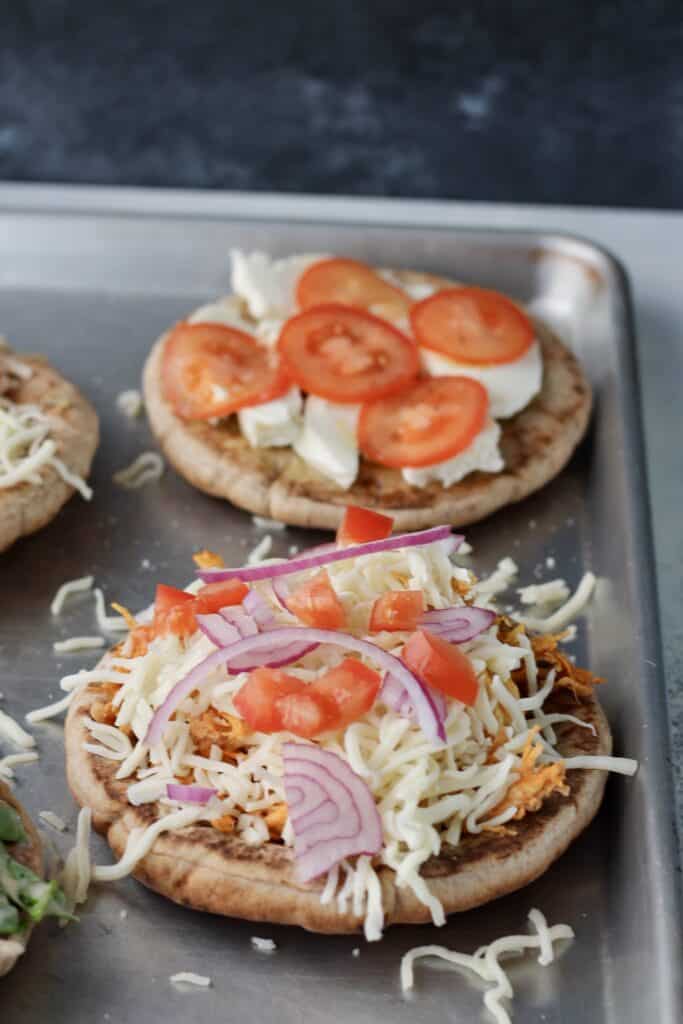 Cook the pizzas in a 375-degree oven for 15-20 minutes or until the cheese is melted and toppings are hot.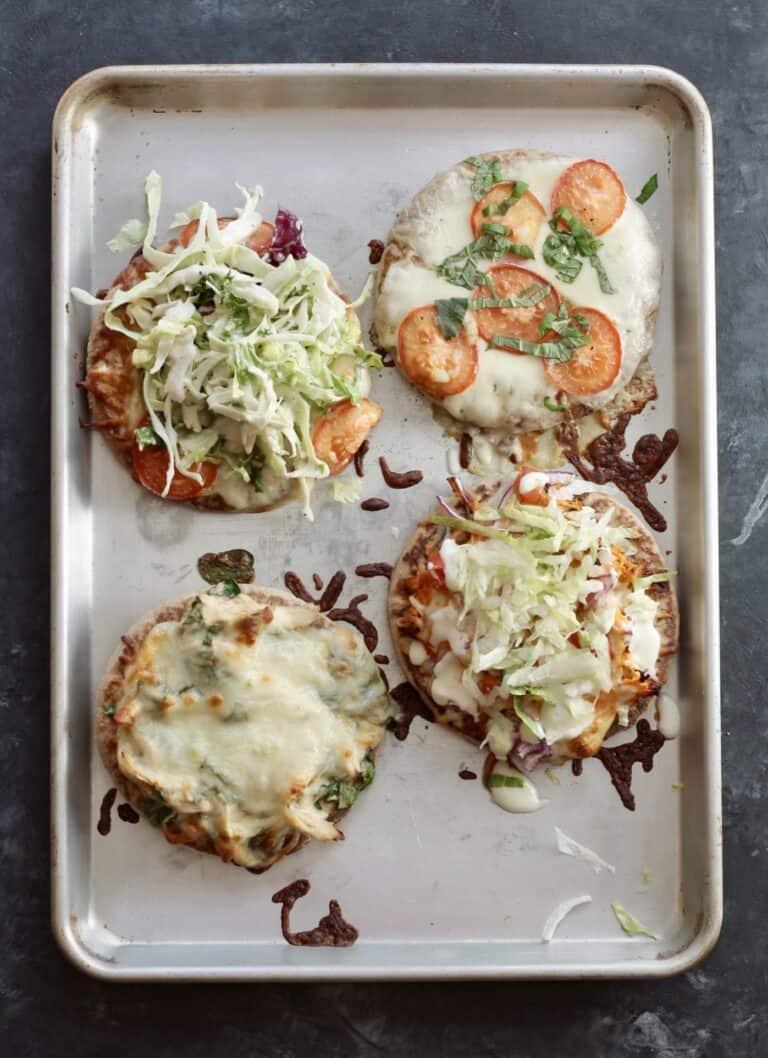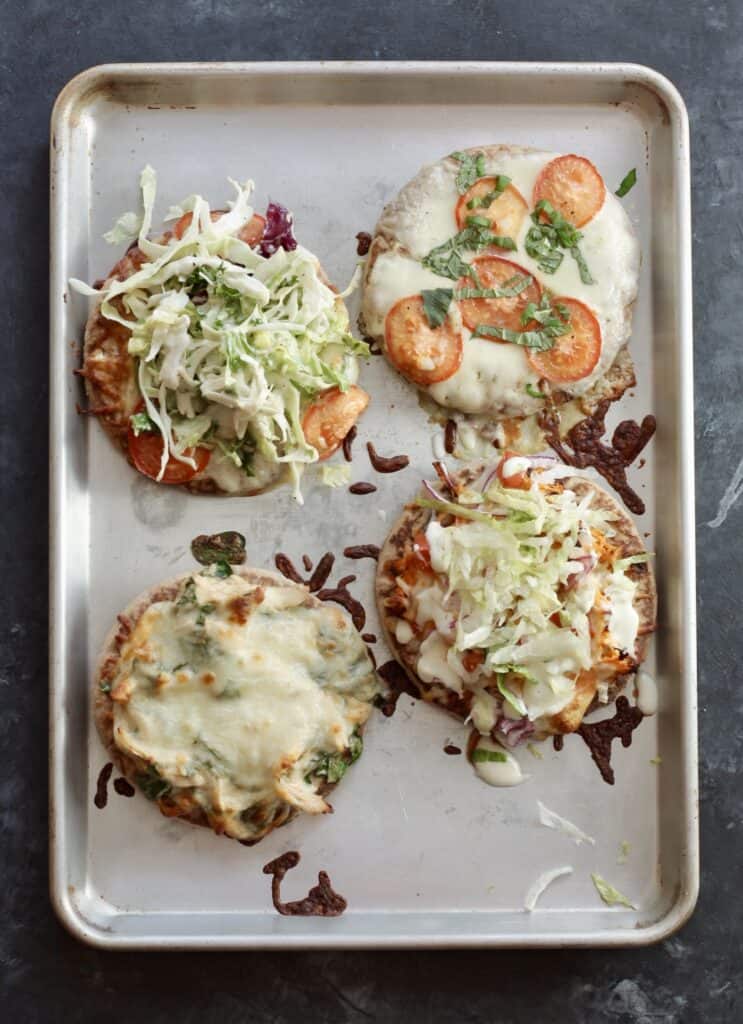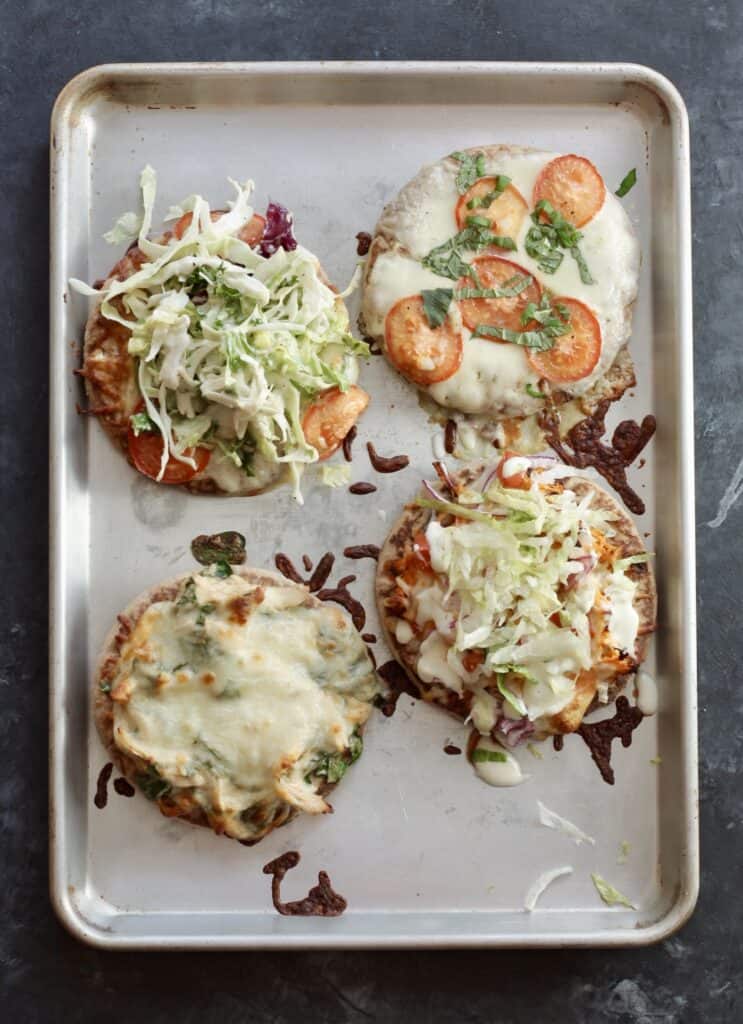 Additional Pita Pizza Toppings
Any topping you use on a traditional pizza can be used on these mini pizzas. Most of the time, I like to use what I have on hand in the pantry and refrigerator.
This is what I like to keep in stock for quick and tasty pita pizzas:
Pepperoni
Green olives
Black olives
Jalapenos
Banana Peppers
Sun-dried tomatoes
Pesto
Pizza sauce
Marinara sauce
Alfredo sauce
Shredded mozzarella cheese
Fresh mozzarella
I've found that this pizza recipe is also a great way to use up leftovers. If I have leftover chicken, taco meat, or even a bunch of veggies, I'll often use them as toppings for the pizza.
What To Serve With A Pita Pizza
Depending on how hungry we all are, I will sometimes make some of these sides to serve with the pita pizzas:
Roasted Vegetables – If we are having a classic pita pizza with pepperoni or one that doesn't include vegetables, then I'll roast up some carrots or asparagus to go with the pizzas.
Side Salads – If I know pita pizzas are on the menu, I'll make sure to grab a couple of salad kits from the grocery store. I love caesar salad and the different kids of chopped salad kits I find at Whole Foods or Wegmans. I also think this Quinoa Greek Salad, Mexican Black Bean Quinoa Salad, or Chickpea and Cucumber Dill Salad goes great alongside a pita pizza.
Different Pita Pizza Recipes To Try
Now that you know how to make a basic pita pizza, take a look at some of these pita pizza recipes to completely elevate pizza night!
Salad Pita Pizza
When I was younger, I worked at a restaurant that sold salad pizzas and they were absolutely delicious! Basically, it was a white individual pizza that had a caesar salad on top. The cold salad on top of the hot pizza was addicting. I ordered it all the time. Anyway, I created my own healthier version of this recipe.
Brush the pita bread with olive oil and crushed garlic.
Then, sprinkle mozzarella cheese on top and then add a couple of slices of tomatoes.
Bake for 15- 20 minutes in a 375-degree oven.
While it's baking, take 1 1/2 cups of chopped romaine and mix it with 2 tablespoons of Caesar dressing and 2 teaspoons of grated parmesan. You can also use 1-cup or so of a premade Caesar salad kit.
When the pizza is done, top with the salad and enjoy!
Trust me—this is amazing!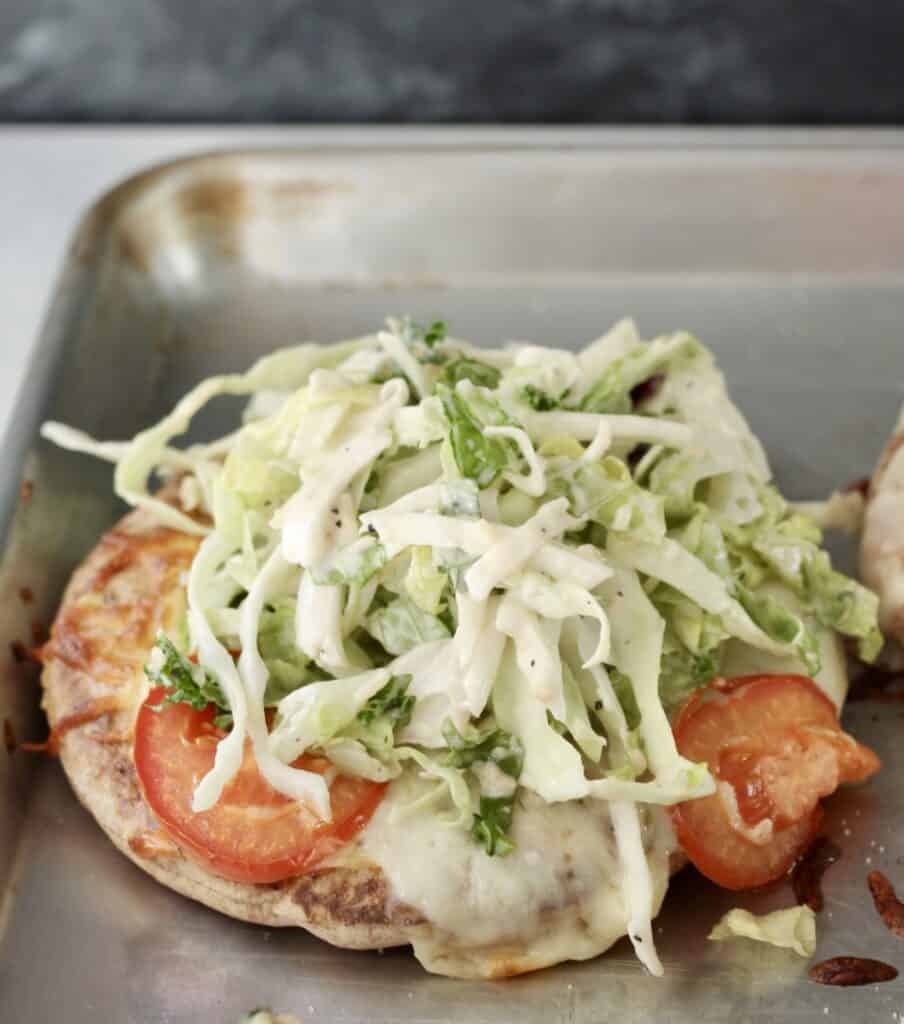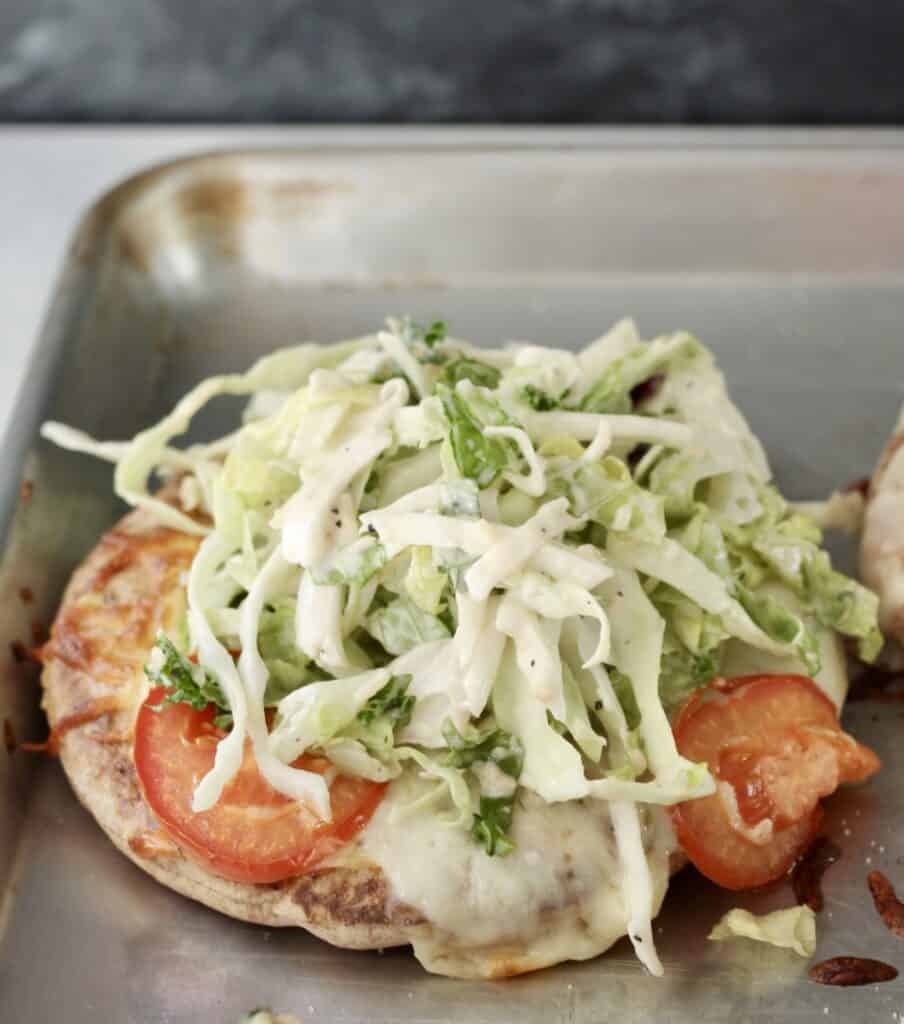 Buffalo Chicken Pita Pizza
We make this pita pizza a lot because I often have leftover shredded buffalo chicken.
For this recipe, you'll need to:
Brush some olive oil and crushed garlic on the pita. Then, add about ¼ cup of shredded Buffalo chicken on top of the pita bread.
Top it off with some shredded mozzarella or provolone.
Next, add thinly sliced red or white onions and sliced tomatoes.
Cook it in a 375-degree oven for 15-20 minutes or until the cheese is melted and toppings are hot.
Add some shredded lettuce and drizzle with yogurt blue cheese dressing.
This pita pizza is on the next level!
Cooking note: If the shredded chicken is cold, then warm it up in the microwave for a minute or so before putting the pizza together.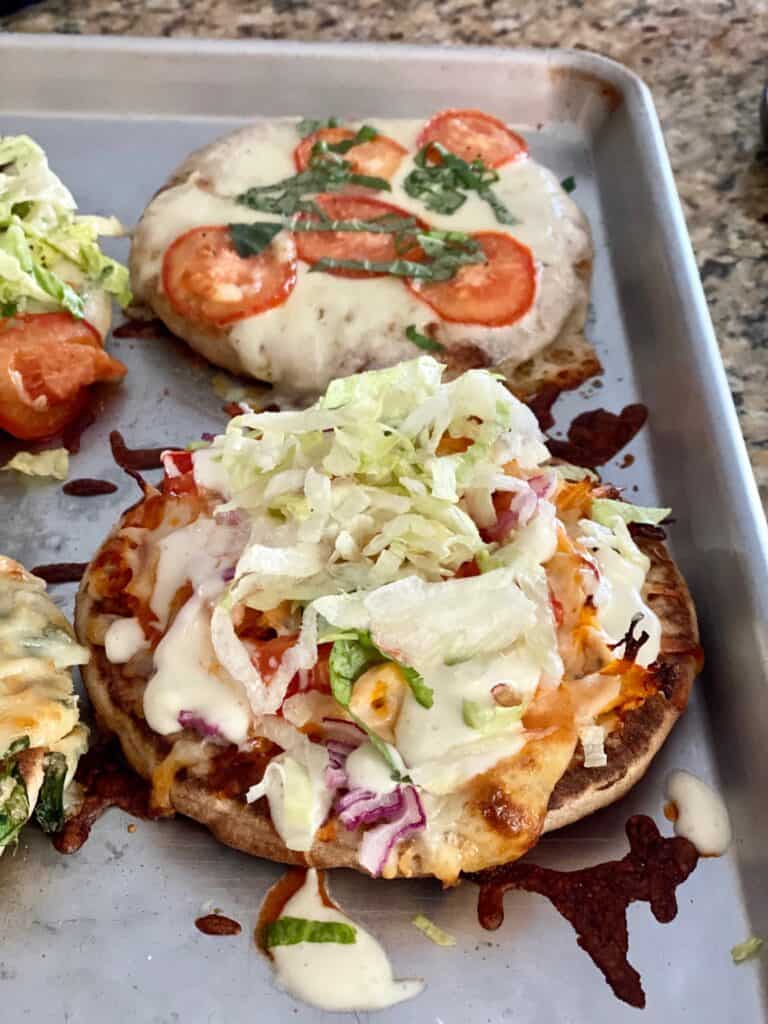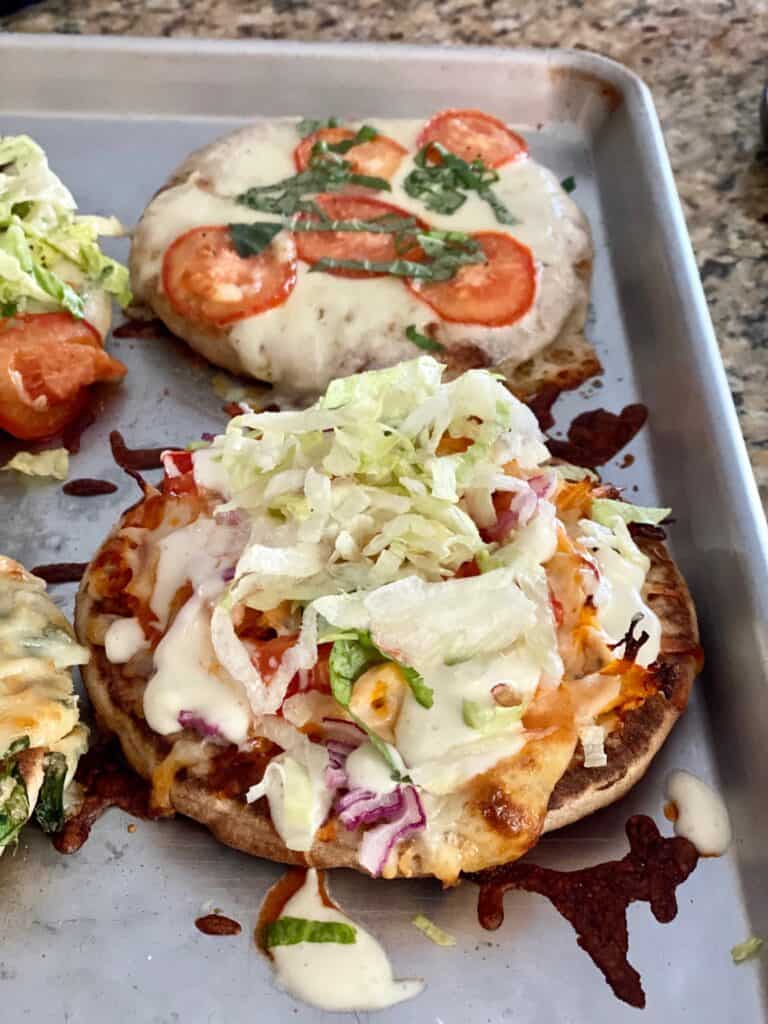 Chicken And Spinach Alfredo Pizza
This is another one of my personal pita pizza favorites. I've been making this for a decade! I love chicken alfredo pizza! It's the perfect way to curb an alfredo craving without all the fat and carbs. I usually make this when I have leftover rotisserie chicken but, any shredded chicken will work.
Mix a 1/4 cup of shredded chicken with about 3 tablespoons of jarred alfredo sauce.
Then, thinly slice (or chop) a small handful of baby spinach (regular spinach will work too) and mix it into the chicken and alfredo.
Spread the chicken alfredo mixture onto the pita bread and sprinkle with a few tablespoons of shredded mozzarella.
Bake it in a 375-degree oven for 15 – 20 minutes.
Cooking Note: For this recipe, my favorite and preferred jarred alfredo sauce is the Rao's brand. I highly recommend it! Again, if the chicken is cold, you'll want to warm it up before mixing it into the alfredo or spinach.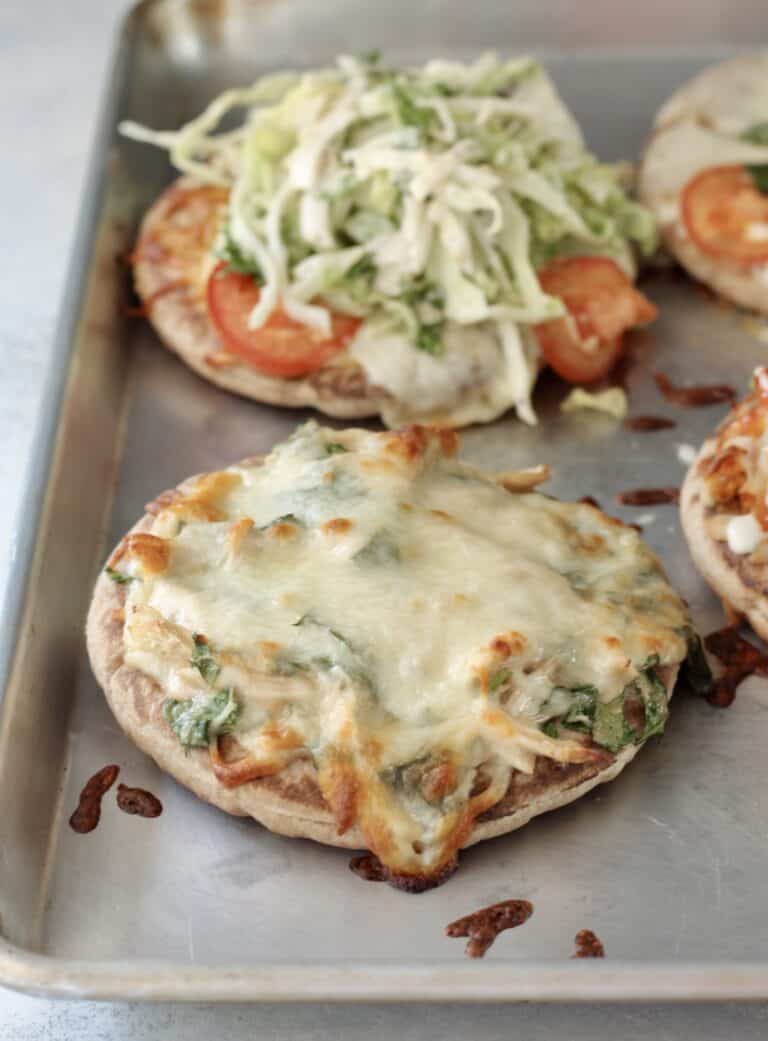 Caprese Pita Pizza
My oldest daughter loves this one! This variation is the simplest to make. It includes fresh mozzarella, tomato, and fresh basil.
Start with brushing the pita bread with olive oil and garlic.
Then, add some fresh mozzarella to the pita.
Next, lay some fresh tomatoes on top.
Cook it in a 375-degree oven for 15-20 minutes and after it's cooked I sprinkle some shredded fresh basil on top.
Absolutely amazing!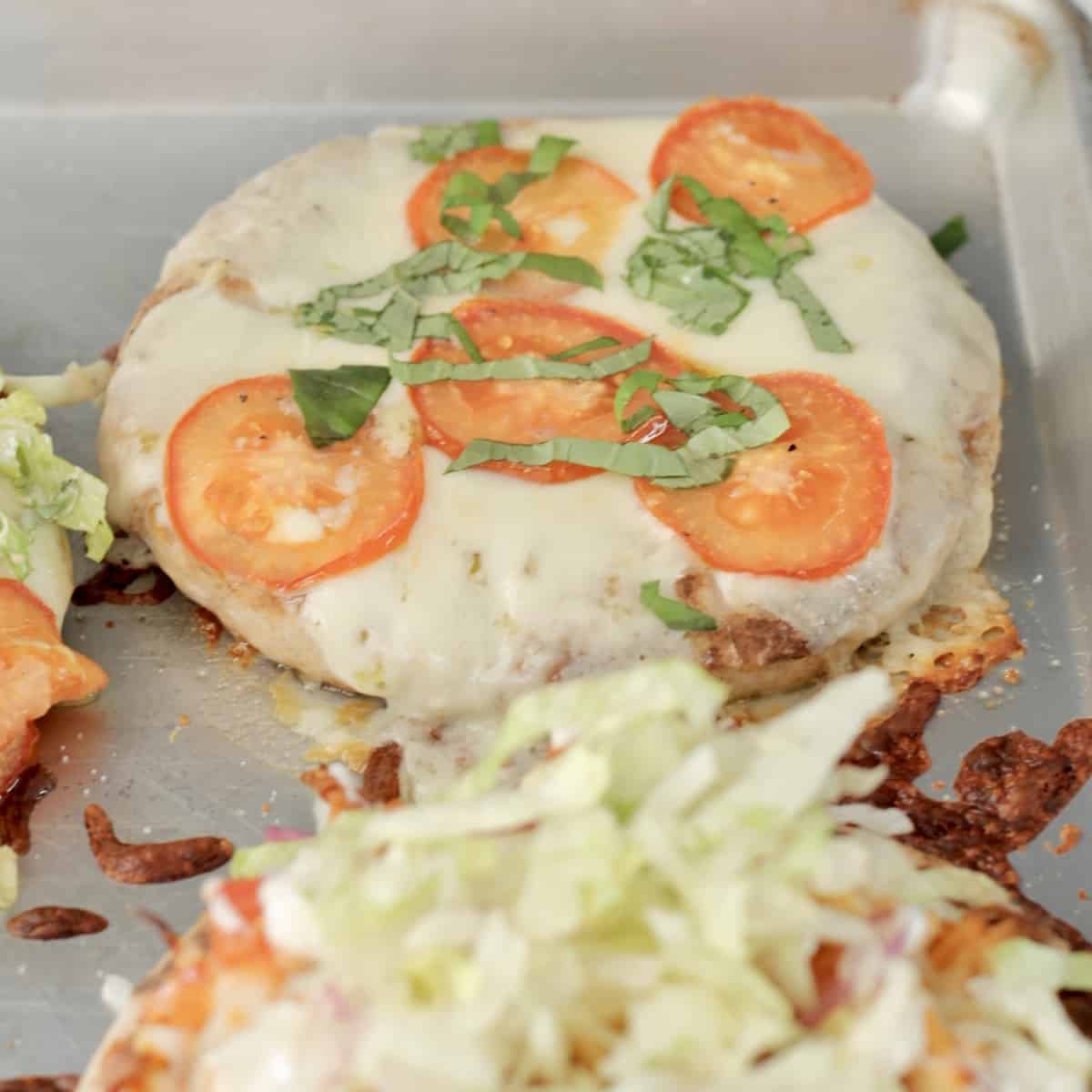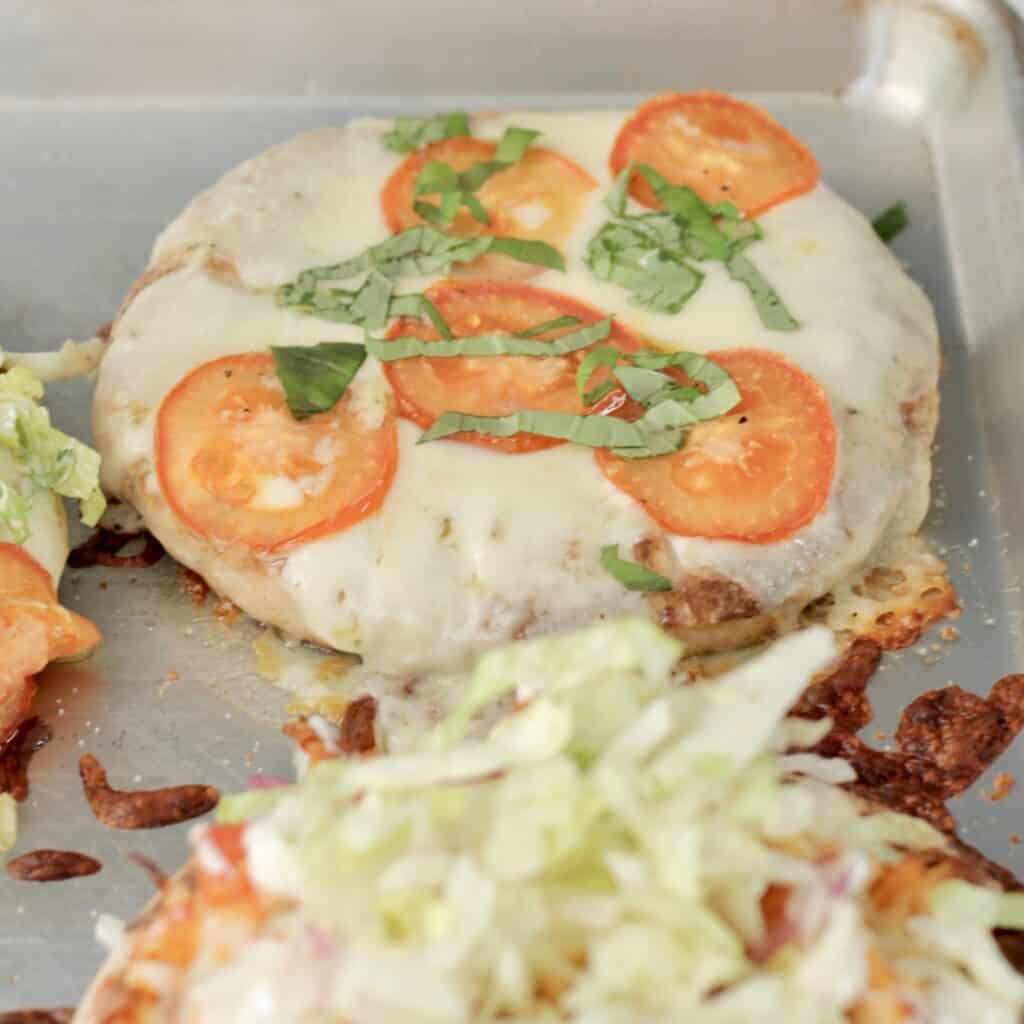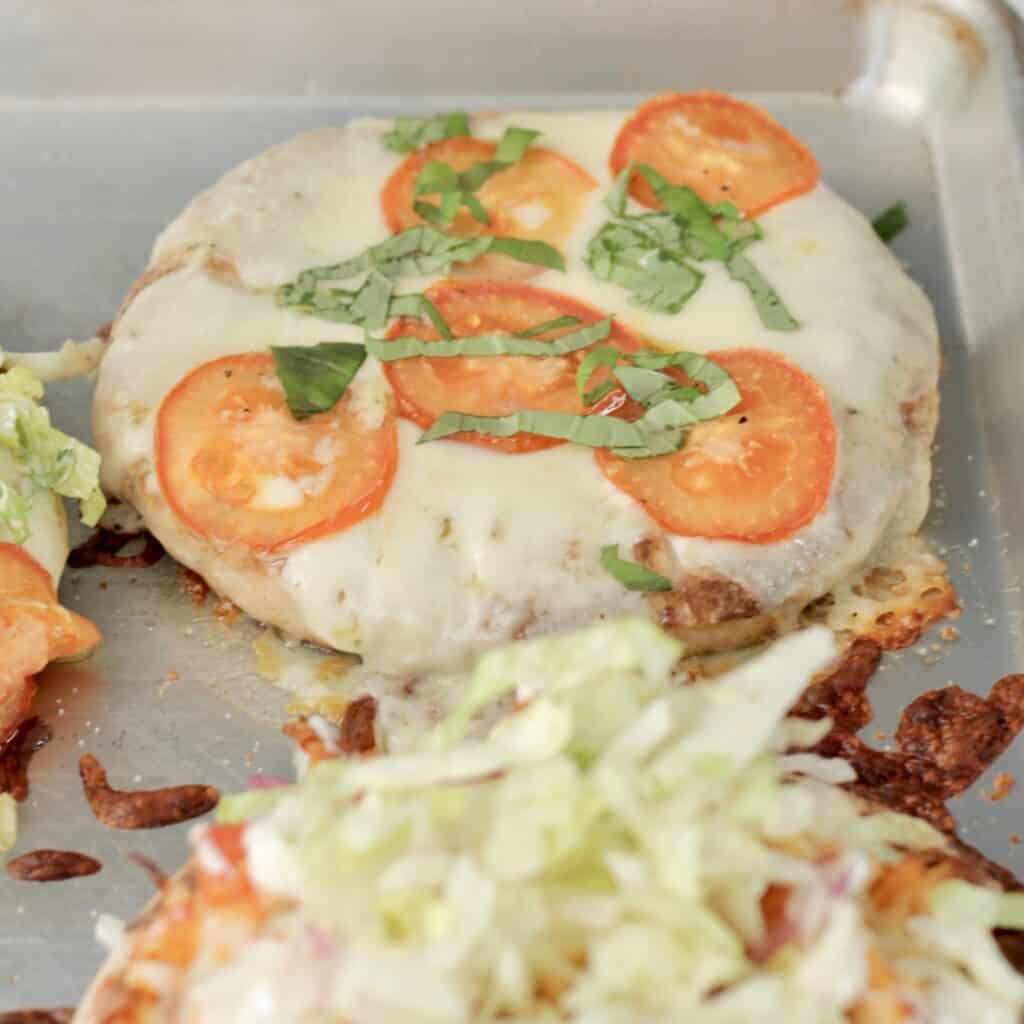 Cooking Notes:
If you're dairy-free, you can use dairy-free shredded cheese.
Gluten-free pita bread can be used if you're sensitive to gluten.
A great alternative to pita bread is Naan bread. This is an Indian flatbread that can be found in grocery stores. It's sold in packages of 4 but I've also seen big family packs of Naan bread as well. I actually love using garlic Naan for individual pizzas So, if you want to switch up pita bread then grab a package of Naan bread for pizzas.
All of the pita recipes I'm sharing can easily be used on a regular pizza crust, cauliflower crust, or on any of these high protein pizza ideas.
Basic Pita Pizza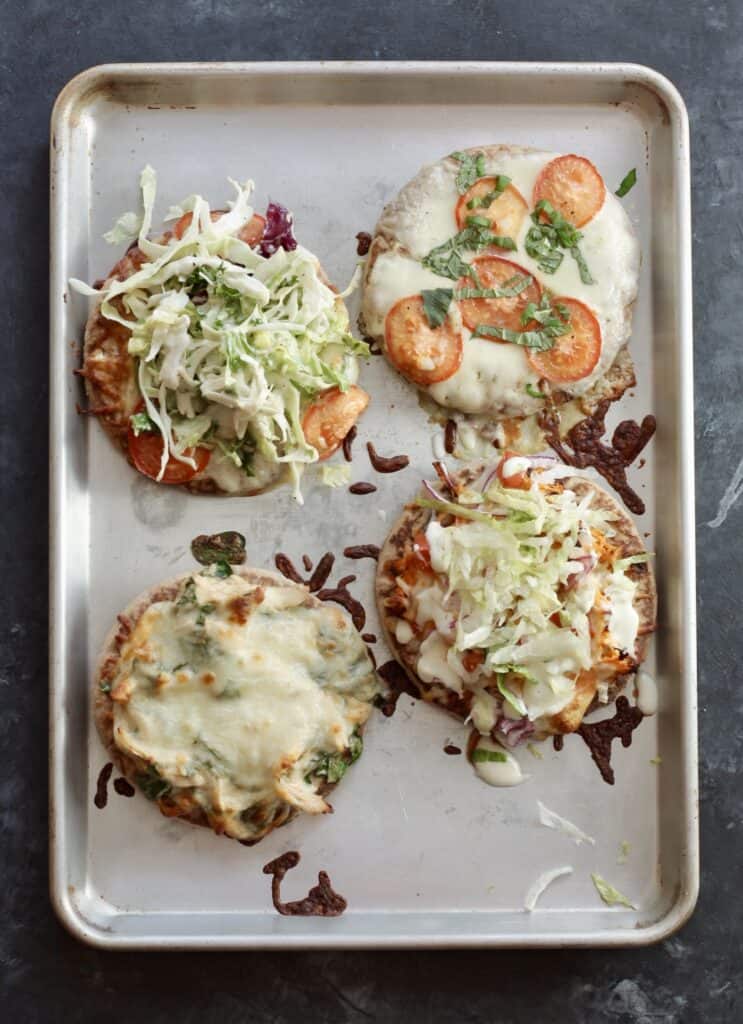 Looking for a quick, simple, kid-approved dinner? Look no further than pita pizza! You can throw these together in a flash. This is a basic recipe for pepperoni pita pizza, but you can easily customize it with your own favorite toppings. The options are endless!
Author: Organize Yourself Skinny
Serves: 1
Ingredients
1 pita bread
1-2 tablespoons pizza sauce
¼ cup shredded mozzarella
4-5 pepperoni slices
Instructions
Preheat oven to 375 degrees
Lay the pita bread flat on a baking sheet. Make sure the flat side of the pita is up.
Spread the sauce on the pita bread and then sprinkle with shredded mozzarella and pepperoni.
Bake for 15 – 20 minutes or until the cheese is melted.
3.5.3251
With all of these pita pizza recipe ideas, I bet Friday night pizza night is going to go off without a hitch! Share a picture and tag me on Instagram or Facebook if you decide to try it!
Get Instant Access to My Best Weight Loss Tips & Strategies!
Sign up now for a free step-by-step 7-day email course that I created exclusively for my email subscribers! That's you. I will teach the best habits, strategies, and insider tips so you can enjoy a lifestyle that encourages and supports weight loss! Stop relying on willpower and take control back over your life! You can do this. Let me help!