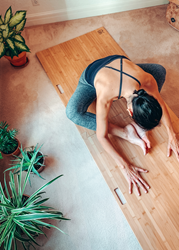 Angeliki Papadakis, owner of Kefi Yoga in Torrance, California states, "The Root Board allows studios to professionally and safely move their classes outdoors," she says. "Because of the Root Board, savvy yoga studios will be able to take their practice outside and provide what their clients need"
SANTA MONICA, Calif. (PRWEB) November 11, 2020
When the COVID-19 pandemic forced tens of millions of yogis out of their studios last spring, husband-and-wife team Brian and Kathy McCarthy saw an opportunity to help make the transition to practicing at home more fulfilling.
Knowing firsthand how carpeted floors inhibit the physical, emotional and spiritual relief of practicing on studio hardwood floors, the couple founded Root Self Care, LLC and created The Root Board, a portable hard surface that replicates the hardwood floors found in now-shuttered yoga studios.
Made of sustainable Moso bamboo, the Root Board is essential equipment to elevate yogis' out-of-studio practices at home on carpet, or outdoors on grass, sand or dirt. The stable, beautiful and portable Root Board allows yogis to maintain their optimal practice anywhere there is a relatively flat surface.
"The benefits of a yoga practice are based on one's ability to still the mind, focus, breathe and land a peak pose," said Kathy McCarthy, co-founder of Root Self Care, LLC. "We call it the Root Board because, as all yogis know, you have to 'root to rise.'"
Yoga instructors and studio owners, too, have had to rush to find new, creative solutions to the restrictions and social distancing requirements imposed on their businesses. Studio owner Angeliki Papadakis, owner of Kefi Yoga in Torrance, California believes the Root Board will change the yoga industry. "The Root Board allows studios to professionally and safely move their classes outdoors," she says. "Because of the Root Board, savvy yoga studios will be able to take their practice outside and provide what their clients need."
According to the 2016 Yoga in America Study conducted by Yoga Journal and Yoga Alliance there were more than 36 million yoga practitioners in the United States, nearly two-thirds of whom practiced at home. With the pandemic spiking and little chance of returning to the studio for the foreseeable future, most yogis have moved their practices to their homes, where carpeted floors create a significant challenge to safely and comfortably landing poses without damaging their bodies.
Root Boards are available to pre-order and will ship in late-November. Instructors and influencers can also apply to participate in the Root Board referral program.
About Root Self Care, LLC
Founded in 2020 by husband-and-wife team, Brian and Kathy McCarthy, Root Self Care, LLC's mission is to improve the lives of millions through empowering people to develop and maximize self-care routines. Root Self Care, LLC is the maker of the Root Board, a portable bamboo platform that enhances yoga practices outside the studio. For more information visit http://therootboard.com.
Share article on social media or email: