White whole wheat flour. White whole wheat flour offers the same benefits as whole wheat flour, but it's milder in taste, so I prefer using it in my healthy baking recipes.
Minute oats. I prefer minute oats to rolled oats in bread and muffin recipes because they give a softer texture after it cooks. You can undoubtedly use rolled oats, but the texture will be heartier. If you don't have any oats or don't want to use them, leave them out and add ¼ cup of flour.
Baking powder and baking soda. These are both leavening agents that help the bread rise.
Cinnamon. Is it a fall recipe if it doesn't include cinnamon? When the cinnamon combines with the flavors of apple and pumpkin, it's pure Fall heaven.
Coconut sugar. I think it's safe to say that I've officially transitioned to using coconut sugar in all of my healthy baking recipes. It's a non-refined sugar making it more nutritious than processed white or brown sugar. Not to mention, coconut sugar brings a delicious sweet caramel flavor.
Eggs. This is another leavening agent that also helps with the structure and taste of the pumpkin apple bread.
Unsweetened coconut milk. Any milk will work, but coconut milk brings richness without fat or calories. Also, it keeps this quick bread recipe dairy-free.
Pure vanilla extract. For another layer of tasty flavor.
Canned pumpkin. Make sure to grab pure pumpkin and not pumpkin pie filling. Also, don't worry about leftovers because you can freeze canned pumpkin to use in future recipes.
Apple. I've used different apples in this recipe; my favorite apple variety is gala or fuji apples. Both have the perfect amount of sweetness. If you want a tart and sweet flavor, then use Granny Smith. Don't forget you can freeze apples. So, if you have an abundance then freeze them now to use later on.
Unsweetened cranberries and walnuts. This pumpkin apple quick bread can be made without any extras, but stir in some walnuts and dried cranberries if you want the whole harvest experience. So delicious.
Cooking Tips
Make the bread recipe gluten-free. I've made this pumpkin apple bread successfully using Bob's Red Mill Gluten-free 1:1 flour in place of the white whole wheat flour. Of course, make sure to purchase gluten-free oats and that all of the other ingredients are gluten-free.
Chop the apple into small pieces. I love the apple chunks in this apple pumpkin bread recipe, but you don't want the chunks to be too big, or they won't cook fully. So chop the apples into even small chunks to get the best flavor and texture.
Change up the texture of the bread. I love making this quick bread with chunks of apple but if you want the apple flavor minus the chunks then grate the apple instead.
Add in extra spices. Good ole cinnamon is delicious but you can also add a pinch of nutmeg, ginger, cloves, or allspice for another layer of Fall flavor goodness.
Don't overmix. One tip for a tender moist quick bread is not to overmix the batter. You only need to stir only until ingredients are mixed.
Don't overbake. This is another huge tip for perfectly moist quick bread. Every oven is different so keep an eye on the bread towards the end of cooking time to make sure it doesn't overbake.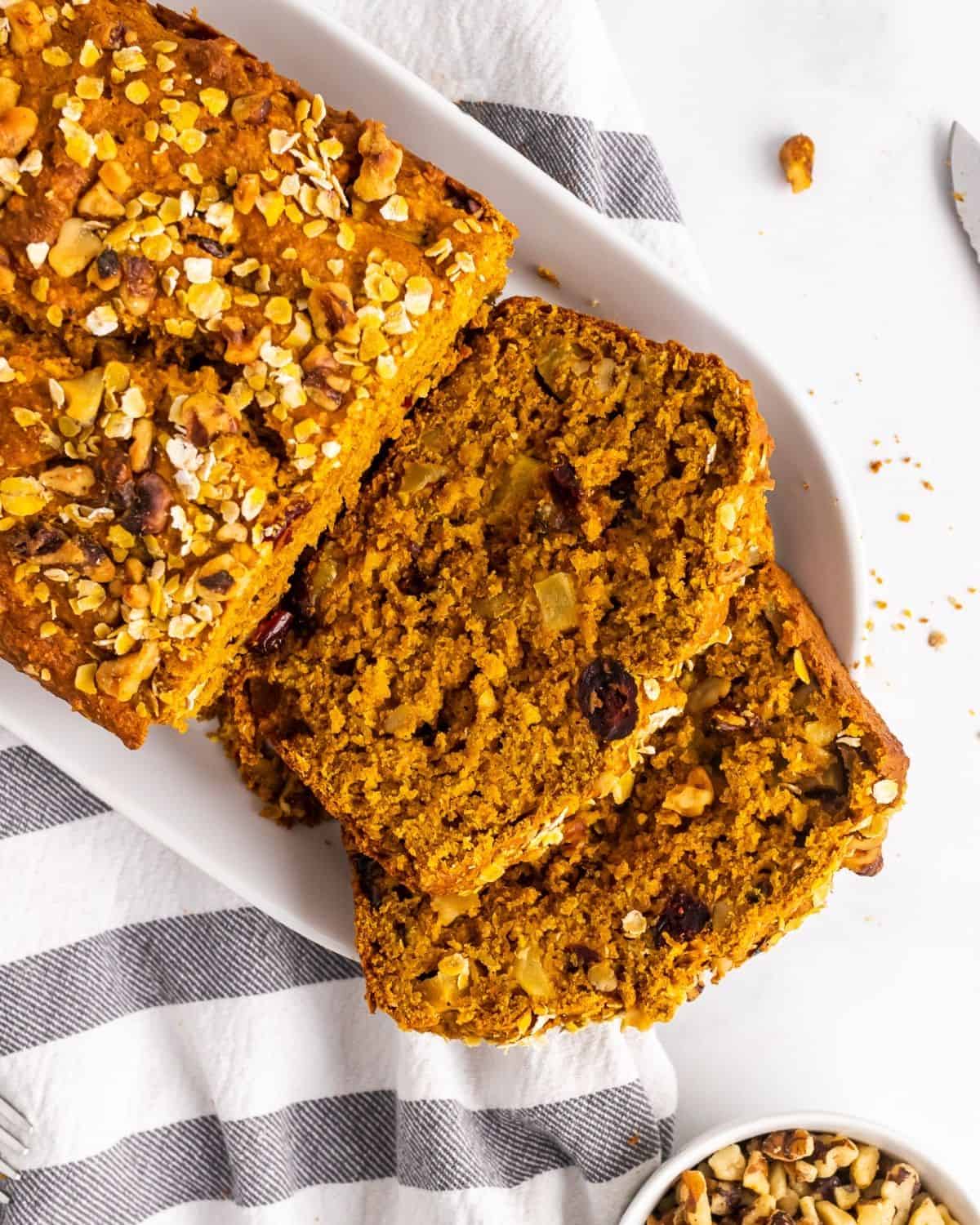 Supplies