Pumpkin overnight oats are what fall breakfast dreams are made of. These oats are made with pumpkin puree, greek yogurt, pumpkin spice, and sweetened with just the right amount of pure maple syrup. It's truly like fall in a jar! If you wait all year to enjoy pumpkin spice, then make sure to put this wholesome delicious breakfast on the meal plan.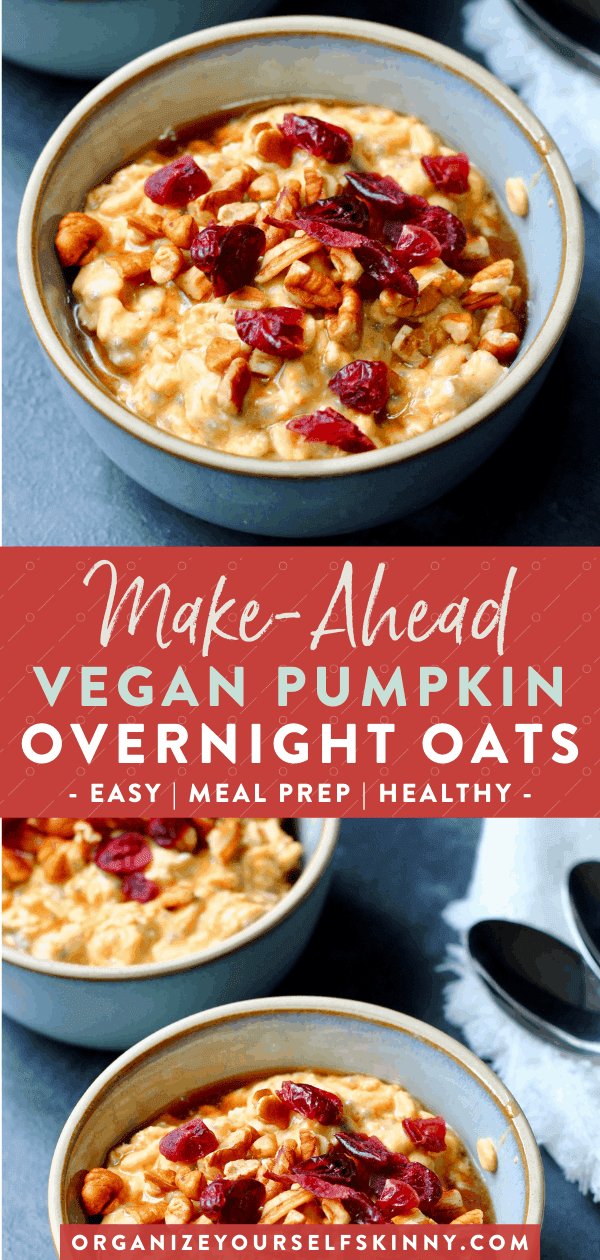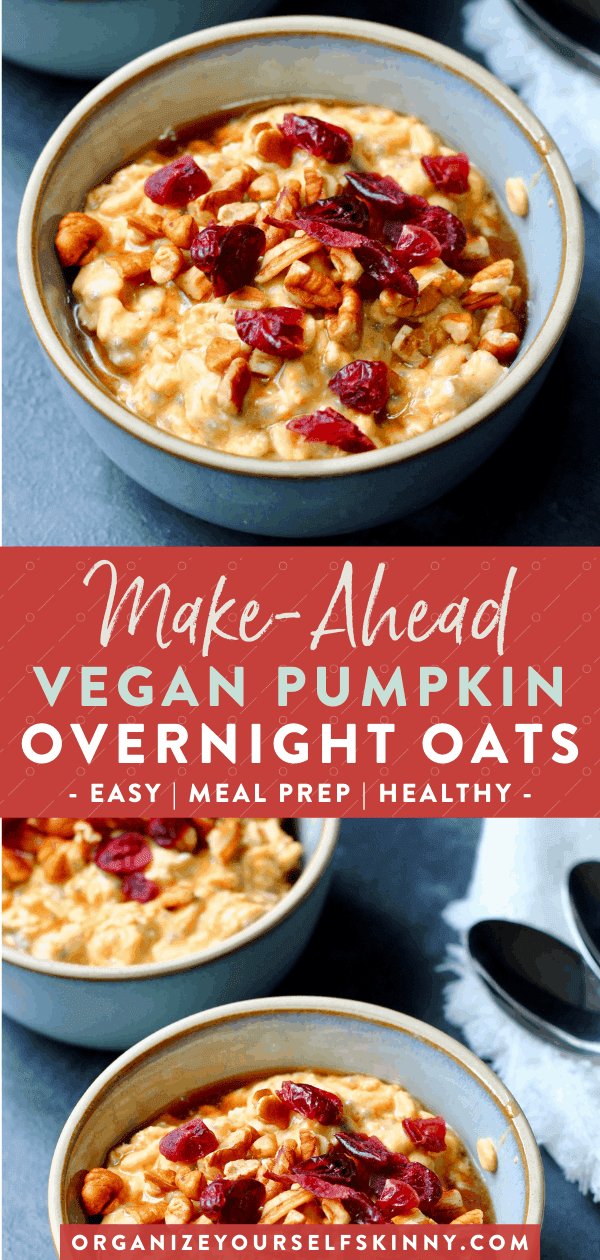 As many of you know, overnight oats have been a staple breakfast recipe on my meal plan for well over six years. You'll often see them show up ever week during my weekly meal prep routine.
Well, SURPRISE!
I have another overnight oats recipe to share with you and I have to say I am very excited about this one. With the fall season falling upon us, I really wanted to make an oatmeal recipe for breakfast with one of my favorite fall ingredients: pumpkin.
And not just pumpkin, but also pumpkin spice!
What Are Overnight Oats?
It's likely you've heard of overnight oats but just in case you haven't, here's a quick overview! You can check out my detailed guide on how to make overnight oats to learn all the ins and outs of overnight oats.
Essentially, overnight oats are rolled oats that are soaked overnight in a liquid. That liquid is usually milk or a non-dairy milk like coconut or almond milk.
After being in the fridge all night, you'll end up with a creamy wholesome breakfast in the morning.
7 Reasons I Love Overnight Oat Recipes
Haven't convinced you yet? Here are 7 reasons why I love overnight oats for a healthy breakfast.
Easy to prepare and prep. Breakfast doesn't get much easier than overnight oats. Literally, all you need to do is combine rolled oats with a liquid, chia seeds, and then stir in any add-ins. These are also super easy to meal prep. In fact, they're designed for meal prep because the jars need to be made ahead of time, preferably the night before.
It's healthy. Each jar of oats is filled with wholesome rolled oats that contain heart-healthy whole grains and fiber. I use chia seeds in all of my overnight oat recipes which adds a nice punch of omega 3 fatty acids, fiber, and protein.
It's cheap. If you want a cheap healthy breakfast, then look no further than overnight oats. Depending on the ingredients used, 1 jar of oats (meaning one breakfast) can cost you less than $.50. And that's using organic ingredients! You can't even get a fast-food breakfast sandwich or a donut for that cheap!
Portion controlled servings. When it comes to eating a healthier diet, portion control is key. At least, it has been for me. When made in individual mason jars, you can prepare a portion-controlled breakfast for the week. This way you know exactly what you're eating so you can stay within your calories and stick to healthy eating goals.
Tons of variety. The ideas are endless when it comes to overnight oats recipes. You can eat them plain with a little pure maple syrup or dress them up with fresh or frozen fruit or even create a decadent rich chocolatey breakfast by using cacao powder.
Adaptable to dietary needs and restrictions. If you're trying to eat less dairy or are vegan, it's super easy to make vegan overnight oats using non-dairy milk. You can also use gluten-free oats if you have a gluten sensitivity. You can adapt any overnight oat recipe to meet your needs.
It's scrumptious. What I love most about overnight oat recipes is that they are delicious, sweet, and creamy. Most of my overnight oat recipes have been inspired by my favorite desserts. So, if you have a morning sweet tooth, then put down that donut and instead prepare a few healthy overnight oat recipes to enjoy during the week.
Supplies For Pumpkin Overnight Oats
Speaking of delicious, I can't wait to share this pumpkin overnight oats recipe with you. But first, let's share some supplies needed to make this recipe!
16-ounce mason jars – I prefer to make individual servings in 16- ounce mason jars. I use the wide mouth but you can use the regular mouth jars if that's all you have.
Plastic mason jar lids – I always recommend picking up some plastic mason jar lids if you plan to use mason jars for meal prep recipes. The lids that come with the mason jars will eventually rust and the plastic lids are very durable. I've had mine for well over 3 years and they're still going strong.
Pumpkin Overnight Oats
Alright, now that you know everything you need to know about this overnight oats recipe, here is the list of ingredients you will need to make it!
Rolled oats (regular or gluten-free) – Rolled oats are the perfect oat for overnight oats. My favorite brand whether it be regular or gluten-free is Bob's red mill.
Unsweetened non-dairy milk – I like to keep the overnight oat recipes I make vegan so I use unsweetened almond or coconut milk. You can also use dairy milk or whatever milk you want.
Chia seeds – Chia seeds add a lot of nutrition to overnight oats not to mention they help with that creamy pudding-like texture.
Canned pumpkin puree – For this recipe, you're going to use canned pumpkin, not canned pumpkin pie filling. The only ingredient you should see on the can is pumpkin.
Pumpkin spice flavored greek yogurt – During the fall season, I love using pumpkin spice greek yogurt. My favorite brand is Siggi's. It has less sugar than other brands and it's so creamy and delicious. 1 container is just enough for 3 jars of pumpkin overnight oats. If you can't find pumpkin spice, then use vanilla flavored.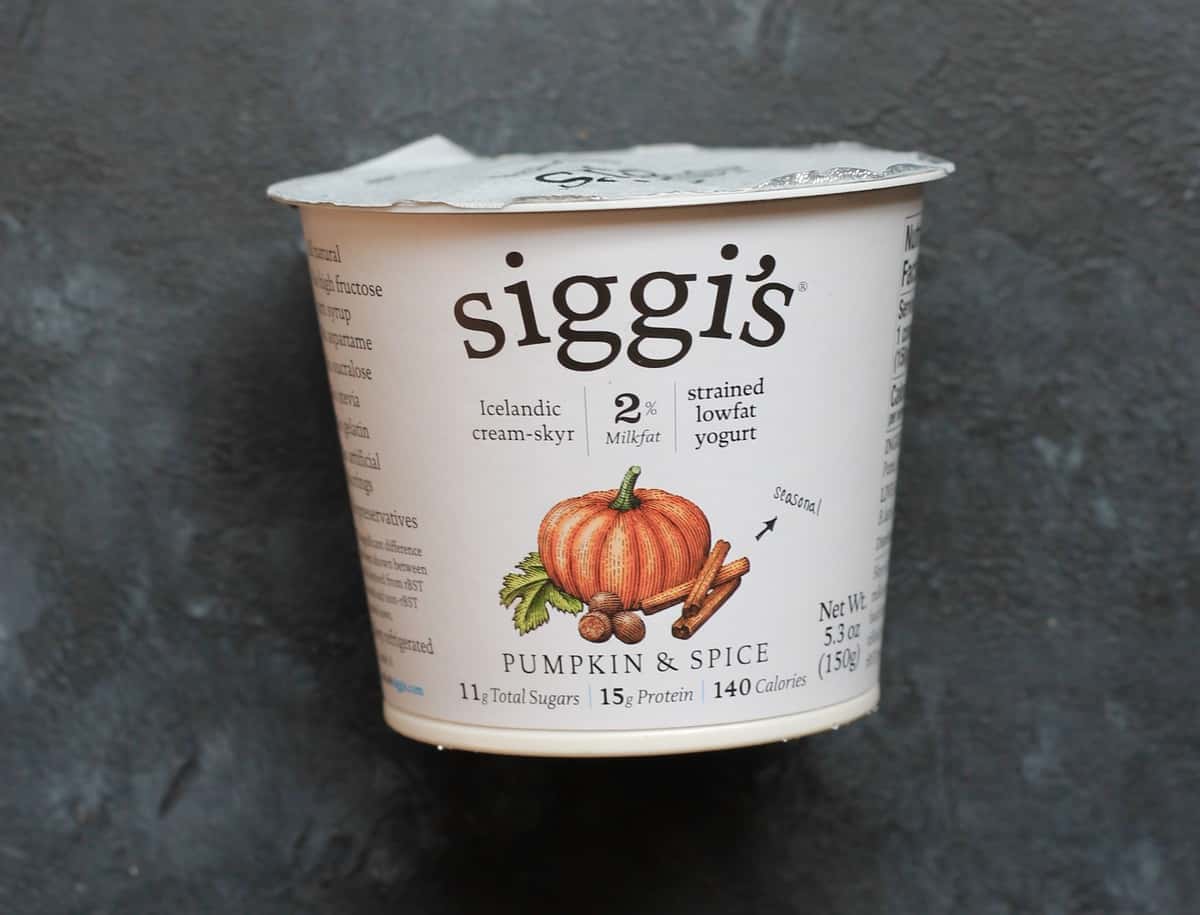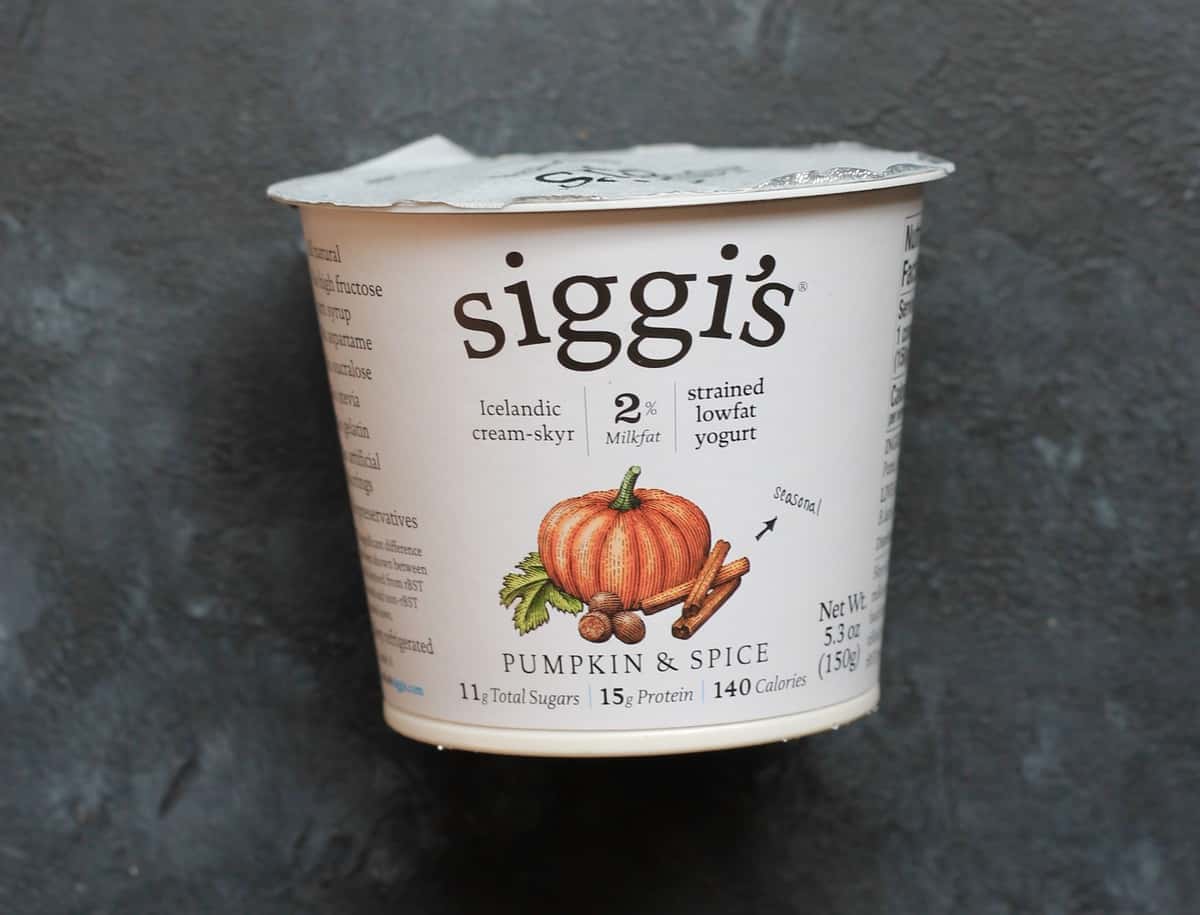 Pure vanilla extract – I add 1/4 of a teaspoon for added flavor.
Pumpkin spice – A little goes a long way in this recipe – you only need about ⅛ of a teaspoon. My favorite brand of pumpkin spice is Simply Organic. Out of all the pumpkin spice brands I've tried, this has the best flavor.
Pure maple syrup – To sweeten up this recipe I use a couple of teaspoons of pure maple syrup and it's the perfect fall touch to this recipe. You can also use honey or whatever sweetener you'd like to use.
Chopped pecans – For a little added crunch, I like to top this pumpkin overnight oats with a couple of teaspoons of chopped pecans. You can also use walnuts or really any nut you'd like.
Dried cranberries – This is optional, but for a little tang, I like to add a few dried cranberries to the pumpkin overnight oats in the morning.
How To Make Pumpkin Overnight Oats In Mason Jars
Let's start off by adding the base ingredients!
In a mason jar, add ½ cup of rolled oats, 1 teaspoon chia seeds, and 1/8 of a teaspoon of pumpkin spice.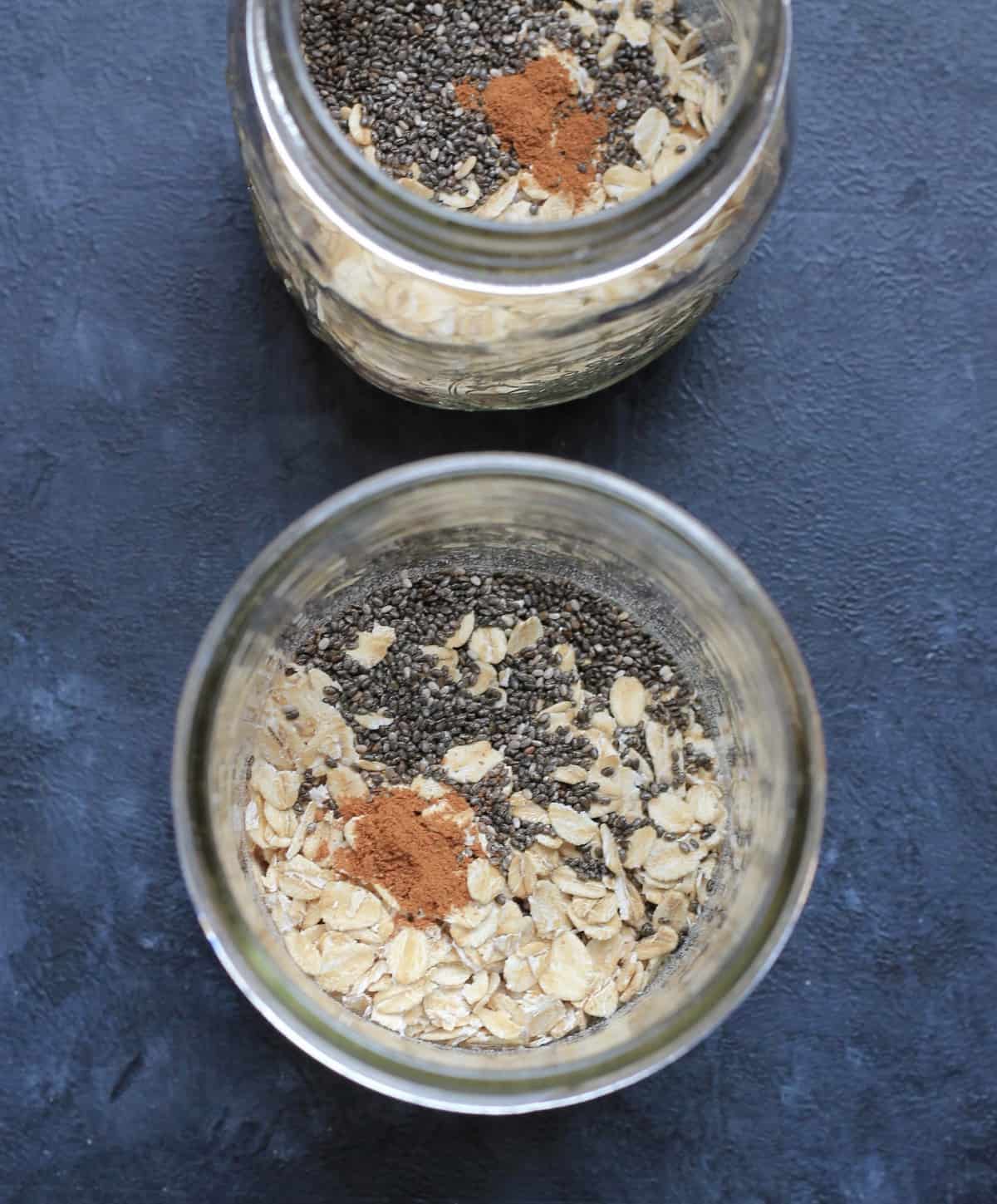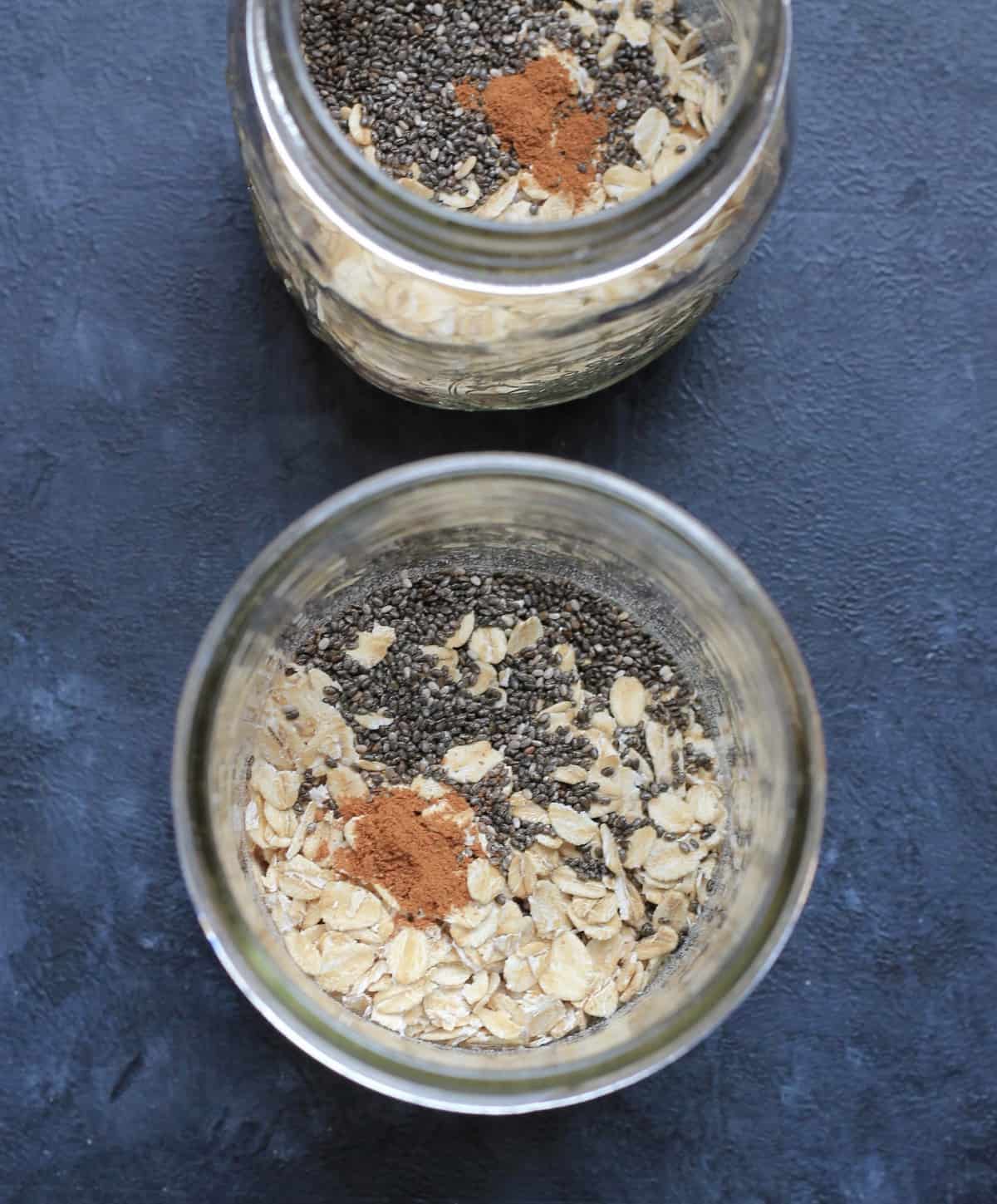 Add 2 tablespoons of canned pumpkin puree and 2 tablespoons of greek yogurt.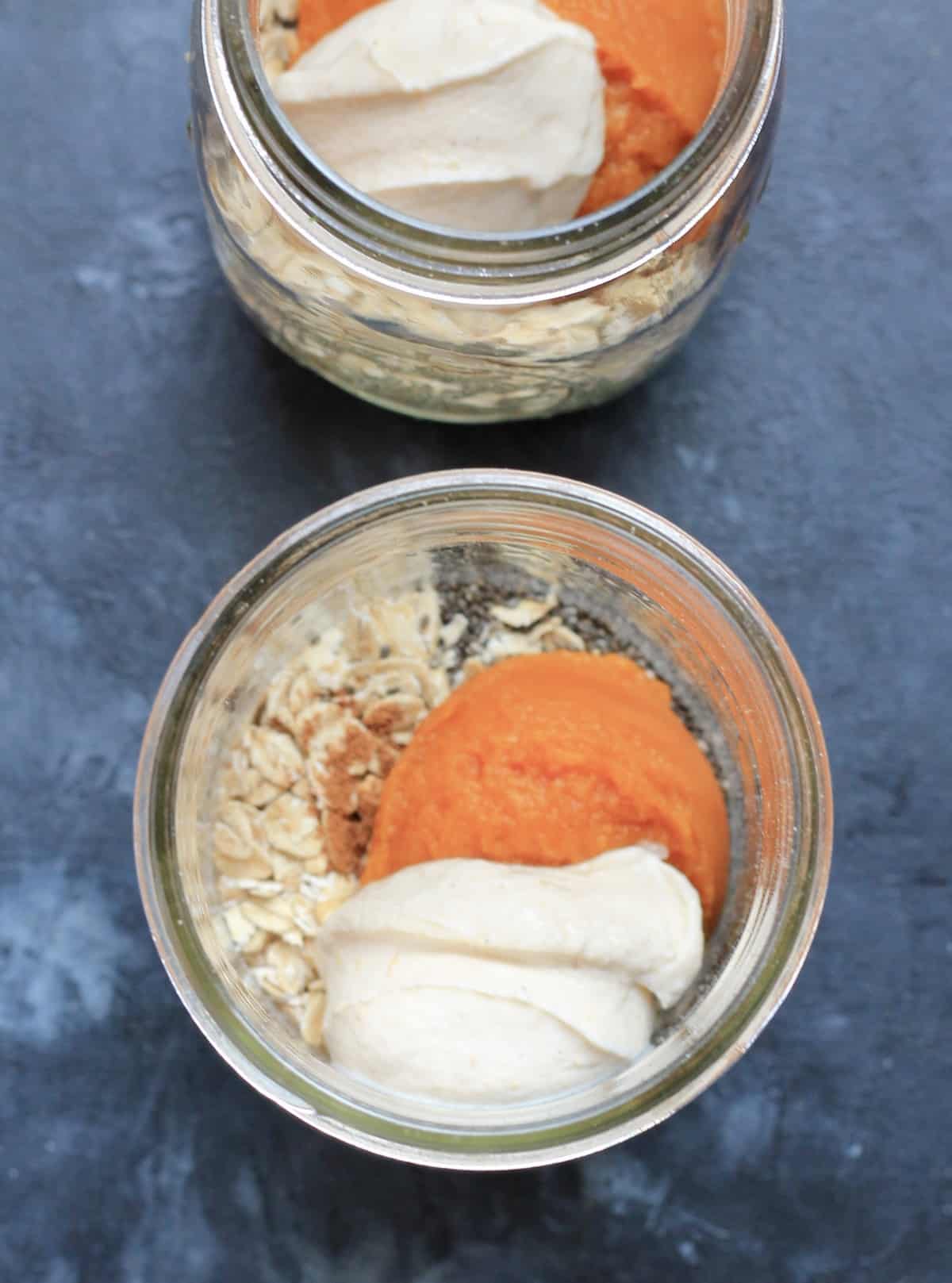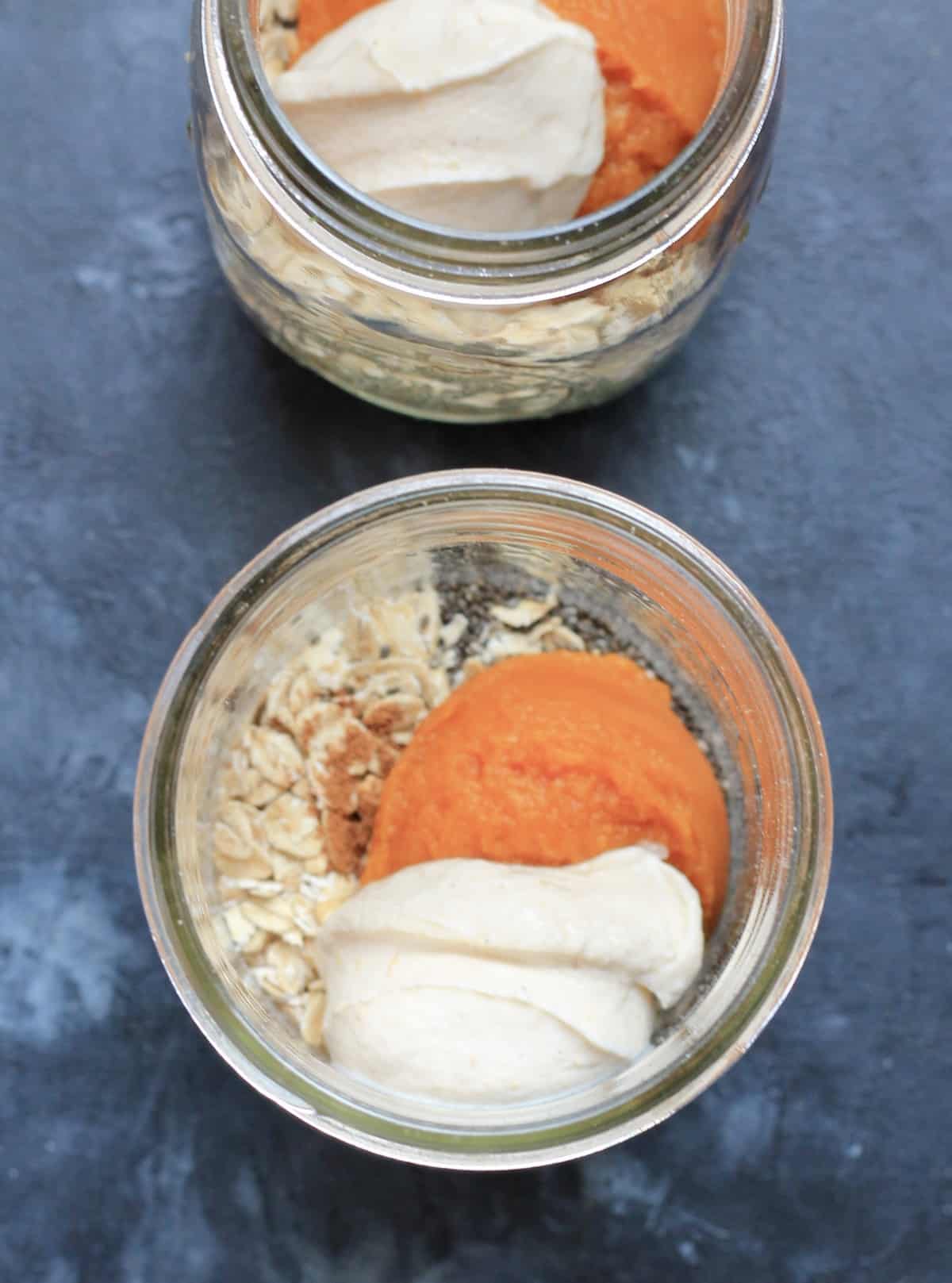 Add ½ cup of non-dairy milk and pure vanilla extract and give all the ingredients a stir until everything is combined and the oats are completely covered with the milk. This is already a very wet recipe so you might not need to add any more liquid. However, if the oats are not covered then add a couple teaspoons or more of milk until the oats are covered.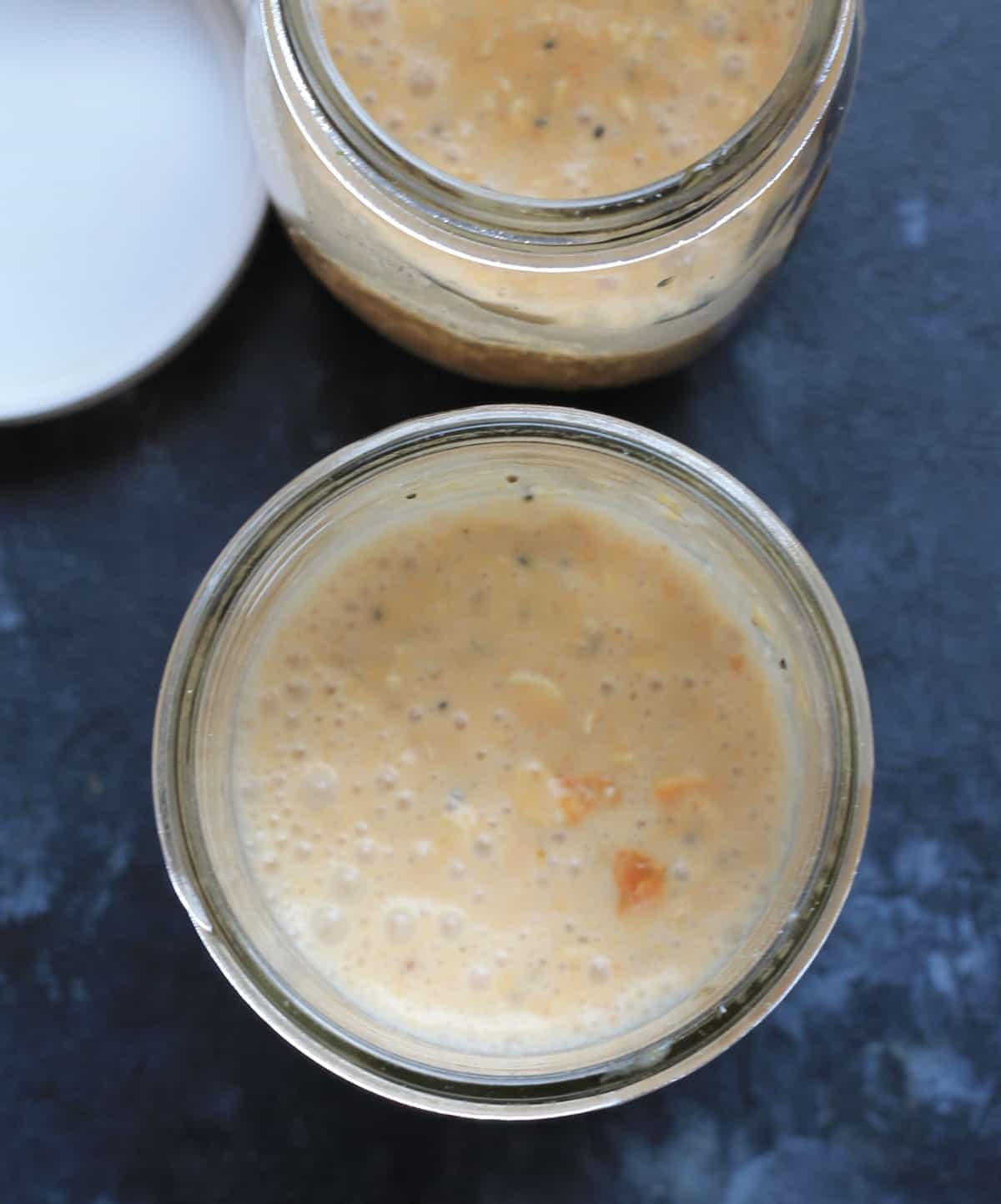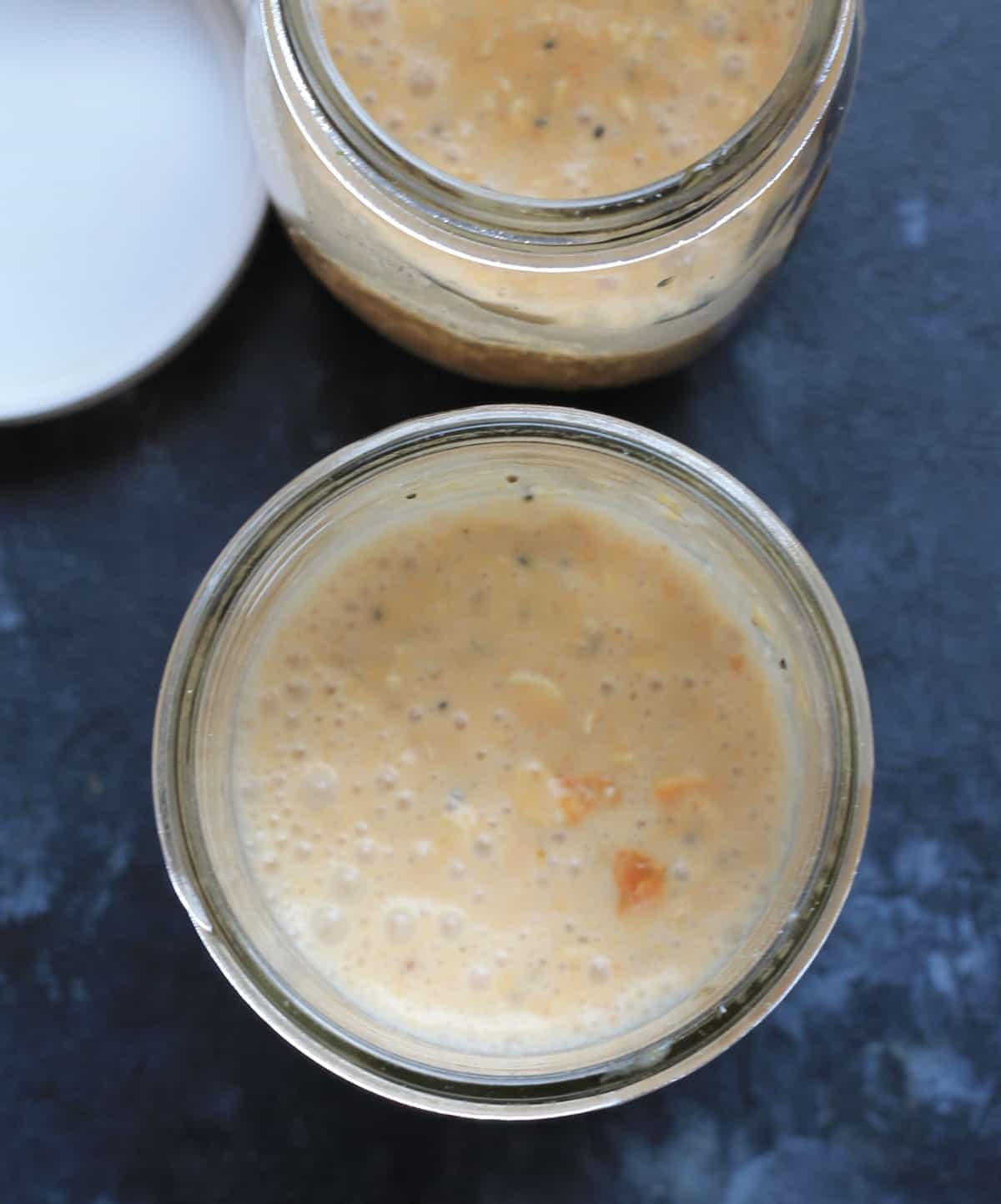 Place the lid on tightly and refrigerate overnight or at least 5 hours.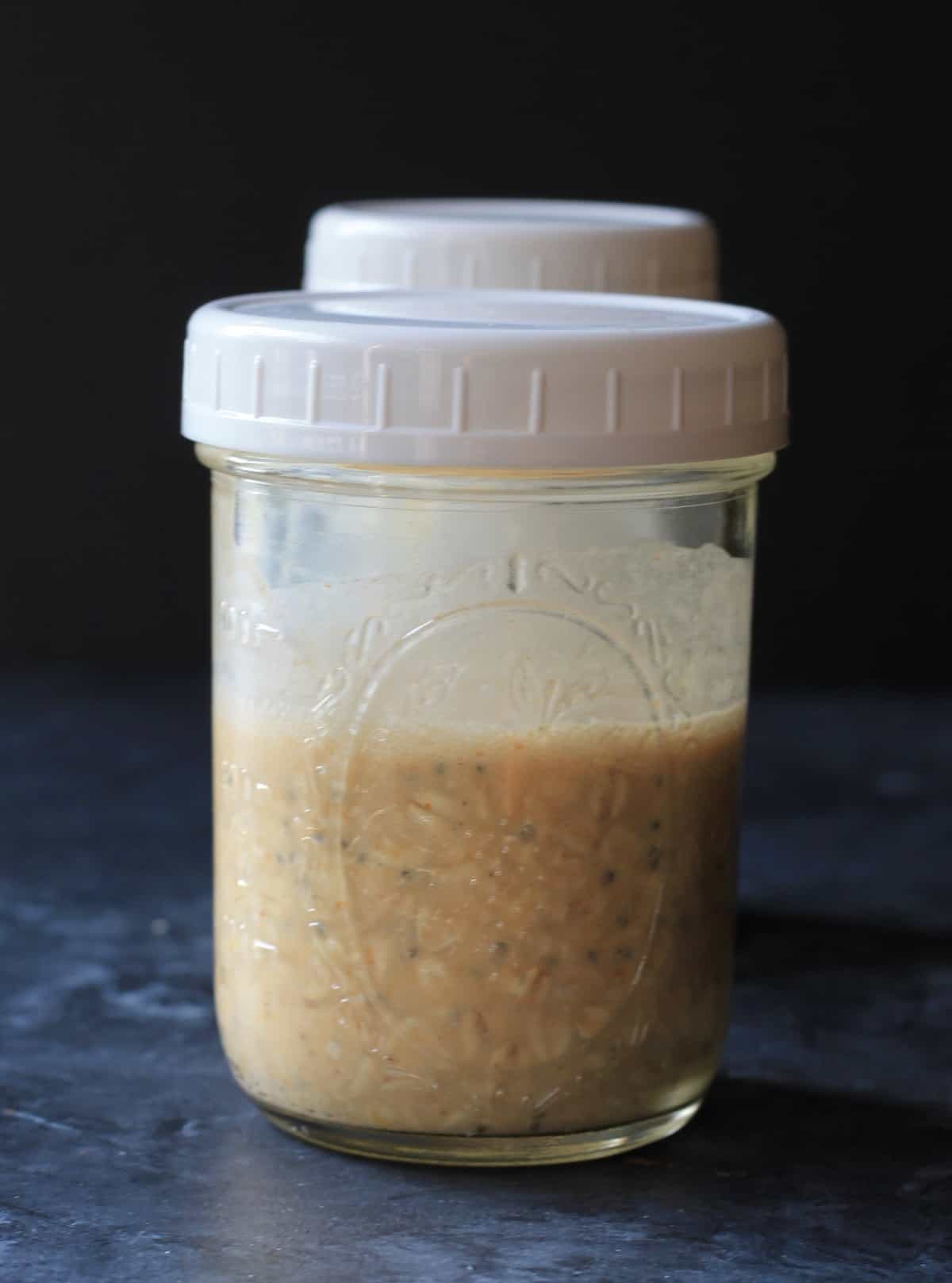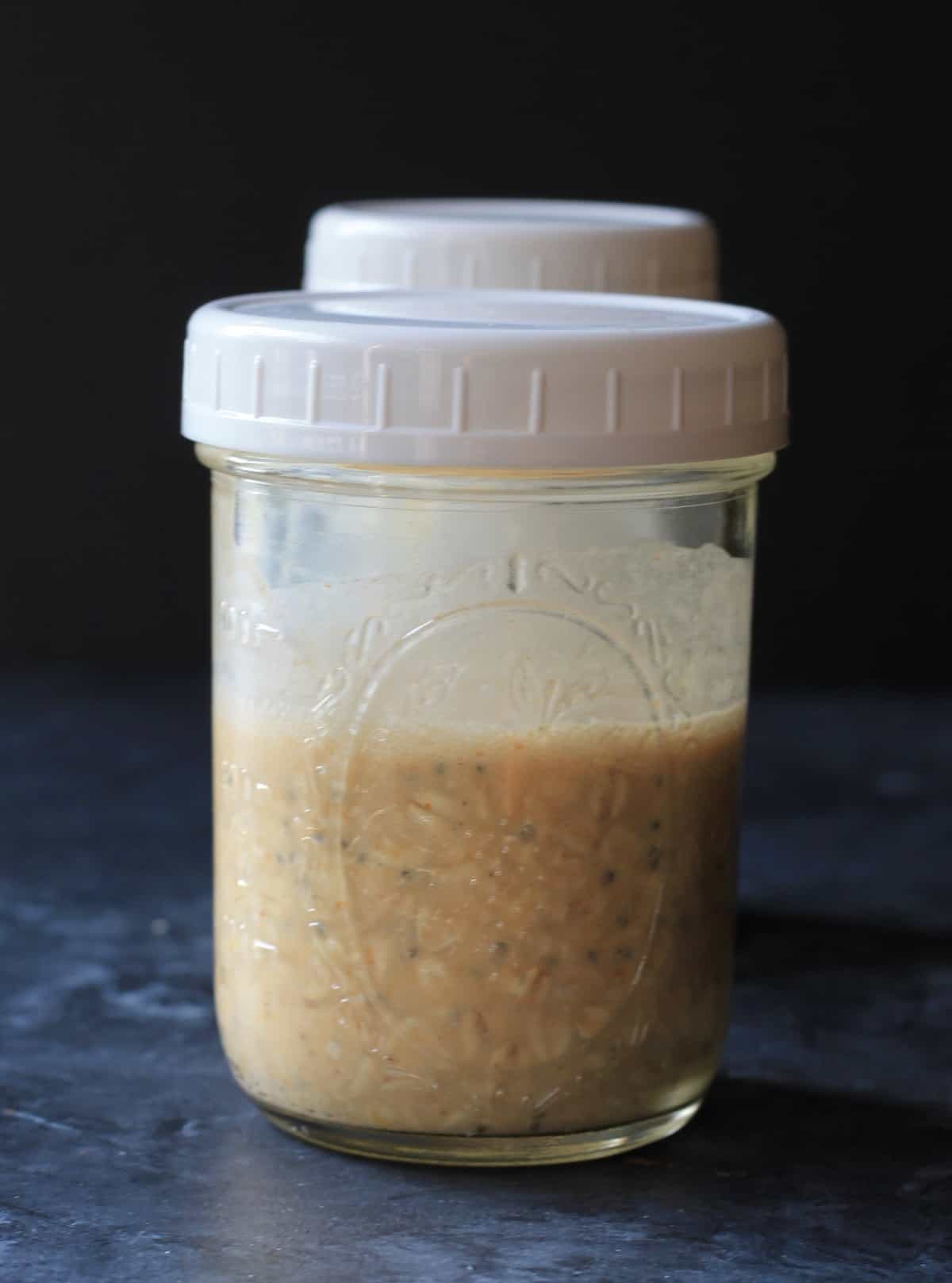 In the morning, give the overnight oats a few stirs. Sometimes, I might need to add a couple of teaspoons of milk to loosen up the oats and make it a little more creamy.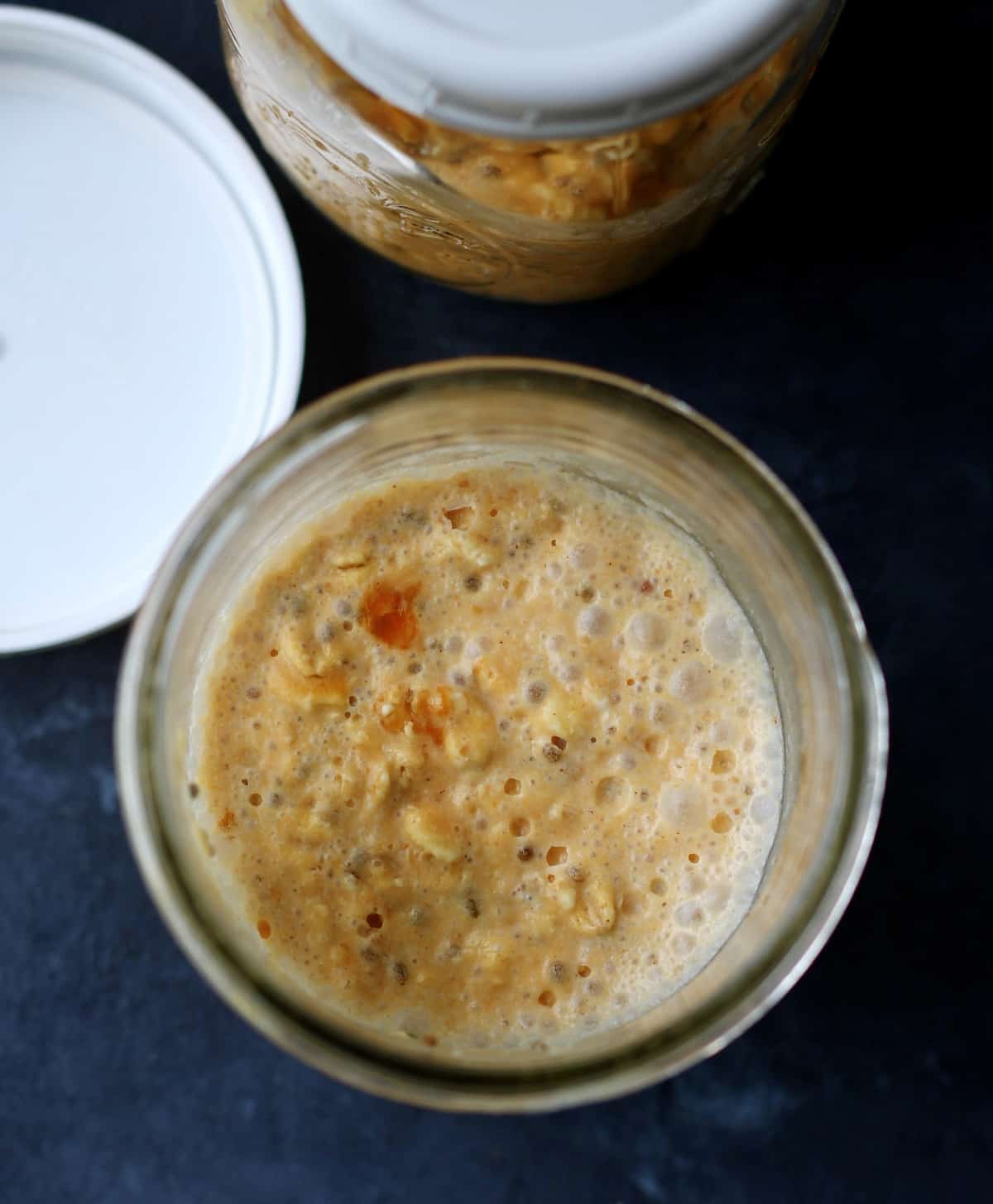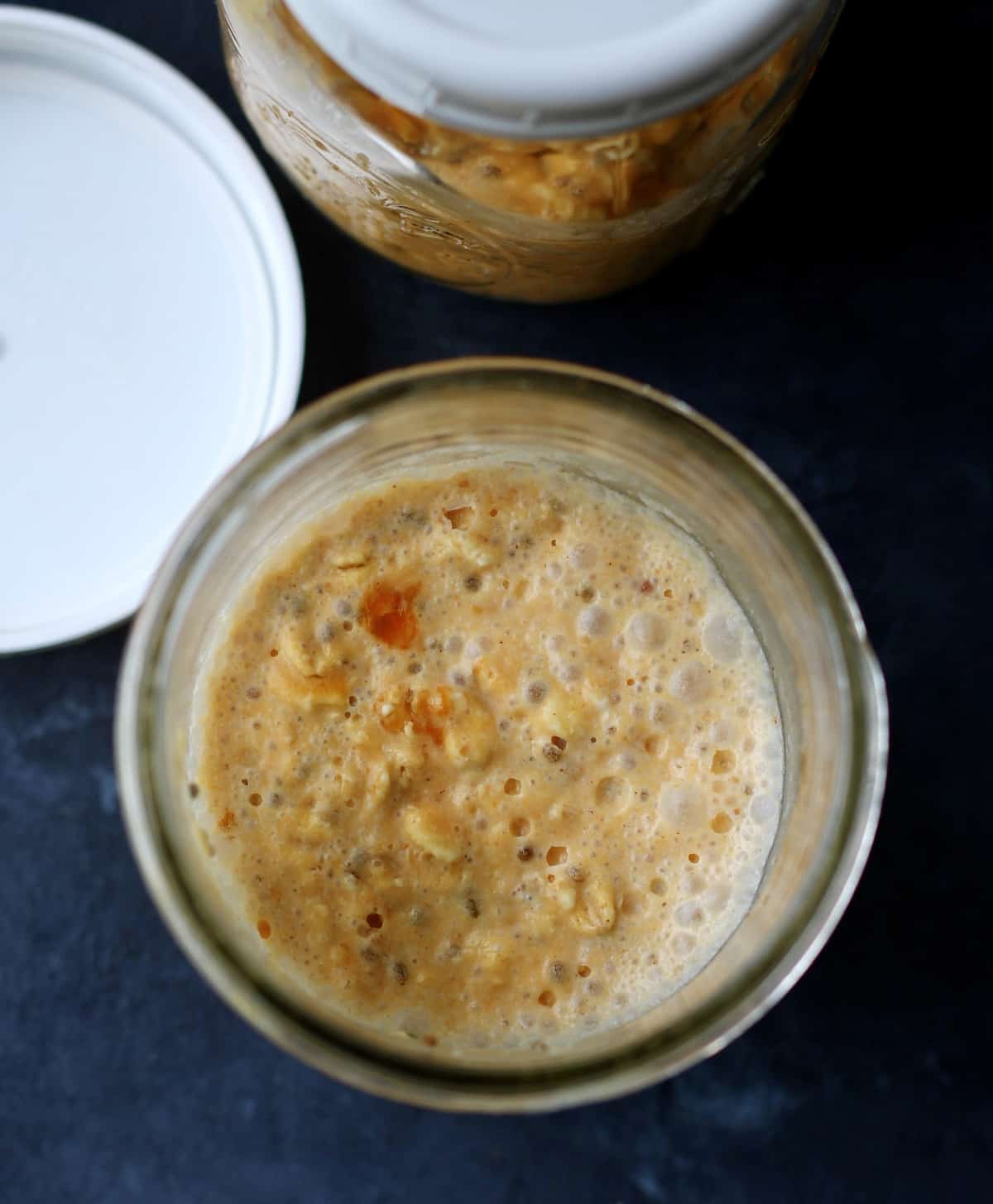 Add a sprinkle of pecans or walnuts with some dried cranberries.
Enjoy!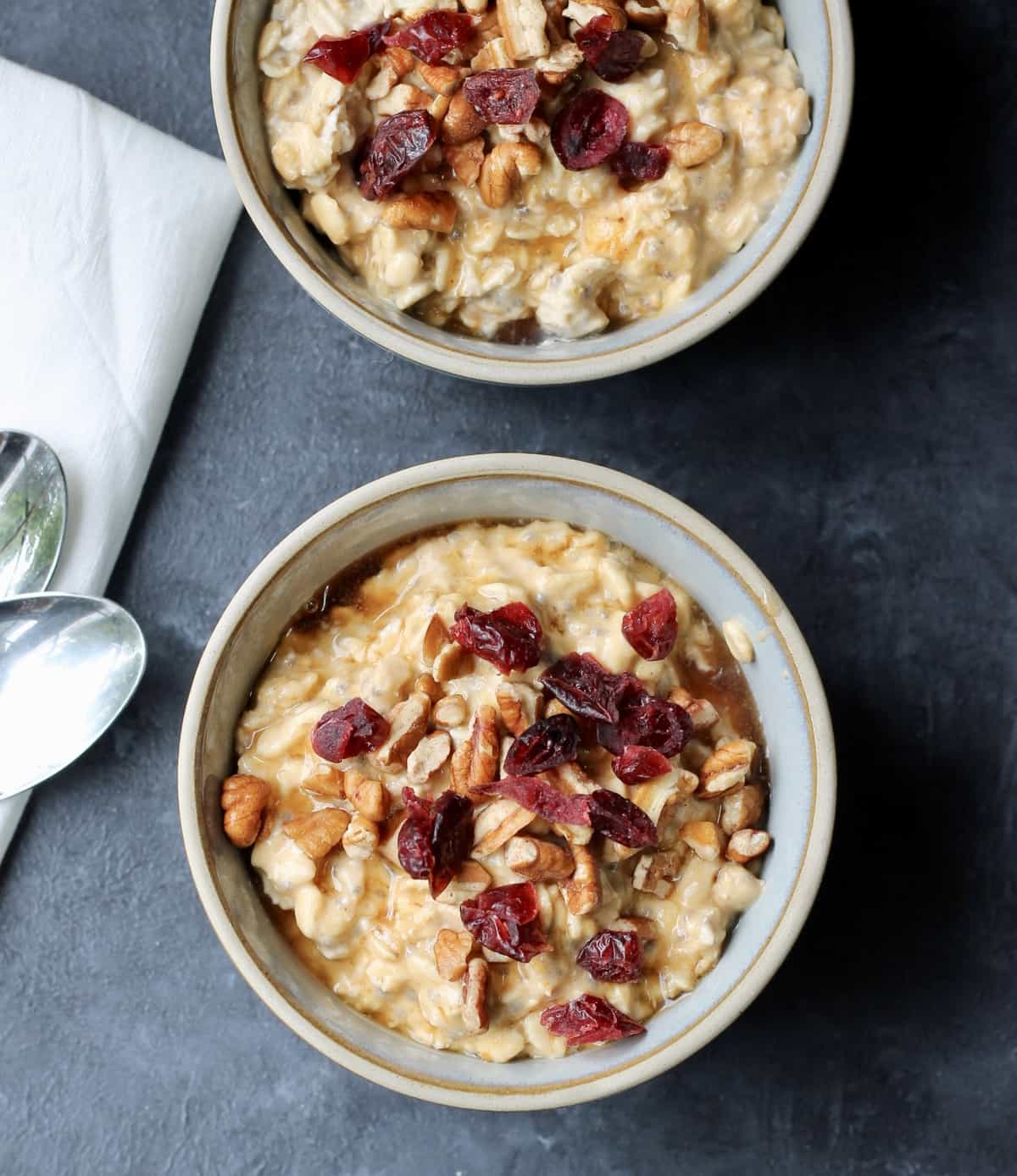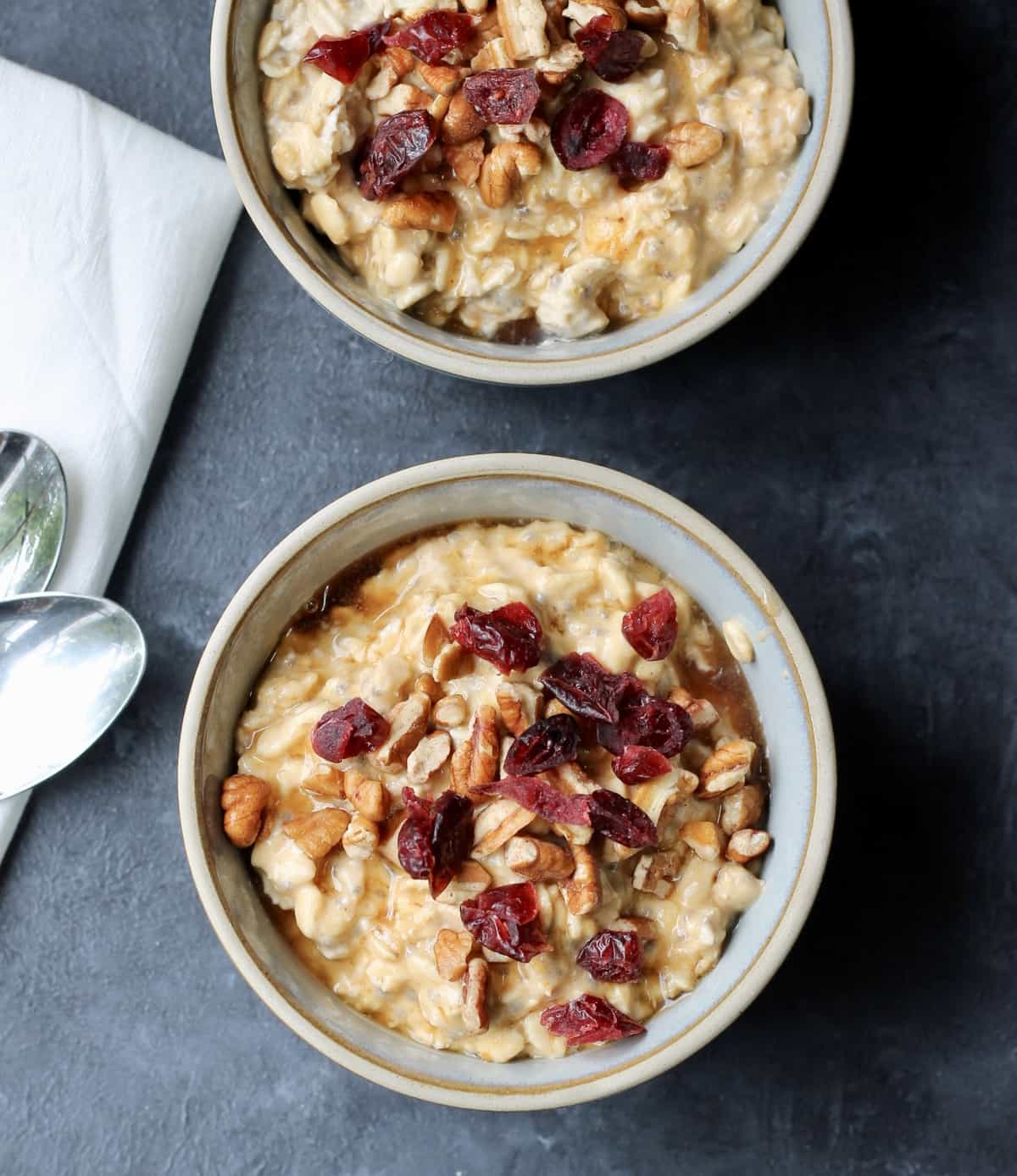 Cooking Tips
Overnight oats are meant to be eaten cold so, enjoy it right out of the jar. However, if you don't like cold oatmeal and would rather have it warmed up, then either warm it up on the stove or in the microwave (of course, using a microwave-safe dish).
The standard formula I follow when I make a jar of overnight oats is ½ oats and ½ liquid, and 1 teaspoon chia seeds. When I add in other ingredients I might need to add a little more liquid to cover the oats.
You can eat the oats in the jar or pour it into a bowl. I usually just eat them right out of the jar.
How To Meal Prep Pumpkin Overnight Oats
Pumpkin overnight oats can be made ahead of time in a couple of different ways.
Prepare the jars 3-4 days in advance. Like I said overnight oats are meant to be prepped ahead of time. You can make 1 jar the night before or make 3-4 jars on Sunday for the week.
Make some overnight oats meal prep freezer kits. This is a great way to meal prep all the ingredients ahead of time for your favorite overnight oat recipes.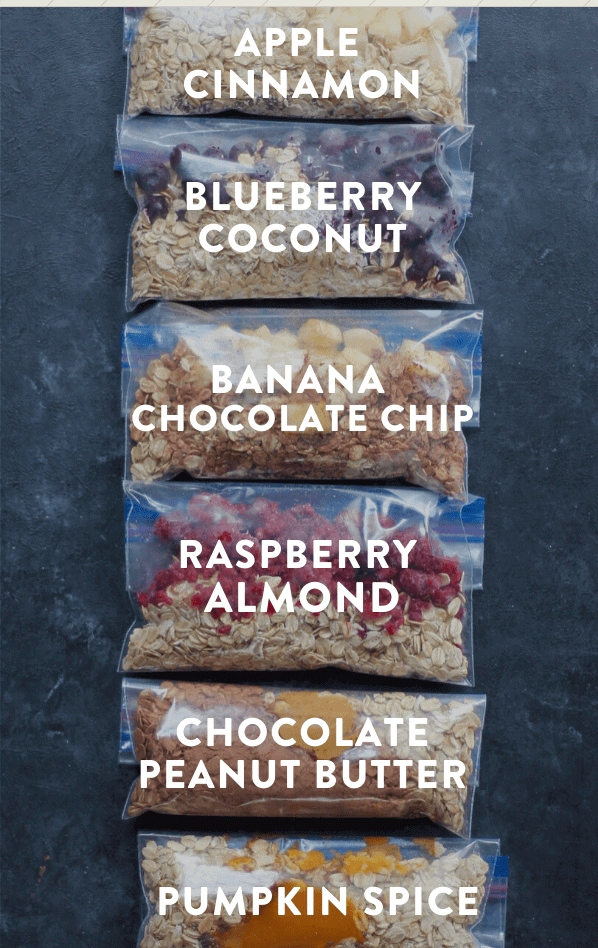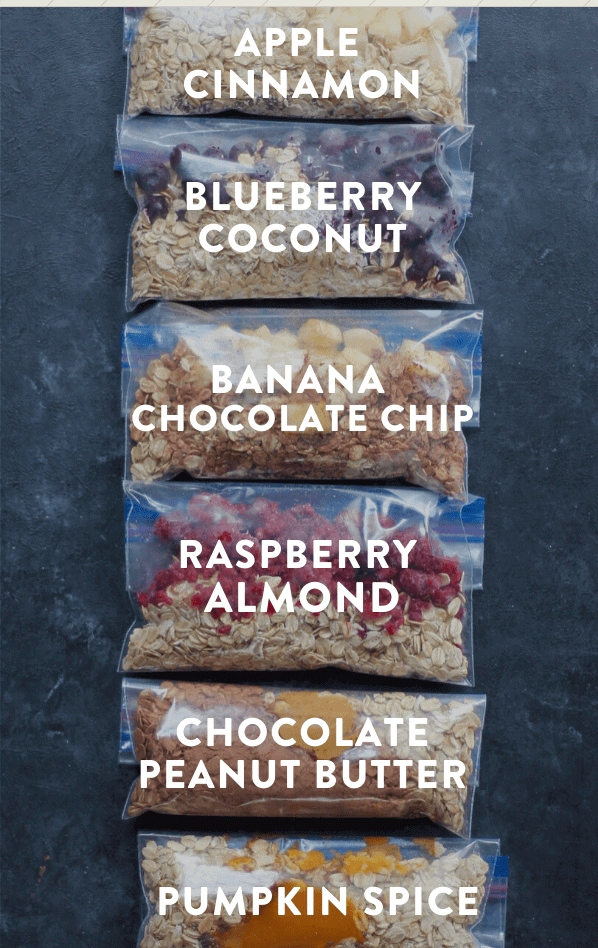 Other Overnight Oats Recipes
If you really enjoyed this pumpkin overnight oats recipe, you must try some of my other oat recipes for breakfast:
Share a picture and tag me on Instagram or Facebook if you decide to try to make pumpkin overnight oats sometime soon!
Pumpkin Overnight Oats (Meal Prep Recipe)
Total time
8 hours 10 mins
Pumpkin overnight oats are what fall breakfast dreams are made of. These oats are made with pumpkin puree, greek yogurt, pumpkin spice, and sweetened with just the right amount of pure maple syrup. It's truly like fall in a jar! If you wait all year to enjoy pumpkin spice, then make sure to put this wholesome delicious breakfast on the meal plan.
Author: Organize Yourself Skinny
Recipe type: Breakfast
Cuisine: American
Serves: 1
Ingredients
½ cup rolled oats
⅛ teaspoon pumpkin pie spice
1 teaspoon chia seeds
2 tablespoons canned pumpkin puree
2 tablespoons pumpkin spice Greek yogurt (Sigi's is my favorite)
½ cup unsweetened coconut or almond milk
1 tablespoon pure maple syrup
extra coconut milk and/or maple syrup if needed
pecans and/or cranberries for serving
Instructions
In a 16-ounce mason jar, or other container, combine the rolled oats, pumpkin pie spice, chia seeds, milk, pumpkin puree, greek yogurt, milk, and pure maple syrup.
Stir all the ingredients together until the oats are completely covered with liquid. If needed, add more liquid until all the oats are covered.
Place the lid tightly on and store overnight in the refrigerator.
In the morning, add more liquid, if needed to loosen up the oats. Also, if you'd like to add a little more sweetener you can do it at this time too.
Sprinkle with pecans and/or cranberries and enjoy!
Nutrition Information
Serving size: 1 mason jar Calories: 329 Fat: 8 Saturated fat: 3 Carbohydrates: 53 WW Points +: 16 Fiber: 8 Protein: 11
3.5.3251
Get Instant Access to My Best Weight Loss Tips & Strategies!
Sign up now for a free step-by-step 7-day email course that I created exclusively for my email subscribers! That's you. I will teach the best habits, strategies, and insider tips so you can enjoy a lifestyle that encourages and supports weight loss! Stop relying on willpower and take control back over your life! You can do this. Let me help!