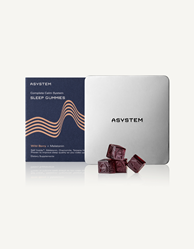 "We have been working on Complete Calm for the past year and the result is what we believe to be the most advanced gummies on the market. It's natural and effective in beautiful packaging with a compostable refill system."
LOS ANGELES (PRWEB) April 21, 2021
ASYSTEM, the LA-based self-care company that creates systems for better living, today announced the launch of Complete Calm, the most advanced anti-anxiety and sleep gummies. Formulated with an award-winning ingredient, Safr'Inside™, which has over 10 clinical trials proving its ability to naturally support emotional health, improve sleep quality and reduce anxiety.
Complete Calm consists of two products; De-Stress Gummies – Formulated to significantly reduce anxiety, helping to elevate mood and sharpen focus. In two unique flavors: Blood Orange + Cayenne and Sicillian Lemon + Ginger. Sleep Gummies – Formulated to improve sleep quality and duration, so you wake up refreshed. In two options: Wild Berry + Melatonin and Wild Berry (Melatonin-Free).
"As a company we continue to innovate by merging cutting edge clinical ingredients, with a design process rooted in behavioural psychology," says Oli Walsh, co-founder of ASYSTEM. "We have been working on Complete Calm for the past year and the result is what we believe to be the most advanced gummies on the market. It's natural and effective in beautiful packaging with a compostable refill system. We are so excited to be able to offer a new way for people to improve their stress, sleep and mood."
From launch, ASYSTEM are partnering with Base, to offer customers the opportunity to test key hormone and nutrient levels affected by stress and sleep quality. before and after taking Complete Calm for 30-days. "As with all our products, we extensively tested them on ourselves, and were blown away by the results. Our participants' cortisol and stress hormone levels improved by over 50% and had a dramatic impact on sleep quality, anxiety levels and mood, so we are delighted to offer these Base test kits to prove the benefits of Complete Calm," Josh LeVine, co-founder of ASYSTEM.
Complete Calm is also a climate positive product by partnering with Sea Trees to regenerate coastal ecosystems that remove more CO2 than the product emits. To further improve their environmental impact, ASYSTEM's Complete Calm packaging utilises low impact materials like tin and moulded fiber, that are reusable, recyclable, and minimize plastic waste. ASYSTEM have also introduced a compostable refill system so that every time customers reorder, they're reducing their carbon footprint and minimizing waste.
About ASYSTEM:

ASYSTEM is creating the future of personalized self-care. We offer supplements, skin care, recovery and pain management products created by combining the best of science with the best of nature — to help you look, feel and perform at your best.
Based in LA, ASYSTEM was founded by two serial entrepreneurs with an impressive track record creating, scaling and exiting consumer brands across the globe; Oli Walsh (Wednesday Agency, Aritzia) and Josh LeVine (Frame Denim, Davi Skincare).
Their current assortment spans Supplements, Skincare and Pain Relief and their products can be found on ASYSTEM.com and prestigious retailers such as Nordstrom.
Share article on social media or email: