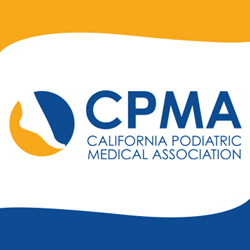 "Your feet could contain vital clues to clogged arteries," California Podiatric Medical Association
SACRAMENTO, Calif. (PRWEB) September 08, 2021
"September is Peripheral Artery Disease (PAD) Awareness Month and is a Great Time to Knock Your Socks Off," says California Podiatric Medical Association (CPMA) President Diane D. Branks, DPM, a podiatric foot and ankle surgeon, specializing in vascular conditions of the foot, ankle and lower leg. "That's because your feet could contain vital clues to clogged arteries," continued Dr. Branks.
What Is PAD?
Short for Peripheral Arterial Disease, PAD is caused by a buildup of cholesterol and fatty deposits called plaque in the arteries, resulting in the blockage or narrowing of the arteries in the extremities, which in turn leads to a reduction of blood flow to the arms, legs, and feet.
PAD occurs most often in the arteries in the legs. But, it can also affect other arteries that carry blood outside the heart, including the arteries that go to the aorta, the brain, the arms, the kidneys, and the stomach. As a result, people with PAD have a two to six times greater chance of death from a heart attack or stroke. In addition, PAD and diabetes are the leading causes of non-traumatic foot and leg amputations in the United States.
Causes/Risk Factors

PAD affects approximately 8-12 million Americans, according to the National Institutes of Health (NIH), among them senior citizens and those with a history of diabetes, smoking, obesity, high blood pressure or high cholesterol, and inactivity. Underserved groups, including African Americans, Hispanic Americans, and Native American communities, are also at greater-than-average risk.
"PAD is a serious systemic condition and should be diagnosed promptly in order to slow the progression of the disease and reduce the risk of heart attack, stroke or lower limb amputation," said Dr. Branks.

The rate of lower limb amputation due to PAD is high, with a post-amputation death rate of nearly 50% after one year (NIH). Up to 90% of these PAD-related amputations are preventable with proper intervention (Endovascular Today).
According to Dr. Branks "Some of the early symptoms of PAD that can present first in the feet include (but are not limited to): cold feet, numbness, cramps, tingling, discoloration, loss of hair on toes, poor nail growth, wounds that are slow to heal, and foot and toe pain that may disturb your sleep."
When to Visit a Podiatric Physician
"Do not ignore these symptoms or leg or arm pain. It is important to discuss any foot, ankle or leg pain that you are having with your podiatric physician. Since such pain could be an early warning sign of PAD, and early detection of PAD can offer an opportunity to treat risk factors that can slow the progression of the disease," Dr. Branks says.
"A podiatric physician can perform a simple test to determine if you have PAD. The test is called an ABI, or ankle-brachial index. It compares the blood pressure in your ankles with the blood pressure in your arm. If your ABI is abnormal, your podiatric physician may order other tests to determine the extent of your PAD," Dr. Branks said,
PAD can be treated with lifestyle changes, medicines, and surgical procedures if necessary. Treatment options include:

Stop smoking
Blood pressure control
Lowering cholesterol
Manage high blood sugar (diabetes)
Medications to prevent clotting
Lose weight
Healthy diet, that is rich in vitamins and nutrients to nourish the numerous joints, bones, tendons, muscles, ligaments, nerves and blood vessels in the feet (The human foot is composed of 33 joints, 26 bones, and hundreds of blood vessels, nerves, muscles, tendons and ligaments, all working together to provide support, balance and mobility
Exercise program
Stay hydrated
Reduce stress
"A variety of surgical treatment options are available depending on the location and severity of the artery blockage. Your podiatric physician can refer you to the appropriate specialist for these procedures," Dr. Branks noted.
CPMA Offers Healthy Footcare Tips for PAD and Your Feet
"Proper foot care is extremely important for those with peripheral artery disease (PAD)," says Dr. Branks, a board-certified podiatric physician and surgeon (aka podiatrist) with Kaiser Permanente San Bernardino County. "The condition results in less blood and oxygen to the feet, which leaves them more susceptible to developing serious wounds, ulcers, and make them more difficult to heal. Those with PAD also tend to develop thinner skin, making the feet even more vulnerable," according to Dr. Branks, who offers the following healthy footcare tips:
Cleanse and Moisturize Daily "Unfortunately, our feet are all too often the victims of neglect, only getting attention when they hurt. The first step in caring for your feet is to be proactive by paying attention to them and creating a daily foot care routine. Just as you brush your teeth and wash your face each day, so should you have a daily hygiene routine for your feet. Thoroughly wash your feet with warm water and a mild soap or cleanser [Washing feet daily with soap and water reduces the number of bacteria on the skin] then carefully pat them dry — including between the toes. When completely dry, apply a rich moisturizer to help prevent dry, cracked skin. A crack in the skin is a potential entry point for bacteria to invade the body, causing infection," says Dr. Branks.
Don't Go Bare Feet – "Even if you love the feeling of warm sand or fresh grass between your toes, it's best for those with PAD to wear shoes at all times, including inside the house," Dr. Branks said. "Walking barefoot affords no protection to feet from environmental and household hazards such as glass, wood splinters, pebbles, and metal, which are even more hazardous to someone with PAD. Be proactive in preventing potential foot problems by always putting on slippers, sandals, or shoes," Dr. Branks says.
Choose the Right Footwear. "If you have PAD, make sure that your shoes fit properly and are comfortable. Avoid tight shoes that pinch, which can result in blisters and rub spots causing breaks in the skin, another source of potential infection," according to Dr. Branks. "When buying shoes, go in the afternoon as feet tend to swell throughout the day. Try on both shoes and walk around the store. Wear the socks/stockings that you will wear with the shoes. And, since feet are rarely the exact same size, buy the size for the larger foot. Shoes should not need 'breaking in." Dr. Branks said.
Treat Foot Fungus FAST – "Fungal infection of the skin, such as athlete's foot, can result in openings in the skin, allowing a secondary bacterial infection," according to Dr. Branks. "Thick fungal nails can press into the nail bed, causing a break in the skin and a resulting bacterial infection. Don't try to treat foot infections on your own — see a podiatric foot and ankle specialist for proper care," says Dr. Branks.
Careful with the Clippers – "Trimming one's toenails seems such a small inconsequential act. However, the consequences of trimming toenails incorrectly can be serious for someone with PAD, because once again, a nick or cut on the foot or toe can open the door to bacteria and infection. Be careful when trimming toenails. Cut them straight across, and never cut into the corners of the toes." says Dr. Branks "
Professional Care is BEST for Bunions and Corns – "If you develop painful bunions or corns, seek professional foot care and treatment from a trained and licensed podiatric foot and ankle specialists. Trying to treat them yourself could result in nicks, scratches, and cuts. Remember that when you have PAD, a foot injury – even a small one- is more serious because it is harder to treat and takes longer for your feet to heal," Dr. Branks said
Get Up on Your Feet and Get Moving! "Get your feet moving with regular daily exercise," Dr. Branks says. An avid walker herself, Dr. Branks recommends walking, bicycling and swimming as good aerobic exercises that promote better blood flow; but have a low impact on the foot. "Choose activities you enjoy (you are much more likely to continue them) and be sure to get the go ahead from your healthcare provider before starting any new fitness program," Dr. Branks said. Dr. Branks also suggests doing foot flexing exercises to promote better blood flow "To keep blood flowing to your feet, move them in circles, back and forth and wiggle your toes periodically throughout the day, especially when sitting," Dr. Branks says.
Check-In with Your Podiatric Physician – For those who have PAD, Dr. Branks suggests seeing a podiatric foot and ankle specialist for treatment when experiencing pain or injury to their feet, rather than trying to treat foot problems by themselves at home. "Daily at-home foot care is important. However, getting proper medical attention needed can prevent serious PAD complications and worsening foot problems, which could lead to ulcers and amputations. It is also important for those with diabetes in addition to PAD, and who have lost sensation in their feet to get regular podiatric check-ups," Dr. Branks concluded.
To find a licensed California podiatric physician visit CalPMA.org
Founded in 1912, the California Podiatric Medical Association (CPMA) is the leading and recognized professional organization for California's doctors of podiatric medicine (DPMs). DPMs are podiatric physicians and surgeons, also known as podiatrists, qualified by their long and rigorous education, training and experience to diagnose and treat conditions affecting the foot, ankle and structures of the leg.
CPMA – Doctors Dedicated to Keeping Californians on Their FEET; Healthy, Active, and Productive!
References:

Centers for Disease Control and Prevention
Endovascular Today

National Institutes of Health

National Institutes of Health