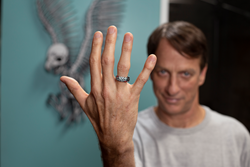 I don't want to say I'm thankful for dislocating my fingers but it brought me here. So you know, if life hands you dislocated fingers, make signature rings.
NASHVILLE, Tenn. (PRWEB) October 26, 2020
Earlier this summer, Tony Hawk was invited to skate a backyard pool and was badly injured requiring him to be rushed to the hospital. By the time he arrived his fingers had swollen so badly that they had to cut off his sentimental silver band. "I was bummed because it was a ring my wife had given me but the damage was done," Hawk recalls. After posting the photos of his dislocated fingers online, Groove Life reached out and sent him a selection of their silicone rings, perfect for his active lifestyle. After trying them and seeing how comfortable they were, Tony reached out to collaborate with the Tennessee company. "I don't want to say I'm thankful for dislocating my fingers but it brought me here. So you know, if life hands you dislocated fingers, make signature rings."
Groove Life is beyond excited to collaborate with the skating legend and have the opportunity to design rings using these iconic graphics including official Birdhouse Skateboard Deck artwork. Partnering with Tony Hawk on the perfect accessory for every skater or skateboarding fan who likes keeping their fingers intact, the Tony Hawk rings from Groove Life are perfect for added performance and breathability whether skating the vert ramp or the rails. Breathable grooves, a comfort inner band and breakaway safety gives the wearer more freedom to absolutely fly out there.
Tony Hawk has dominated the Action Sports market with his laid-back style for generations. He is the most recognized Action Sports figure in the world and, according to some, one of the most recognizable athletes in the United States. Today, his business skills have helped create a Tony Hawk brand that includes a billion-dollar video game franchise, successful businesses such as Birdhouse Skateboards, Hawk Clothing, and the Tony Hawk Signature Series sporting goods and toys. Groove Life is honored to be added to the list of Tony Hawk partners. "As a kid growing up in the 80s and 90s Tony Hawk was a hero of mine. He defines everything I love about skate culture and is an inspiring role model for so many generations. I am a huge fan of his Birdhouse skateboard artwork so it is a dream come true for us to be able to incorporate those elements and designs on our Groove Rings. He and his team have been fantastic partners to work with and we're pumped for where this partnership will go!" – George Brooks, Groove Life CCO
Groove Ring Specs:

Low profile prevents snags
Air ports allow fingers to breathe
Recessed grooves provide increased airflow
Comfort fit inner arch and eased edge lessen skin contact
Comes with a lifetime warranty
About

Groove Life launched in 2016 with the release of their flagship product, the Groove Ring. Founder Peter Goodwin wanted to wear a ring that showed his commitment to his family while meeting the demands of his work as an Alaskan guide and wilderness lodge owner. His creation not only offers durability and functionality, but rugged good looks, as well. The company has since moved its headquarters to Tennessee and now offers other products, including the first breathable watch band and the innovative Groove Belt.
Share article on social media or email: