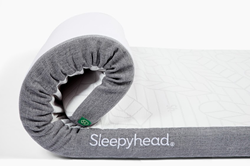 IRVINE, Calif. (PRWEB) September 14, 2021
COVID-19 has wreaked havoc on small businesses, many of whom are struggling to get back on their feet. According to The Wall Street Journal, 200,000 more business closures were reported in the U.S last year due to the pandemic.
The reopening of universities nationwide is welcoming news to Sleepyhead, a small business success story with 300% growth during these unprecedented times. The brand of mattress toppers for college students faced many challenges with university closures, supply chain delays, extreme rate hikes, and labor shortages.
Despite these heavy impacts on the economy, Sleepyhead has persevered, surviving one of the hardest times in small business history as more than 95% of universities went online in 2020.
"Sleepyhead is the college dream team that believes great sleep unlocks student potential," said Founder Steven Van Alen. "The past couple of years have been a truly trying time for small businesses. Despite current worldwide supply chain delays and shortages, Sleepyhead is in stock and able to keep up with the high demand, where bigger companies, such as Tempur-pedic, are on backorder. We're grateful to come out on top."
Sleepyhead partnered with LoveSac's sole supplier of foam and materials in 2021 to help mitigate global supply chain issues. This partnership will ramp up in 2022 when they bring manufacturing in-house to the U.S. West Coast. The partnership will allow Sleepyhead to be vertically integrated and acquire new customers in the sleep and student housing space.
A must-have college checklist item for any dorm room, Sleepyhead provides advanced memory foam mattress toppers infused with sleep-inducing properties like copper and gel. They come in college-specific sizes (Twin XL and Full XL), include a good-till-graduation warranty, and have a washable cover.
Van Alen came up with the idea while a college student himself. He knew there had to be a way to make the worn-out dorm bed into a comfy place to lay your head. A good night's sleep was a game-changer in his productivity and focus.
Sleepyhead empowers college students to make the most out of their college experience, and sleep is a big part of conquering their goals. The company supports college students by hiring interns and donating mattress toppers to those in need.
Sleepyhead is a trusted brand by over 900 universities in the U.S. For more information, visit https://sleepyheadusa.com.
###
About Sleepyhead:

Sleepyhead delivers comfort through premium mattress toppers that are tailored to fit college student's needs. Through its memory foam mattress toppers and commitment to student's futures, the company supports them during their college experience to dream big and rest easy.

Share article on social media or email: