This slow cooker pot roast with onion soup mix is so much more than a regular pot roast. It uses a homemade french onion soup mix that's beyond easy to throw together. Then just rub it all over the chuck roast, add some beef broth and Worcestershire sauce, and set it and forget it! By the end of the busy workday, you'll come home to a delicious pot roast that can be used in a variety of ways. Trust me, your family will want this to be a regular rotation on the meal plan!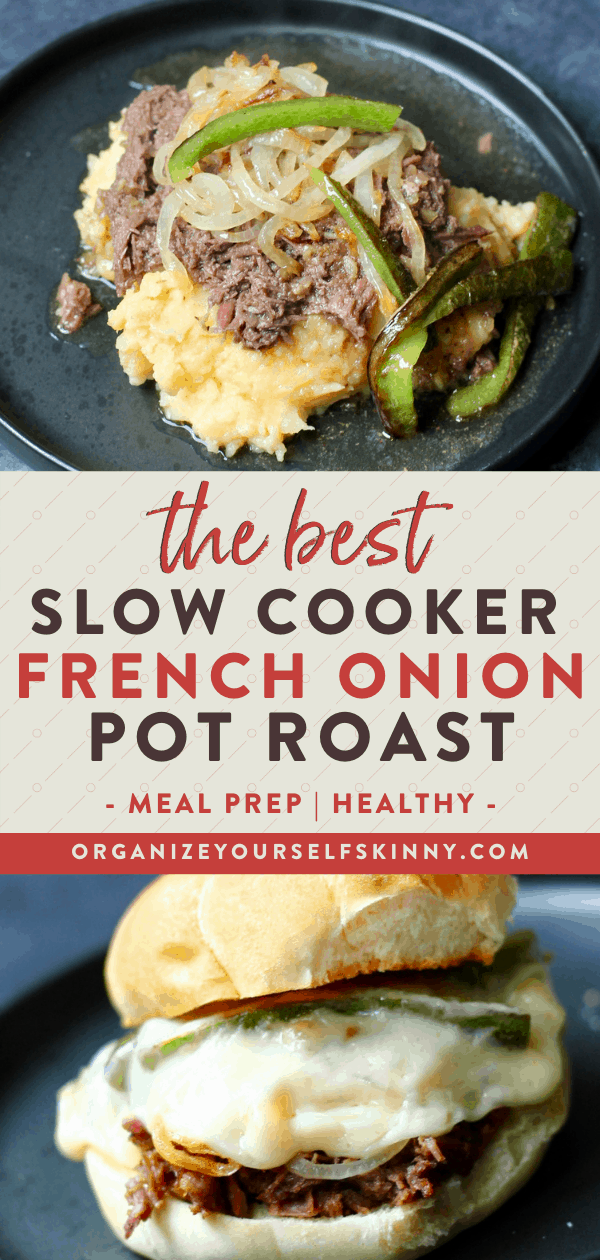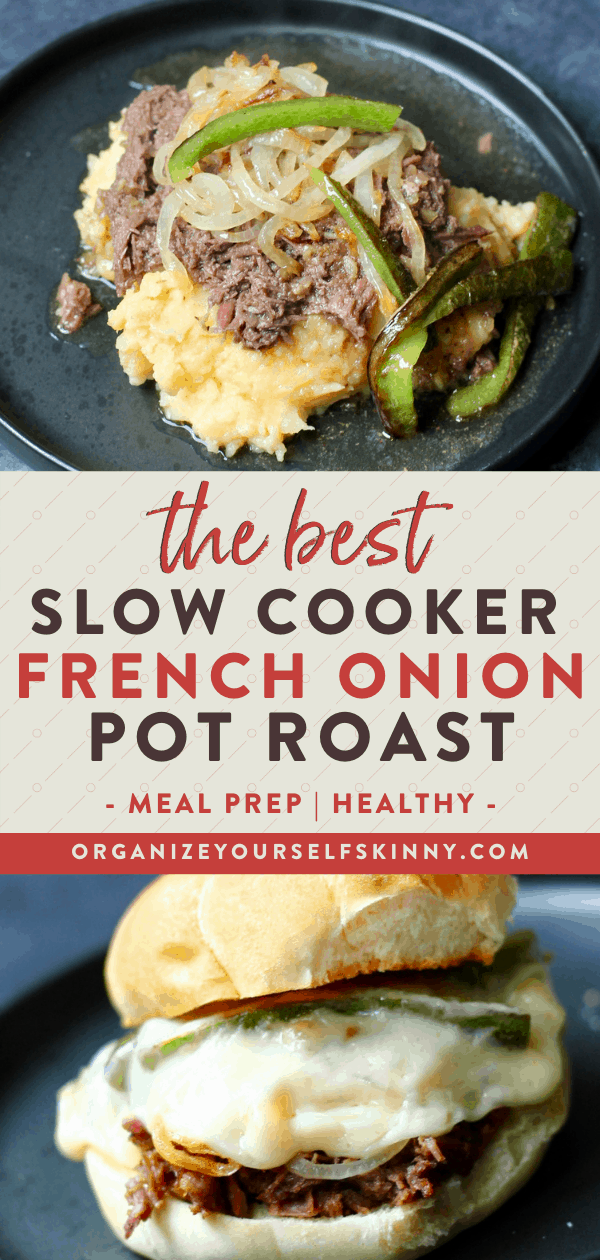 It's that time of year where I'm seeking out slow cooker recipes that can cook all day and also totally comfort me at the same time. It's also a requirement that my house smells amazing with the aromas of what's for dinner.
When I was coming up with ideas for this french onion pot roast, the one thing I knew for sure was I wanted easy. Like 'dump and go' easy.
If it's needed, I'm totally fine with putting in the extra steps to create a delicious tasting slow cooker recipe. Because let's be honest, we all know that cooking all day in the slow cooker can result in a tasteless dry dinner.
Just saying, I've been there many times. But, just like everyone else, I want easy to prepare.
Frequently Asked Questions About Slow Cooker Pot Roast
Before I share the full recipe for this yummy pot roast with all of you, here are some questions I would like to answer first…
What cut of beef should I use for pot roasts?
Personally, I think chuck roast it's best for any slow cooker recipes that are going to cook for a long time. If you don't want to use chuck roast or can't find it, then I recommend using another fatty cut of beef.
Basically, the more marbling the better.
Round and brisket are two other cuts of beef that work well in pot roast recipes. But if you can use chuck roast, then I recommend that.
Should I brown the chuck roast first?
Often, I will brown the beef before cooking it in the slow cooker. This gives it a seared flavor and you can add some of those brown bits to the slow cooker before you cook it. So, you certainly can brown the beef on all sides before adding it to the slow cooker.
But, if you're feeling lazy, you can put it in without browning. I've done it both ways and each time the beef turns out delicious.
So with this recipe, it's up to you.
Can I add any other vegetables to this slow cooker recipe?
I prefer to cook most of the vegetables on the side because this recipe does need to cook for a long time and often the veggies will just turn into mush. However, there are some vegetables that will work.
You can add butter potatoes or red potatoes to this recipe and those will cook nicely and turn out super tasty. I will cut in half or quarter them before putting them into the slow cooker.
Carrots or hearty root vegetables will work well in this recipe too! I will peel them and cut them into chunks.
I love to add some button white or portobello mushrooms to this pot roast recipe sometimes. I'll cut them in half or put them in whole for some added earthiness.
Onions add some extra flavor but they do get really soft. So, if you want to use them on a sandwich or want some crunch, then I recommend sauteing the onions on the side.
A good rule of thumb when adding vegetables to a slow cooker recipe is to put heartier vegetables on the bottom of the slow cooker. So, around the chuck roast or even underneath. Other vegetables like onions and mushrooms should go on top of the beef.
Supplies Need To Make This Pot Roast Recipe
Putting Together The Best French Onion Pot Roast Recipe
When I was researching recipes for slow cooker pot roast with onion soup mix, I came across all kinds of variations. Many used french onion soup packets or cans of french onion soup, even cream of french onion. Some used onions and other vegetables while others cooked them on the side or didn't use any extra veggies at all. And while most recipes use chuck roast, there we others that used leaner cuts of meats.
This is what I decided on:
Chuck Roast
This is hands down my favorite cut of beef to use in the slow cooker! The marbling when it's cooked down will create the most delicious tender shredded beef you'll ever eat.
Leaner cuts of beef will become dry after being cooked all day in the slow cooker. To keep this recipe clean, I purchase an organic grass-fed chuck roast. In my opinion, the high quality the meat, the better the recipe.
Chuck roast is readily available at most grocery stores but if you can't find it locally, then I recommend purchasing online through Butcher Box. This is where I get all of my meats! You can read my Butcher Box Review to learn more.
Beef Broth and Worcestershire Sauce
To get shredded beef, you need to use more liquid so I decided to use beef broth. Worcestershire sauce is one of my favorite ingredients to use in beef recipes because it provides such a richness.
Homemade French Onion Soup Mix
Honestly, I was all set to use a packet of Lipton french onion soup mix… but then I took a glimpse at the ingredients. Ugh, even the "healthier" ones had preservatives.
So, I decided to make it homemade and I'm SO glad I did because it was better than store-bought and so easy to make.
I'll share exactly how I made this down below.
How To Make Homemade French Onion Soup Mix
Again, there are all different variations of homemade french onion soup mix but here's a basic recipe based on the spices I had on hand.
Ingredients:
Dried minced onion
Onion powder
Garlic powder
Celery seed powder
Ground pepper
Salt
This combination of spices smelled so good as I was mixing them together and it seasoned the beef perfectly. I don't think I'll ever use a store-bought packet again!
Note: For exact measurements for each spice, take a look at the recipe card located at the bottom of this post.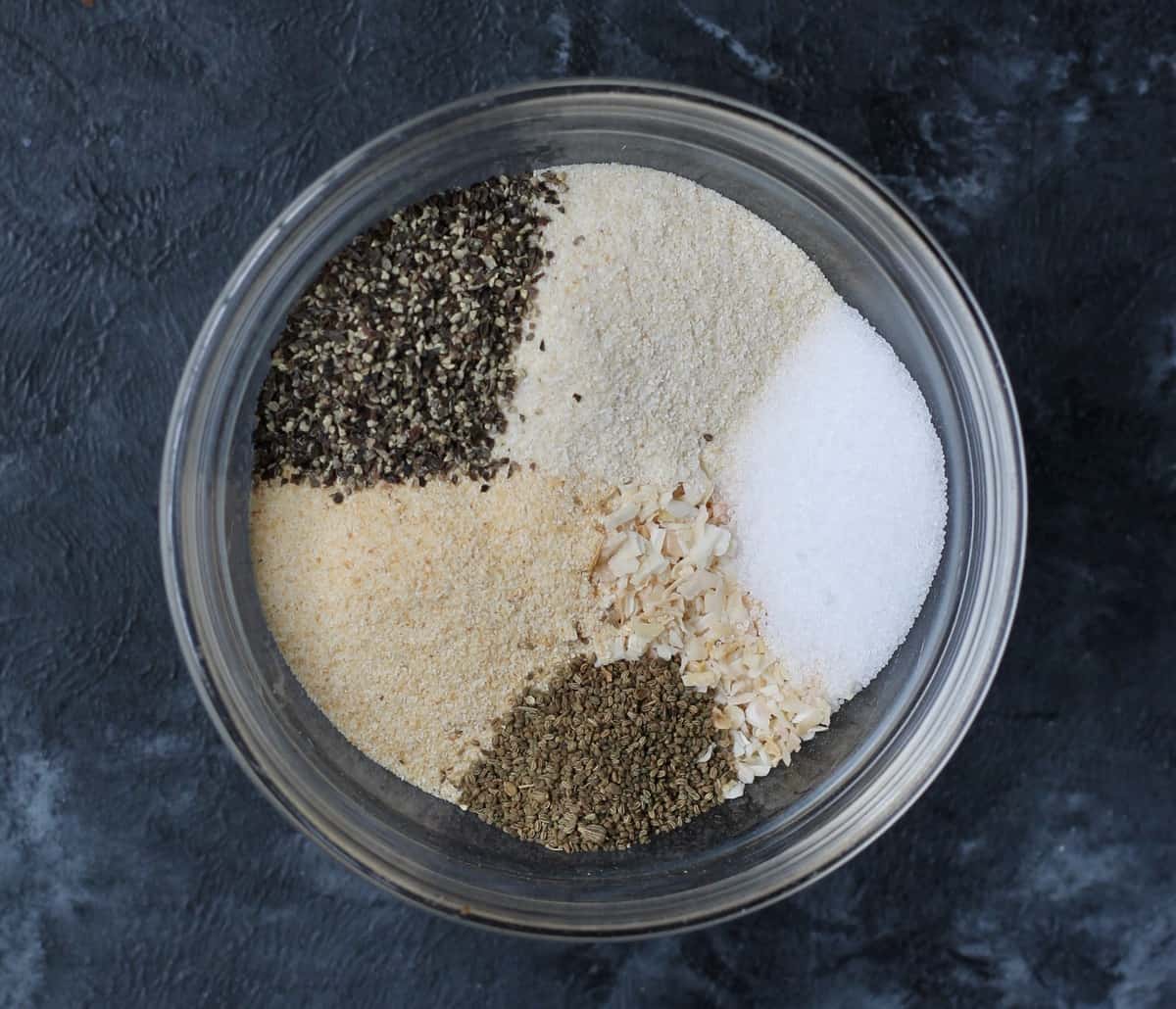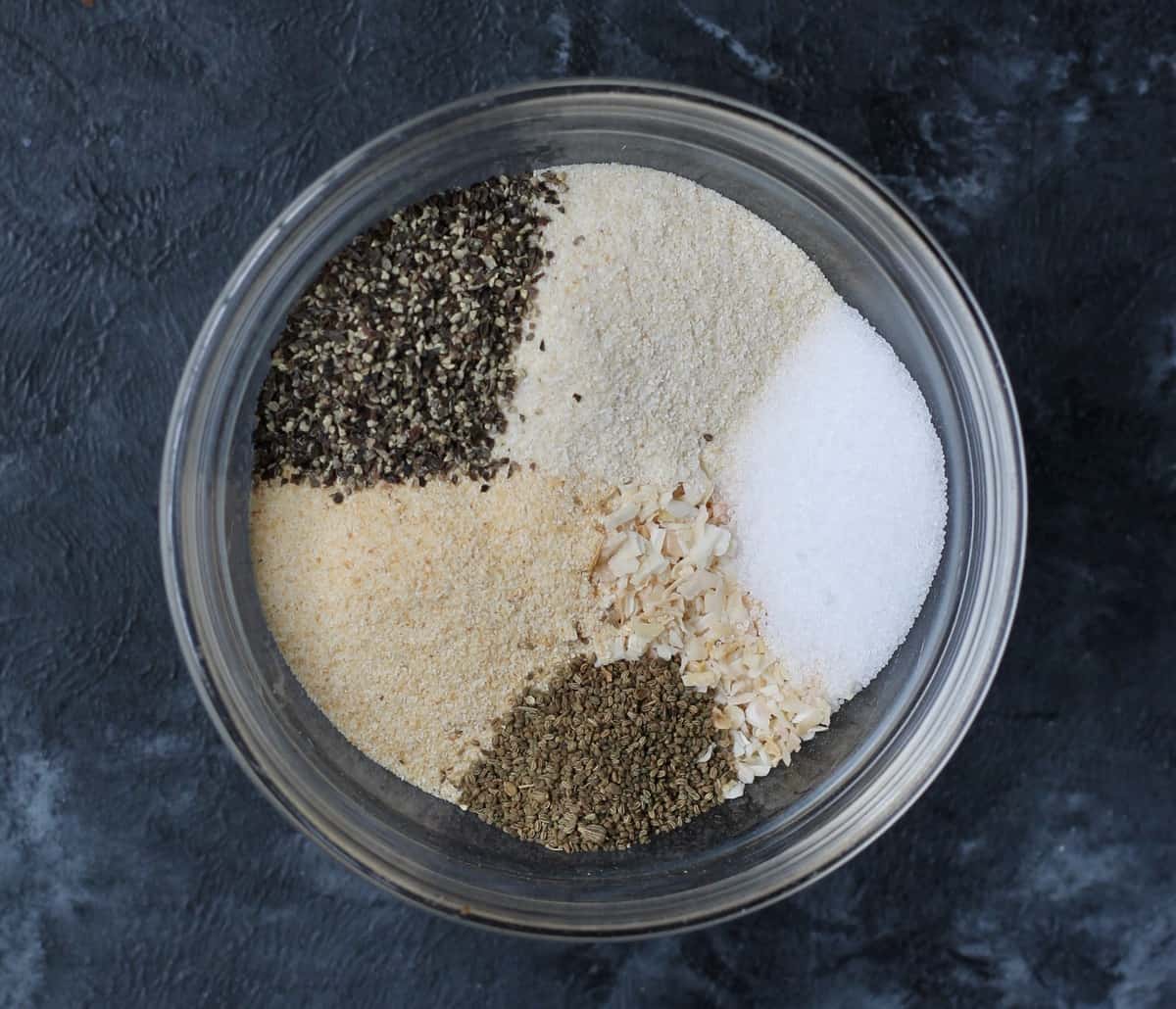 How To Make A Slow Cooker Pot Roast With Onion Soup Mix
Let's cook this recipe!
Before you start cooking anything, put together the french onion soup mix and get your other ingredients together.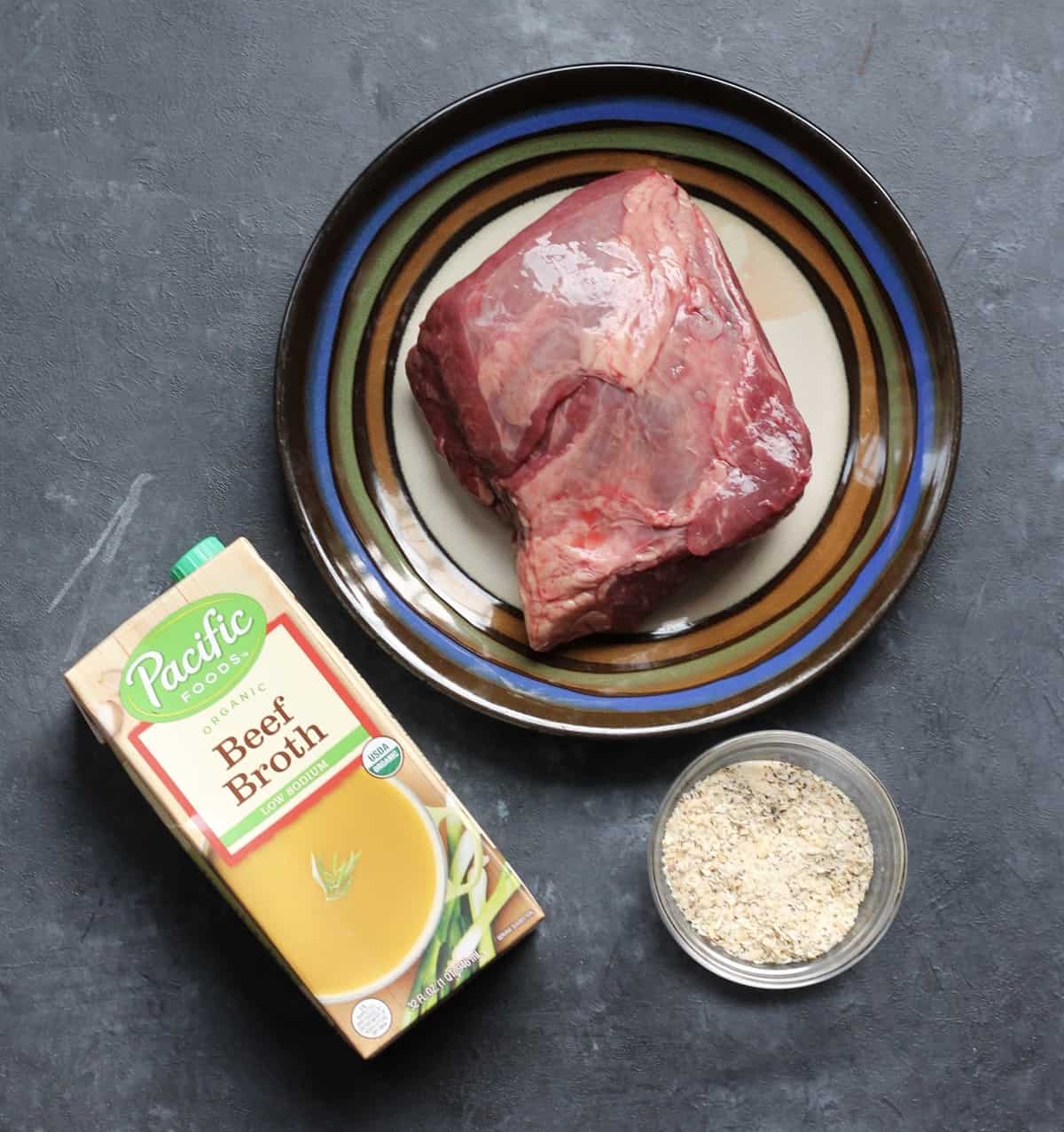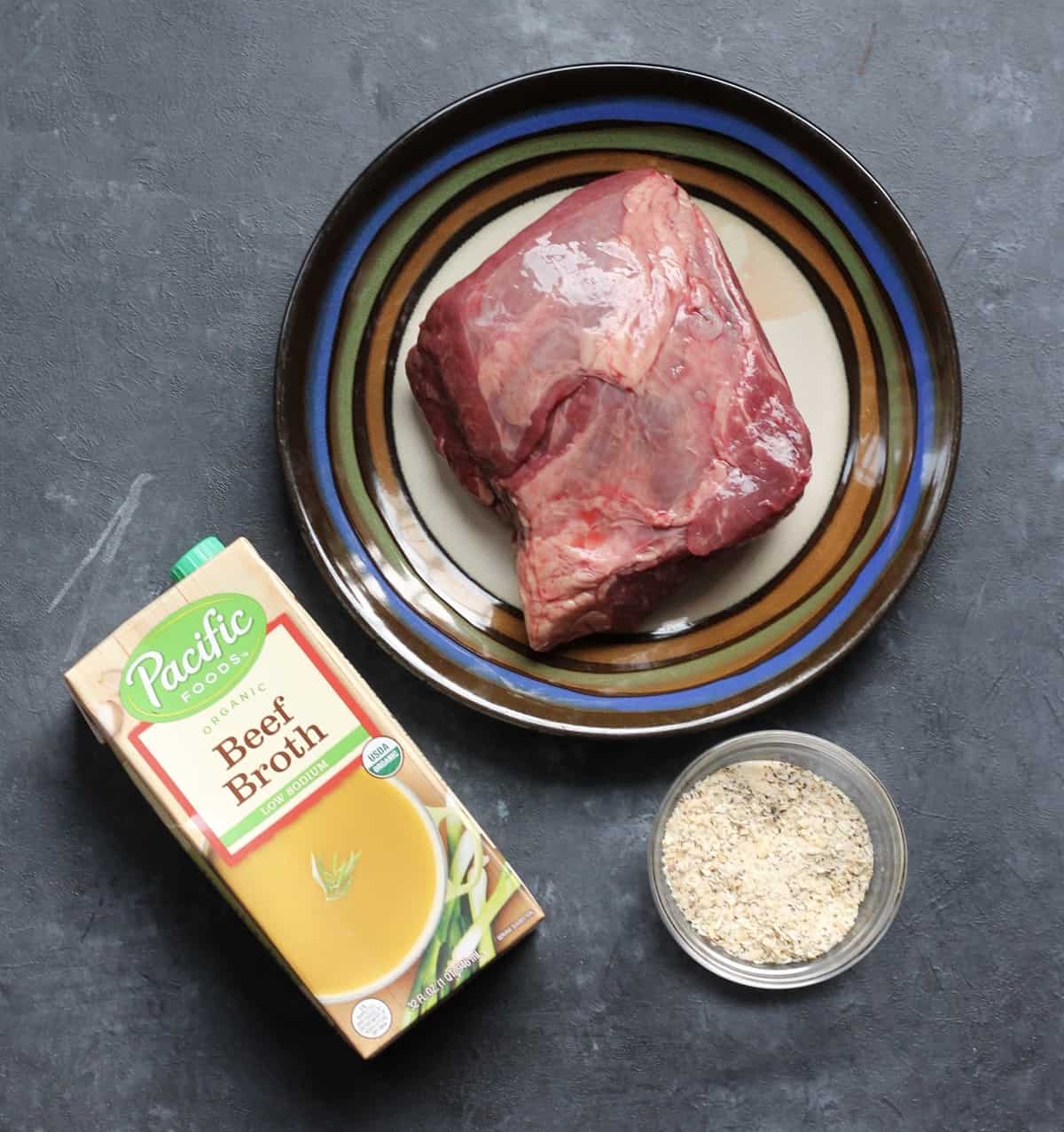 Rub the french onion mix all over the chuck roast. Then, mix together the beef broth and Worchestire sauce (not shown in the picture) and pour it into the slow cooker insert.
Place the lid on and then set to cook for 8-10 on low or 5-6 hours on high. The beef should be very tender and shred easily when done.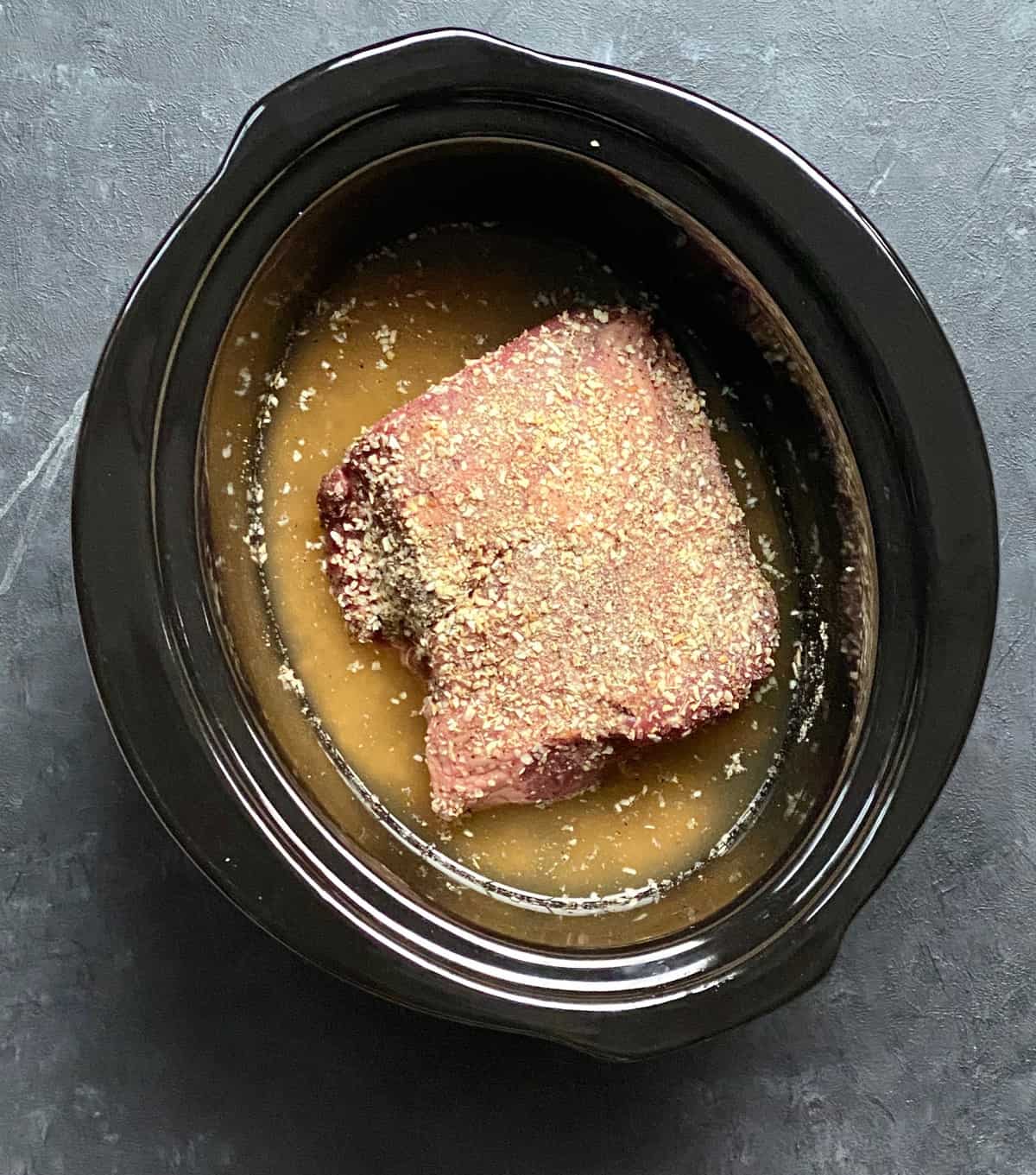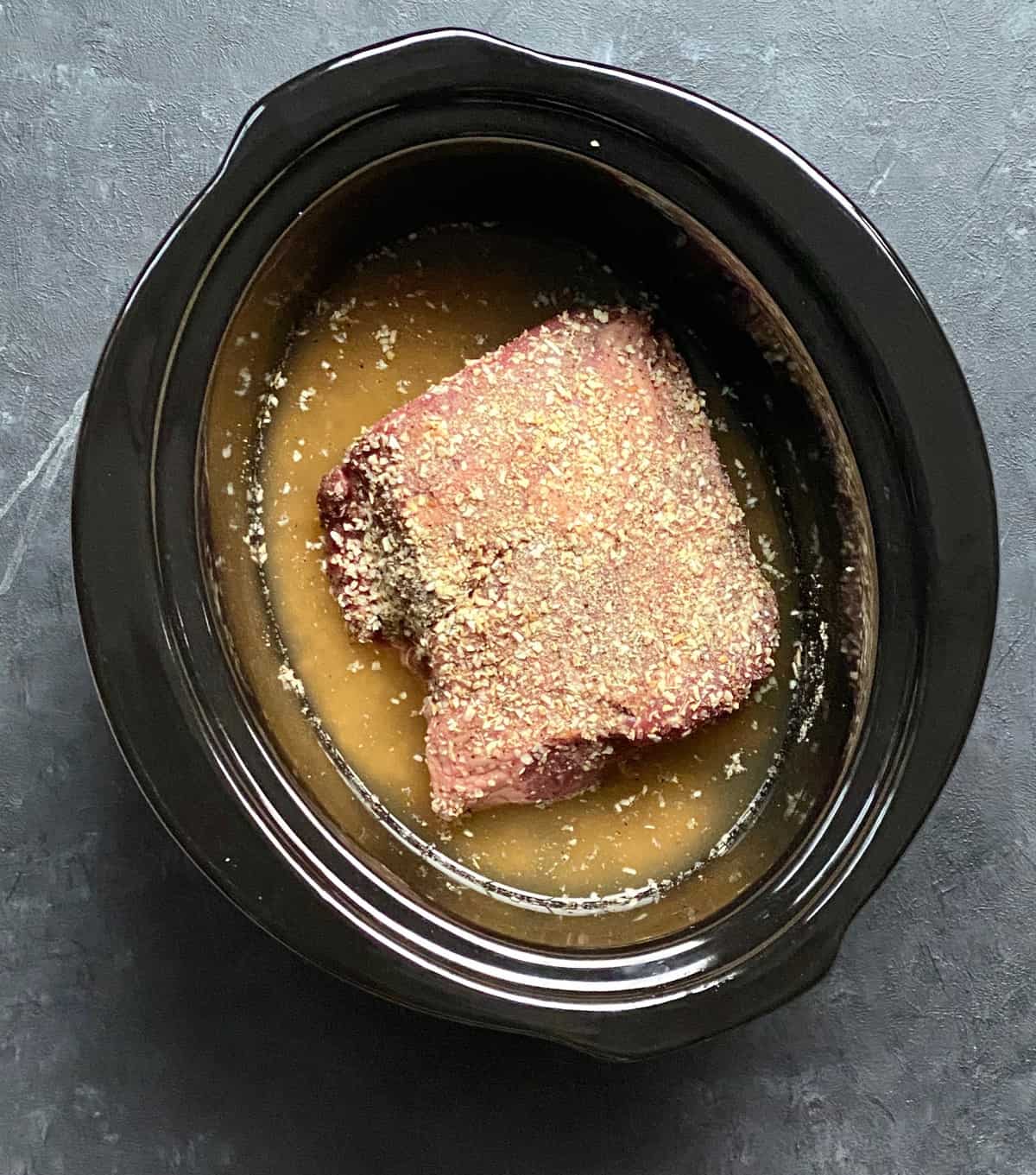 Remove the beef and place it into a bowl. Using two forks, shred the beef.
Mix in some of the juices from the slow cooker and stir in the rest of the salt. Taste for seasoning and serve hot!
One tip that I've learned from making numerous slow cooker meals is to salt again at the end. I usually add about 1/2 teaspoon of salt to the shredded beef, give it a taste, and if it needs more I'll add some more. This really makes the other flavors pop and come together.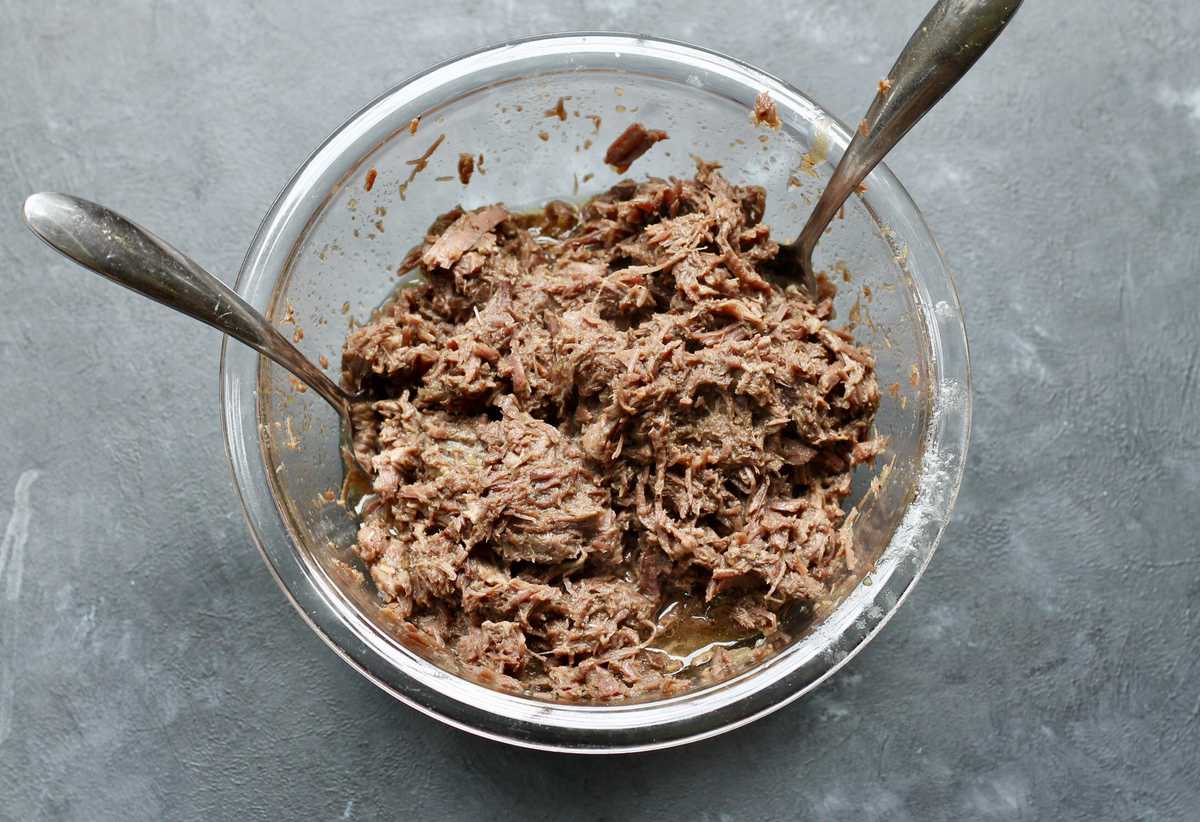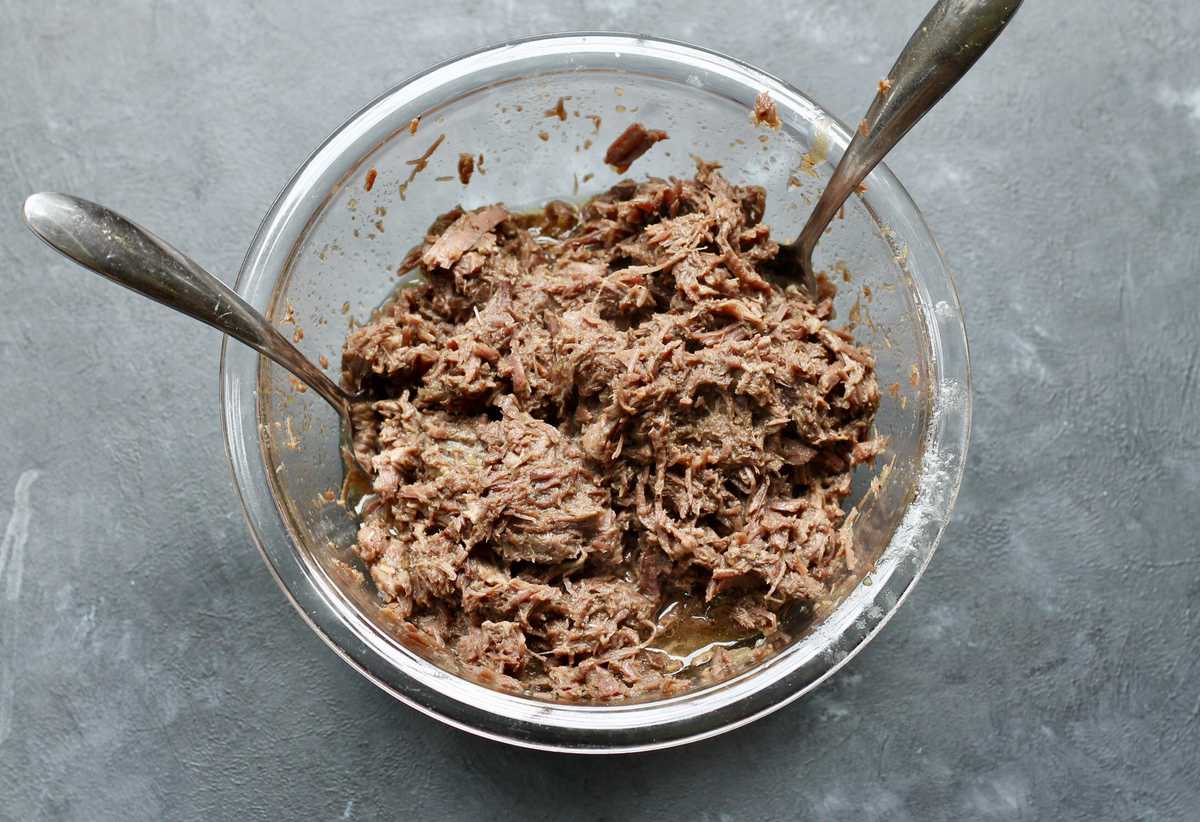 How To Serve French Onion Pot Roast
There are a few ways we absolutely love to eat this recipe:
Served over mashed potatoes. You can make a gravy with the juices in the slow cooker after it's done. Simply strain the juice through a mesh strainer and then cook in a saucepan. Then, in a saucepan make a roux with 1 tablespoon of butter and 1-2 tablespoons of flour. Whisk in the strained juice and cook until bubbly and thick.
Alongside rice or other potatoes. These au gratin potatoes are delicious with pot roast or a simple rice pilaf would work too.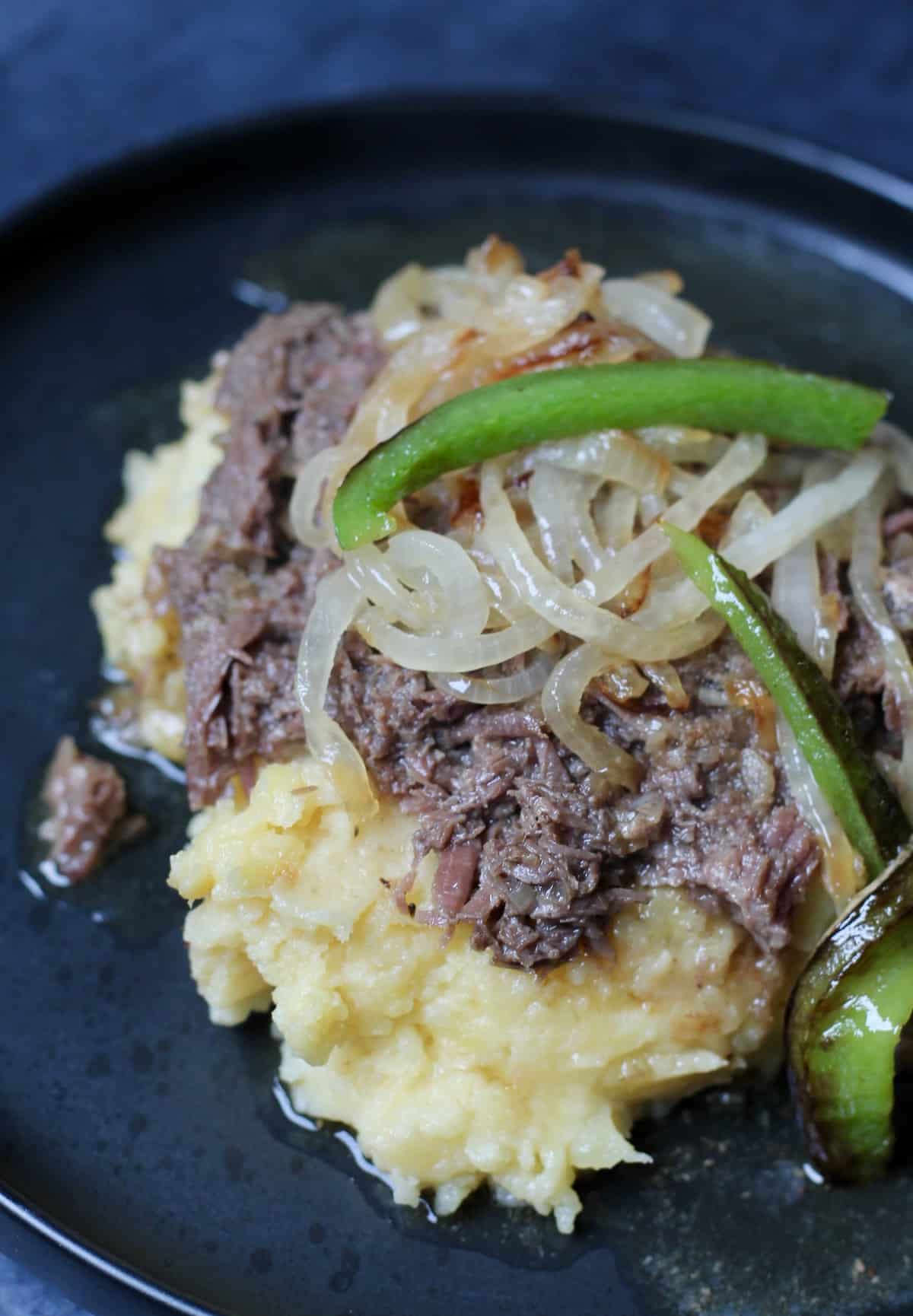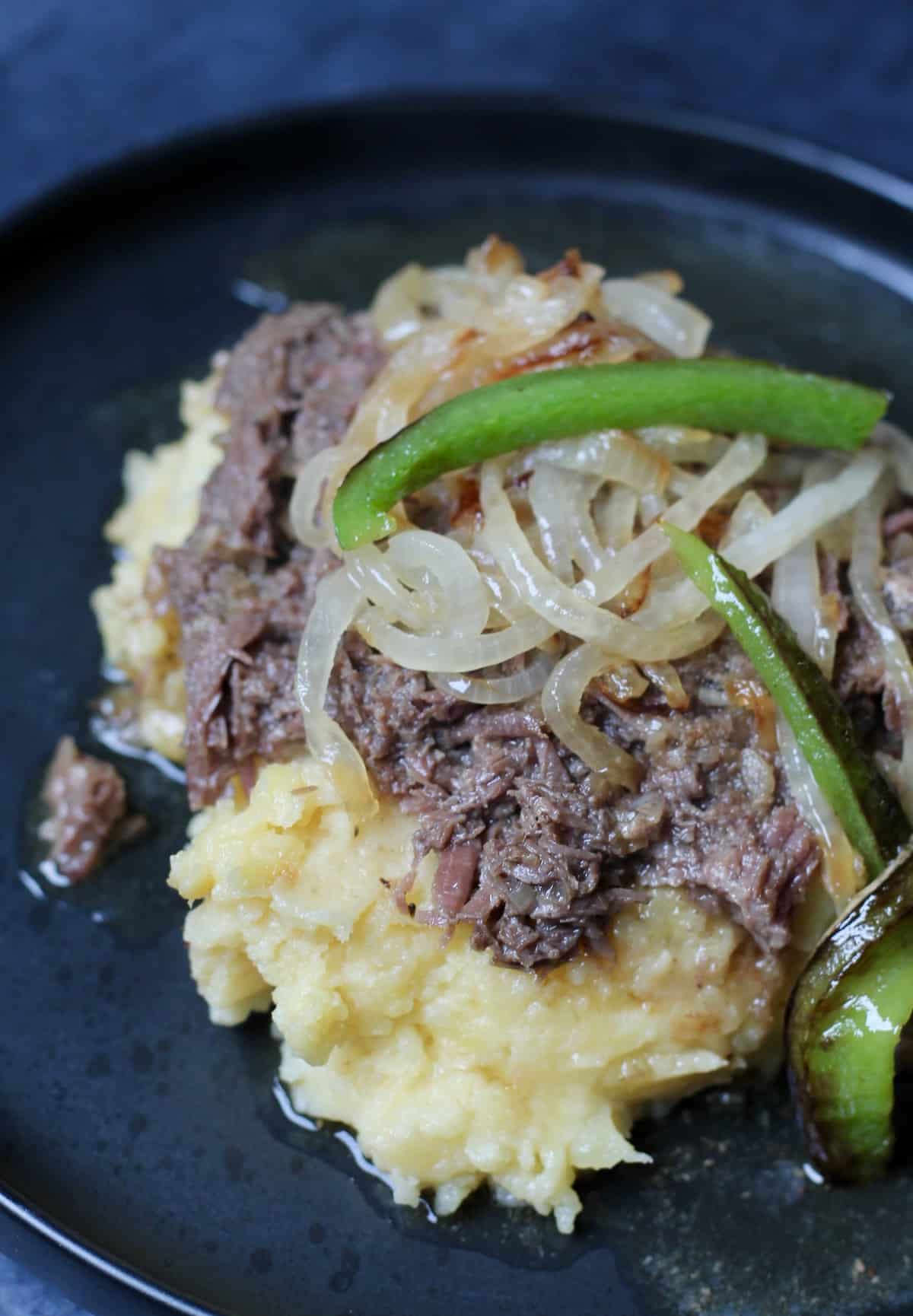 In a sandwich with sauteed onions, peppers, and melted provolone. OMG, this sandwich is so amazing! Super flavorful and the tender beef pairs perfectly with the crunchy onions and peppers.
For both of the first two ideas, I like to shred the pot roast into big chunks. For the 3rd idea, I like to shred into smaller pieces.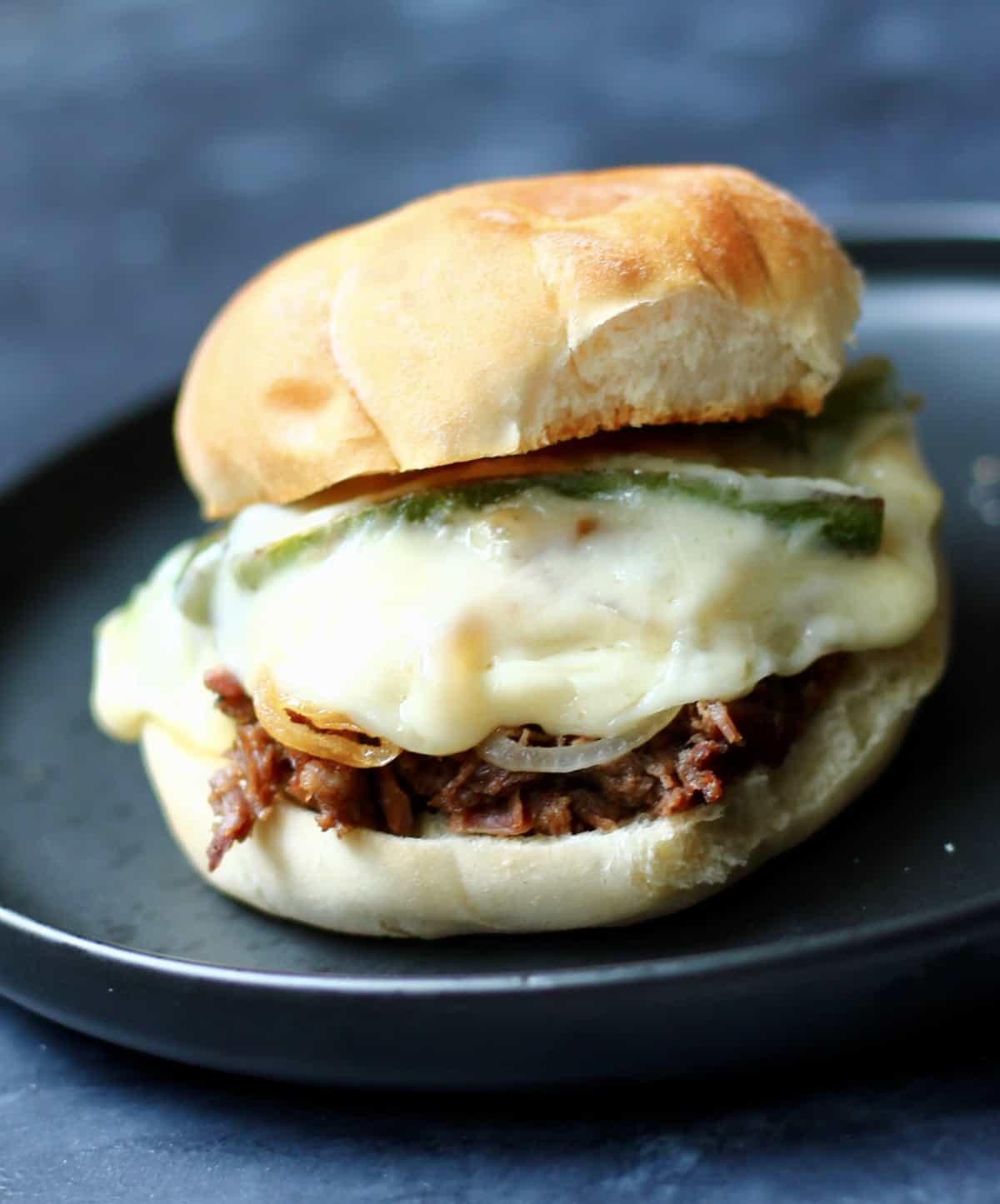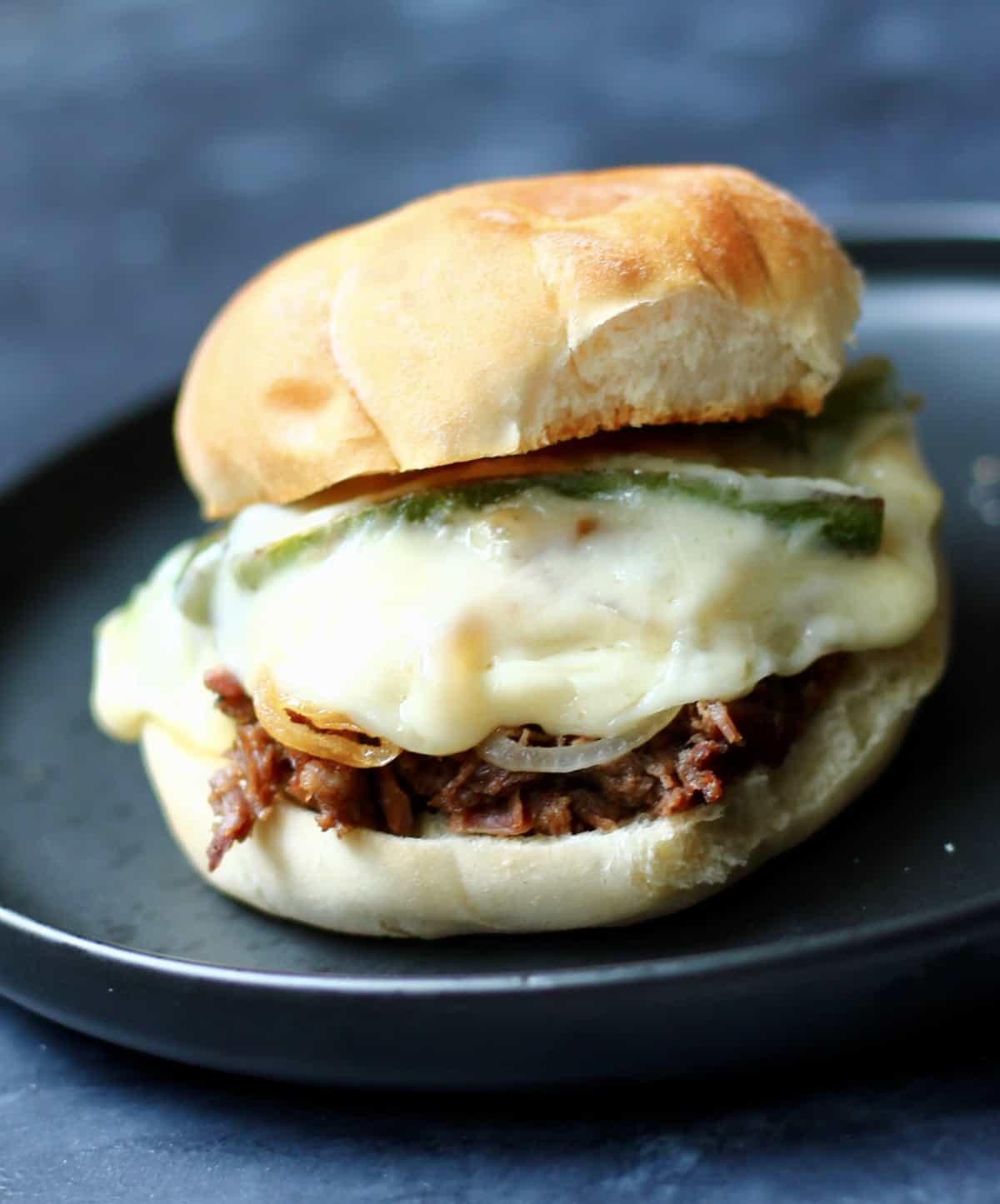 How To Meal Prep This Pot Roast Recipe
Here are a few tips on how you can meal prep this chuck roast recipe:
Prep the ingredients the night before in the slow cooker insert. This recipe is already so easy to prepare but if you don't want to fuss with it in the morning, then get it ready before bed. Then, get the slow cooker started before you head for work in the morning.
Cook on the weekend. If you want to make sandwiches during the week or just heat and eat, then you can make this pot roast on the weekend and then store in the fridge for dinners during the week.
Prep sides to have ready. When I know we are going to eat these as sandwiches during the week, I'll make the onions and peppers ahead of time so I can quickly put together the sandwichs at dinner time. Or, I'll make mash potatoes, rice, or other sides to have ready to heat up for dinner during the week.
My goal is to never have to cook from scratch during the week. The only thing I want to do is heat up and eat!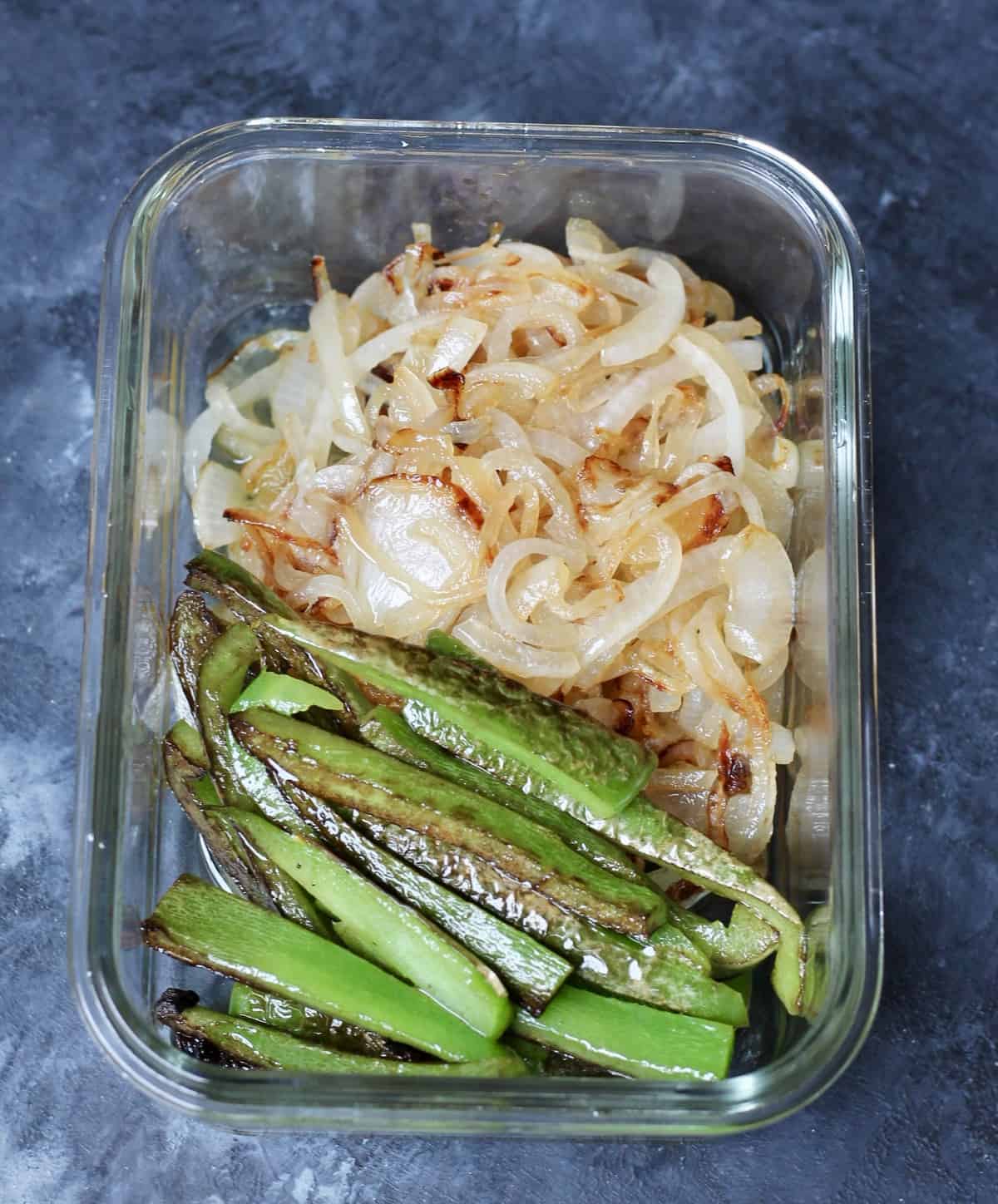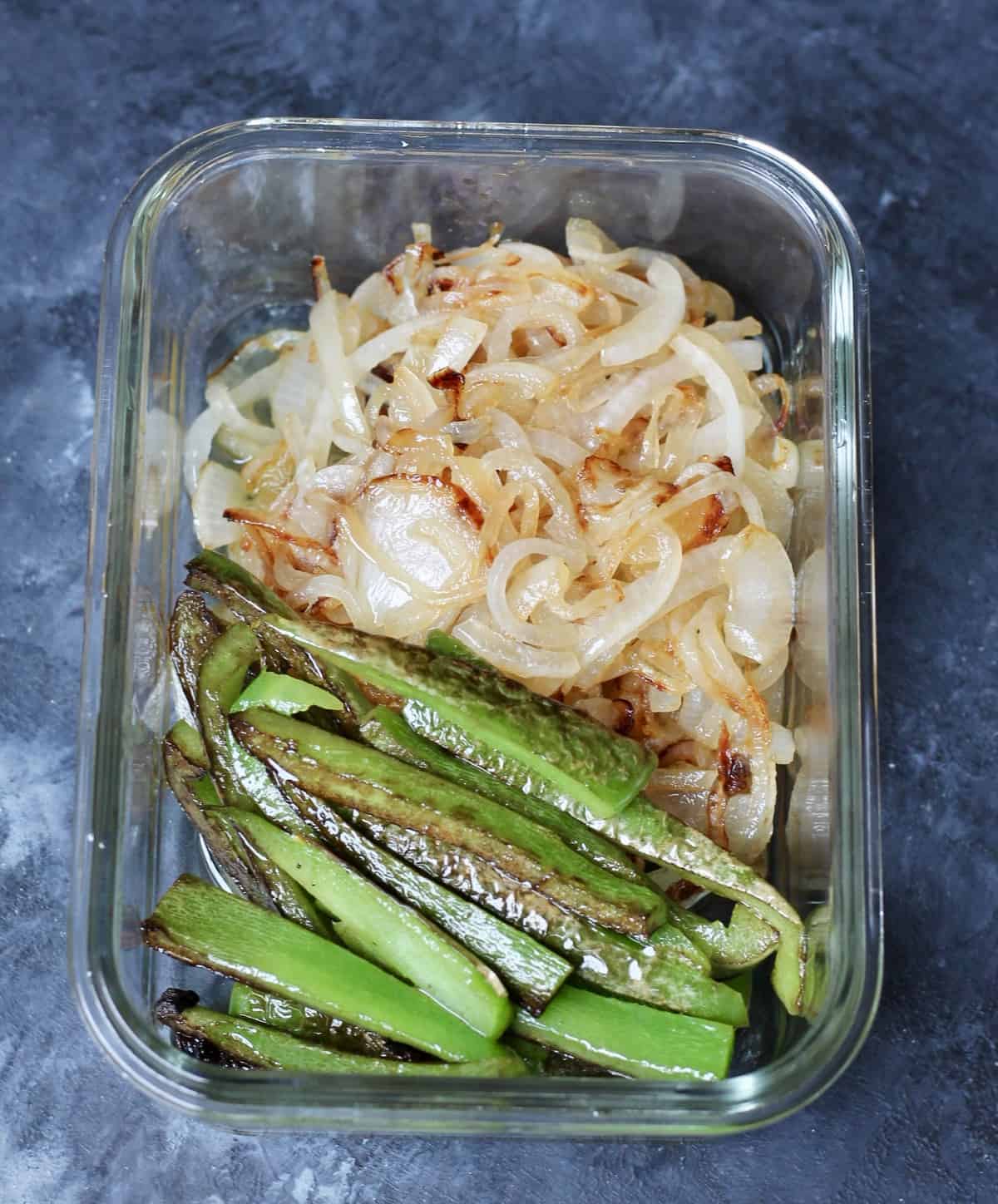 More Slow Cooker Recipes
If you loved this recipe for Slow Cooker Pot Roast with French Onion Soup Mix, take a look at some of these other slow cooker recipes to add to your recipe book!
Share a picture and tag me on Instagram or Facebook if you decide to try making this recipe for slow cooker pot roast with onion soup mix!
French Onion Pot Roast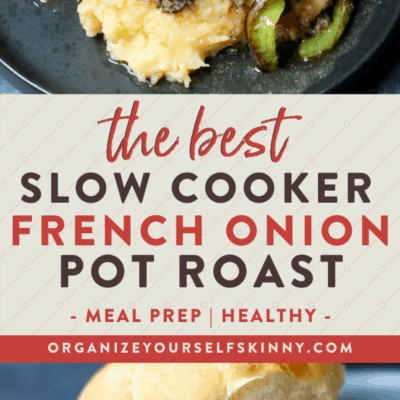 Total time
10 hours 10 mins
This french onion pot roast is incredibly flavorful and oh-so-easy to put together. Set this one, and forget it as your slow cooker does all the work for you!
Author: Organize Yourself Skinny
Recipe type: slow cooker
Cuisine: American
Serves: 8
Ingredients
3 tablespoons dried minced onion
1 tablespoon onion powder
1 tablespoon garlic powder
½ teaspoon celery seed powder
½ teaspoon ground pepper
1 teaspoon salt, divided
1 teaspoon oregano
2.25 lb chuck roast
1 tablespoon Worcestershire sauce
2 cups beef broth
Instructions
Mix together the dried onion, onion powder, celery seed powder, ground pepper, ½ teaspoon of salt, and oregano.
Rub the dry mixture all over the chuck roast and place it into the slow cooker insert.
Whisk together the Worcestershire sauce and beef broth then pour into the slow cooker insert.
Place the lid on and then set to cook for 8-10 on low or 5-6 hours on high. The beef should be very tender and shred easily when done.
Remove the beef and place into a bowl. Using two forks, shred the beef. Mix in some of the juices from the slow cooker and stir in the rest of the salt. Taste for seasoning and serve hot.
Nutrition Information
Serving size: ¼ cup Calories: 269 Fat: 19 Trans fat: 7 Carbohydrates: 3 Fiber: 0 Protein: 20
3.5.3251
Get Instant Access to My Best Weight Loss Tips & Strategies!
Sign up now for a free step-by-step 7-day email course that I created exclusively for my email subscribers! That's you. I will teach the best habits, strategies, and insider tips so you can enjoy a lifestyle that encourages and supports weight loss! Stop relying on willpower and take control back over your life! You can do this. Let me help!