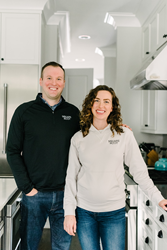 "Our products are a great fit for customers of Kowalski's, Festival Foods and Jerry's Foods who care about eating well to feel well and share our sustainability values."
CHICAGO (PRWEB) November 02, 2021
Square Root announced today its gluten-free, vegan Nutnolas and Nutnola Butters will now be carried in most Wisconsin Festival Foods and all Kowalski's Markets and Jerry's Foods locations in the Twin Cities. This expansion adds 42 new supermarkets to the 41 Illinois Whole Foods locations already offering Square Root products, bringing the total retail footprint of the wife-husband-founded health food company to 83 stores in the upper Midwest.
"We're thrilled to align our brand with reputable retailers that support honest, hard-working companies that go the extra mile to ensure high quality products," says Square Root Co-Founder Ellie O'Brien, who started Square Root with husband Pat in 2017. "Our products are a great fit for customers of Kowalski's, Festival Foods and Jerry's Foods who care about eating well to feel well and share our sustainability values."
The expansion follows several related consumer trends impacting the snack-food category:

Snacking, which was already on the rise before the global pandemic, has not waned and consumers are snacking more often throughout the day.
While consumers continue to seek indulgent snacks and comfort foods, they are also looking for healthier options such as plant-based, high-protein, minimal-ingredients snacks.
As more families return to the office and school, they are looking for convenient, on-the-go items as well to optimize their time.
"We started Square Root to create something we weren't finding on the supermarket shelves: gluten-free granola and nut butters in unexpected flavors, with simple ingredients for foodies like me," says O'Brien, who lives with celiac disease. "Ultimately, we invented something truly special: healthy, indulgent treats that can be passed around the table at a big family dinner, or as an after-school snack that people love eating, whether or not they have a dietary restriction."
Shoppers can find Square Root Nutnolas and Nutnola Butters at these new locations beginning Nov. 1, with demos and special sales throughout December. More info can be found at https://squarerootlife.com/blogs/news.
About Square Root

Founded by Ellie and Pat O'Brien in 2017, Square Root Life began as Hungry by Nature, a gluten-free, paleo-friendly food recipe blog based in Chicago. What started as a place for Ellie to share fan-favorite recipes quickly evolved into a source for health-conscious food lovers who crave delicious, grain-free granola. In 2017, Hungry by Nature launched a line of granola—known as Nutnola—exclusively available on the blog. Hand-crafted in Chicago by the couple, each bag was made with diet restricted food-lovers in mind. In 2019, Hungry by Nature added additional flavors and also began partnering with Whole Foods. By 2020, the company's Nutnola was available in all Illinois Whole Foods locations and online via their website. The Square Root brand celebrates the importance of not just good-for-you food, but good tasting food, too! Through a careful selection of ingredients, and combining them in just the right way, Square Root Nutnola and Nutnola Butters are exactly what you need, and nothing you don't. They're delicious, good for you, and they fit with any diet. For more information on Square Root and co-founders Ellie and Pat O'Brien, please see sfgate.com, How people can navigate food sensitivities in the 'new normal.'
#EatSquareRoot #SnackingSolved

Facebook Instagram Twitter
Share article on social media or email: