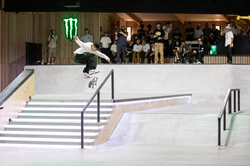 "SLS set the gold standard for professional street skateboarding and pioneered the format for our sport's Olympic debut." – Joe Carr
CORONA, Calif. (PRWEB) August 03, 2021
The world's biggest street skate competition series is back! Monster Energy is proud to present the 2021 Street League Skateboarding (SLS) Championship Tour featuring three weekends of premier skateboarding competitions. After tour stops in Salt Lake City, Utah (August 27-28) and Miami, Florida (October 29-30), the action will culminate from November 13-14 with the official SLS Super Crown World Championship: Jacksonville.
Monster Energy has been a long-time partner and official sponsor of Street League Skateboarding (SLS) since 2010. Tickets for the 2021 Street League Skateboarding (SLS) Championship Tour are on sale now on the Street League Skateboarding website.
"SLS is once again bringing the most talented skaters in the world together for the 2021 SLS Championship Tour. We are so thrilled to welcome fans in Salt Lake City, Miami and Jacksonville for three unforgettable weekends of elite skateboarding and authentic skate culture," said Joe Carr, CEO of Thrill One Sports and Entertainment, SLS' parent company.
SLS Tour Qualifier Adds Three New Skateboarders to SLS Championship Roster

For a first taste of live action, the special SLS Tour Qualifier competition on Saturday, July 31, saw a field of 32 invited street skateboarders competing for three coveted spots on the 2021 SLS Championship Tour. Contested at the private Primitive Skateboards facility in Los Angeles, California, the event featured Monster Energy street skaters Gabriel Fortunato, Jhancarlos Gonzalez, and Filipe Mota in a stacked field of the world's best skateboarders.
The SLS Tour Qualifier provided an opportunity for the most relevant and exciting skateboarders to compete in an official SLS-scoring format. Invited riders hailed from Belgium, Brazil, Canada, Colombia, Japan, and the United States. When all was said and done, the following three riders earned the top three spots and qualified into the 2021 SLS Championship Tour season:
1st Place Micky Papa (Canada) 26.5 Points

2nd Place Lucas Rabelo (Brazil) 26.4 Points

3rd Place Alec Majerus (USA) 25.5 Points
As the youngest competitor in the SLS Tour Qualifier, Monster Army's Filipe Mota finished right off the podium in fourth place. After earning his way into the final through the grueling Prelims, then making the cut to the Final 4, the 14-year-old from Brazil put down a perfect line including heelflip frontside boardslide the rail, kickflip the pyramid, backside Smith grind the kicker rail, kickflip backside tailslide the Hubba, heelflip the Euro Gap, and bigspin frontside boardslide the rail for 8.0 points. In Best Trick, Mota put down a perfect kickflip backside tailslide shove-it on the Hubba (8.2 points) and bigspin frontside bluntslide the rail (8.2 points) for a 24.4-point total score.
Missed the live stream on Saturday? No worries! Fans can go online now and watch the videos featuring all the action from Saturday's SLS Tour Qualifier event. The television showcase was produced by Thrill One Sports and Entertainment, the world's largest independent action sports company. The full-length videos are now available to watch for free on YouTube, including the prelims and finals.
Now that live events are back, what's in store on the 2021 Street League Skateboarding (SLS) Championship Tour? Simply put, the kind of breakthrough tricks, intense rivalries and down-to-the-wire finals only found in street skateboarding's leading professional competition series! Look forward to a hand-selected lineup of elite skaters – featuring recent Olympic medalists – battling for SLS Super Crown Championship points.
Monster Energy is headed into the season with an elite roster including six-time SLS World Champion and current title holder Nyjah Huston alongside teammates Ishod Wair, Aurelien Giraud, Matt Berger, and Olympic silver medalist Kelvin Hoefler.
In Women's Street competitions, get ready for 13-year-old skateboard phenom and Olympic silver medalist Rayssa Leal from Brazil, American Fabiana Delfino, and 2021 Women's Street Skateboarding World Champion, 19-year-old Aori Nishimura from Tokyo, Japan at tour stops starting in late August.
From August 27-28, the SLS Championship Tour: Salt Lake City & "Tony Hawk's Vert Alert" bring the stoke as a free-to-the-public event at Utah State Fairgrounds. The two-day skateboarding showcase will also debut "Tony Hawk's Vert Alert" featuring a "Legends Demo" and the biggest airs and most progressive tricks in vertical skateboarding on Hawk's state-of-the-art vert ramp. The contest will also include Monster Energy vert rider and X Games gold medalist Moto Shibata.
Next up, the SLS Championship Tour: Miami will continue the series at the SkateBird facility in Miami, Florida, from October 29-30. The SLS tour stop will mark the first major event on the recently opened, SLS-certified street plaza. For the grand finale, the SLS Super Crown World Championship weekend will crown the 2021 men's and women's world champions at Jacksonville Landing, Florida from November 13-14.
"SLS set the gold standard for professional street skateboarding and pioneered the format for our sport's Olympic debut. Now, we are continuing to raise the bar and drive towards the next era of skateboarding with the 2021 SLS Championship Tour, culminating with a spectacular finale at the Jacksonville Landing," said Carr, CEO of Thrill One Sports and Entertainment.
Fans can find tickets and attendance information for upcoming SLS Championship Tour events on the official Street League Skateboarding website.
Download High Res Photos for Editorial Use.
Also make sure to watch the official contest video from Saturday's SLS Tour Qualifier, live now here.
Visit http://www.monsterenergy.com for exclusive content from the 2021 SLS Championship Tour including photos, videos, and contest results. Follow Monster Energy on YouTube, Facebook, Instagram, Twitter and TikTok.
###
About Monster Energy

Based in Corona, California, Monster Energy is the leading marketer of energy drinks and alternative beverages. Refusing to acknowledge the traditional, Monster Energy supports the scene and sport. Whether motocross, off-road, NASCAR, MMA, BMX, surf, snowboard, ski, skateboard, or the rock and roll lifestyle, Monster Energy is a brand that believes in authenticity and the core of what its sports, athletes and musicians represent. More than a drink, it's the way of life lived by athletes, sports, bands, believers, and fans. See more about Monster Energy including all of its drinks at http://www.monsterenergy.com.
About Street League Skateboarding

Since its inception in 2010, Street League Skateboarding (SLS) has propelled street skateboarding from a collection of independent standalone events to a renowned global series. As pioneers of street skateboarding's premium qualification system and competition format, SLS offers an amateur-to-professional pathway and creates thrilling live events across the globe. The SLS Championship Tour is recognized as the world's premier professional street skateboarding competition. Events take place on custom-built, one-of-a-kind, SLS-certified plazas in major cities around the world, with the best in the sport competing for the highest stakes. For more information, visit http://www.streetleague.com.
Street League Skateboarding is now part of Thrill One Sports & Entertainment. Thrill One is a next-generation content company that lives at the nexus of sports, entertainment and lifestyle, combining the resources of Nitro Circus, SLS, Nitro Rallycross and Thrill One Media. A multi-media platform founded in 2020, Thrill One is dedicated to creating mind-blowing action sports events and original content, fueled by the most daring athletes, talent, and brands in thrill-based entertainment. It also boasts one of the largest aggregate social audience in action sports, with over 40 million followers across its multiple brand pages and channels. Go to thrillone.com for additional information.