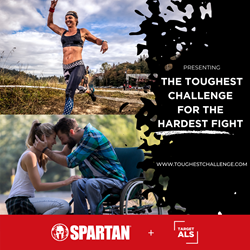 "This is exactly the type of challenge Spartans are looking for… I'm really excited we can use our community's spirit to join the fight against ALS," said Joe DeSena, Spartan Founder, CEO & "Toughest Challenge" Campaign Co-Chair.
NEW YORK (PRWEB) September 30, 2020
Despite more than 150 years of research, there remains no truly effective treatment for ALS, at least not yet. As a leading nonprofit organization in the far-reaching ALS community, Target ALS continues this fight day after day. We do so alongside our many research partners and will continue until effective treatments are discovered, which will be a tremendous leap forward in our mission: to realize a world where no one dies of ALS. Understanding that this is indeed a battle — one we can win, if we remain relentless in the pursuit — Target ALS has joined forces with Spartan to launch "The Toughest Challenge For The Hardest Fight."
This new multiyear charitable initiative challenges people to dig deep and find the grit needed to take on a virtual Spartan race from home. But "The Toughest Challenge" is not just about a physical race; it is about all of us coming together as a force against the disease. Supporters can also opt to fundraise only or donate to a team comprised of participants who will do their races individually between November 6 and 8, 2020.
"With so much attention on ALS online and in the news, I would have thought there's already treatments that work to target the disease," said Spartan founder, CEO and co-chair for "The Toughest Challenge," Joe DeSena. "This is exactly the type of challenge Spartans are looking for, with so many of them active in a range of worthy causes. Defeat is out of the question, and I'm really excited we can use our community's spirit to join the fight against ALS."
Target ALS founder and former deputy mayor of New York City, Dan Doctoroff, and founder of the UMass ALS Cellucci Fund and former first lady of Massachusetts, Jan Cellucci, will also serve as campaign co-chairs in "The Toughest Challenge For The Hardest Fight."
"COVID-19 has certainly affected the ability for many organizations to advance research. But it hasn't slowed the progression of the disease. So, our team at Target ALS adopted the motto, 'The Work Continues,' reflecting our continued momentum in funding projects and critically needed research tools," said Chief Development Officer Jesse Bailey. "This program with Spartan is a representation of that tenacity, and with a fun, engaging new platform, our community will join us in raising funds so that we can continue our work without delay."
One hundred percent of donations raised through "The Toughest Challenge For The Hardest Fight" will go to funding promising drug discovery and development programs, as well as critically needed research tools for scientists to advance their research. These tools are a part of a growing suite of scientific resources already established by Target ALS and used extensively by the ALS research community without restrictions.
Dan Doctoroff founded Target ALS in 2013 after losing both his father and uncle to the disease. Knowing that something new had to be done to combat ALS, Doctoroff worked with many scientists, pharmaceutical/biotech executives, advocates and other thought leaders to identify what was needed to move research closer to clinical trials. From this, the Target ALS Innovation Ecosystem was born, which has since funded more than 175 research collaborations between scientists at academic institutions and the pharmaceutical/biotech industry.
To date, five of these programs have resulted in clinical trials.
"This is an incredible opportunity to align with a world-class brand like Spartan," said Director of Communications Steve Schonberg. "At our core, Target ALS and Spartan live the same values: we see obstacles as opportunities to inspire communities and change lives. It's about every individual's contribution to the world and being part of a team who helps each other realize their full potential."
Spartan, together with GoFundraise, has built an easy-to-use peer-to-peer platform where "The Toughest Challenge" participants can sign up to fundraise, with tools included to promote their participation on their personal, professional, and social media networks. The platform is being provided as part of Spartan's "For a Cause" charitable initiative, which gives nonprofits an opportunity to raise funds, reflecting Spartan's spirit of community and support.
To learn more and sign up to join Target ALS and Spartan in "The Toughest Challenge For The Hardest Fight," visit http://www.toughestchallenge.com.
About the Disease

Amyotrophic lateral sclerosis (ALS), also known as Lou Gehrig's disease, is a deadly neurodegenerative disease that causes progressive paralysis due to the degeneration of motor neurons, which are nerves that pass signals from the brain and spinal cord to the muscles used for functions like walking, lifting, swallowing and breathing. Patients typically survive three to five years after diagnosis.
About Target ALS

Founded in 2013 by former deputy mayor of New York City Dan Doctoroff, with support from Bloomberg Philanthropies, Target ALS is a nonprofit organization focused on fostering collaboration to accelerate ALS drug discovery and development. Our Innovation Ecosystem — a radically different approach to medical research — overcomes barriers and brings together the right people, funding and critical resources to drive the development of breakthrough therapies for ALS.
About Spartan

With more than 250 events across more than 40 countries on six continents, Spartan is the world's largest extreme wellness and endurance brand. Providing transformation through sport, Spartan attracts more than 1 million annual participants across all fitness levels, from beginner to elite. More than 5 million participants have finished Spartan events, creating a lifestyle that extends beyond races and includes health and wellness products, training and nutrition programs and popular media content, which has made OCR one of the fastest growing sports in the world. Spartan events feature races at various distances, including the Spartan Stadion® and Spartan Sprint®: 5k and 20 obstacles; Spartan Super®: 10k and 25 obstacles; Spartan Beast®: half marathon and 30 obstacles; and Spartan Ultra™: 50k and 60 obstacles. Visit spartan.com for more information and registration.
Share article on social media or email: