This Thai peanut salad is filled with crunchy purple cabbage and cucumber, roasted sweet potatoes, edamame, quinoa, greens, and dressed with the most delicious homemade Thai peanut dressing. It's a little more high maintenance than some of the other salads I make but don't let that stop you from making it. With my tips for making this into a mason jar salad, you can put in the work on Sunday to enjoy this salad all week. This is a salad that's worth making over and over again!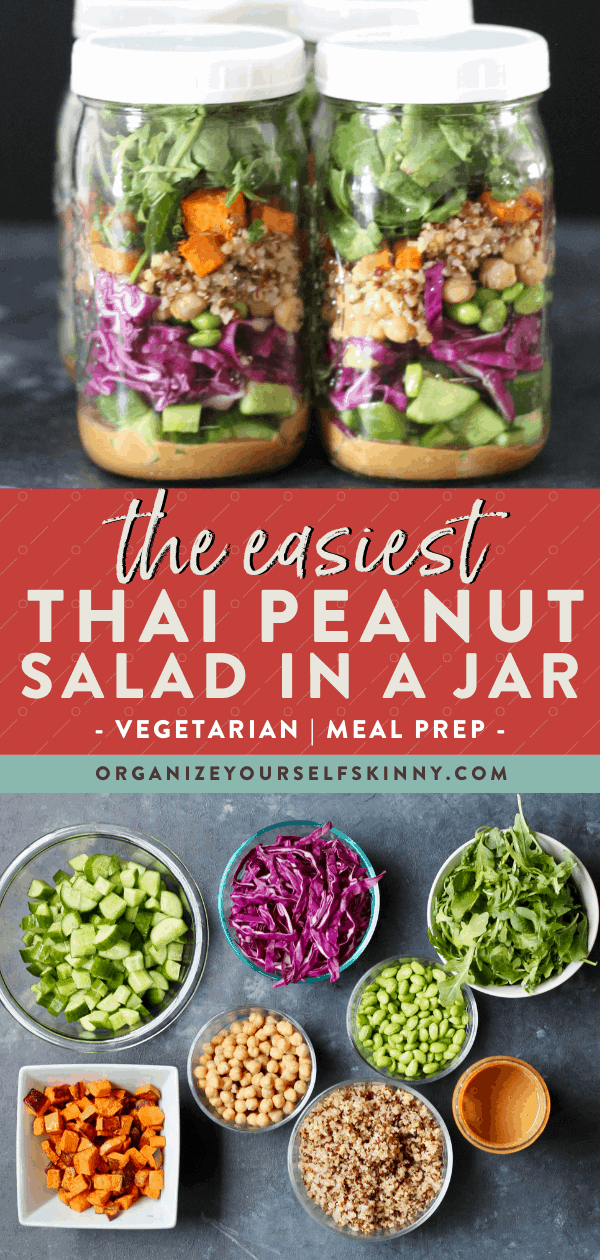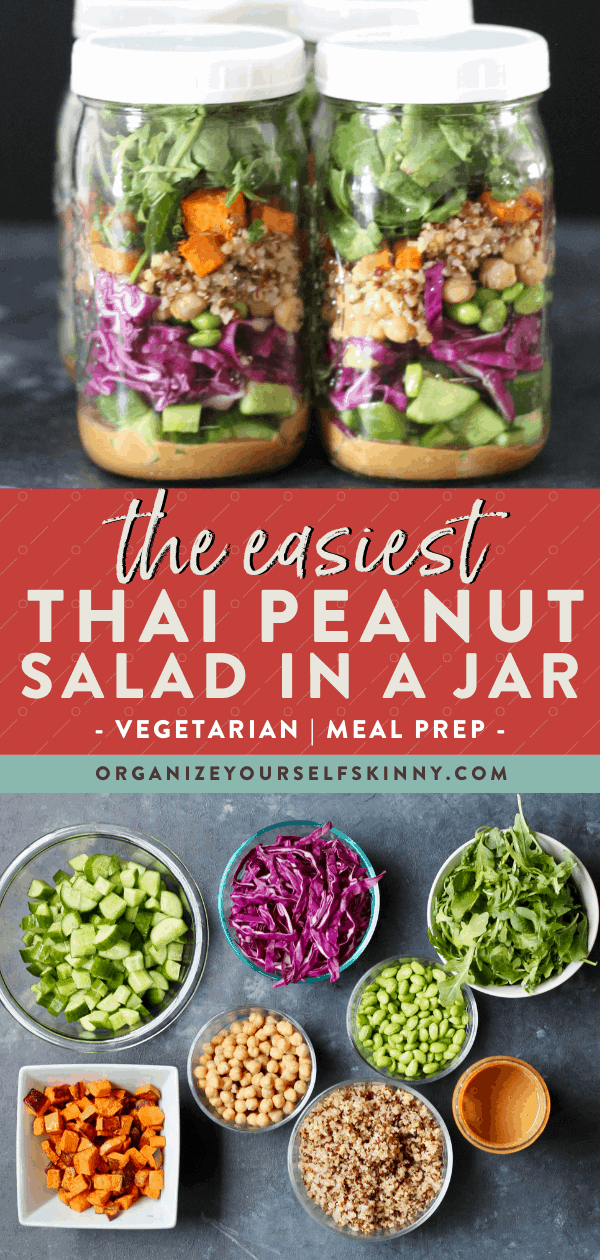 One of my favorite salads is the Spicy Thai Chicken salad at Panera bread. I love it! It includes edamame, roasted carrots, and a Thai Peanut dressing I could drink.
I always order it because it's one of those salads I just never got around to making at home. Probably because it takes a little more work roasting and cooking the necessary ingredients.
Well, I haven't been to Panera in MONTHS so this week, I decided to put in the effort and create my own version of this salad at home.
This recipe is also inspired by the infamous 'Buddha Bowls' you see circling around Pinterest. Actually, one of my readers asked me if I have any Buddha bowls on my blog. Embarrassingly, I do not. I don't see how I could possibly miss this food trend because a buddha bowl is right up my alley being filled with whole grains, veggies, nuts, and other good fats.
So I guess you can say this Thai peanut salad in a jar recipe is what happens when I combine my love for Panera's Spicy Thai Chicken Salad and Buddha Bowls.
I took all the delicious flavors of the Spicy Thai Chicken Salad but left out the chicken and filled it with nutrient-dense high protein Buddha ingredients like chickpeas and quinoa. Most buddha bowls that I come across are vegetarian so I wanted to keep it meat-free.
Frequently Asked Questions About This Thai Peanut Salad
I'm really excited to share this recipe with you but before I do I want to go over some questions and tips.
What are some other vegetables to use in this Thai peanut salad?
The skies the limit with the vegetables that can be used in this Thai peanut salad recipe. I recommend sticking with crunchy vegetables.
Here are some of my favorites:
Sliced or chopped red, yellow, or orange bell peppers. (You could use green but I'd rather use the other colors.)
Shredded or chopped carrots
Chopped zucchini or zoodles
Shredded Brussel sprouts
I've also used bags of Asian slaw mix in this salad and it works great!
What are some other whole grains to use in this Thai peanut salad?
My original plan was to use quinoa for this salad. However, I saw a bag of quinoa and bulgur mix at Whole Foods and I thought it would work great for this salad.
Grains that can be used in this Thai Peanut salad:
Quinoa
Bulgur
Farro
Brown Rice
But, really any grain will work just fine.
Can I add meat to this salad recipe?
Yes, of course! I wanted to keep this recipe vegetarian but if you want to add meat, you can add thinly sliced roasted or baked chicken. You can even get a rotisserie chicken and shred the meat for the salad.
This salad would also taste wonderful with thinly sliced beef!
Thai Peanut Salad in a Jar
Okay, let's get to the recipe.
Here is a list of ingredients I used for this recipe:
Homemade Thai peanut dressing (recipe below)
Mini cucumbers
Red shredded cabbage
Edamame
Quinoa bulgur mix (or just use quinoa)
Roasted sweet potatoes
Baby spinach and arugula blend (or any greens)
Cilantro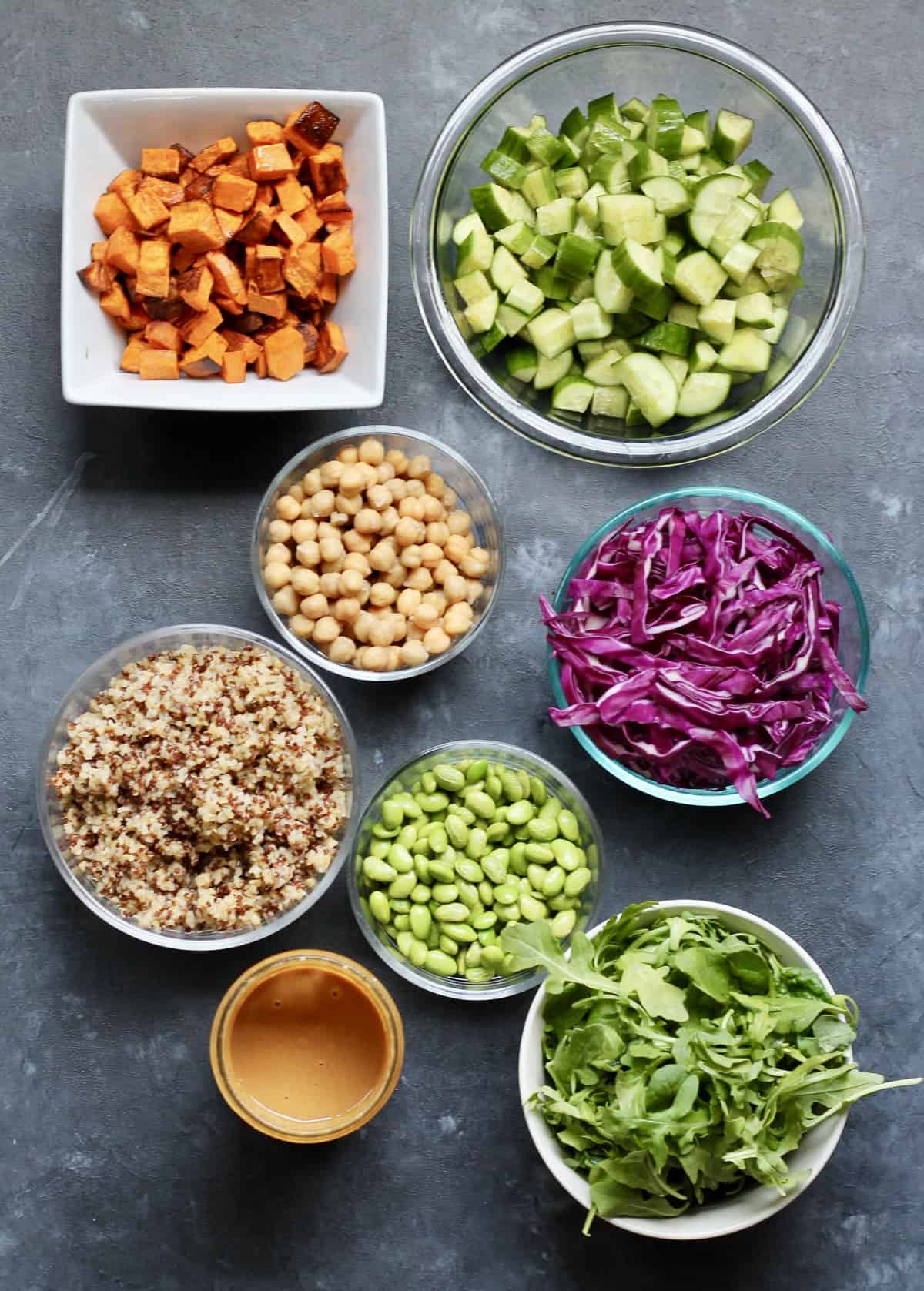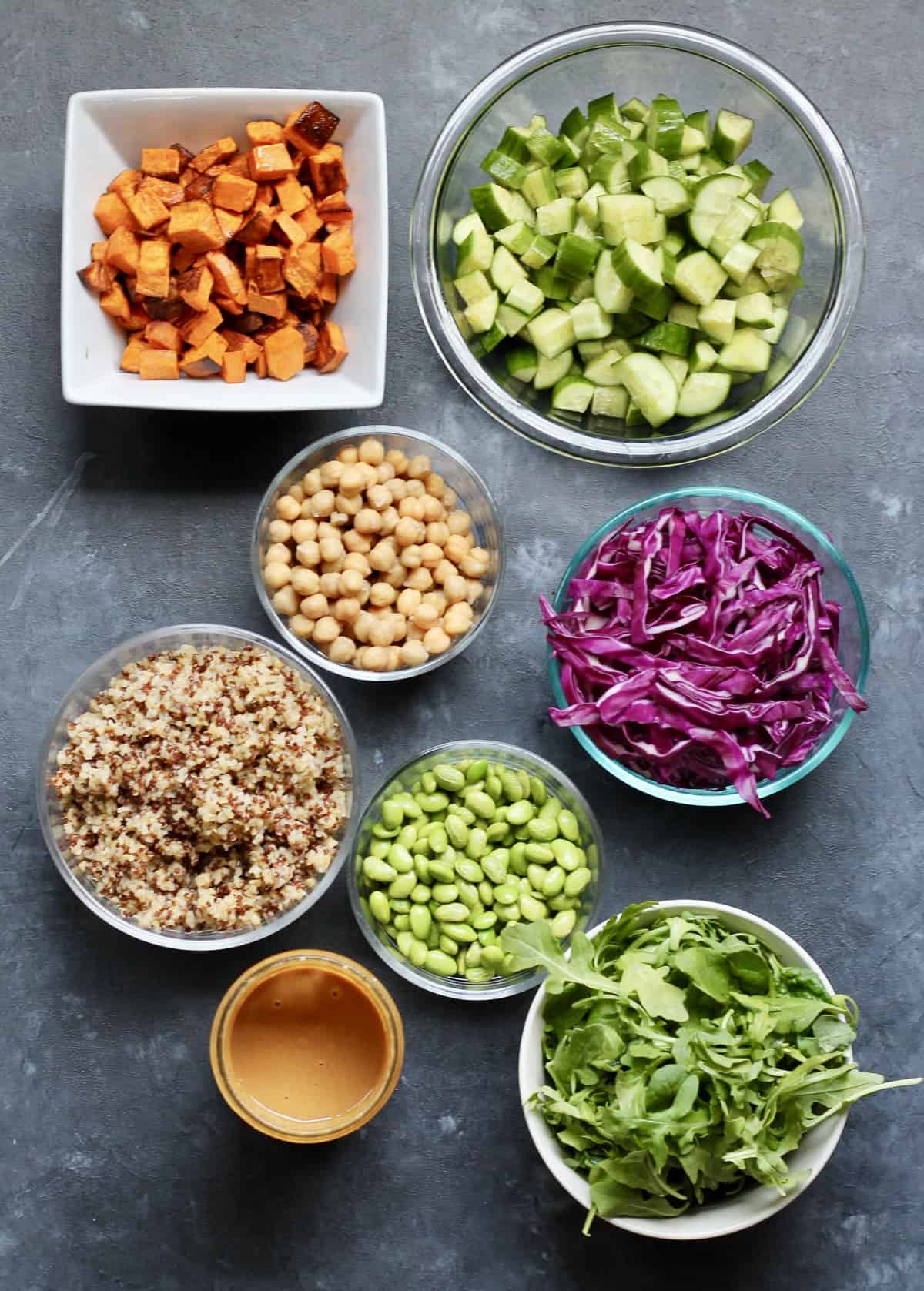 How to Make Homemade Thai Peanut Salad Dressing
The star of the show is hands down the homemade Thai peanut salad dressing. The flavor is so good!
If you do a search for homemade Thai peanut dressing, you'll find a million different variations. I basically use an Asian-inspired dressing I originally used in this shrimp bowl recipe, and then added some tweaks.
Here are the ingredients I use:
¼ cup soy sauce
3 tablespoons rice vinegar
2 teaspoons sesame oil
1 teaspoon chili oil
1 teaspoon grated ginger
2 medium garlic cloves, grated
½ cup creamy peanut butter
2 tablespoons honey
Juice of 1 lime
¼ cup unsweetened coconut milk
If needed, melt the peanut butter and honey in the microwave for 20 seconds or until it's easy to blend with the other ingredients.
Place all of the ingredients into a mason jar, put the lid on, and shake vigorously until everything is well blended.
This recipe makes more dressing than what you'll need for all the salads.
This dressing can also be used as a sauce with:
Chicken, shrimp, and vegetables over rice
Mix with noodles or zoodles to make a Pad Thai.
With vegetables and rice stir-fry
Or, any recipe that you think would taste delicious with peanut sauce.
You can also freeze the dressing to use at another time. It can be frozen in the mason jar or portioned out and placed in small freezer bags.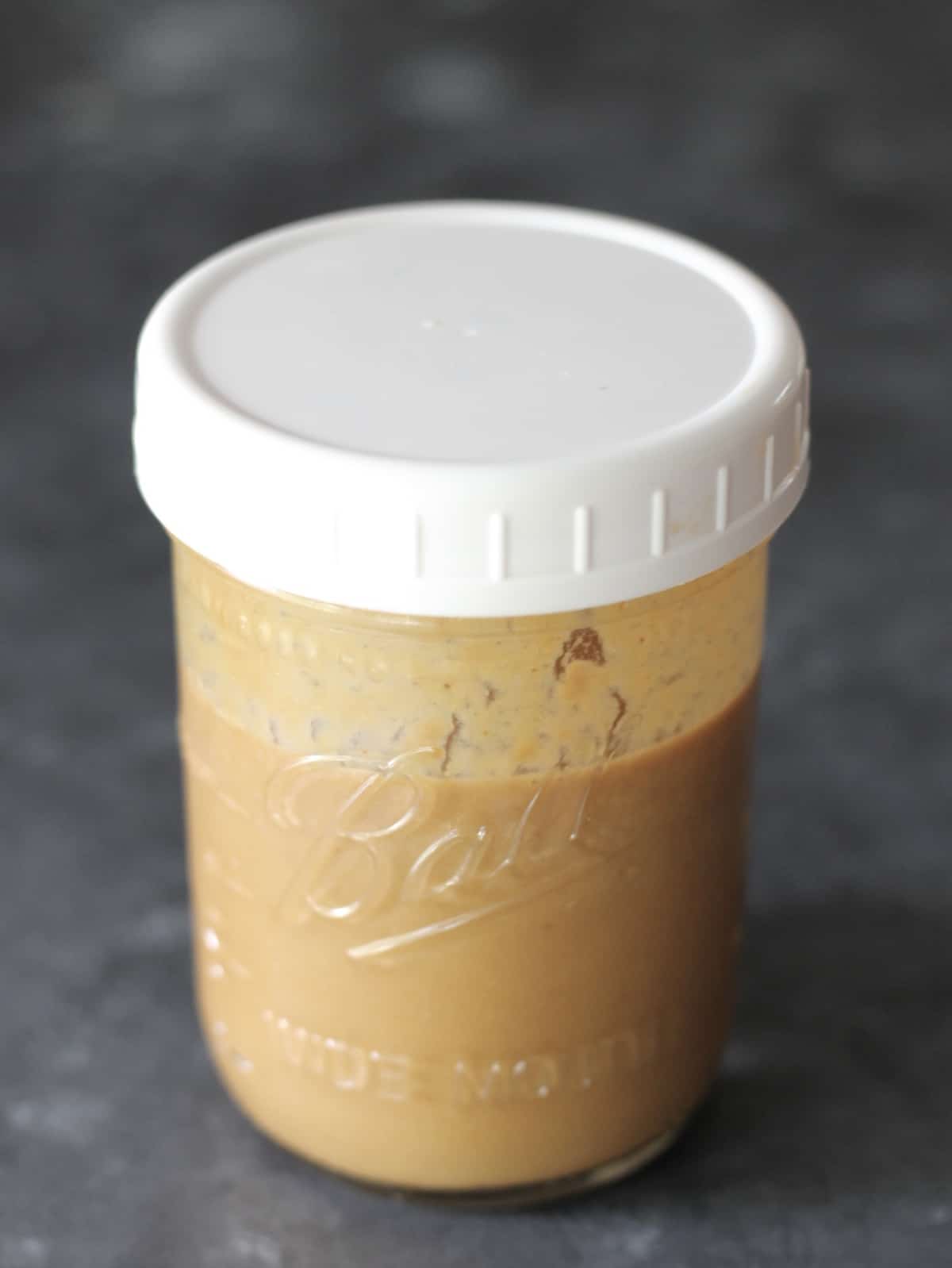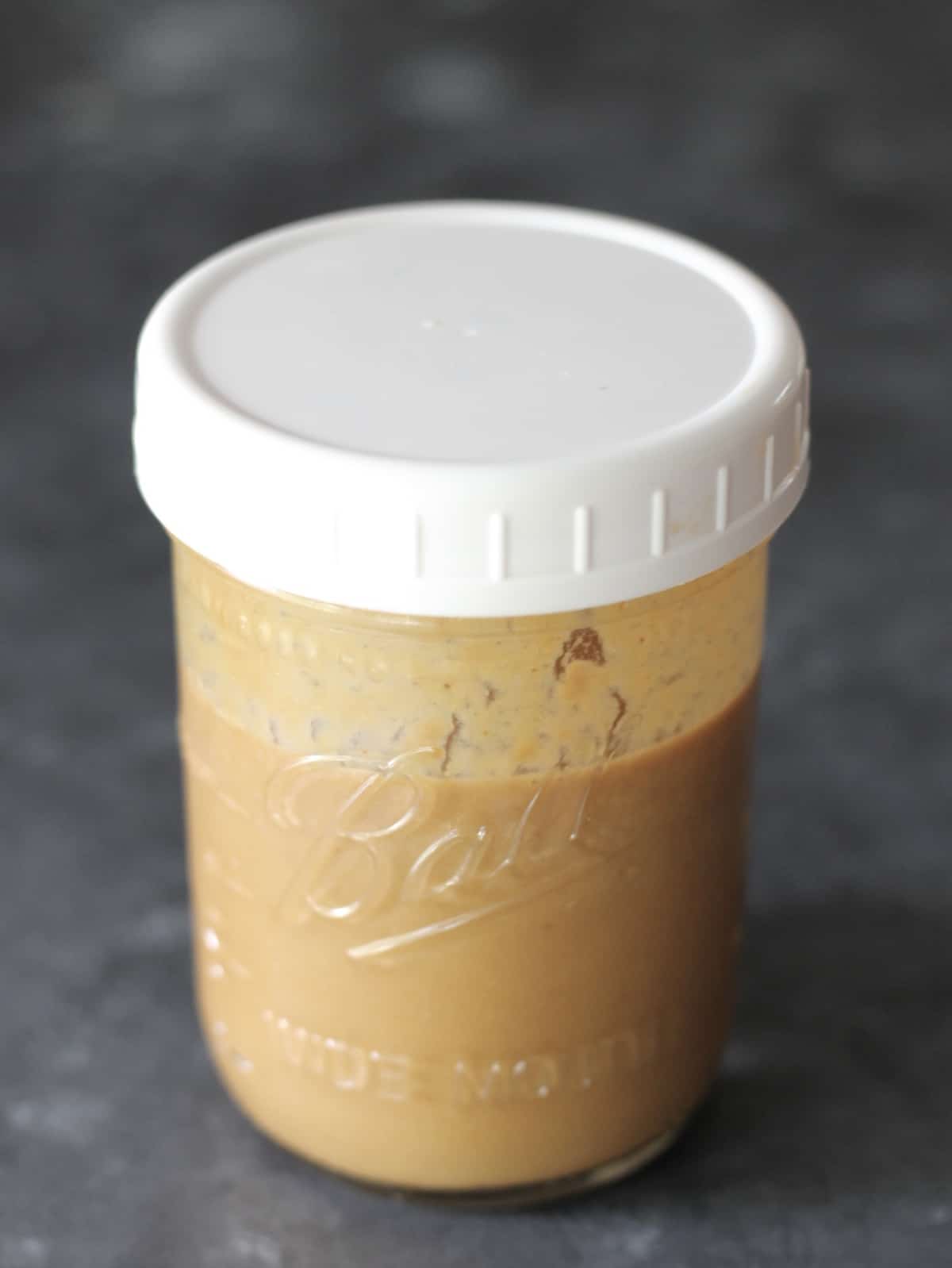 Meal Prep Tips For This Salad In A Jar
Purchase red shredded cabbage to make prep easier. If you can't find it then use half a head of red cabbage and save the rest for another recipe.
Purchase shelled edamame if possible. I purchase it frozen, let thaw, and then layer it. If I can only find edamame in the shell then I'll remove it from the shell before using. That takes a lot of time so try to get it shelled.
Purchase sweet potatoes already diced. This will save time.
Purchase quinoa already cooked. Again, this will save about 20 – 25 minutes off prep time.
How To Make Thai Peanut Salad In A Jar
Let's start with the ingredients that take the most time to cook – sweet potatoes and quinoa.
It doesn't matter which one you cook first because they both take around the same time to cook and both need to be cooled before layering into the salad.
Roasted Sweet Potatoes
Let's start with the sweet potatoes. I love roasted sweet potatoes and they are so amazing in this salad. You can also use chopped roasted carrots.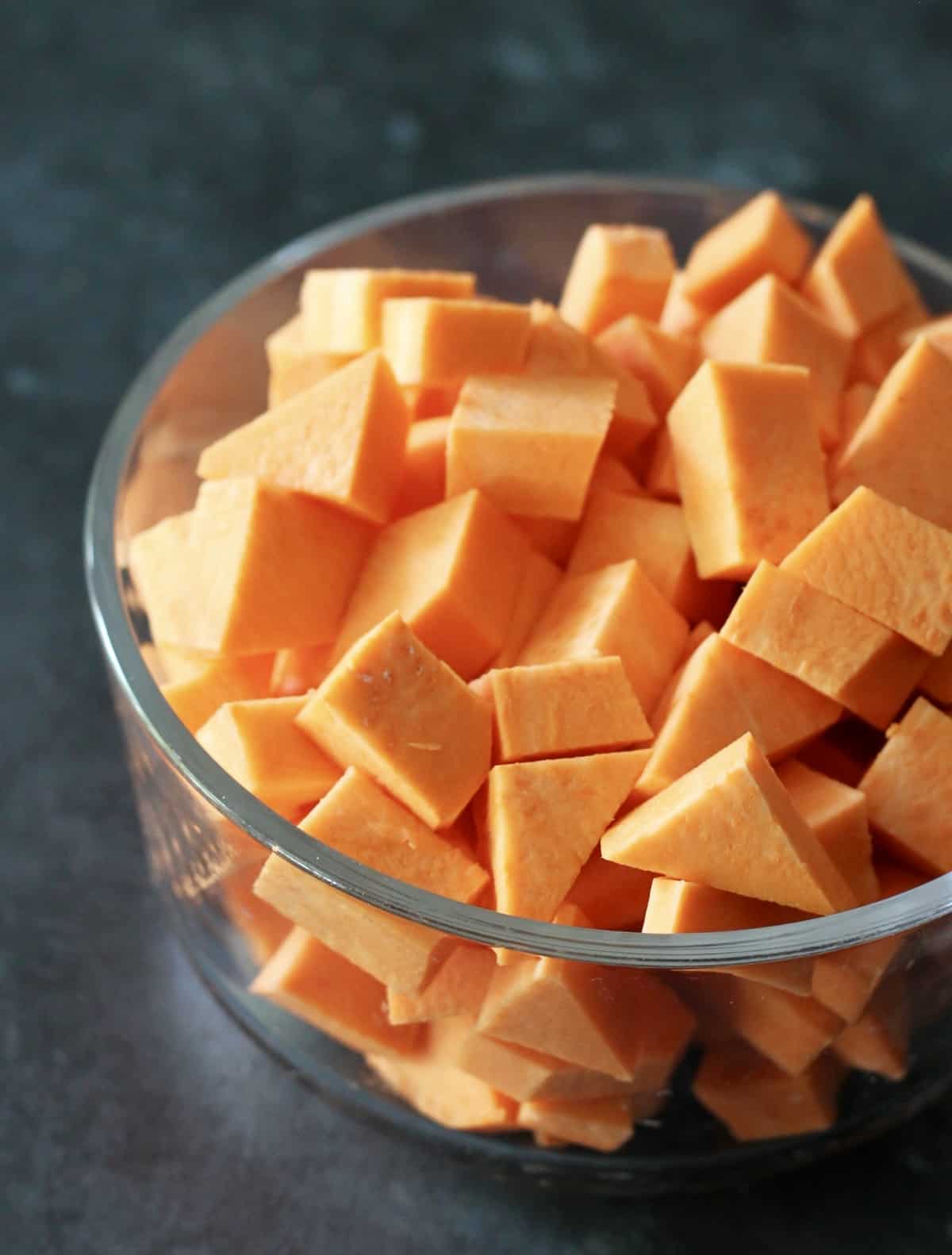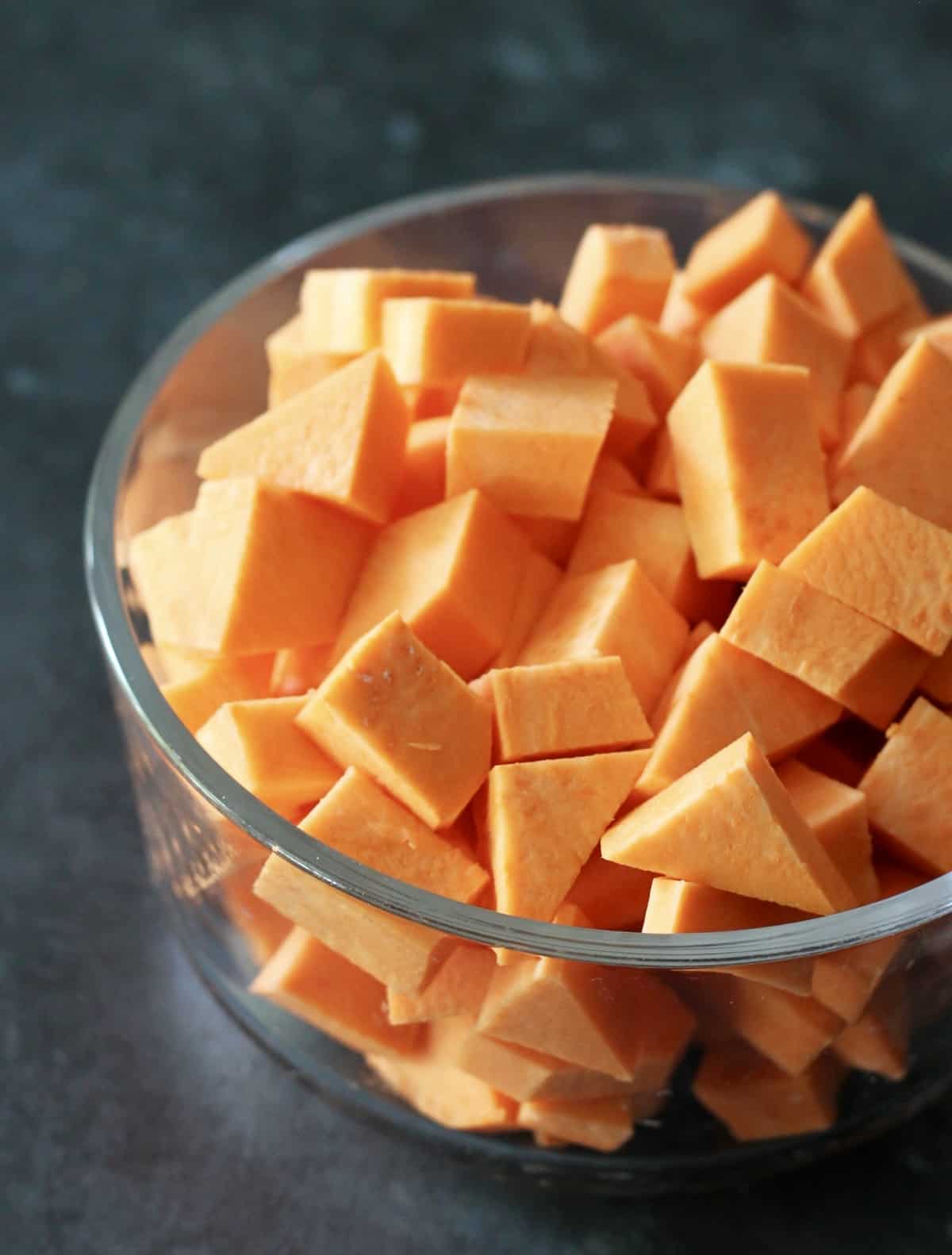 All I did was mix about 3 cups (2 medium) of diced sweet potatoes with 2 tablespoons of olive oil, salt, and pepper.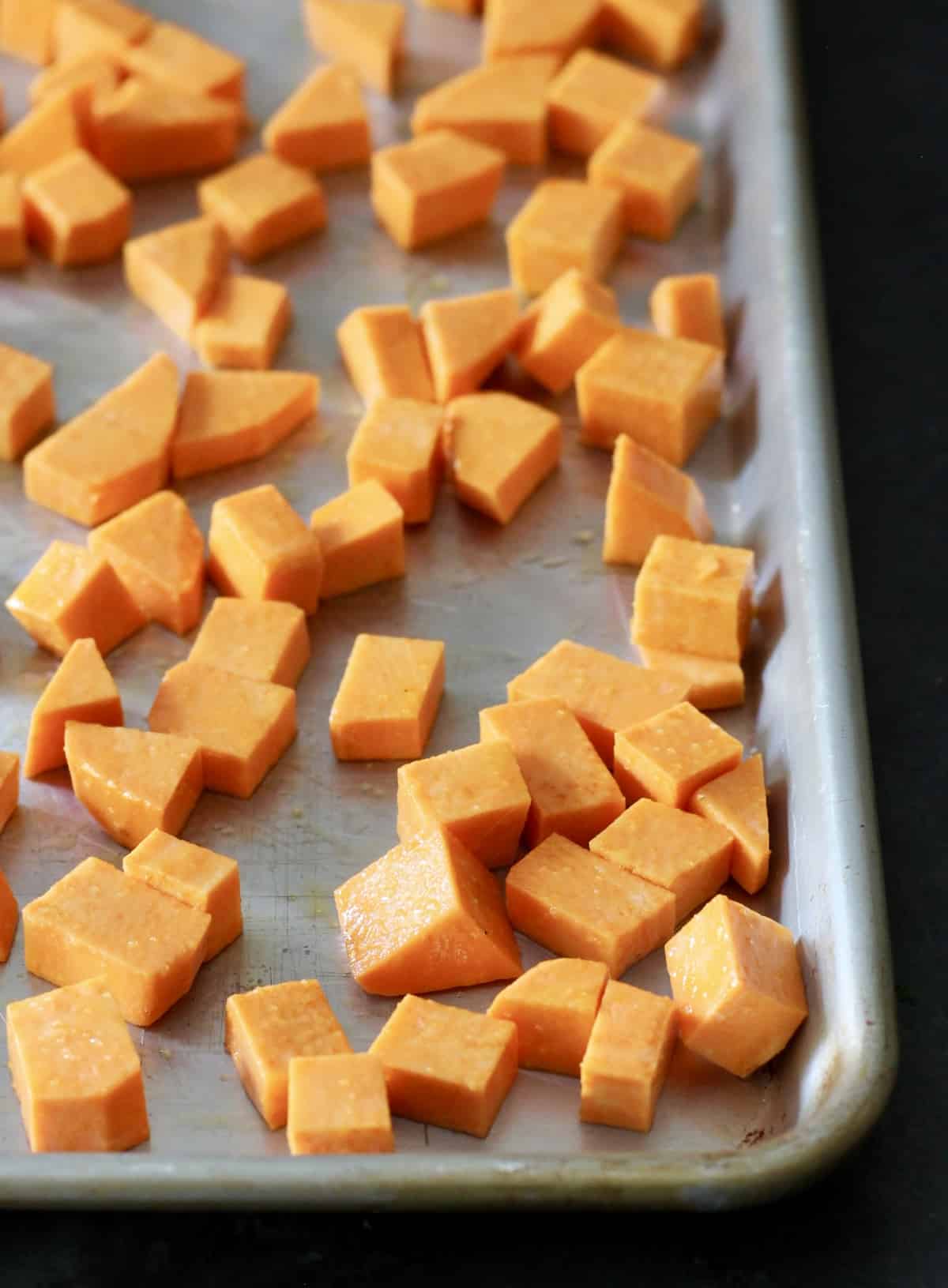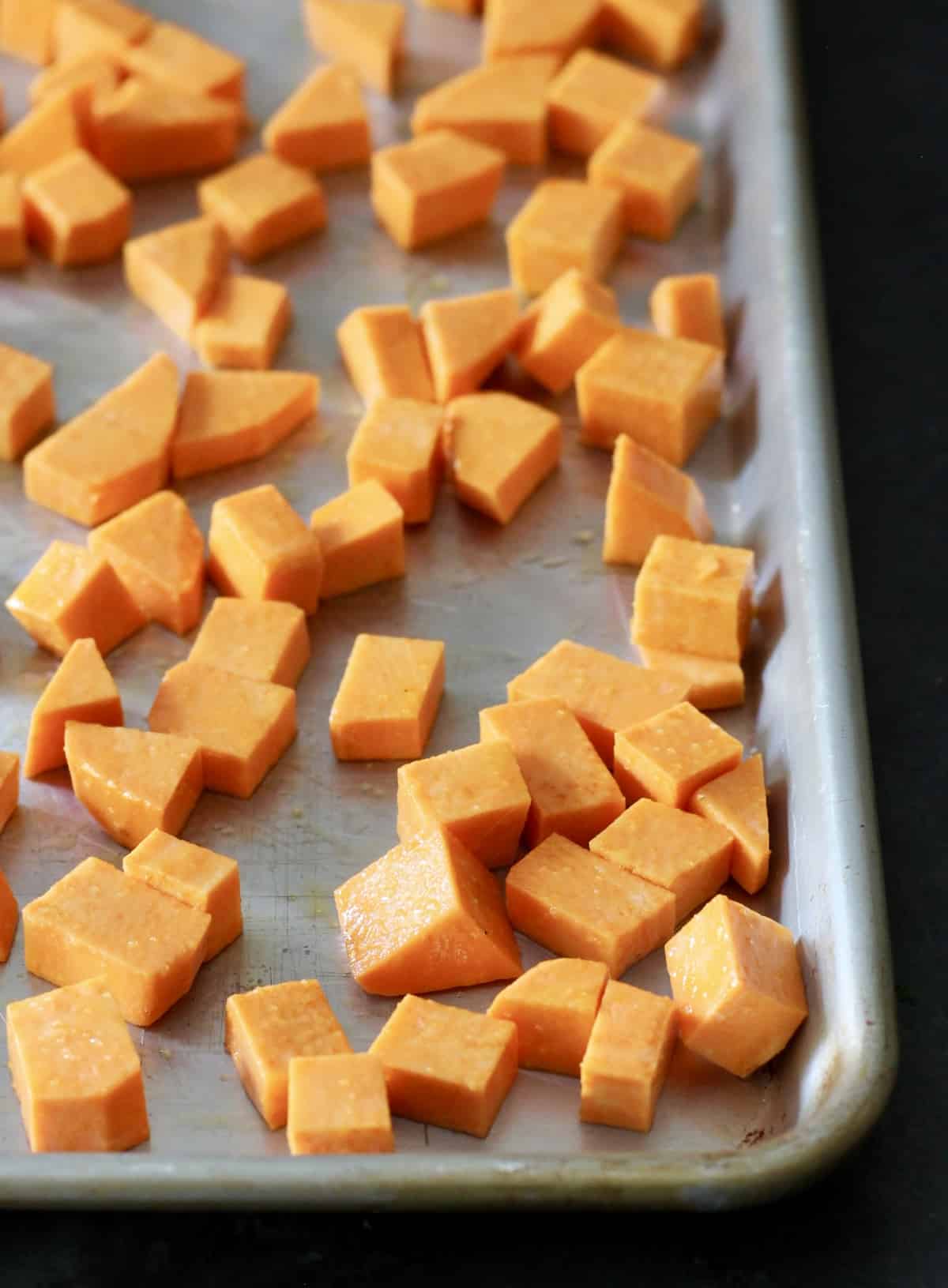 Then, I spread the sweet potatoes onto a baking sheet and roasted for 30 minutes in a 425-degree oven. When they were done, I set them aside to cool.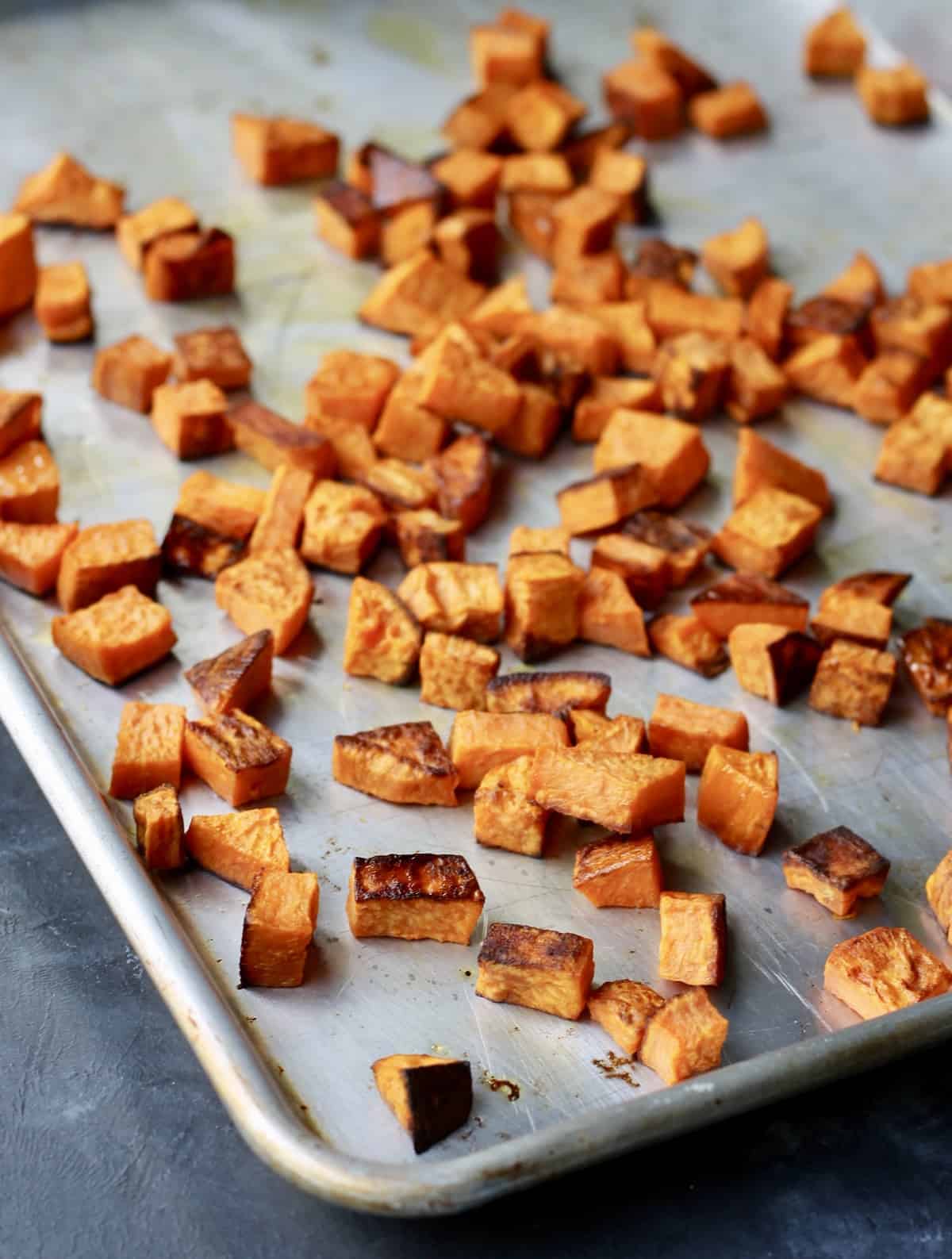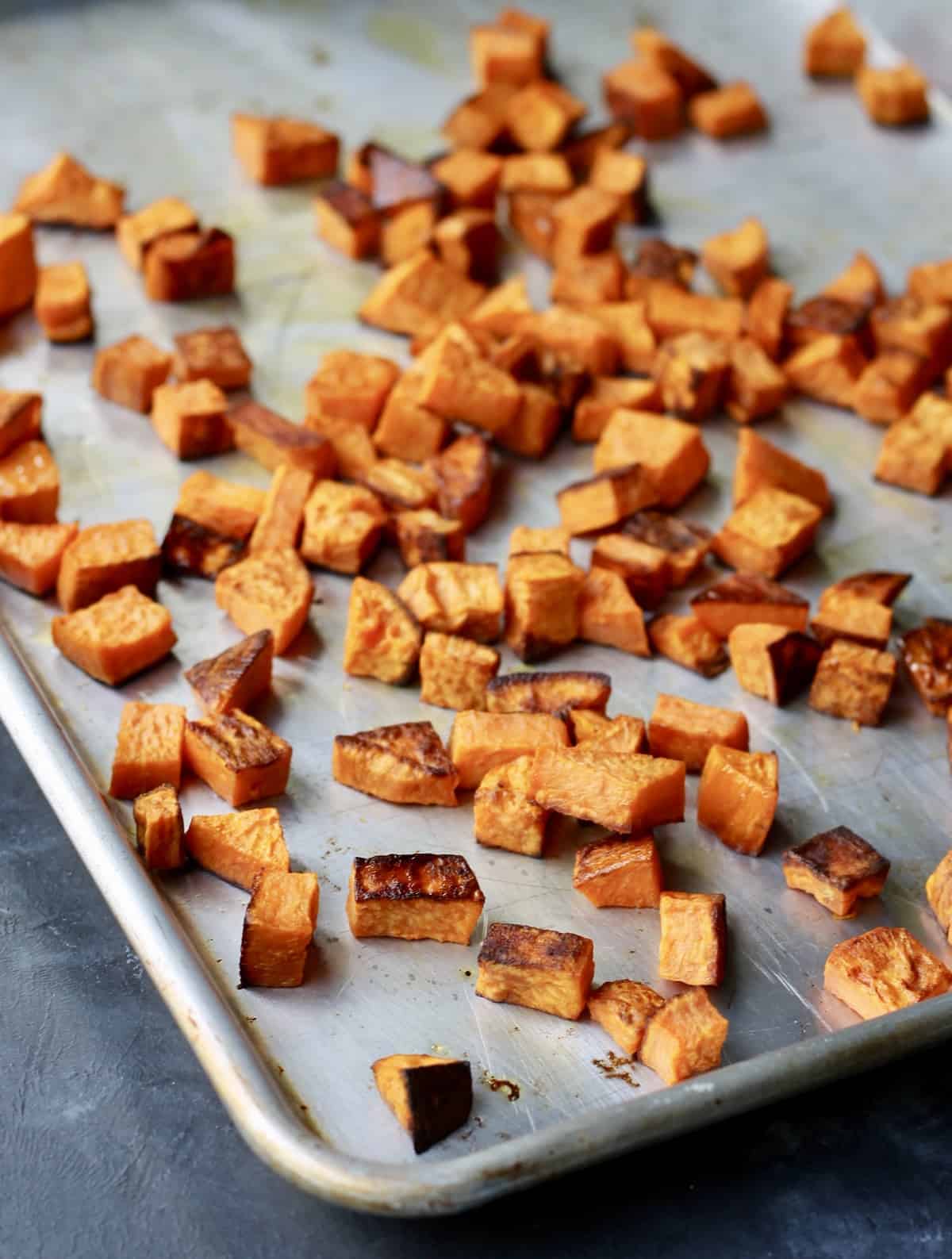 Prep Whole Grains
While the potatoes were cooking, I prepared the quinoa bulgur mix. This took around 20 minutes to cook. Again, I let that cool before layering it into the salad.
Cooking note: The sweet potatoes and/or quinoa can be cooked a day or two ahead of time if you want. Sometimes, this makes it easier to get the salads together the day you want to make them.
After everything was cooked and cooled, I layered the ingredients.
I followed the same instructions that I do with all of my mason jar salads. I start with dressing and end with greens. You can see my step by step tips in this mason jar salad tutorial.
Salad Layers For Thai Peanut Salad
For this Thai Peanut Salad in a jar, start with:
I start with homemade peanut dressing (instructions above).
Then, I add crunchy vegetables- cucumber, red cabbage, and edamame.
Next, I add the quinoa and roasted sweet potatoes.
I finish with greens and 1-2 tablespoons of cilantro.
When I'm ready to eat the salad, I'll give it a couple of good shakes and then pour it into a bowl. If you want, you can add a little more dressing and sprinkle with crushed peanuts.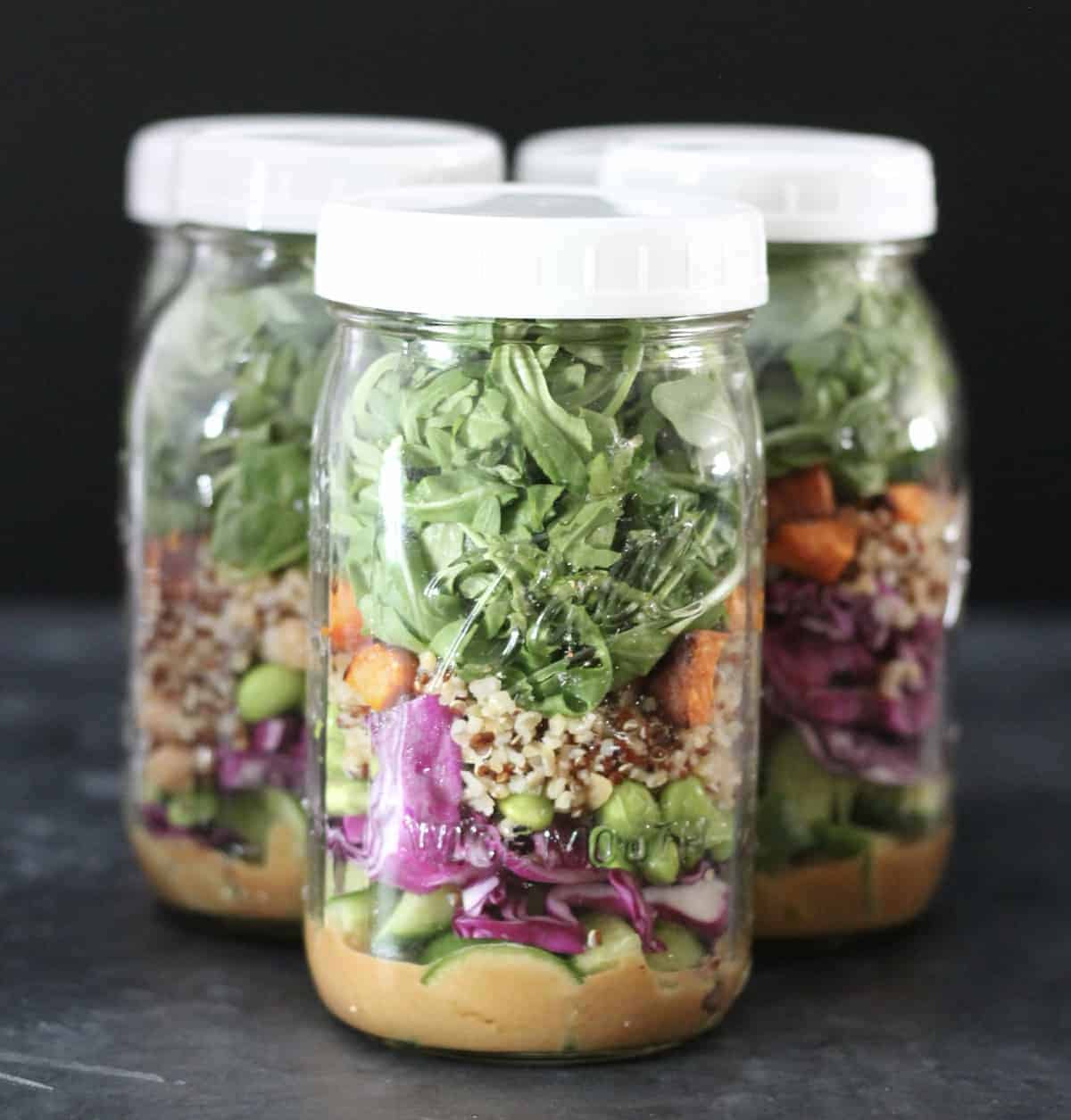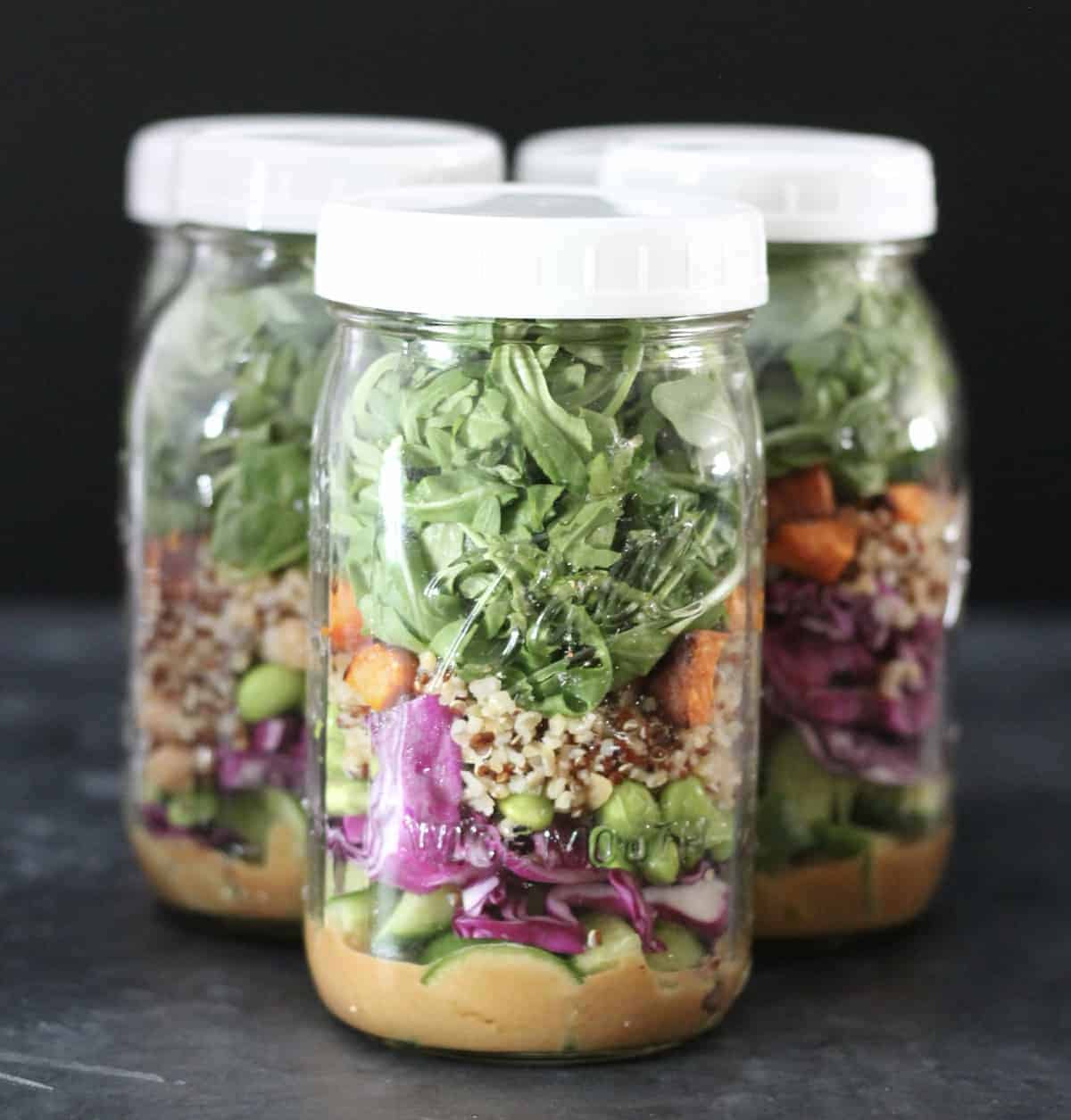 Supplies needed
32-ounce mason jars. I prefer the wide-mouth mason jars but, if all you can find are regular mouth jars then get those.
16-ounce mason jars. These are great for salad dressing.
Plastic mason jar lids. At some point, the metal lids that come with mason jars will rust. I recommend picking up a pack of plastic lids. They are super durable and work great. You can get wide mouth lids and regular mouth both from Amazon.
Large sheet pan. This is essential for roasting sweet potatoes and other vegetables.
1-quart sauce pan. This is to whip up a batch of quinoa or other grains.
More Salad In A Jar Recipes
If you enjoyed this Thai peanut salad in a jar recipe, check out some of these other mason jar salads I've put together:
This is has become my new favorite mason jar salad. The flavors are so good and I love the crunch of vegetables mixed with tender quinoa and sweet roasted potatoes. Share a picture and tag me on Instagram or Facebook if you decide to try any of this Thai peanut salad in a jar!
Thai Peanut Salad in a Jar (Vegetarian)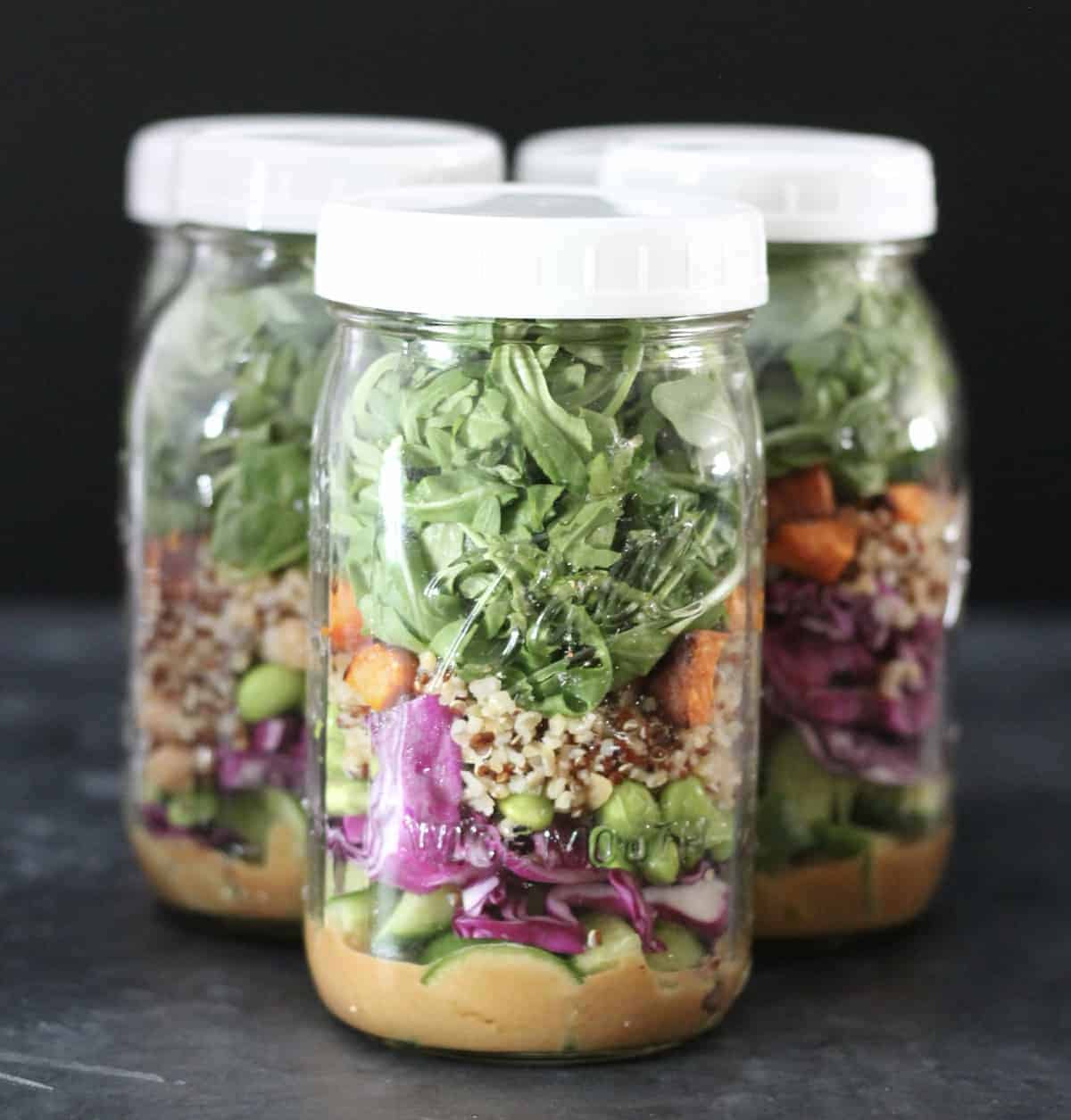 This Thai peanut salad is filled with crunchy purple cabbage and cucumber, roasted sweet potatoes, edamame, quinoa, greens, and dressed with the most delicious homemade Thai peanut dressing. It's a little more high maintenance than some of the other salads I make but don't let that stop you from making it. With my tips for making this into a mason jar salad, you can put in the work on Sunday to enjoy this salad all week. This is a salad that's worth making over and over again!
Author: Organize Yourself Skinny
Serves: 5
Ingredients
5 wide-mouth mason jars
10 tablespoons Thai Peanut Dressing
5-6 mini cucumbers, chopped
3 cups shredded red cabbage
2 cups shelled edamame
1 (14.5 ounce) can of chickpeas, drained and rinsed
1¼ cups cooked quinoa or other grains
3 cups cubed peeled sweet potatoes, roasted
5 cups greens
Instructions
Divide all of the remaining ingredients into 5 equal sections, then add to each jar. Make sure to follow this exact order to keep your ingredients fresh.
Start with the dressing and then layer the cucumbers, red cabbage, edamame, chickpeas, quinoa, roasted sweet potatoes, and top with the greens.
Put the lid on and store in the refrigerator for up to 5 days.
When you're ready to eat, give the salad a good shake and then dump into a bowl.
Nutrition Information
Serving size: 1 salad Calories: 355 Fat: 7 Saturated fat: 1 Carbohydrates: 54 WW Points +: 13 Fiber: 10 Protein: 14
3.5.3251
Get Instant Access to My Best Weight Loss Tips & Strategies!
Sign up now for a free step-by-step 7-day email course that I created exclusively for my email subscribers! That's you. I will teach the best habits, strategies, and insider tips so you can enjoy a lifestyle that encourages and supports weight loss! Stop relying on willpower and take control back over your life! You can do this. Let me help!