There are few things in the world more evocative of holiday memories than the scent of cookies baking in the oven. For me, the aromas of Mexican wedding cookies (or, "sand tarts," as my grandmother called them) and sugar cookies cut in reindeer or ornament shapes are like Christmas bottled up in a scent. The big question? Whether to stick with the old favorites or give some new more adventurous flavors a whirl. The answer, of course, is to do both. And don't worry, because our roundup of the best Christmas cookie recipes is sure to include just the one you're craving. Keep scrolling for all the recipes you'll ever need—this holiday and beyond.
Psst… If you're craving more creative cookie recipes, we have just the thing! The Camille Styles team partnered with the best food bloggers and recipe developers to create our free Holiday Cookie Guide: 10 Exclusive Recipes From Your Favorite Bakers. This guide includes 10 exclusive recipes, tips for how to host your own cookie swap, and movie pairings for the perfect cozy night in. Enjoy!
Featured image by Michelle Nash.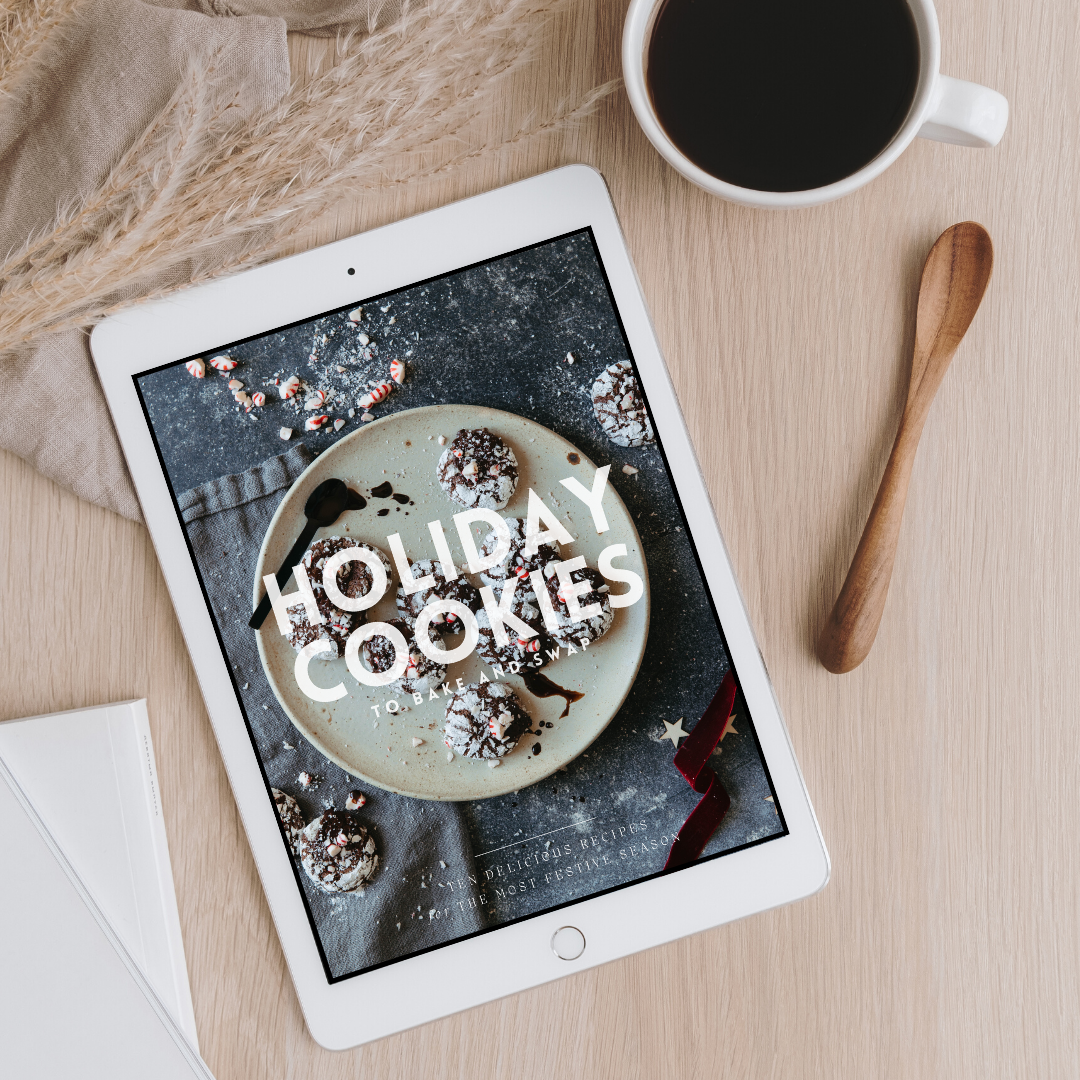 Subscribe
Let's Bake
Sign up to grab the FREE Holiday Cookie E-Book featuring 10 exclusive cookie recipes plus a bonus cookie swap guide.
Thanks for Signing Up!
Oops!
Looks like you're already signed up or your email address is invalid.
Oops!
Looks like you unsubscribed before click here to resubscribe.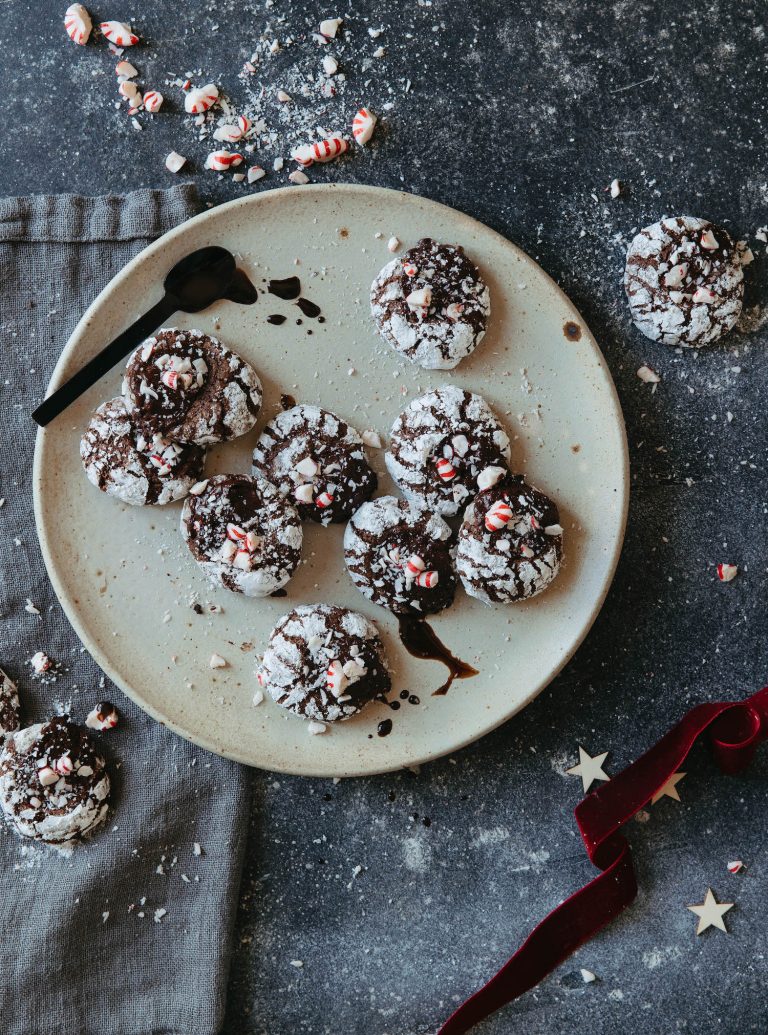 Chocolate Peppermint Snowball Cookies
Why We Love It: These treats are Christmas cookie gold. Chocolate and peppermint is a pairing I look forward to enjoying every holiday season, and a batch of these satisfies the seasonal craving. These feature a molten chocolate center and a double dose of peppermint flavor. Cancel all my plans—I'm staying in tonight and baking these.
Hero Ingredient: A chocolate baking disc tucked into each cookie is the secret to the ooey-gooey lava goodness.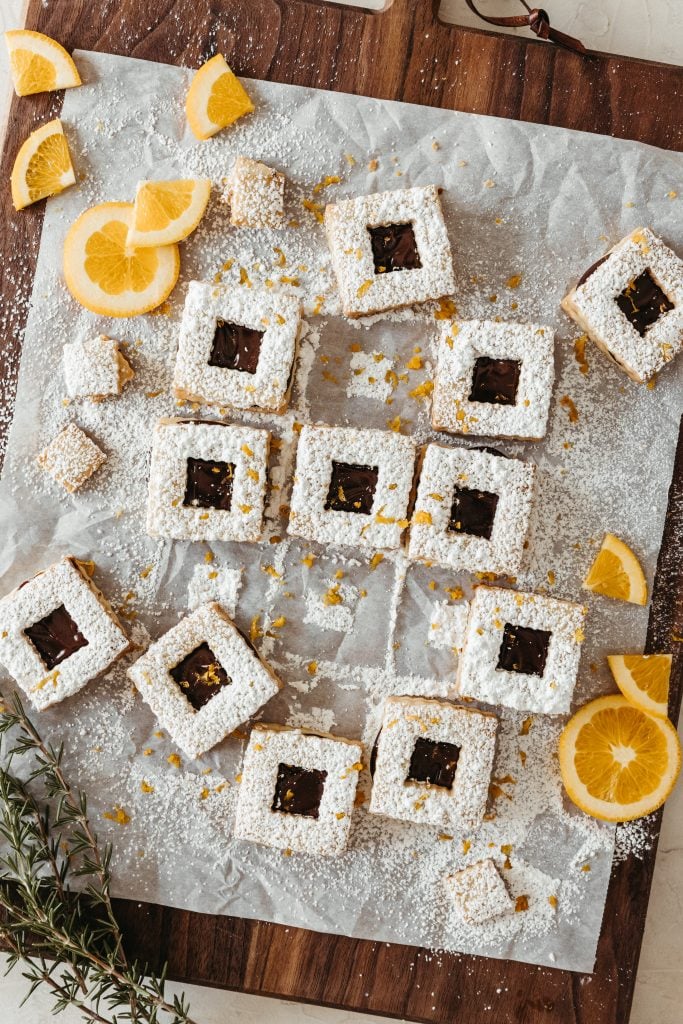 Chocolate Orange Linzer Shortbread Cookies
Why We Love It: Chocolatey, buttery, and oh-so-beautiful, these cookies roll all the wholesome parts of the holidays into one delicious bite. While most Linzer cookies use jam for the filling, these make stunning use of an orange-infused chocolate ganache. They'll pretty up any cookie plate they're a part of.
Hero Ingredient: Chocolate and orange is a dream cookie combo. Using the citrus zest in both the dough and the ganache makes it happen.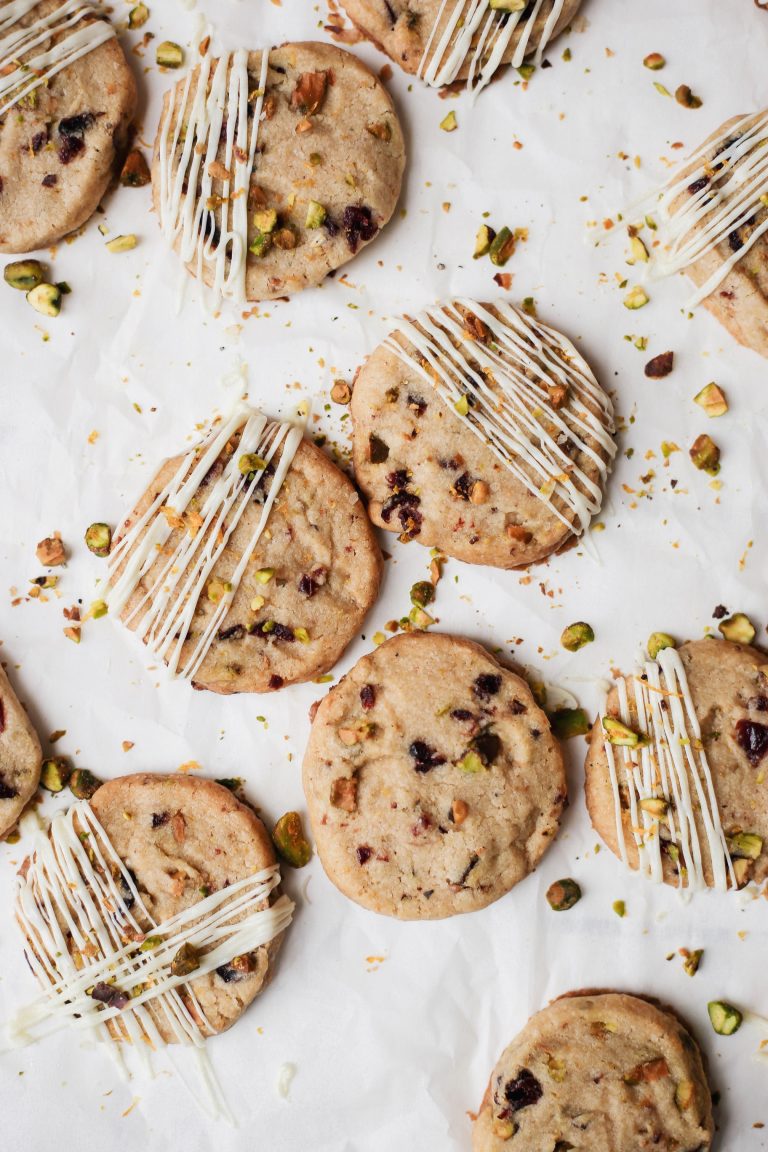 Orange Cranberry, Pistachio, and Cardamom White Chocolate Slice and Bake Cookies
Why We Love It: I love slice-and-bake cookies because 1) they're absolutely delish and 2) they're a breeze to make ahead of time and bake whenever you're in need of a fresh cookie. Simply mix your dough together, roll it into wax paper, and store in the freezer until you're ready to, well, slice and bake. This particular recipe makes the most of this easy method and brings tons of festivity and flavor to the final result. They're creative, whimsical, and totally drool-worthy.
Hero Ingredient: The drizzled white chocolate is exactly what you need to send these cookies over the top.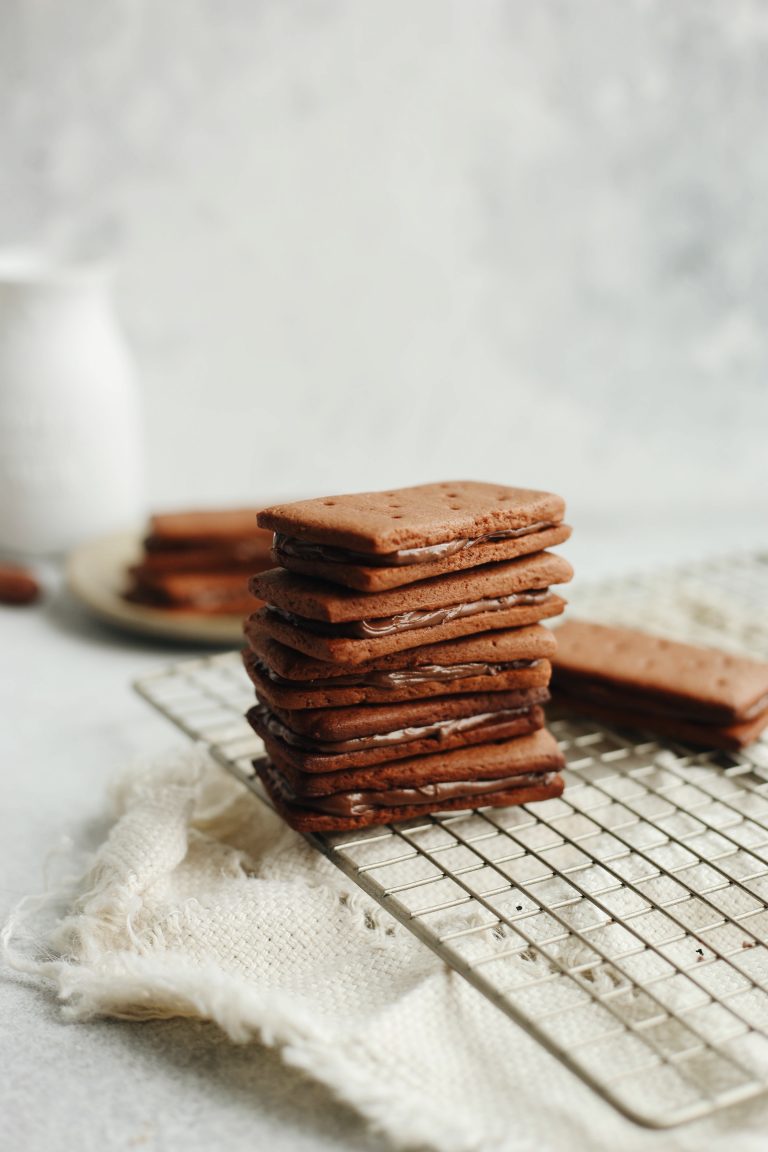 Chocolate Bourbon Biscuits
Why We Love It: There's nothing more nostalgic than a sandwich cookie, but these biscuits are a step up from your expected Oreo affair. The shortbread dough keeps these cookies soft and chewy and espresso powder brings out the chocolatey flavor. All you need is your favorite tea for dipping.
Hero Ingredient: I can't think of a more perfect filling for these cookies than chocolate hazelnut spread.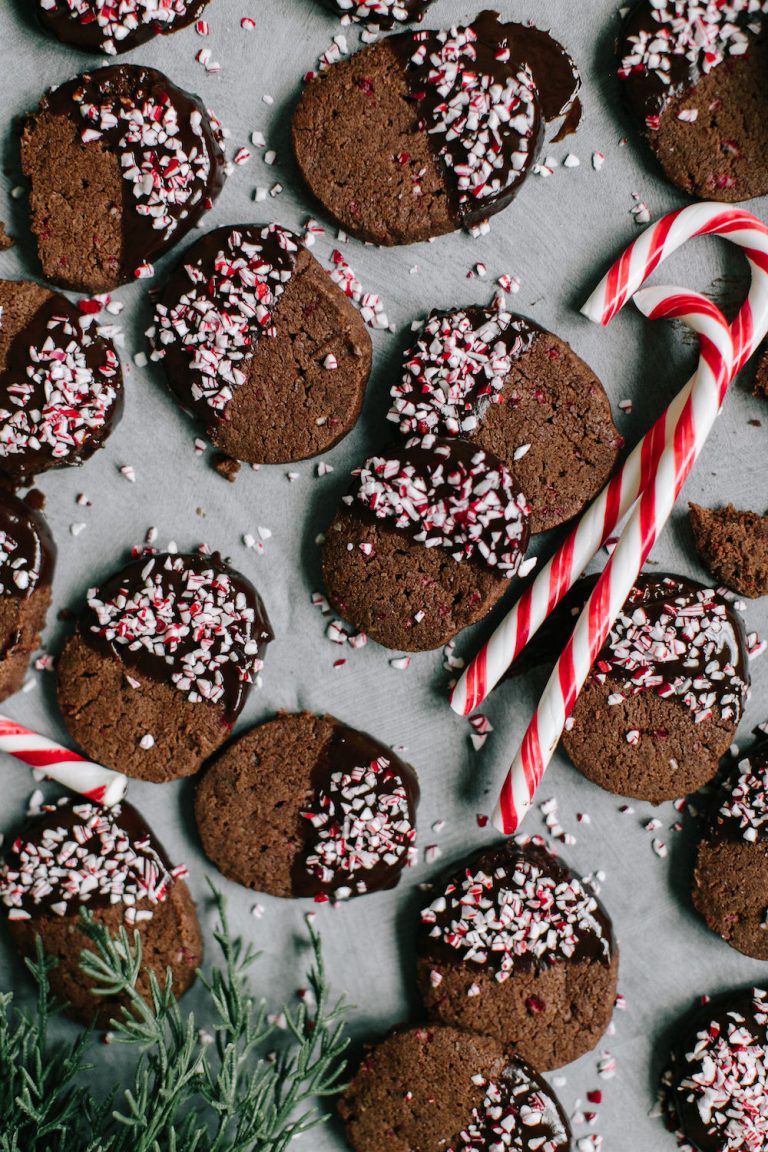 Peppermint Hot Chocolate Shortbread Cookies
Why We Love It: These cookies agree: there's nothing more comforting than sipping a mug of warm cocoa on a cold winter day. Get ready to transform your hot chocolate craving.
Hero Ingredient: Peppermint hot cocoa mix is the no-fail solution to ensuring that these cookies taste just like your favorite wintertime drink.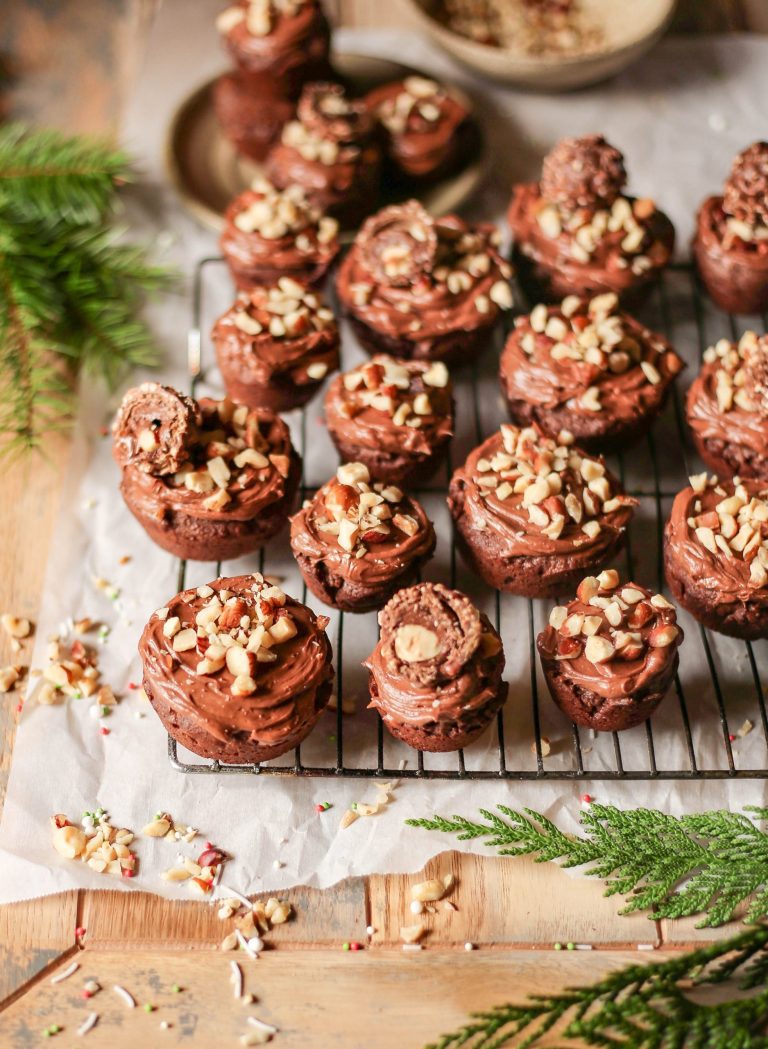 Chocolate Hazelnut Cookies
Why We Love It: The key to perfecting these cookies' soft, almost cake-like texture is baking them in a muffin tin. Call them a cookie, call them a brownie, call them a brookie (actually, don't do that)—but regardless of your chosen moniker, these treats are sure to delight. If you want a chocolate cookie that's fudgy and full of frosting, this is the one to bake.
Hero Ingredient: Ferrero rocher chocolates as an added topping delivers just the right amount of decadence that I'm craving this time of year.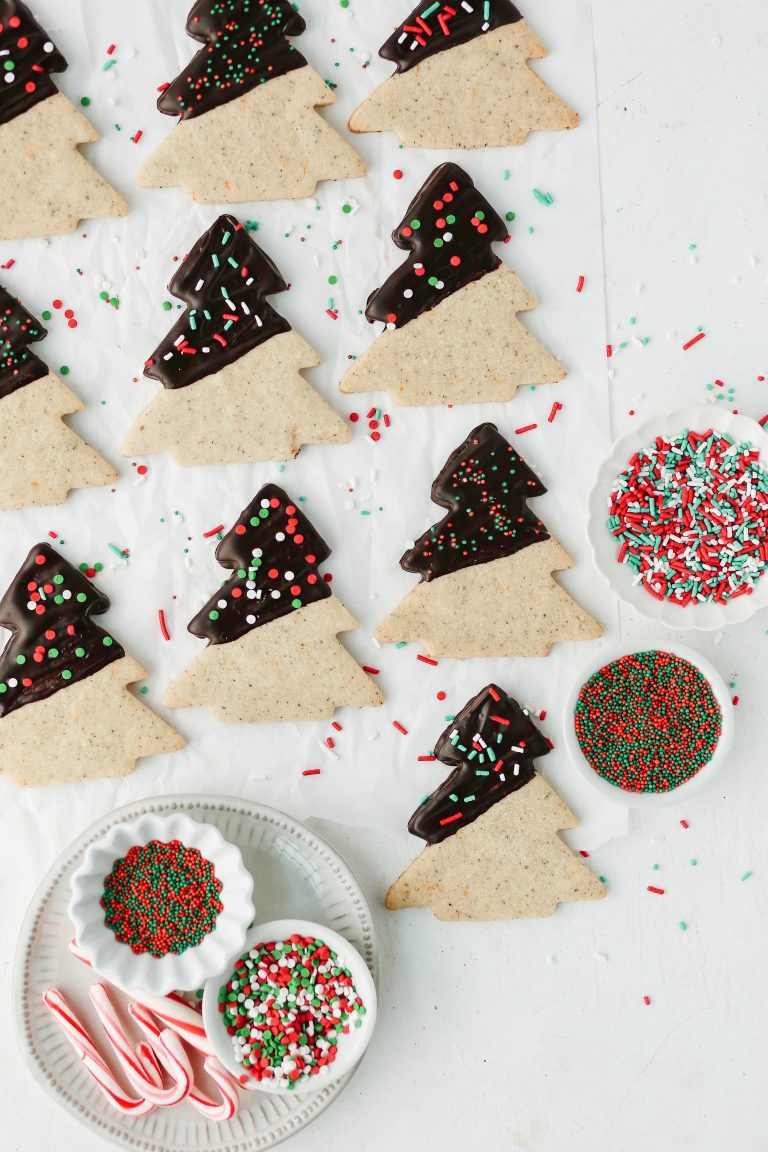 Chai Chocolate Dipped Christmas Cookies
Why We Love It: I love my chai sweet and spicy, and these cookies have the nuanced flavor down pat. They do the classic sugar cookie justice by creating slightly crisp edges and a soft, tender middle. The chai spices combined with the added orange zest keep the dough from leaning too sweet. And when you add sprinkles and dip it in chocolate, you've got a Christmas cookie recipe for the books.
Hero Ingredient: I can't choose between all the spice options—they bring a little something special to each bite.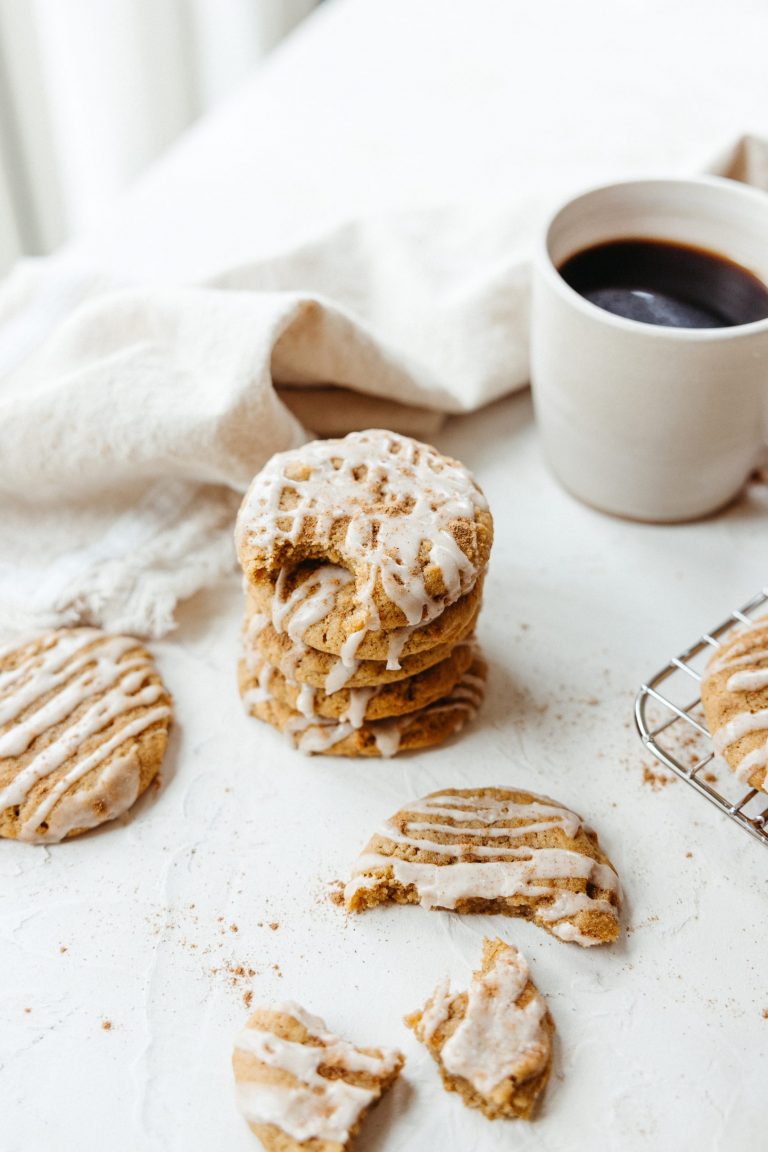 Chewy Pumpkin Spice Cookies with Cinnamon Glaze
Why We Love It: Sure, these don't necessarily scream Christmas, but truthfully, I crave a little pumpkin all throughout the colder months. If you can't stand a dry cookie and crave a melt-in-your-mouth texture, these deliver. I like them best straight from the oven (with the warm, pumpkin aroma still in the air) and I can't get enough of the sweet cinnamon glaze. These deserve a spot in your Christmas cookie recipe book.
Hero Ingredient: Pumpkin pie spice. Need I say more?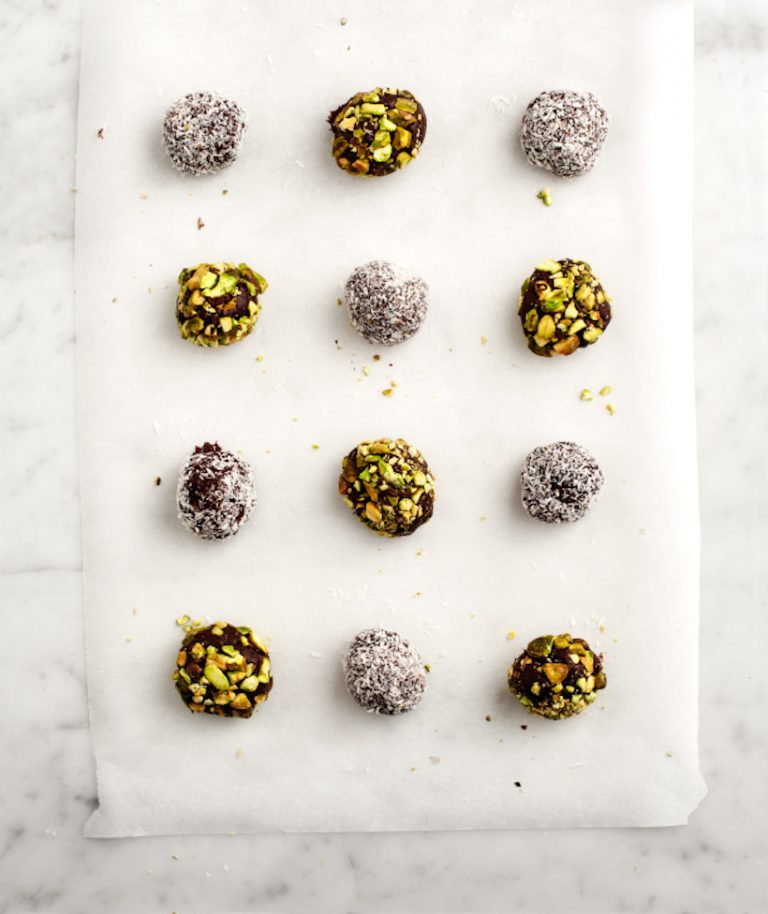 Pistachio Truffles
Why We Love It: Truffles are the simple, elegant, and tasty best friend of any jam-packed holiday schedule. I'm talking six ingredients and a few hands-free hours spent setting in the freezer. You can make these (vegan!) truffles with absolute ease.
Hero Ingredient: It's all about the toppings. Roll your truffles in coconut or toasted pistachios. Either option gives you a perfectly crunchy complement to your truffles' creamy center.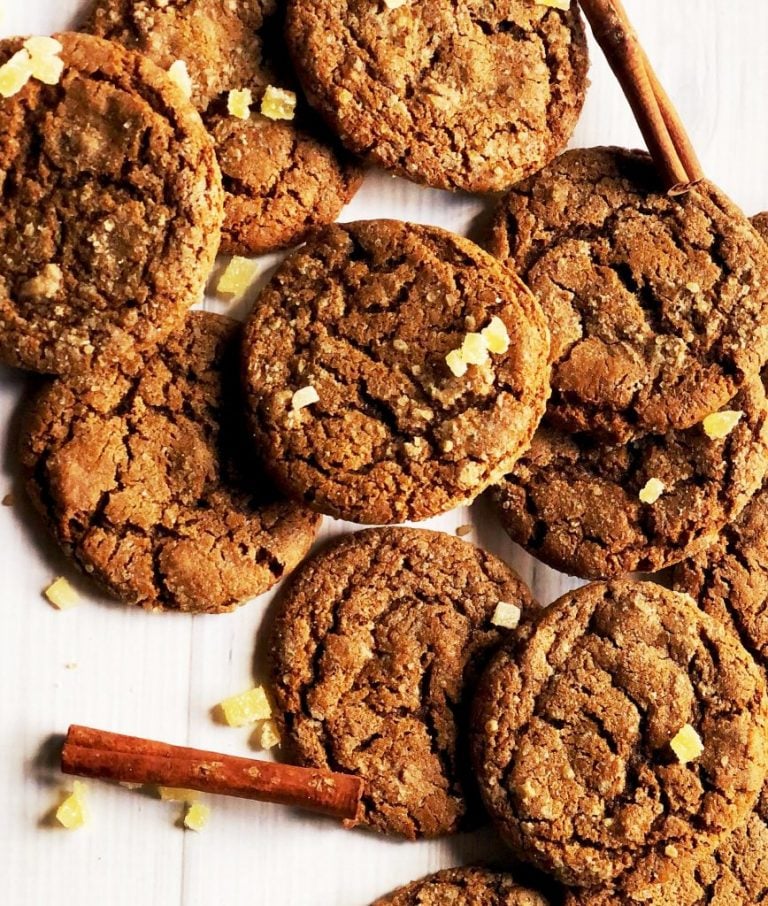 Chewy Ginger Molasses Cookies from Hummingbird Thyme
Why We Love It: There's nothing that evokes the essence of Christmas more than the scent of ginger wafting through the air. Sinking my teeth into one of these streusel-topped cookies is buttery bliss at its best.
Hero Ingredient: Crystallized ginger bumps up the heat while also providing a little extra texture to these already deliciously-soft cookies.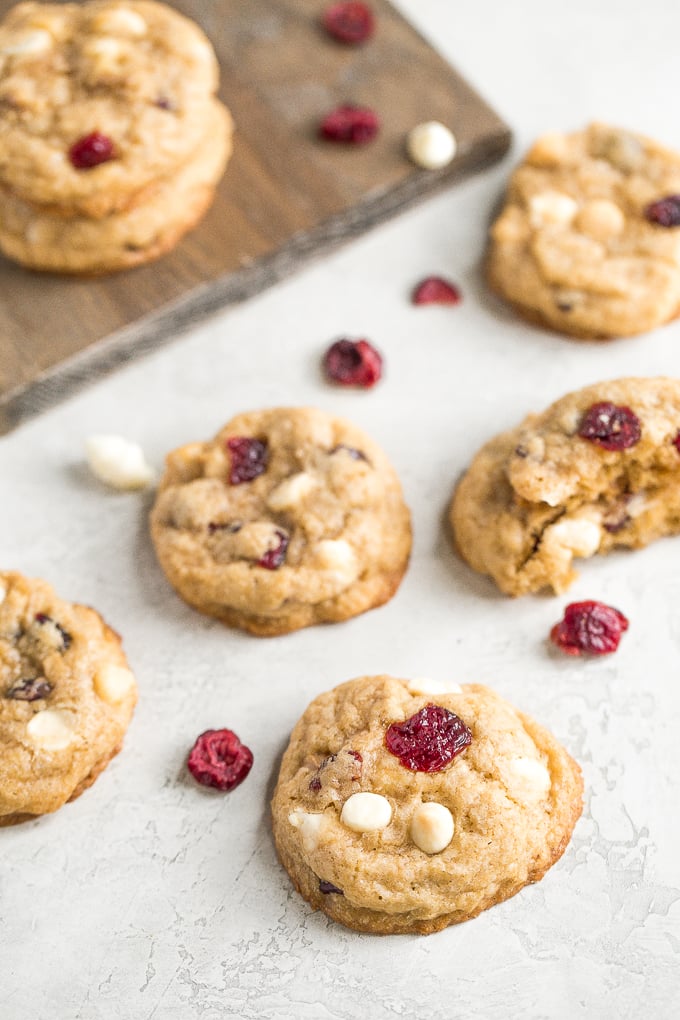 Soft and Chewy White Chocolate Cranberry Walnut Cookies from Ahead of Thyme
Why We Love It: When white chocolate meets cranberries, the result is pure cookie magic. Adding walnuts into the mix offers just enough crunch while also providing a bit of nuttiness that's welcome in any box of holiday cookies.
Hero Ingredient: Why the additional egg yolk, you may ask? Including an extra egg yolk creates a fudgier cookie. Dense, tender, and rich—a roundup of the best adjectives you can associate with a cookie.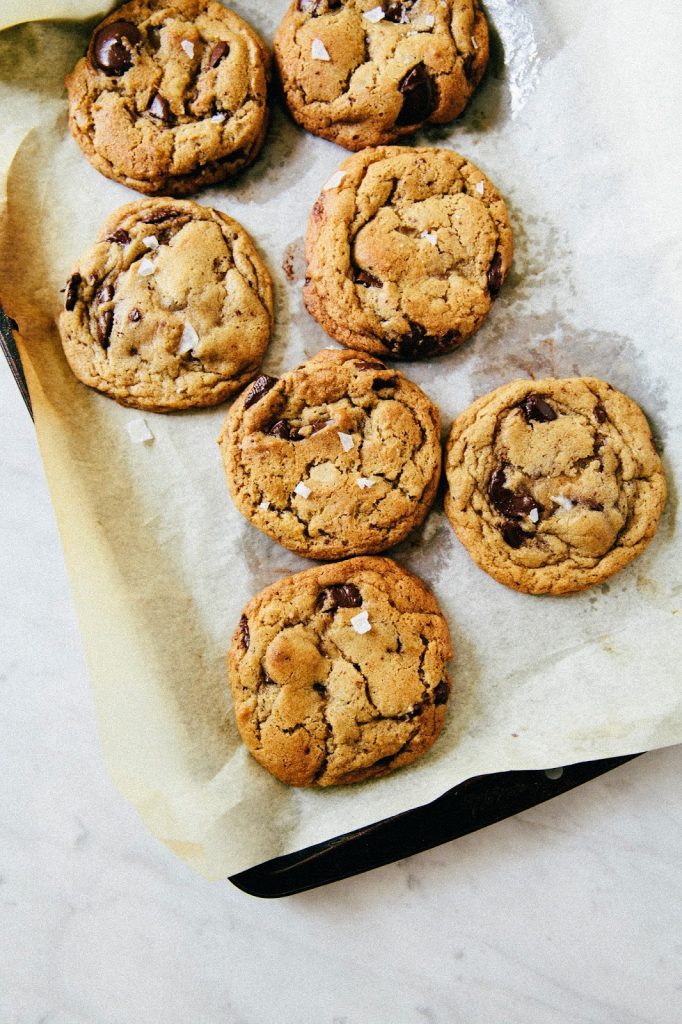 Slice-And-Bake Chocolate Chip Cookies from Hummingbird High
Why We Love It: This recipe requires a little added context to understand the full scope of its Christmas cookie superiority. Full title? Any Time You Need 'Em Slice-And-Bake Chocolate Chip Cookies. Because here's the thing: I always need cookies, and I always need cookies available to bake at the ready. If that's true for you too, make these.
Hero Ingredient: Bittersweet chocolate, you can really do no wrong.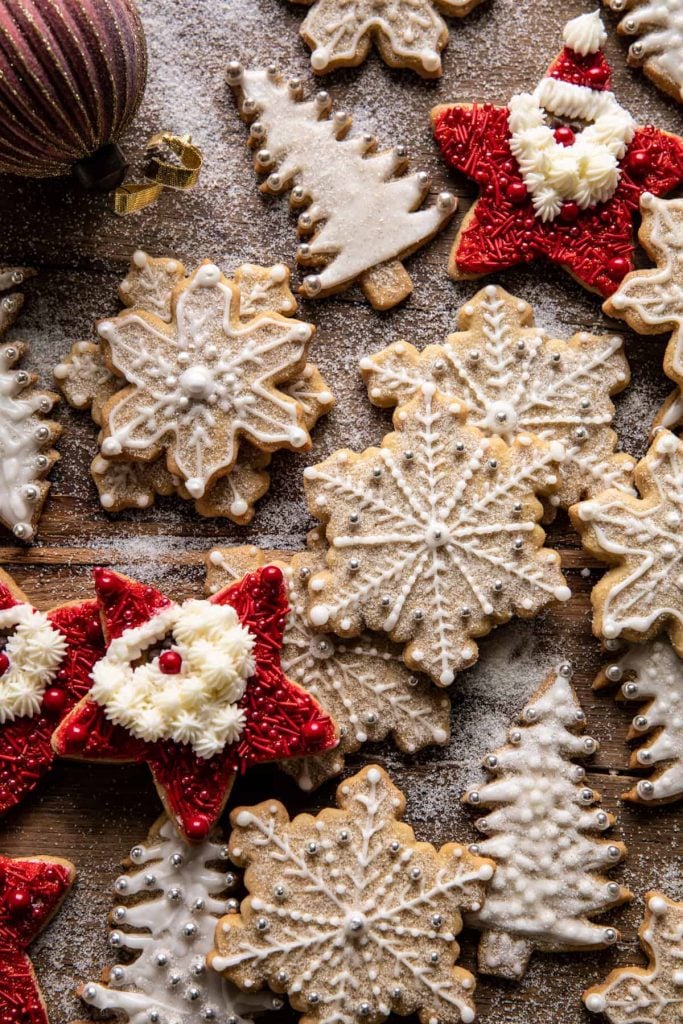 The Santa Clause Cookies from Half-Baked Harvest
Why We Love It: Tieghan Gerard set out on a mission to make sugar cookies that taste good, and honestly, that can be a bit harder than it might initially sound. She's clearly succeeded with this recipe. The ingredients list features hazelnut liqueur, lots of vanilla, and brown sugar to give a complex flavor and melt-in-your-mouth bite.
Hero Ingredient: Keep the creamy vanilla bean glaze coming, please.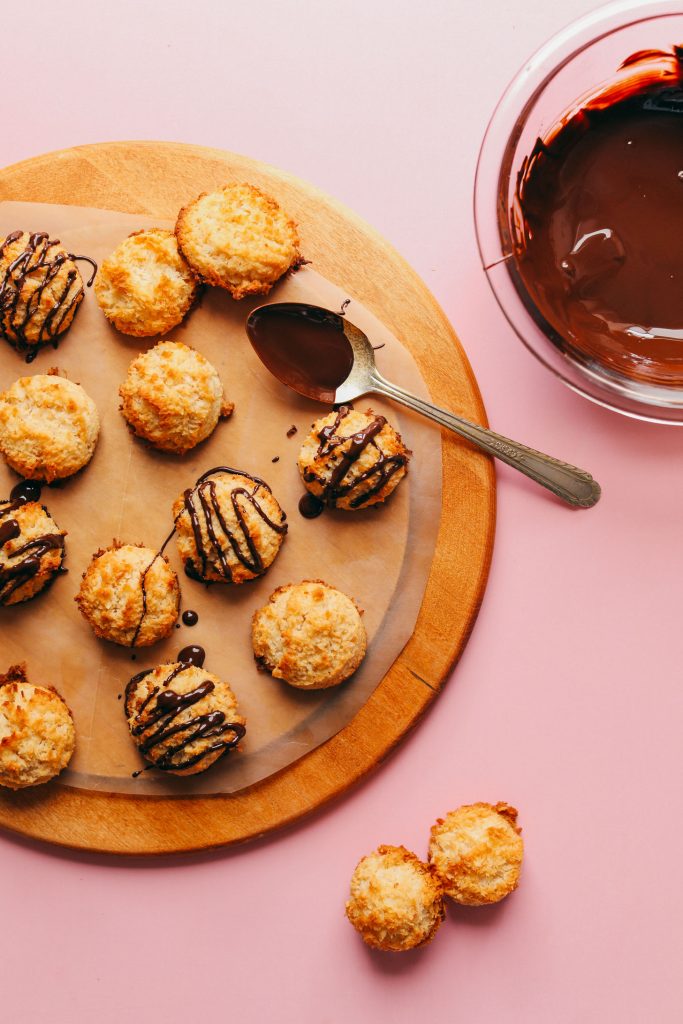 Easy Vegan Macaroons from Minimalist Baker
Why We Love It: These macaroons don't disappoint. I love any and every Minimalist Baker recipe for their ability to combine just a few ingredients and create a result that captures everything I could ever want in something sweet.
Hero Ingredient: Let me introduce you to the magic of aquafaba. If you're unfamiliar with the go-to vegan ingredient, know that you'll soon start saving every last drop from your can of chickpeas. An amazing egg replacement, it beautifully binds the ingredients here for the chewiest cookie of your life.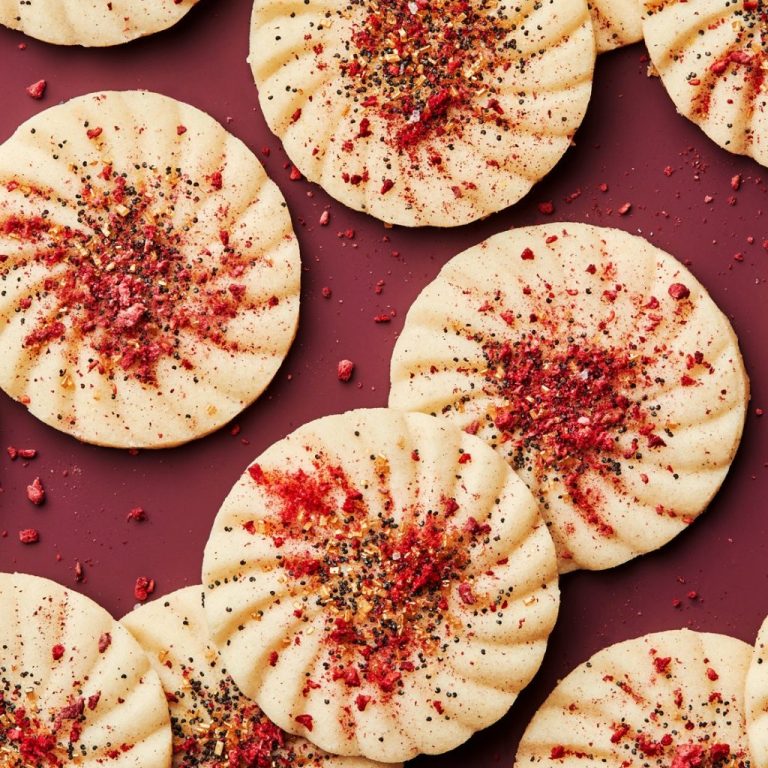 Nan-e-Berenji from Bon Appétit
Why We Love It: From the recipe's creator and the genius behind many a Bon Appétit dish, Andy Baraghani: "Nan-e Berenji, a Persian rice flour cookie, is delicate and light." His version uses less sugar than other recipes and he tops each cookie with a mix of poppy seeds, black sesame, pistachios, and freeze-dried raspberries for an accent of color. Cozy up to a cup of bergamot tea to enjoy these cookies' full effect.
Hero Ingredient: A tablespoon of rose water offers up a delicate floral flavor that's just savory enough to keep these cookies from being overly sweet.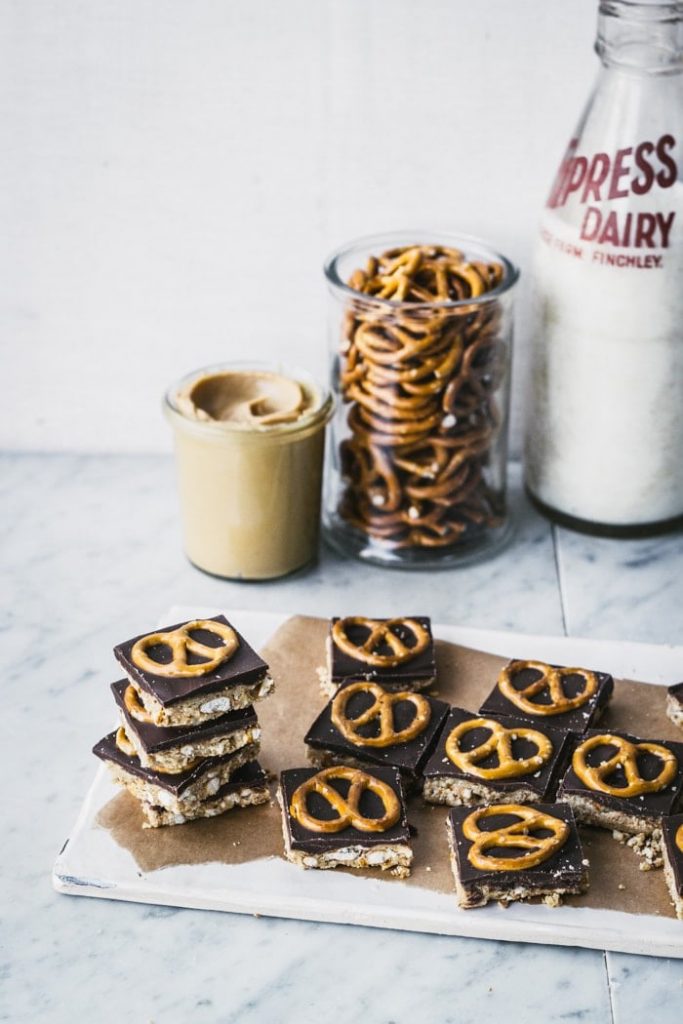 Chocolate Peanut Butter Pretzel Bars from Top With Cinnamon
Why We Love It: Chocolate, pretzels, and peanut butter? These multi-hyphenate cookies' long list of delicious accomplishments puts its competitors to shame. Add to that the fact that they're vegan-friendly, and I'm truly blown away by these bars and their ability to bring all the goodness of the sweet-and-salty combo to the forefront.
Hero Ingredient: Melted dark chocolate layered on top of the sweetened peanut butter mixture elevates these bars from classic candy status to a dessert that's truly divine.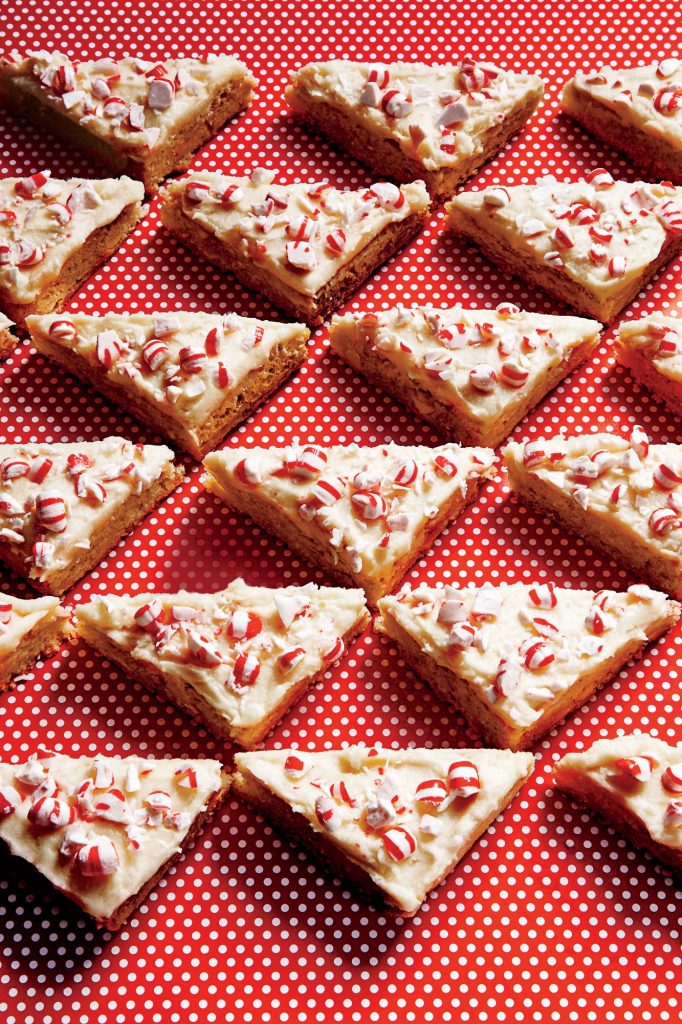 White Chocolate-Peppermint Blondies from Southern Living
Why We Love It: While blondies aren't technically a cookie, the subtle nuance doesn't make them any less deserving of a spot on this list. The classic blondie gets a holiday upgrade with crushed peppermints and a cool and creamy icing that'll make everyone want to indulge. Cut into triangles, these beautiful little bars will be the most inviting option at any holiday cookie exchange.
Hero Ingredient: I can't emphasize it enough: When December comes, all of your blondies should be topped with peppermint.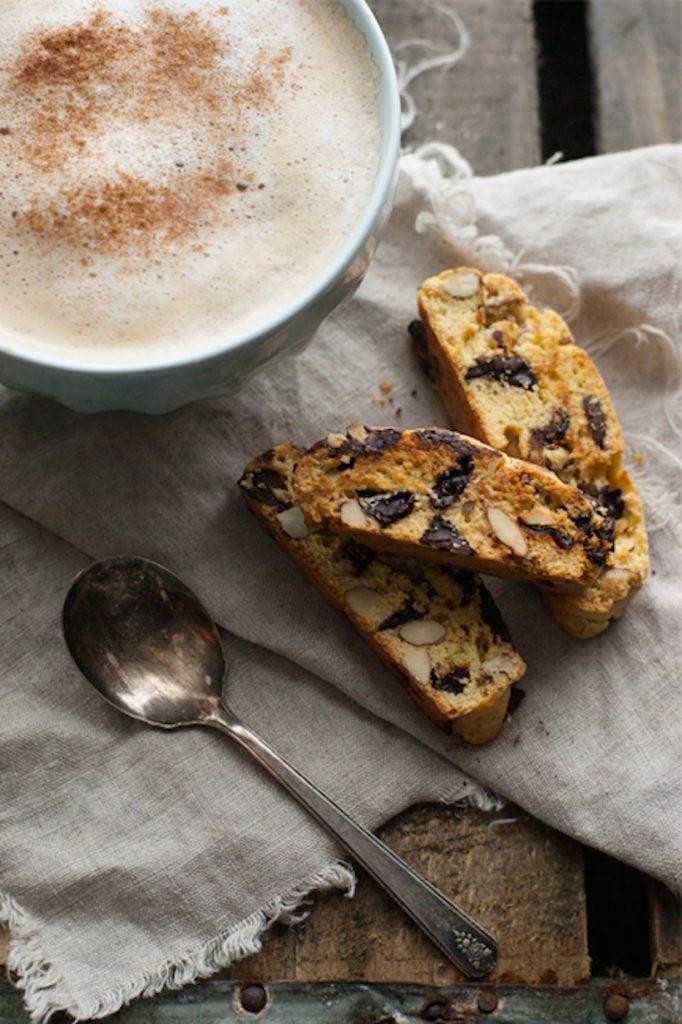 Chocolate Cherry Almond Biscotti from My Baking Addiction
Why We Love It: The only way to improve upon a morning cup of coffee is by sipping your brew alongside a crispy, crunchy slice of biscotti. The only way to improve upon biscotti? A hearty handful of dried tart cherries and chocolate chips mixed into the dough.
Hero Ingredient: It's more a fact than an opinion: Every biscotti gets better with chopped almonds.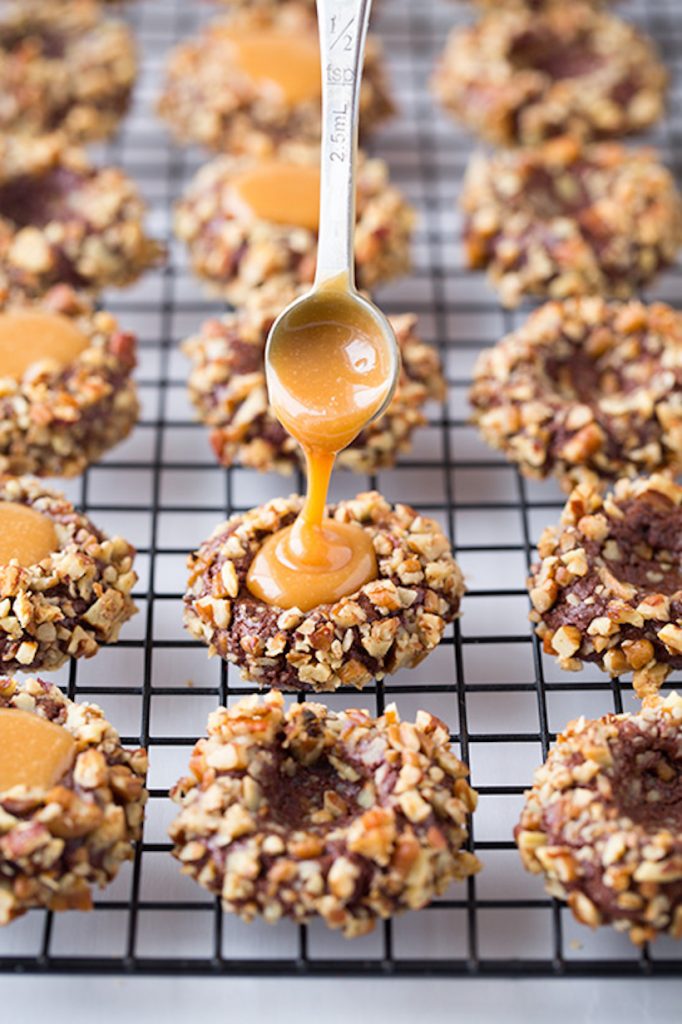 Salted Caramel Turtle Thumbprint Cookies from Cooking Classy
Why We Love It: 'Tis the season for thumbprints of all sorts. While some recipes opt for the classic jam filling, these get a bit more indulgent with a salted caramel center. Trust me, they might look fancy, but the preparation really couldn't be simpler.
Hero Ingredient: Is there a more perfect pairing of flavors than salted caramel? While it's a toss-up between the two for who gets to be named this recipe's standout ingredient, I'm happy to settle on giving the combination the trophy.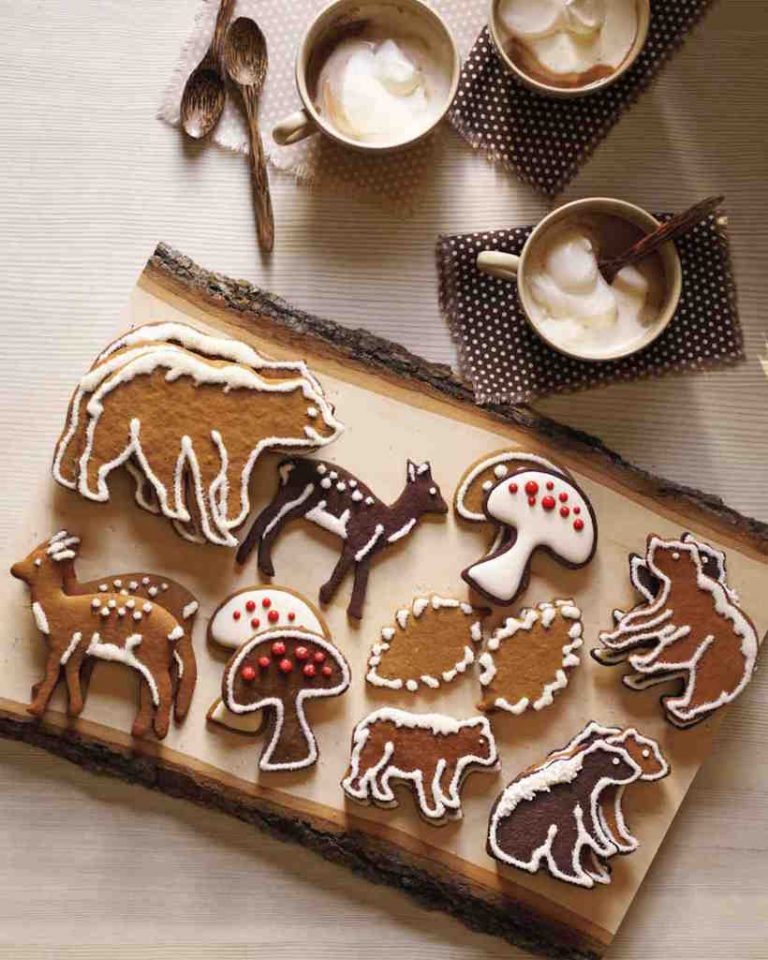 Honey-Spice Gingerbread Cookies from Martha Stewart
Why We Love It: Woodland creatures in cookie form? Adorable, delicious, and sure to impress all the lucky recipients of your holiday cookie gifts. A simple, three-ingredient royal icing is just the thing to top these sweet and spicy treats.
Hero Ingredient: A half-cup of molasses creates a warm, sweet, and slightly smoky flavor while giving these cookies a soft and tender chew.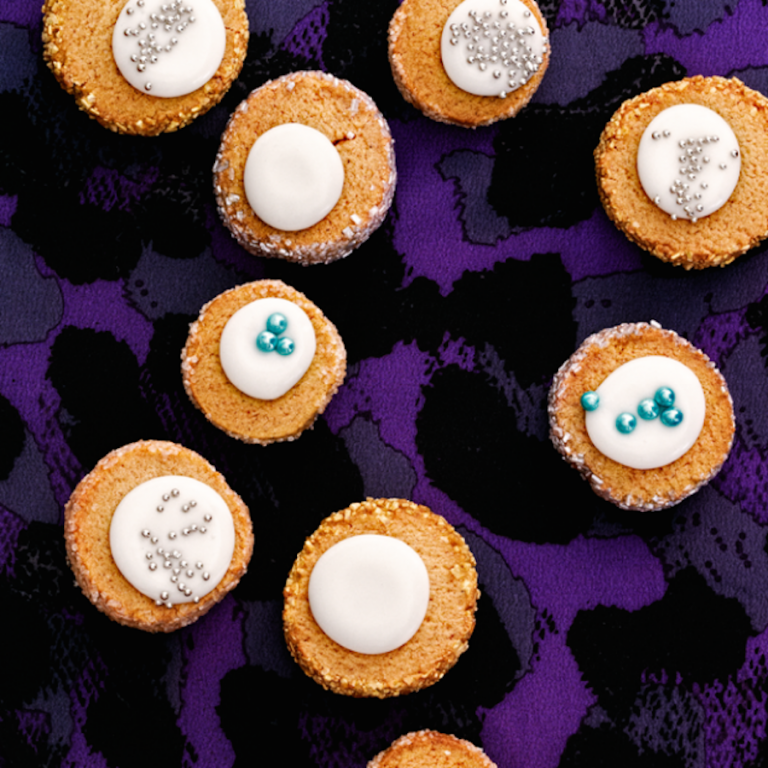 Speculoos Buttons from Bon Appétit
Why We Love It: You know and love Dorie Greenspan for her wildly inventive and always delicious treats, and this recipe only builds on my obsession. In this cookie, she echoes the flavors of Speculoos (i.e., the essence of the oh-so-addictive cookie butter) with a mix of molasses and spices that are holiday faves. Be sure to roll yours in a little sanding sugar for good measure.
Hero Ingredient: When used in cookie baking, brown sugar adds more moisture to the dough, puffing up your cookies and creating a chewier texture that no one can really get enough of.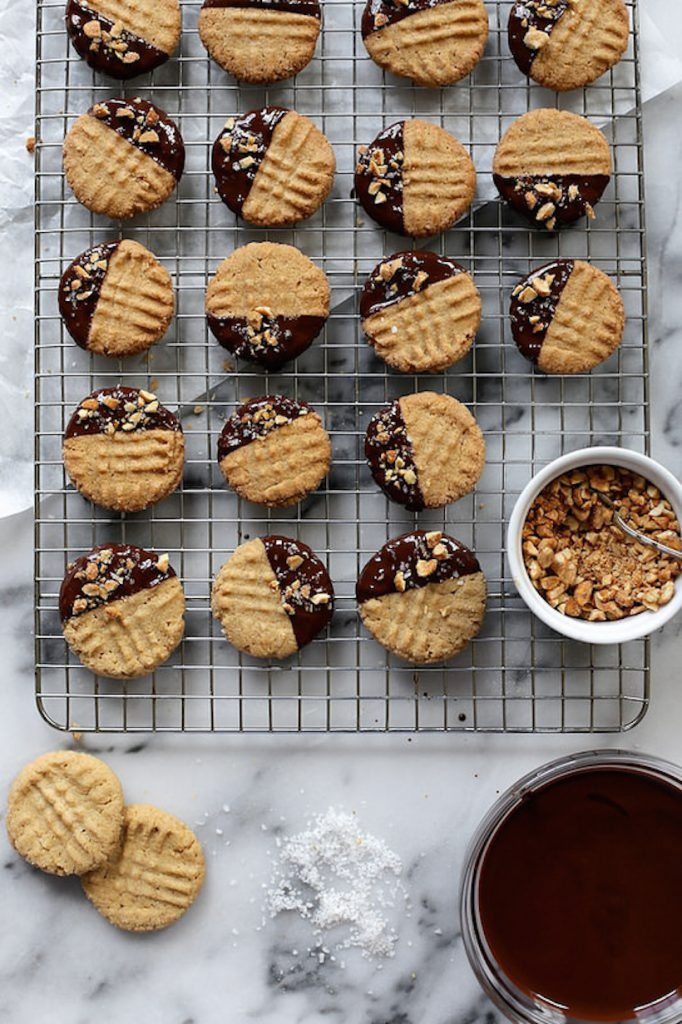 Chocolate-Dipped Crisp Peanut Butter Cookies from Joy the Baker
Why We Love It: These cookies' classic cross-hatched pattern lets you know immediately that you're about to bite into peanut buttery goodness. What's unexpected though, but nonetheless easy to embrace, is the dip they take in a bowl of melted chocolate. Golden and endlessly comforting, as peanut butter cookies should always be.
Hero Ingredient: A good peanut butter is always an essential part of any peanut butter cookie. I'm not opposed to choosing one that's made with slightly salted and roasted peanuts for an added depth of flavor.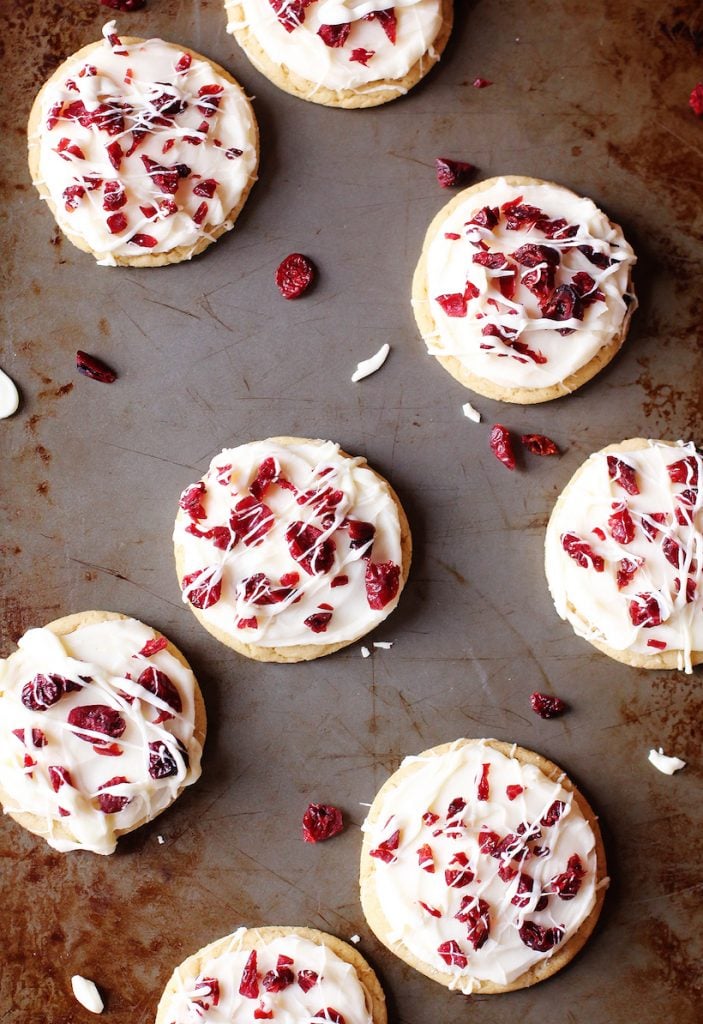 Cranberry Bliss Cookies from Gimme Some Oven
Why We Love It: Inspired by the favorite Starbucks pastry, these cookies brilliantly blend tart and sweet. While clearly a dessert, I definitely wouldn't consider them out of place alongside my morning beverage. Breakfast is served.
Hero Ingredient: The frosting's cream cheese base gives just the right amount of tang, making it so you can have two (or more) without getting a sugar-induced headache.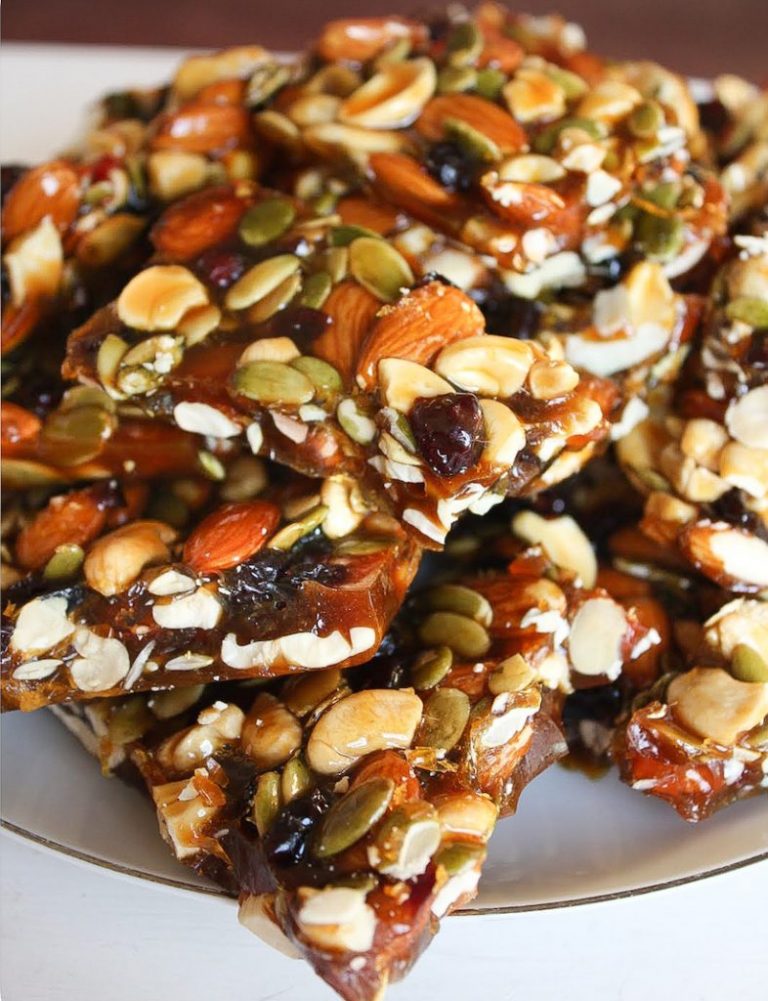 Autumn Brittle from Adventures in Cooking
Why We Love It: This brittle puts the best parts of your favorite granola front and center while binding them with honey for sweetness and an irresistible crunch. With almonds, cashews, pumpkin seeds, and plenty more wholesome ingredients, it wouldn't be too much of a stretch to consider this brittle a relatively-healthy indulgence.
Hero Ingredient: Pumpkin seeds not only add texture but also bring forth a little bit of festive color that's eye-catching and elegant.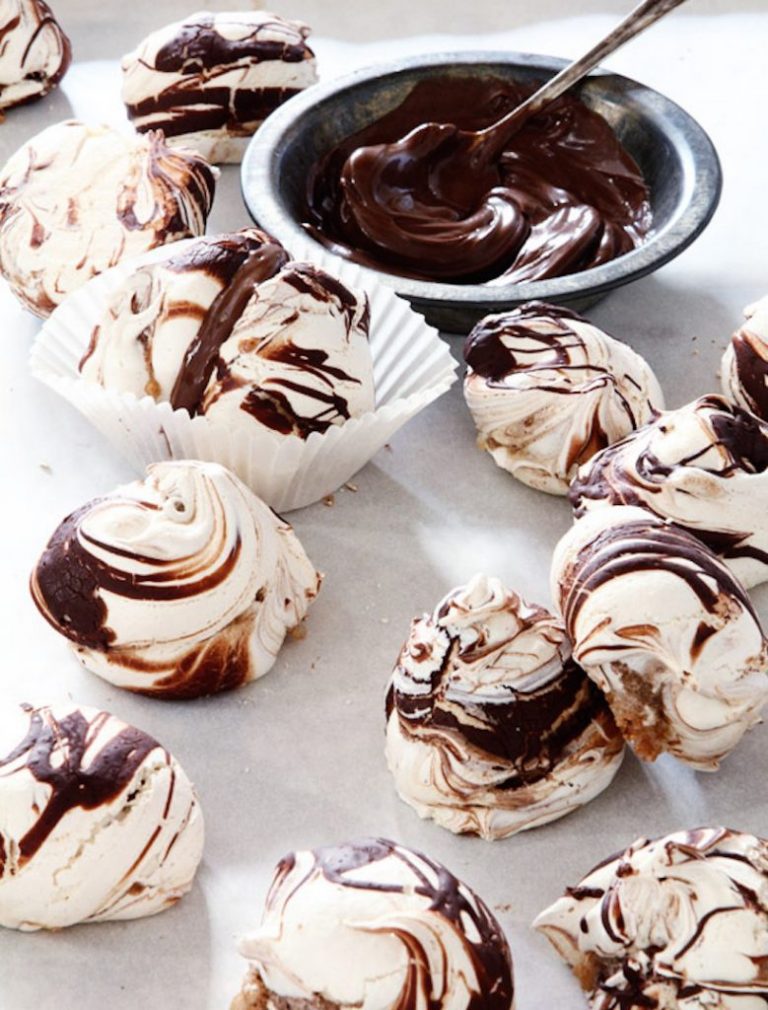 Chocolate Swirl Meringue Cookies from Bakers Royale
Why We Love It: The presentation of these cookies is everything. Melted chocolate is mixed into a meringue base, creating a stunning swirl of black and white. Serve with a little Nutella on the side and these are basically the way I want every meal to end from now until spring.
Hero Ingredient: Because they're essentially egg whites and sugar, meringues' flavor can sometimes fall flat. A teaspoon of vanilla does exactly the trick here and ensures that these cookies aren't just elegant, but also incredibly tasty.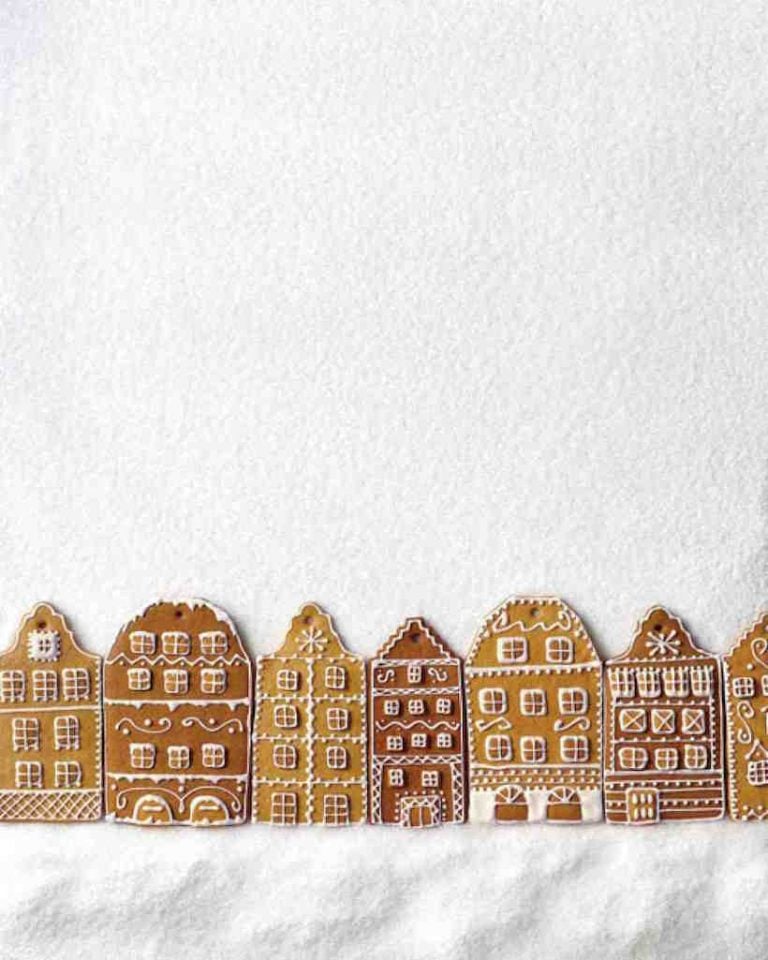 Molasses Gingerbread Cookies from Martha Stewart
Why We Love It: There's very little that beats gingerbread when it comes to hitting all the right notes of holiday nostalgia. Spicy, warming, and a little bit sweet, these cookies are capable of just about anything—like being shaped into this beautiful snow-capped Christmas city display.
Hero Ingredient: Cloves can often be overlooked in the mix of spices that make gingerbread so good. Here though, the ingredient stands out for its slight note of bitterness that provides a refreshing counterbalance to the cookies' sweetness.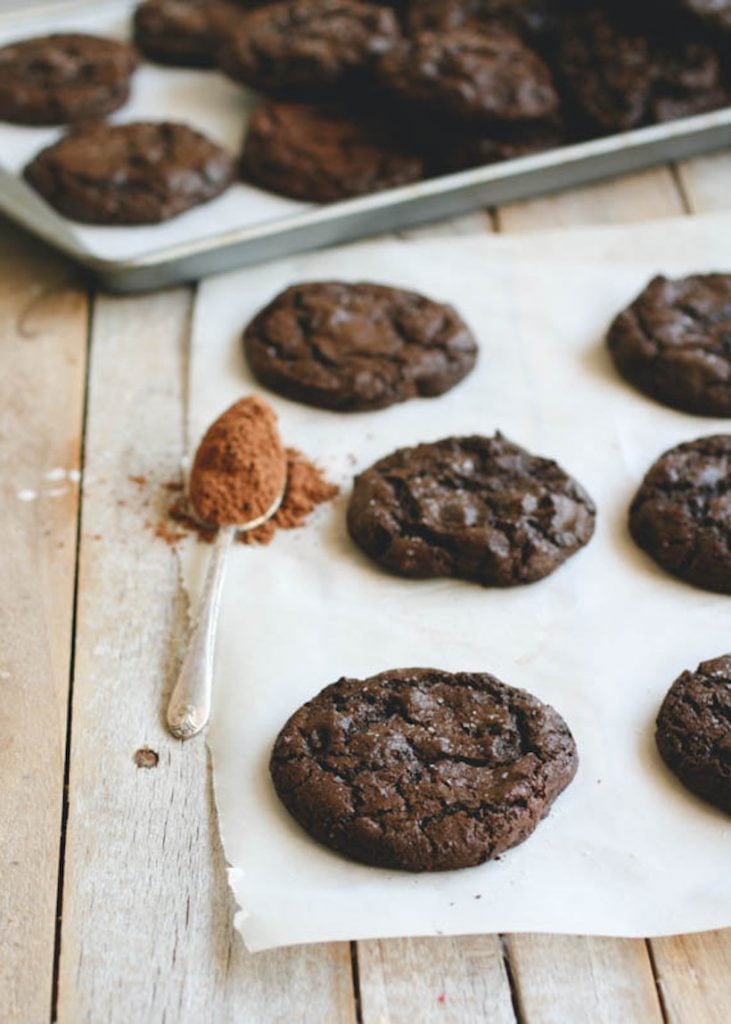 Olive Oil & Sea Salt Brownie Cookies from Butterlust
Why We Love It: All the deliciousness of your favorite brownie in the form of a cookie? This recipe delivers. They're unique in their rich and complex flavor, and they're all the proof you need that the limit for chocolatey goodness doesn't exist.
Hero Ingredient: Hesitant to use olive oil in your baking? These cookies are your invitation to dive in. Instead of being savory, the cookies retain their fudgy, chocolatey sweetness. Plus, opting for olive oil instead of butter ensures your cookies will stay moist for days. Just make sure you're using high-quality olive oil and skip anything you wouldn't want to taste in your cookie.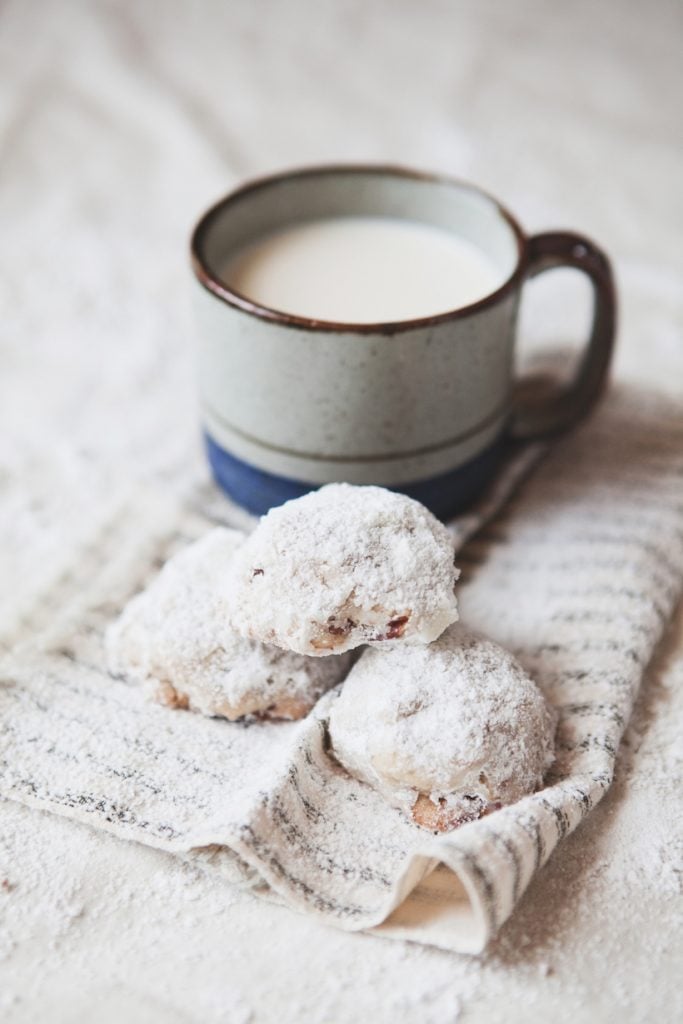 Snowballs from In the Little Red House
Why We Love It: Nope, these are not the Hostess Snoballs found next to the register at many gas station convenience stores. Instead, these offer a buttery bite with a satisfying dusting of snow-white powdered sugar. The recipe has it right—these truly are Santa's favorite cookies.
Hero Ingredient: Again, they're not snowballs without the snow. A dip in powdered sugar makes that happen.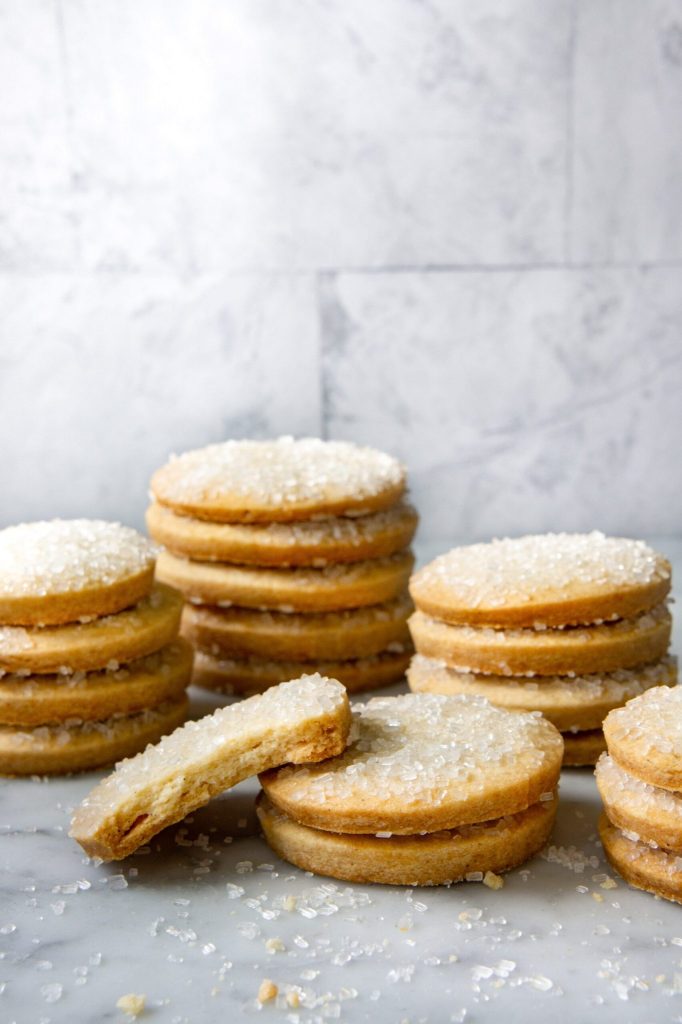 French Butter Cookies from Owl Baking
Why We Love It: In France, these cookies are traditionally known as sablés. They're a round shortbread cookie that while sounding simple is nothing short of revelatory. If you've always wanted to try your hand at French baking but are intimidated by the thought of pastry, these cookies are an easy way to get started.
Hero Ingredient: If you can find a vanilla bean, amazing. If not, you can still capture these cookies' almost caramelly flavor with vanilla bean paste. In a pinch, vanilla extract can work as well.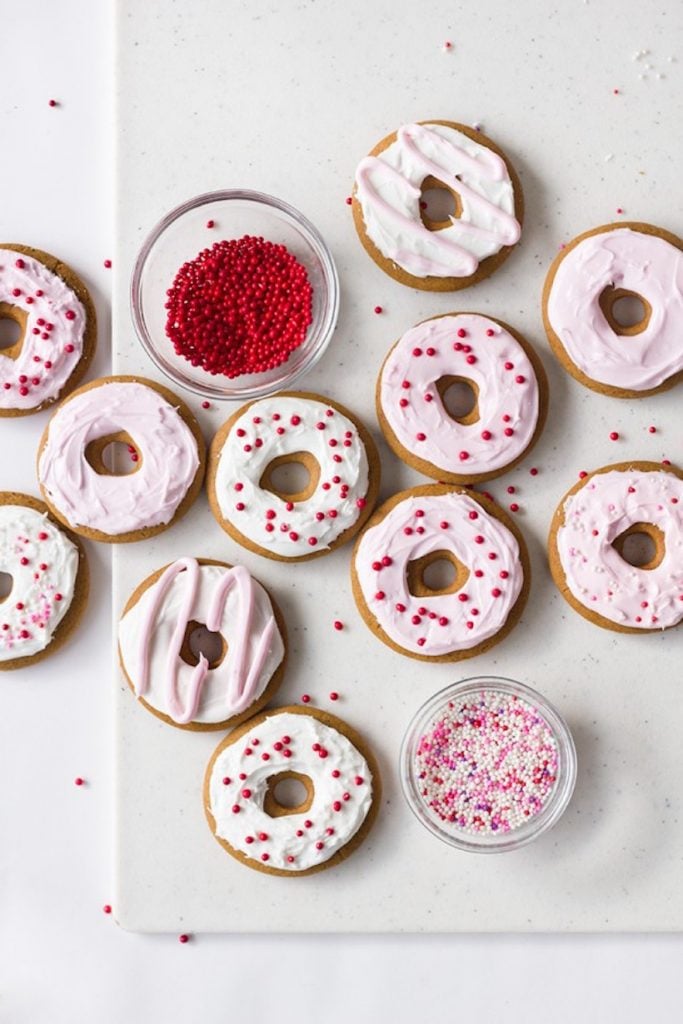 Gingerbread Donut Cookies from Studio DIY
Why We Love It: These are just about the cutest cookies I've ever seen. If you need a break from the many expected gingerbread men that make their appearance around this time of year, here's a quick solve.
Hero Ingredient: All the best things are inspired by doughnuts. Sure, they'd still look like the breakfast favorite without the sprinkles, but do you really want to pass up the opportunity for a little added pizzazz? Answer: You definitely don't.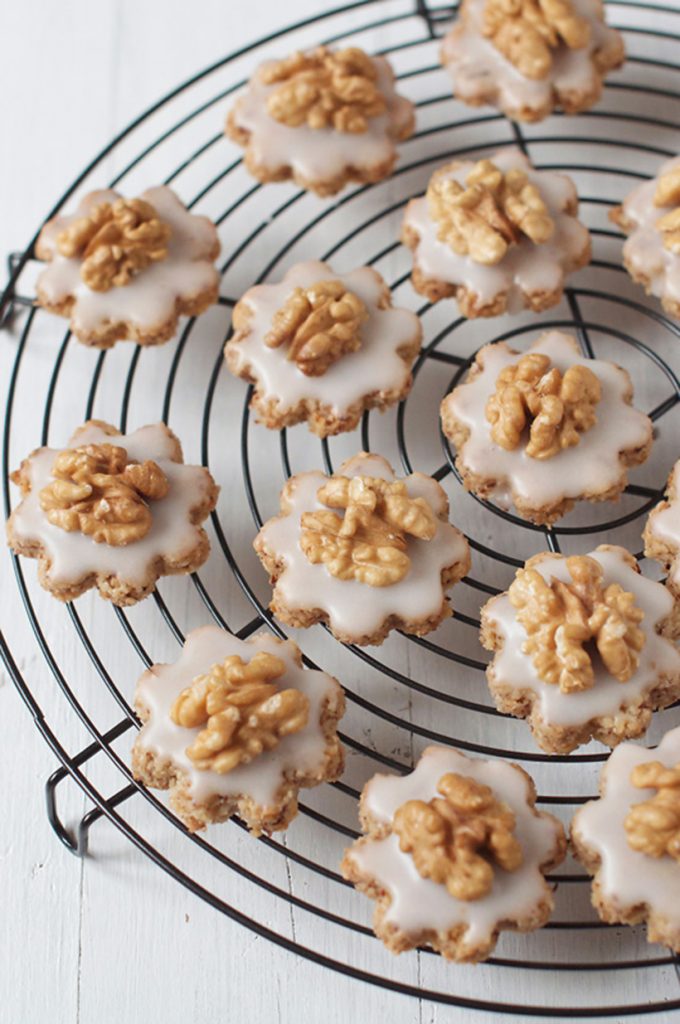 Swiss Walnut Christmas Cookies from Eat, Little Bird
Why We Love It: Fun fact: Läckerli, the Swiss name for these biscuits, comes from the German word lecker, which translates to "delicious." And it totally makes sense—hazelnuts and walnuts are blitzed in the food processor and create a sticky dough when mixed with the sugar and egg whites. Drizzling a little glaze on top never hurt anyone.
Hero Ingredient: The frosting is flavored with a tiny bit of Kirsch for a pronounced cherry flavor that adds just enough sweetness to these otherwise wholesome cookies.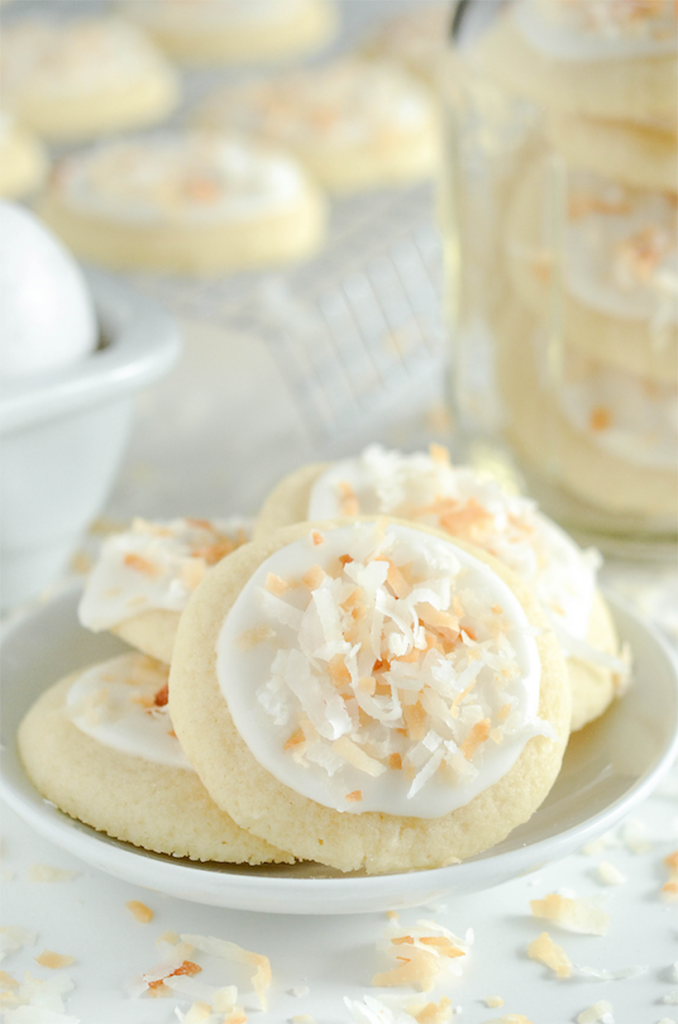 Coconut Meltaway Cookies from The Novice Chef
Why We Love It: Whether you're a year-round fan of coconut or just crave a bit of its tropical flavor in the dead of winter, you can count on these cookies to satisfy you when a Piña Colada craving hits. With a soft shortbread base and a coconut flavor that doesn't taste artificial or overwhelming, you've got everything you need to win at the game of holiday baking.
Hero Ingredient: Coconut milk in the icing, coconut extract in the cookie, and toasted coconut flakes on top. Not much more needs to be said.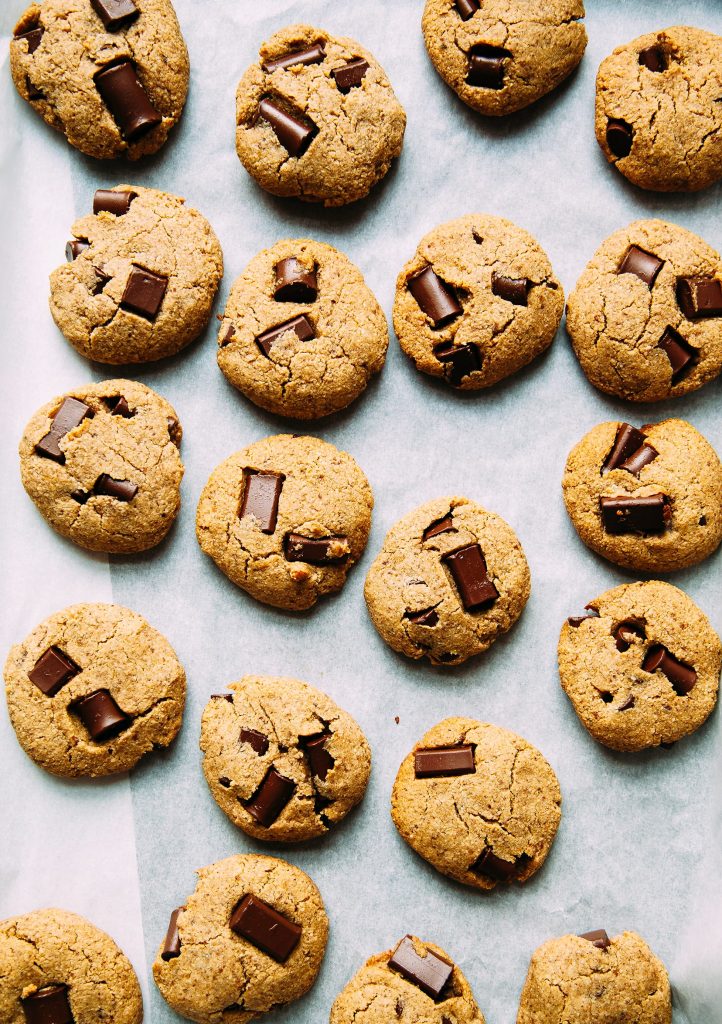 Wonder Cookies from The First Mess
Why We Love It: For anyone who's vegan or gluten-free but still wants to enjoy the cookie season, here's the dough you need to whip up. If you thought paleo chocolate chip cookies sounded more like a paradox than a delicious reality, get ready for these appropriately-named cookies to blow your mind.
Hero Ingredient: Dates are the secret to making these cookies free of refined sweeteners while still tasting like a treat. Honestly too, because the dough isn't saturated with sugar, the other ingredients are given the opportunity to let their flavors shine.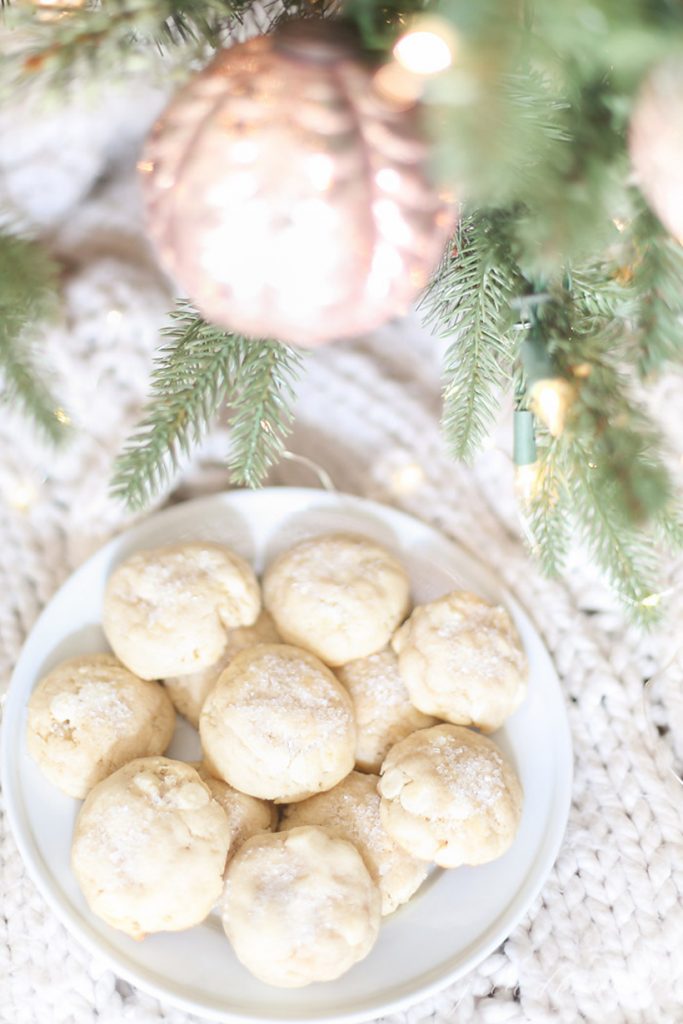 White Christmas Sugar Cookies from Julie Blanner
Why We Love It: Hot take: "White Christmas" was actually written about these cookies. I've been dreaming about their simple and incredibly satisfying taste since I had them this time last year. A sort of sugar cookie-shortbread hybrid, these combine the best of everything you could ever want in your cookie.
Hero Ingredient: If you've ever wondered why your favorite cookie recipes call for cream of tartar, here's your answer: Cream of tartar acts as a leavening agent and helps keep the sugar in your cookies from crystallizing, so they'll bake evenly and be devoured by everyone.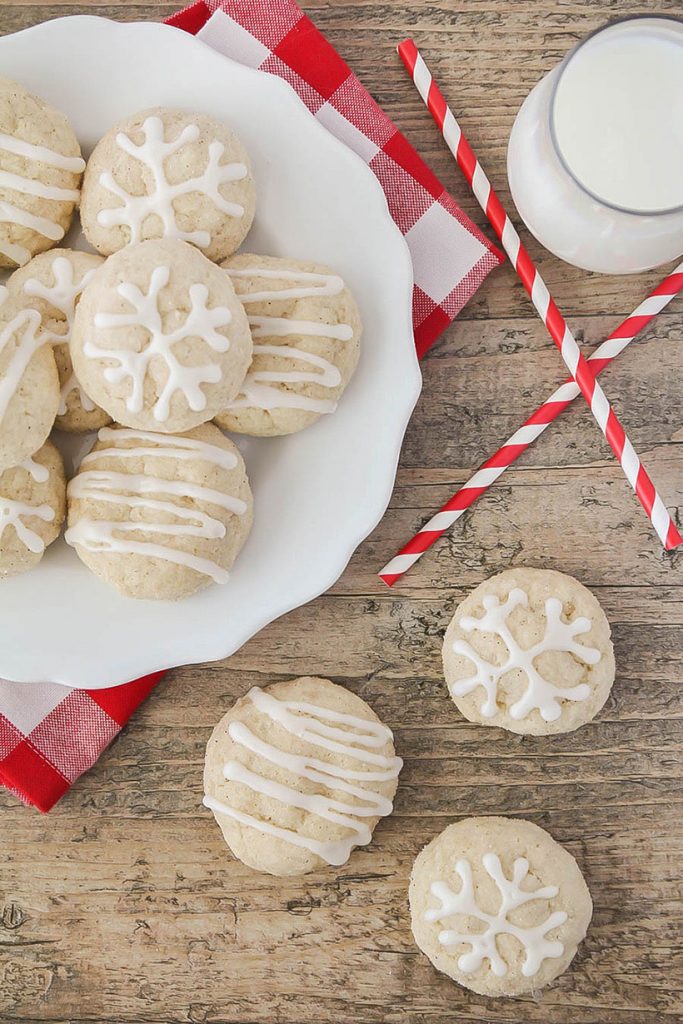 Eggnog Snickerdoodles from Lil' Luna
Why We Love It: Every holiday party seems to involve a debate over whether eggnog is delicious or…not. While I'm in the camp that loves sipping on a cup come December 1st (or, admittedly, earlier), I know it's not for everyone. What is? These cookies. Mimicking the flavor of eggnog (nutmeg! rum extract!) and rolled in a cinnamon-sugar mixture, there's really no argument that these cookies are downright delicious.
Hero Ingredient: Two tablespoons of eggnog are added to the icing, just to be sure these taste like the real deal.
This post was originally published on December 1, 2020, and has since been updated.