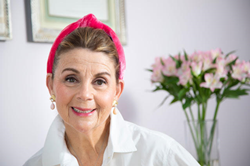 "Through my years of leadership at Komen North Jersey, my platform was based on a personal belief that every woman is deserving, entitled, and worthy of the highest standards of healthcare" – Deb Belfatto
NEWARK, N.J. (PRWEB) October 14, 2022
Deb Belfatto, Founder of the Susan G. Komen North Jersey Affiliate, community activist, two-time cancer survivor, and a trailblazer for women's causes has launched Let's Talk: Women's Health & Wellness, a one-day event to support women's health awareness. The event will be hosted at NJPAC in Newark, NJ on October 15th, 2022. This unique experience will bring women of all ages, backgrounds, and ethnicities together to learn, celebrate, and share their health journeys.
Although there has been tremendous progress since 1988 when Deb was first diagnosed with breast cancer, there is still more work to be done. Deb leads a healthy life surrounded by blessings including her supportive family, friends, doctors, and access to resources. Despite the vast knowledge she gained from her diagnosis experience and her own commitment to healthy living, she was shell-shocked when, during the height of the pandemic in 2021, she was diagnosed with cancer for a second time.
Deb's personal motto is that it's not enough to simply count your blessings, it's all about sharing them. It is with this in mind that she's spearheading the Let's Talk: Women's Health & Wellness Event and gathering leading experts in their field to share how women can care for their own breasts, brain, body, and mind—no matter their age, background, ethnicity or how they identify. "Through my years of leadership at Komen North Jersey, my platform was based on a personal belief that every woman is deserving, entitled, and worthy of the highest standards of healthcare", says Deb Belfatto.
Let's Talk: Women's Health & Wellness Event will educate and remove stigmas about women's health and wellness. The event will include panel discussions that include nuanced conversations about women's health, and focus on the following eight pillars of wellness: physical, nutritional, emotional, social, spiritual, intellectual, financial, and environmental. There will be expert speakers such as Psychiatry Specialist Marra G. Ackerman, MD, Chief, Section Breast Surgery at Rutgers Cancer Institute of New Jersey, Michele Blackwood, MD, FACS and Body Positive SuperModel, Emme®- plus a whole lot of girl power! The full list of expert speakers is available to view at https://letstalkwellwomen.org/experts/. Guests will leave with new ideas and takeaways, as well as a swag bag of health-inspired goodies.
Everyone in the community is invited to attend this all-day gathering. To purchase tickets, visit LetsTalkWellWomen.org/Tickets/. Guests are also welcome to support another woman in her journey by donating a ticket. This donation can be made in honor or in memory of someone special. Sponsors include Minette's Angels, Pfizer, RWJBarnabas Health, William E. Simon Foundation, Leslie and Eileen Quick, Nanar and Tony Yoseloff, Atlantic Health System Cancer Care, The MCJ Amelior Foundation, Women in Business on behalf of Valley Bank, Deb and Joe Belfatto, East Coast Advanced Plastic Surgery, Julie and Eric Epstein, Kelson Group, Neiman Marcus, New Jersey Imaging Network, Prudential Financial, Rutgers University–Newark, RWJ University Hospital Somerset, Women@SQ on behalf of Simon Quick Advisors. Let's Talk: Women's Health & Wellness is produced by Gail P. Stone Events, Inc.
More About Let's Talk: Women's Health & Wellness Event:

Let's Talk: Women's Health & Wellness Event is an all-day gathering created by Deb Belfatto, a two-time cancer survivor. The event is for women of all ages, backgrounds and ethnicities to learn, celebrate and share about women's health journeys. The event will take place on October 15 at NJPAC. Leading experts in the field will gather to share with women how to care for their breasts, brain, body, and mind…with or without a breast cancer diagnosis. There will be information, friends, laughs, and interesting thoughts and alternatives for a healthy and well life—no matter the age, background, ethnicity or how our attendees identify.
Share article on social media or email: