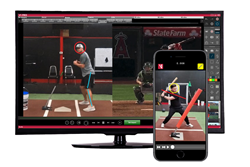 There are countless players who have dreamed of playing baseball at the Major League level. We are providing the opportunity for players to learn to improve their baseball skills including hitting, pitching and fielding by interacting with currently-active and veteran professional baseball players
NOVI, Mich. (PRWEB) September 14, 2020
Young and aspiring athletes now have a golden opportunity to receive innovative expert baseball training from a collection of the game's top professionals. Practice with Pros, LLC was recently founded by former Major League Baseball players Scott Van Slyke and Shawn Tolleson, and perennial All-Star and two-time Cy Young Award winner Clayton Kershaw joined the company shortly after its inception.
V1 Baseball (a division of V1 Sports) recently formalized a strategic alliance agreement with Practice with Pros to deliver professional-level coaching from top-tier baseball and softball professionals using V1's industry-leading video analysis and coaching software and mobile apps for athletes and sports performance instructors.
Having launched the V1 Baseball component of its sports performance business earlier this summer, V1 Sports (whose marquee enterprise for the past 25 years has been the industry-leading video analysis and coaching platform for golfers and golf instructors) now brings to market accessible, personalized hitting, pitching and fielding coaching for baseball players determined to make it to the next level.
V1's 2019 strategic acquisition and (subsequent re-branding as "V1 Baseball") of Don Slaught's Right View Pro– a fast and easy-to-use frame-by-frame video analysis platform that featured side-by-side hitting, fielding and pitching videos — now enables V1 Baseball to capitalize on the past successes and relationships RVP had with MLB and Minor League Baseball (MiLB) teams, along with several prominent NCAA colleges and universities across the country.
"There are countless players who have dreamed of playing baseball at the Major League level. We are providing the opportunity for players to learn to improve their baseball skills– including hitting, pitching and fielding– by interacting with currently-active and veteran professional baseball players. Through this strategic alliance with Practice with Pros, a dream opportunity now exists for millions of developing and aspiring ball players to learn from the absolute best. This partnership marks an unprecedented breakthrough in baseball coaching and athlete development," says V1 Sports CEO Bryan Finnerty.
V1 Baseball's instruction platforms incorporate a powerful combination of live video capture of hitting, pitching or fielding analysis, voice-over tips, telestration, graphic overlay, lesson creation and delivery tools for baseball and softball. V1's high resolution, high-frame-rate cameras capture athlete's swing, pitching motion or fielding technique from angles and depths that allow the expert coach to pinpoint key training elements and then quickly devise a personalized, custom lesson and send it directly to the student through the V1 mobile app or email. Coach analysis includes side-by-side views of older swings and Model Swings to keep students on the path to improvement.The new V1 Baseball mobile app will be available in the iOS App Store in a few weeks with optimized video capture and coaching for all baseball and softball skill sets.
Practice with Pros, will leverage its relationships with a large number of current and veteran professional coaches and players, including Kershaw, to grow V1 Baseball's library of premium coaching content and expand an unprecedented roster of instructors in baseball's various skill disciplines: hitting, pitching and fielding. Whether a student wants more velocity on his breaking ball or wants to learn to hit for more power, V1 Baseball can connect that student with a professional coach who has excelled professionally at that specific skill set.
"When we saw the user-friendliness of the V1 Baseball mobile app, we realized that we could immediately deliver technology that we wished we had growing up, like the telestrator functionality. With V1 Baseball, players will have access to the greatest collection of baseball knowledge. The tools for the coaches are simple to use for both offensive and defensive skill sets, enabling our professional-level coaches to easily relay positive feedback that best educates players on steps they can take to improve their game," Van Slyke says.
Practice with Pros has also developed a strategic marketing relationship with Diamante Media Group, Inc., which was co-founded by former Major Leaguer, member of the Emmy winning AT&T SportsNet's Colorado Rockies broadcast team and MLB Radio Network personality, Ryan "Spilly" Spilborghs. Diamante will support Practice With Pros and V1 Baseball with dynamic storytelling, brand-building and creative marketing to educate and engage consumers on the merits of this unique baseball coaching platform.
"When the Diamante team introduced us to the V1 Sports strategic opportunity, we were very excited to team up with V1 CEO, Bryan Finnerty and his exceptionally strong V1 team. We believe there are a number of milestones that can be achieved quickly through this alliance. That reality, plus the opportunity to receive mentorship from an experienced entrepreneur like Bryan has us very excited for the future," Tolleson says.
V1 Baseball and Practice With Pros will be making a number of announcements over the next several months as professional coaches continue to join the roster and make their instructional services available to athletes in search of baseball skill improvement. Also, in cooperation with Diamante Media Group, V1 Baseball and Practice With Pros will be producing original video instruction that will be a combination of free and subscription-based content.

For more information, visit https://v1sports.com/athletes/online-baseball-lessons/.
About V1 Sports
Founded in 1995, V1 Sports (V1) is the leader in swing and motion analysis software for golf and baseball. The V1 coaching software and apps deliver top instruction by connecting coaches and athletes to improve performance. V1 is recognized as the pioneer in delivering seamless video lessons with integrated telestration and voice-over. V1 products capture, review and analyze swing video for the creation and sharing of lessons and instruction content. To date V1 has delivered nearly 4 million internet video lessons by its more than 10,000 coaches. V1 Pro software is used by the most respected coaches, instructors, athletes and training facilities around the world. Visit https://v1sports.com/. Follow V1 on Twitter, Facebook and Instagram at @v1sports.
Share article on social media or email: