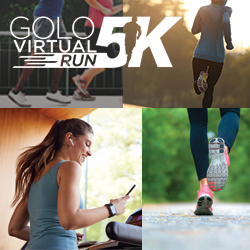 NEWARK, Del. (PRWEB) November 12, 2020
As a testament to the increasingly challenging and stressful year experienced by so many, socially conscious companies are actively investing in initiatives designed to bring people and communities together. With this in mind, GOLO, a company committed to providing individuals with the knowledge of health and wellness, and the power to take back control of their weight and their lives, is launching the GOLO 5K Virtual Run. This unique virtual event encourages customers and the public alike to incorporate a fun fitness element into their overall health and wellness journey. Via the power of social media, participants in the GOLO 5K Virtual Run will also have the opportunity to share their unique stories and receive encouragement from each other throughout!
The GOLO 5K Virtual Run will take place on November 21, 2020, and will be open for people to join as a solo participant or partake with their group of friends, making sure to stick to social distancing protocols, of course. This virtual event can be completed anywhere, at any time of day. Participants will be able to create a game plan for their race, track their pace, and submit their results by downloading the free RaceJoy app. Virtual race participants will also be entered into a drawing for some great GOLO swag and prizes.
FB Event page – http://go.golo4life.co/Virtual5KFBEvent

Register – http://go.golo4life.co/Virtual5KRun
"We are so excited to sponsor the GOLO 5K Virtual Race. This safe, virtual event is designed to encourage GOLO users to add exercise to their new lifestyle, to build community, to engage in an online experience that everyone can be a part of since it is virtual." – Jen Brooks, President of GOLO.
GOLO for Wellness, GOLO for Immunity, GOLO for Weight Loss, GOLO for LIFE®.
About GOLO: GOLO is committed to providing individuals with the knowledge of health and wellness, and the power to take back control of their weight and their lives. The GOLO for Life® plan is an all-natural, plant-based supplement and meal plan, designed to address the root cause of weight gain. The GOLO® products provide a safe solution to weight- loss and wellness while helping individuals transition to a healthier and sustainable lifestyle. The developers of GOLO, LLC include a team of dedicated doctors, pharmacists and researchers. GOLO has reached over a million people worldwide who now have a chance at healthy, sustainable and affordable weight loss. For more information about the GOLO for Life® plan, visit http://www.golo.com or call 800-730-4656 (GOLO). Follow us on FB, Instagram, Twitter, Pinterest, YouTube: @goloforlife
Share article on social media or email: