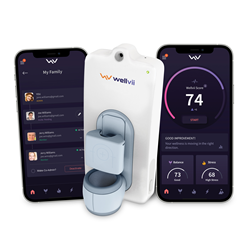 WEST PALM BEACH, Fla. (PRWEB) February 09, 2021
Today, Wellvii Inc., the creators of wireless, non-invasive vital sign measurement technology, introduces its 11-in-1 clinical grade vital sign measurement device with accompanying iOS and Android applications. Wellvii applies state-of-the-art technology with precise, clinically validated medical-grade measurements, to provide users with accurate, real-time results and trending insights into their underlying health. Replacing the need for multiple health devices, Wellvii's robust technology, and user-friendliness empowers individuals to quickly and accurately measure and monitor vital health markers.
"We created Wellvii to enable users to take control of their wellbeing and provide them with an enhanced view into their overall health," said Keith Lampert, Wellvii CEO. "Knowing one's own baseline measurements is key to managing one's health. By tracking vital signs at home, our hope is that Wellvii will arm our users with the knowledge they need to serve as their own health and wellness advocates."
11 VITAL MEASUREMENTS

By inserting one's index finger for under two minutes, Wellvii measures 11 vital signs including: blood pressure variability, heart rate, temperature variability, blood oxygen saturation, heart rate variability, respiration rate and others. Additionally, Wellvii adds advanced blood flow measurements including perfusion index, Pleth variability rate, microvascular flow, and nitric oxide activity. When synchronized with the Wellvii app, these measurements paint a comprehensive picture of a user's wellness.
IT'S YOUR HEALTH, KNOW YOUR SCORE

Understand your health trends through a simple intuitive personalized dashboard. Wellvii uses proprietary algorithms to analyze and interpret vital measurement data into four easy to understand scores, removing the complexity of trying to interpret each measurement on its own, allowing users to take charge of their health and wellness. A propriety assessment, the Wellvii Score, gauges one's overall wellness and presents the result on a 0-100 scale. By analyzing all of a user's measurements Wellvii compiles one's score and displays the result in a user-friendly module, which can help users easily track progress and identify areas for improvement.
BOOST YOUR FAMILY'S HEALTH IQ

Wellvii empowers the sharing of wellness insight with the whole family through a personal connected family health network. Not only can one track one's own health, but Wellvii can also track the wellness of the entire family— an effective way to monitor family members' health and wellness in one simple and easy to use app. Sharing your progress and encouraging loved ones to aspire to and maintain healthy lifestyle habits has never been easier.
FITNESS CHALLENGE STRESS TEST

Wellvii introduces the first at-home "stress test" through its proprietary fitness challenge. Users can challenge themselves to discover whether their efforts are paying off by embarking on Wellvii's guided fitness challenge. Wellvii assesses a user's response to exercise and provides feedback immediately after exercise, arming users with the insights they need to make adjustments and improve performance.
WELLVII PREMIUM MEMBERSHIP FOR iOS AND ANDROID
Wellvii iOS and Android applications give users instant access to their information in a simple and intuitive format. The application provides users with all of their individual measurements, historical trends, understandable health summary scores (including the Wellvii Score), Fitness Challenge, Family Health Network, out-of-trend health alerts, customized tips, advice, and feedback to help users improve their overall health via the application.
AVAILABLE SUMMER 2021

US consumers will be able to purchase Wellvii during the Summer of 2021.
To learn more about Wellvii, visit wellvii.com and follow us on Facebook and YouTube.
ABOUT WELLVII™

Based in West Palm Beach, Florida, Wellvii Inc. (a subsidiary of ARC Devices, Ltd.) is revolutionizing the efficiency and quality of healthcare with wireless connected, non-invasive vital sign measurement technology for both the consumer wellness and clinical markets.
Wellvii recently received CE Mark clearance as a class IIa medical device for its flagship Vital Detect multi-vital sign measurement platform. The Wellvii VitalDetect is the first device to measure blood pressure non-invasively from the finger without calibration. The Vital Detect will be available for sale late 2021. Our current product offerings use a robust ISO13485 quality control system and independent clinical data. We also have a substantial patent portfolio, which at present includes 53 issued patents and 5 patents in prosecution.
Share article on social media or email: