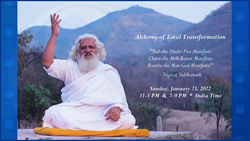 "Rub the Tinder Fire Manifests, Churn the Milk Butter Manifests, Breathe the Man God Manifests!"- Yogiraj Siddhanath
NEW YORK (PRWEB) January 15, 2022
For generations, many have sought to bring peace to the planet.
Renowned kriya yoga grandmaster, author, and spiritual leader Yogiraj SatGurunath Siddhanath, however, practices world peace today. Yogiraj has a unique view of world peace and he's sharing this as a practice with audiences across the world, through his books and an upcoming international webinar.
Yogiraj Gurunath Siddhanath taught the concept of world peace for more than five decades. In fact, peace is the topic on which he established his foundation as a meditation master. At the core, his message is and has been one of "Earth peace through self peace." An idea that, by yogic breathing, meditation and self-realization, a broader, global sense of good will can be developed.
Yogiraj Gurunath Siddhanath brought this unique doctrine to audiences across the planet. He taught this message of peace at the United Nations, and at the same time amassed millions of views on his popular YouTube channel. Recently, the master's views on Earth peace have been shared in his new book called "The Reality of Kriya Yoga". This new work is timeless wisdom that can inform, inspire, and transform those who experience the energy encapsulated in his words, given in response to the heartfelt questions from the worldwide yoga community. Yogiraj's words are drawn from the direct experience of his unity of consciousness with the Divine. His simple and yet profound precepts speak directly to our soul's needs. The overwhelming response from those experiencing Yogiraj's wisdom is, "This is it! I have reached home. I have quenched the thirst of the ages."
The Alchemy of Total Transformation webinar airs live on 23rd January 2022, 11 am – 9 pm India Time.
During this webinar, Yogiraj will "Share His Soul Samadhi." Yogiraj give an experience of "Earth peace through self peace." Yogiraj says that while in the West, Yoga is often viewed as physical postures. In India, Yoga has long been the gateway to profound, inner peace. In his own words, "The alpha and omega of yoga is self-realization," – in essence, the most lasting peace humanly possible.
For details about Yogiraj Gurunath Siddhanath's webinar and where you can meet him online, visit his website, http://www.siddhanath.org. The website also offers books, poetry, and videos as well as in-depth information about his life's mission.
Share article on social media or email: