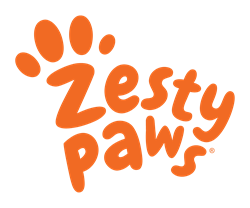 We are thrilled for our consumers to interact with our brand in a new and exciting way and introduce new pet parents to our line of products.
ORLANDO, Fla. (PRWEB) January 05, 2021
Zesty Paws®, a leading functional pet supplement brand, announced today the release of its first-ever television campaign designed to reach pet parents nationwide. Zesty Paws' television debut comes on the heels of a successful 2020 full of product distributions through retailers like Target, PetSmart and Chewy, the appointment of numerous C-suite positions, and the release of innovating products including a new line of supplements for cats, a line of functional square chews, and a new line called Hemp Elements Plus.
"Zesty Paws is all about bringing our zesty, functional and delicious supplements to dogs and cats to help them live a Zesty life, " said Yvethe Tyszka, Vice President of Marketing at Zesty Paws. "We are thrilled for our consumers to interact with our brand in a new and exciting way and introduce new pet parents to our line of products. We couldn't be more elated for our television debut."
The campaign is set to air today through February 28, 2021 and is strongly positioned to target dog parents from coast to coast. The eight-week media campaign will broadcast through a mix of stations and dayparts that are relevant to the Zesty Paws consumer, including the NFL Playoffs leading up to the Super Bowl LIV.
The campaign will include two different commercials, a 15-second and a 30-second spot, that are both educational and fun. The commercial will feature several of Zesty Paws' products including the Mobility, Aller-Immune and Probiotic Bites. It will also have a solid and complimentary digital component spanning social media, search, YouTube, email marketing, and more.
Zesty Paws is the go-to brand for top rated pet nutrition supplements for dogs and cats that offers functional benefits with premium branded ingredients. Delivered in a mouthwatering, chewable format, Zesty Paws' supplements are a health solution for addressing certain needs of cats and dogs including, Gut Health, Immunity, Hip & Joint, and Behavior, among others. All Zesty Paws pet supplements are made in the United States with the best available globally sourced proven branded ingredients.
For more information about Zesty Paws, please visit ZestyPaws.com or follow them on Instagram.
About Zesty Paws®

Since 2014, Zesty Paws® is lead by a team of pet parents who have been committed to providing premium products to enable and inspire a ZEST FOR LIFE in pets and pet parents. As a top-rated pet functional supplement brand, Zesty Paws® is the most trusted brand for innovative solutions that guide and empower the journey to wellness. Specializing in dog and cat care, Zesty Paws® products Keep Your Bestie Feeling Zesty™. For more information visit https://zestypaws.com/.
Share article on social media or email: